Part of building a new business is preparing a business plan to give you a roadmap for your growth. Typically your business plan will include detailed information about your product or service, marketing, financial projections, expenses, and more.
A comprehensive business plan should also include two very important elements – a vision statement and a mission statement.
A vision statement is basically your dream. It's what you believe are the ideal conditions your organization needs to thrive. It's a way to clarify your business's belief's and the governing principles of your company, first for yourself internally, and then for the greater community.
via GIPHY
A mission statement is a little different: it's the way to ground your vision in practical terms. A mission statement describes what your business is going to do and why.
For example, outdoor clothing company Patagonia's mission statement is, "Build the best product, cause no unnecessary harm, use business to inspire, and implement solutions to the environmental crisis."
A mission statement is similar to a vision statement in that they both look at the big picture. However, mission statements are a more concise description than a vision statement and are "action-oriented."
In a nutshell, your vision statement should inspire people to dream; your mission statement should inspire them to act.
3 Characteristics of a Good Mission Statement
via GIPHY
Well written mission statements share certain characteristics that work together to make them effective. A well written statement should be:
Concise: A good statement can get its point across in one or two sentences. For example, let's look at Microsoft's statement – "Our mission is to empower every person and every organization on the planet to achieve more."
Outcome-Oriented: A well written statement will explain the basic outcome that your organization is working to achieve.
Inclusive: While a good statement will state your company's key goals, it's important that they do it broadly. Good mission statements don't limit the strategies or sectors of your community that may become involved in your mission.
Distilling your mission down into a concise statement requires answering some questions about your business and brand. When it comes to writing your mission statement, the company principals, employees and customers can help you to define your business. Using these perspectives and thinking about what you do and the value you offer can get you started.
Why You Need A Mission Statement
via GIPHY
A mission statement should be a snapshot view of who you are as a company. It can help convey your brand to other individuals and businesses and educate them about your goals. This can help you inspire others to join your efforts.
Your statement can bind your team together as well. Having a stated common purpose can serve as a constant reminder to your employees and customers of who you are, what you do, and why you do it. It allows others to take "ownership" and inspires them to work with you to reach your goals.
Who Should Write Your Mission Statement?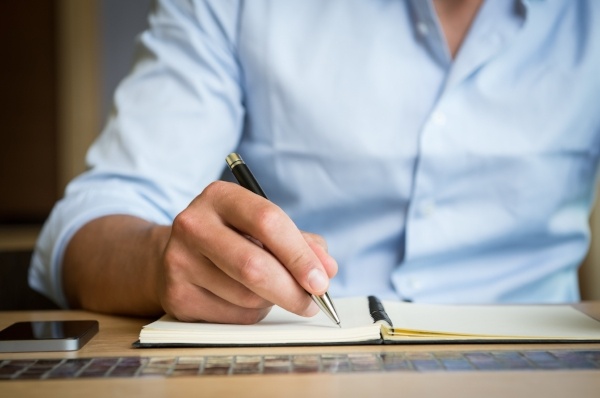 Ultimately, your statement needs to be generated from within your organization. Setting up a team to collaborate is a good way to get a cross section of opinions and brainstorm goals.
Because your statement will guide your business strategies and growth, you need to ground your efforts in the beliefs and values of your company.
One of the first steps to take is to define what matters most to the people your business will effect including employees and customers. Here are some ideas for gathering the information you need to develop your statement.
Conduct formal or informal discussions with members of your team and your most important customers.
Speak to your company leadership including board members, upper management, and principals.
Speak to your sales team, marketing team, and new business development team to help define your market and gain perspective on how your brand is seen in the outside world.
Your final statement should encompass the three characteristics of a great mission statement that we discussed above. Once you've done your research, your team should work together to distill all of the information into a concise description of who you are, what you do, and why you do it.
via GIPHY
Draft and redraft your mission statement until you find the perfect wording to describe who your company is. Great mission statements aren't just written in a day; it takes time, experience, and trial and error to create a mission statement that epitomizes your brand.
Remember that your mission statement is meant to inspire your team, define your brand, and act as a roadmap for the growth of your business.