Reporting on the value of search, display, retargeting and other PPC channels is easy. Simply subtract the amount spent from the amount made. However, putting a dollar value on SEO traffic can be much more difficult. It's much harder to connect a sale to search engine traffic in a meaningful way.
You need to pull data from different platforms and consolidate them into one place in order to get an accurate picture of your campaign's performance.
Luckily for you, you can make it easy.
All you have to do is find and use the right SEO reports.
Preliminary Benchmarking Reports
Even if you have a measurable and achievable goal in mind from the start, you still need to understand what position you're in before you ever launch a campaign. How else can you accurately plan and allocate resources?
The preliminary SEO benchmarking report is an important tool when it comes to planning your SEO campaign.
The planning report allows you to...
Create reasonable, attainable and measurable goals
Track your progress
Discover potential market headwinds
Analyze your potential competitors to learn more
Better allocate marketing and development resources
Generated before you kick off your campaign, your initial report will evaluate your current:
Keywords and rankings
Page optimization and traffic
User behavior on your site
Backlinks
Crawlability and indexing status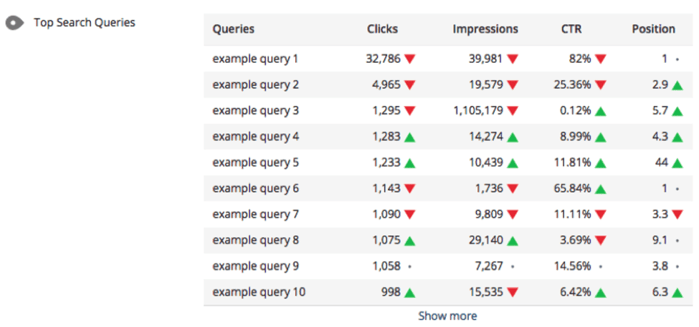 It's very helpful that the initial SEO campaign report resembles very closely an in-depth SEO audit. Good eye!
The pre-campaign is half keyword report and half technical and on-page SEO audit of your site that details needed improvements for:
Title tags and meta descriptions
Consistent on-page keyword use
Broken internal and external links
Crawl errors encountered or likely to be encountered by Google
Addressing technical issues uncovered in the preliminary report is step one of an SEO campaign.
Continuous Campaign Reporting
Once you've addressed your crawl errors, keyword consistency and any other technical problems with your pages it's time to initiate the ongoing reporting for your SEO campaign.
Since it can take a matter of weeks for any changes to impact your site's SEO, it's best to take a two-pronged approach to ongoing SEO reporting.
Weekly SEO Reports
For short-term progress and goals, it's best to use a weekly reporting schedule. Weekly reporting allows you see immediately what's benefiting your rankings and traffic and spot any small problems before they become big problems.
Weekly SEO reports should track changes to keyword rankings, any technical changes you have made and the number of indexed page, and audience engagement and user behavior metrics.
Important SEO metrics to track on a week-to-week basis:
Visitors: Measure the number of total daily traffic so you can control for day-of-week fluctuations.
Channel: Watch each channel individually to isolate variables and measure how your SEO affects your social media, email or PPC.
Top landing pages: Track the traffic, source and conversion rate of your most valuable pages (however you choose to measure that). This helps tie SEO efforts to conversion rate.
Rankings: Record current rankings and how many positions your keywords have gained or lost.
User behavior: Look at bounce rate, time on site and average pageviews to measure if you content strategy is driving audience engagement.
If you're a WooRank subscriber, simply sign up for your Weekly Email Digest and automatically receive your weekly SEO report right in your inbox.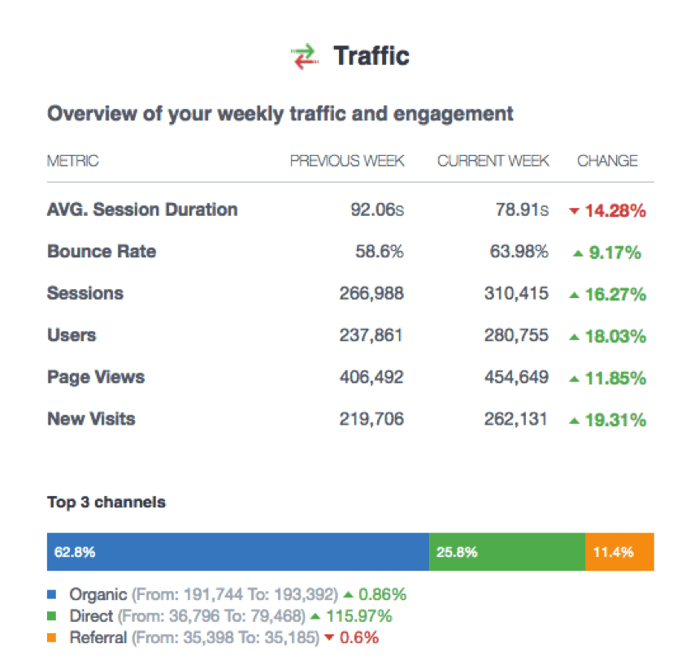 Monthly SEO Reports
Monthly SEO reports are built on foundations laid by weekly SEO reports. Monthly reports operate much like an aggregate of your weekly reports.
Monthly reporting is about more than tracking the performance of just your SEO. You'll also use this to keep your long-term goals in view and gain insights like:
Changes in your top search queries. These changes could indicate improved brand awareness which won't show up in your weekly reports.
Impact, positive or negative, of your brand or audience strategies such as benefits you're reporting or tone of voice you've established.
If there is an audience relevant to your website that you haven't discovered yet or aren't actively targeting.
You can create your monthly reports as you build you weekly ones to make each month easier. Simply add up the numbers from each weekly report and copy those into your monthly template. Or, depending on your analytics platform, just do a 30-day lookback window and add that number to your template.
Easy, simple and fast. So you can spend more time on your actual business.