6 min read
Creating the perfect email campaign is impossible. Creating a great email campaign is not. One of the hardest steps in creating a powerful email campaign occurs very early in the process—it's something that's very easily overlooked, but can also have a huge impact in your campaign's overall success.
You're going to need powerful subject lines. Not just powerful subject lines—irresistable subject lines.
While there are no Golden Rules for creating strong email subject lines, there are some basic best practices you can follow to immediately increase open rates, click-through rates and conversion rates.
1. Create Immediate and Clearly Defined Value
In email marketing, your ultimate goal should be to create content that's both short and easy to digest, but also provides immediate value for readers. This all starts with your subject lines.
Don't be afraid to tell it like it is. Potential readers want to know exactly what they're getting when they open your email. Quick, based on subject line, which of these emails are you most likely to open?
"[Tutorial] Creating a New Workflow in HubSpot the Right Way"
"10 Free Templates to Improve Your Next Product Video"
"5 Must-Have Chrome Plugins to Fine-Tune Your Blog Content"
or:
"Learn How to Increase Productivity with our New Guide"
If you're like most consumers, you probably would have been more likely to open one of the first three emails than the last example. That's because they're defined. They cut to the chase and you know what you're getting by opening them. In email marketing, establishing immediate value will often be only way to get your foot in the door and convince readers to click-through.
There's an assurance that, by opening your email, they will be able to receive X thing. Using subject lines to set expectations is a easy way to add both face value and reader comfortability in opening your email.
2. Borrow from SMART Methodology to Drive Action
You know all about the importance of action words in CTAs and email body content (and countless other forms of marketing content, for that matter). However, don't hesistate to include action words where applicable in your email subject lines.
Don't be overly assertive, but use action words as-needed to inform users of your message's intent before they even open use. By employing action words in your subject lines, users know just what they're getting in to and are pushed to take immediate next steps. This includes things like:
"Don't Wait Until Spring! Download Your 2017 Vacation Planning Guide"
"Sign Up Now for Next Week's Webinar with ExampleBiz CEO Brian Brianson"
These examples pull in components of the concept of SMART goals (goals that are Specific, Measurable, Attainable, Relevant and Timely). What works for your business's overall marketing goals also works for driving action in your email campaigns.
Scanning through your own inbox, you may also notice that many of the emails feature numbers in their subject lines. There's a reason for that. Numbers tie measurability to action (see: SMART goals). "Make Sure to Attend This Year's Inbound Conference" wouldn't pique interest or generate nearly as many opens as "Join Over 20,000 Marketers at Inbound 2017."
Numbers in email subject lines add immediate tangibility. In the above example, readers immediate picture 20,000 collegues collaborating, learning and networking under one roof. It makes readers shift from "I'll look into it later" to "Wow, there's a lot of people this year. Who is speaking?"
"A lot of businesses send emails with vague statements in their subject lines -- which is why using data and numbers is a great way to get your emails noticed, demonstrate a clear and straightforward message about your offer, and set the right expectations.
3. Hey [first name], Have You Tried Personalization?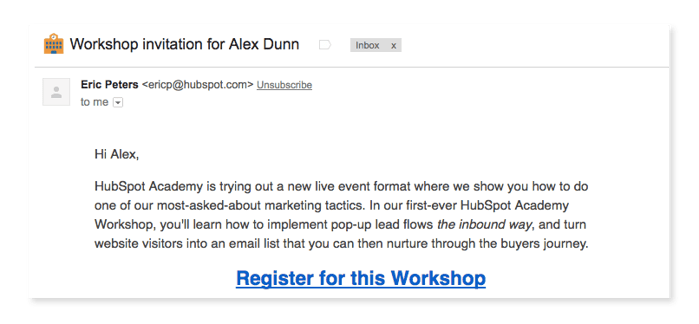 Personalization in email subject lines (and body content, for that matter) isn't anything new, but there's a reason it's stuck around. Just like how you may be able to pick out your name being called on a busy street corner, your readers react stronger when they read their own name.
This type of personalization is typically done within email automation or marketing automation software, and can be used as little or gratuitously as your business sees fit. However, while you can include personalization tokens that bring in a contact's full name, business, region or interests, we suggest keeping it simple with a versatile first name token.
4. Use Various Media to Your Advantage
This one's a no-brainer; however, "media" is also a very flexible term. In the case of email marketing, we're referring to media in two ways:
Media/value tags
Email emoji icons
Consider including tags that highlight the type of offer you're presenting with your email campaign. You know, the [Webinar], [eBook], [Video] and [Infographic] tags in subject lines that indicite what B2B readers can ultimate receive by opening the email.
These show readers that you're not just trying to pitch your product or put them in touch with your sales team; rather, they let them know that they're getting something—an actual, "tangible" deliverable—by opening your email.
Additionally, and demographic/audience-permitting, you should think about adding actual emojis to your email subject lines.

In the past few years, many email service providers and marketing automation platforms actually began offering emoji options built-in with their email creators. You may love them or you may brush them off as tacky, but the fact is that emojis in email subject lines work.
They've been shown time and time again to increase open rates and separate emails from the dozens or even hundreds of emails that target audiences receive each day.
"Subject lines with symbols had a higher unique open rate in 56% of brands we analyzed"
If you're going to use emojis in your email subject lines (and you should if possible), just make sure they're relevant to the content and you don't overdo it. We should also note that some devices or email providers may not display emoji images properly, so make sure to test any emoji icons you feature!
In the end, your ultimate goal should be to create email subject lines that are both compelling and concise. A lot of it's trial and error: determining what works best for your business and, more importantly, your unique audience. With some key practices, though, you should be able to see immediate improvements in your email open and clik-through rates.

Published on January 22, 2018