Marketers consistently ranked email as the single most effective tactic for awareness, acquisition, conversion, and retention. (Gigaom Research)


Email marketing is an integral part of keeping your company alive and active in the minds of your customers, if done so effectively. If done poorly, be prepared for an influx of unsubscribers.
Email communication is such an integral part of marketing that it is almost impossible to ignore. Yet, many companies fail to use email marketing effectively, using the wrong type of email marketing for their needs, or engaging in inappropriate email practices.
So, what are the five indispensable types of marketing emails? Plus, how do you use them? Here are the five must-use marketing emails you should start using- now!
Email Newsletters
Over 50% of respondents say they read most of their emails. (HubSpot).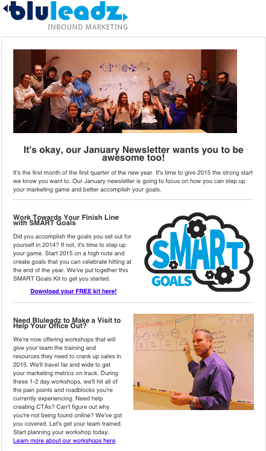 An email newsletter is like a periodic publication that you can send straight to a prospect or customer's email inbox. The content of these emails should be engaging and relevant to your industry and could include recent blog posts by your company, press releases, new product information, special offers, and links for donations, subscriptions, or surveys, as they may be appropriate.
But, above all, your newsletter should be crafted with a specific goal in mind, such as to build awareness of your brand or to increase the number of social media shares that content on your website receives.
In fact, building brand awareness is listed as the premiere benefit of having a newsletter. By sharing content that engages readers, you generate positive interest in your company. Other benefits include the ability to share many different types of content at once and even repurposing old but popular content to drive traffic to your site.
One caveat to using newsletters in your email marketing is that the more diverse your content is, the less focused and effective your calls-to-action in that newsletter will be. Also, the more elements you share in a given newsletter, the more complicated the design will be, and the more time and resources it will take to produce the newsletter on a regular basis.
The awesome part of email newsletters is that once you have an awesome template, you can reuse it time and time again. Just plug in new information and pictures and you're ready to go.
Overall, newsletters are ideal for nurturing an ongoing relationship with an existing customer by keeping them engaged with and aware of your brand.
Email Digests
Triggered email messages get 119% higher click-through rates than "business as usual" messages. (Epsilon)
While a newsletter will have a lot of content for the reader, a digest will briefly summarize relevant content for the reader, and have links to the information source. With a digest, you can provide a quick snapshot of your company's activity over a given period of time, whether that is a week, a month, or even a year.
There are a few advantages to using a digest as opposed to a newsletter:
Easier for the prospect to find what they're interested in
Drives traffic to specific pages
Format is generally easier to design, saving time
There is a lot of overlap between the goals of a digest and the goals of a newsletter. If you have a lot of content that you wish to address on a daily basis, or if your customers react better to easy-to-read summaries than complicated custom formats, then you may want to use an email digest rather than a newsletter.
Promo Email
For every $1 spent on email marketing, the average return on investment is $44.25. (ExactTarget)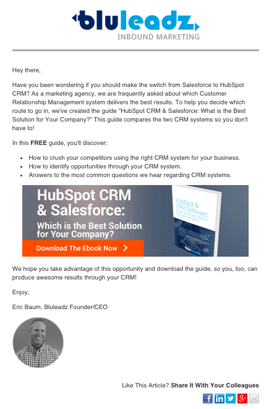 Promotional emails exist to highlight a new offer or business update with readers. Whether you are discussing a new product offering, a special event, or are hyping up your own brand-new ebook, this email gives an in-depth review of one thing.
The advantages of this form of email marketing include:
Your message, and your call-to-action, are very focused. This gives the CTA more impact than it would have had as part of a newsletter.
Simplicity. Being focused on a single task keeps your template relatively simple and easy to build.
Quick and accurate tracking. Since you know that the email was focused on one subject, you can reliably track the views and click-through rate of the subject of the email, and any subsequent conversion events.
However, there are drawbacks to the use of a dedicated email. First and foremost, the mailing list for this email needs to be pre-qualified for relevance to the content. Generating excessive amounts of emails with limited content that is not of interest to the recipient is the fast track to the unsubscribe list.
Second, these emails tend to be more erratic in their release schedule when compared to newsletter emails. A newsletter email might be released every Friday at noon, and customers will know to expect it, a dedicated email is released as necessary, and customers might miss it because they did not know to look for it.
Finally, the focus of these emails makes it difficult to draw attention to other campaigns your company may be running without sacrificing the primary strength of these email communications.
However, when you really want to raise awareness about a specific promotion or campaign, there are few better methods of generating awareness than sending a dedicated email.
Lead Nurturing Emails
Companies using email to nurture leads generate 50% more sales-ready leads and at 33% lower cost. And nurtured leads, on average, produce a 20% increase in sales opportunities compared to non-nurtured leads. (Hubspot)
Where a dedicated email is a one-time thing meant to generate interest in a new product, lead nurturing emails are a series of email communications meant to foster a relationship with a new sales lead (hence the name lead nurturing). Ideally, you should use these emails shortly after your initial contact with your lead, as the click-through rate on your emails drops the longer you wait to make contact.
One of the major advantages of having a lead nurturing email system in place is that you can set them up to be automated so that they send pre-made content to new sales leads over time. This helps you by maintaining contact for a minimal investment of time on your part.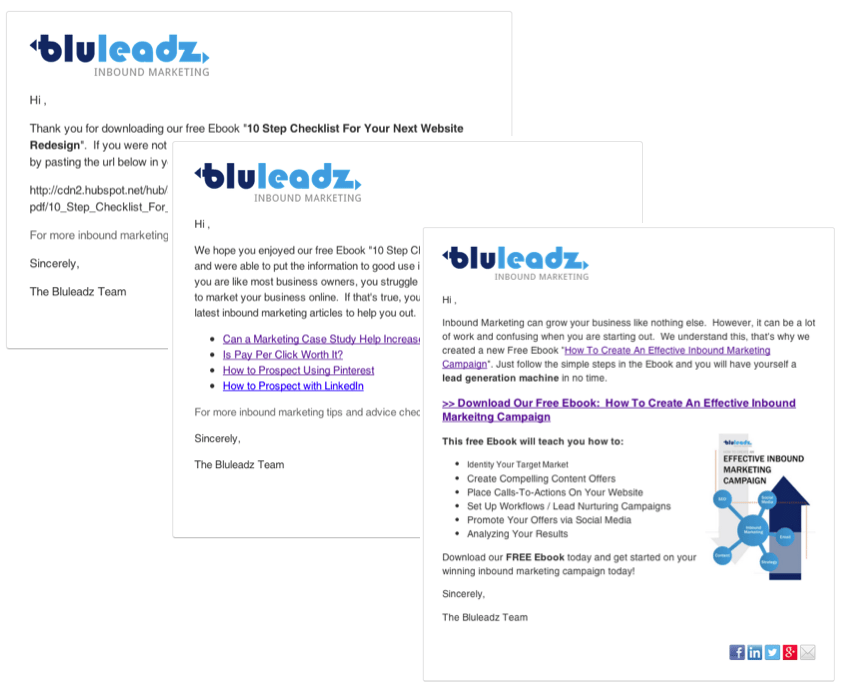 Plus, as long as you keep these email series tied to specific conversion events (new contact, purchase of a specific product, etc.), lead nurturing emails demonstrate your awareness of that person's interests so that when you present them with new sales opportunities, they are more likely to consider them.
The major drawback of an automated lead nurturing email system is mainly related to how to track your success with them. Unlike a dedicated email blast, you will not see a sudden spike in traffic, as these emails go out slowly over a longer period of time as people sign up for your services and not all at once at a time of your choosing. Also, many marketers tend to view these systems as a "fire and forget" marketing tool, and may neglect to track their statistics appropriately, resulting in an under-reportage of your results.
Transactional Emails
In 2014, email marketing was cited as the most effective digital marketing channel for customer retention in the United States. (eMarketer).
The quintessential "thank you for (fill in the blank here)" email that you get after buying or downloading almost anything from a corporate website. These emails are great for verifying customer email addresses and adding security to a customer interaction. Research also shows that these particular emails have a very high click-through rate, as they are generated immediately following an interaction with the lead.
Unfortunately, these emails can be seen as another obstacle or annoyance by leads who just want to finish a transaction and get the content they were looking for. So, when setting up these particular emails, you should ask yourself if you're making things easy on your leads, or if you've made them jump through one hoop too many by this point.
Keep the Lead in Mind
Hopefully, this list of different marketing email types has helped you to determine what the best strategy for reaching out to your leads should be.