6 min read
Your online portfolio serves as the face of your business online. It is a place to highlight the best work you have available and impress new clients. However, if you've never had a portfolio before or you simply feel your current one is lacking, you might wonder just what you should include to make the best impression possible.
There are more than 266,000 graphic designers alone in the United States. Add to that number those who are marketers or business owners and you see why it's vital to have an up-to-date portfolio that makes a mark. If you want to stand out, you simply have to have an amazing way to present yourself to potential clients or employers.
You also can benefit from a portfolio no matter what type of business you own. Although they are traditionally used by photographers, artists and designers, there is no rule that states any type of small business owner can't use an online portfolio.
The key is to show your best side in everything you do. Here are eight features all online portfolios should possess:
1. Create a Strong Introduction
A portfolio is so much more than images and examples of your work. It is a way for you to meet people online you haven't had a chance to meet in real life or to showcase to a potential employer exactly what you're about. Your introduction should show off your personality and be open, friendly and warm.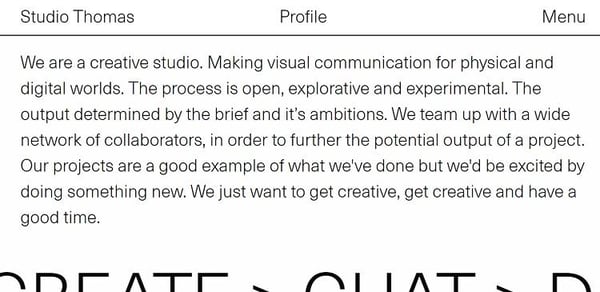 Studio Thomas is an agency in the UK and they clearly define who they are and what they do. They also point the user back to their projects, so you can see some of their more creative endeavors.
They make it clear that they collaborate with others, and if you scroll down you'll see a few of those collaborators.
2. Add Context
Simply adding images to your portfolio isn't enough. Even though they say a photo is worth 1000 words, you still need to add words to explain the context of the photo.
Inform viewers what they're looking at, which companies you worked with and any challenges you had to overcome to complete the project. This allows those considering whether or not to hire you to see that you've already completed tasks in the face of hardships and done so professionally.
3. Use a Strong Call to Action
The best portfolio in the world isn't worth much if it doesn't entice site visitors to take some type of action. A strong call to action (CTA) tells your visitor exactly what information you need and what their next step should be. Place it where it will be easy to find.

Take a look at the CTA highlighted on Illuminated Integration's site. It is clear what action the user needs to take to get in touch with the company. At the same time, the form allows the company to gather basic contact details on leads in order to stay in touch and sell to them at a later date.
4. Add Contact Info
While it is worrisome to put too much information on the Internet, you still need to make it easy for users to contact you. You can do this by adding a contact form, listing a professional email or taking out a toll-free number. Your site may be seen as less trustworthy if you don't have contact info in a clear and easy place to find.
5. Use Only Great Photos
Highlight your best projects by showcasing big, beautiful photos. You don't have to show every single project you've ever done, but do try to vary the examples so you show the entire range of your work and that you are able to do everything from say a logo to an advertising campaign. If the photos aren't great, then don't include them as they won't show off your work to its best.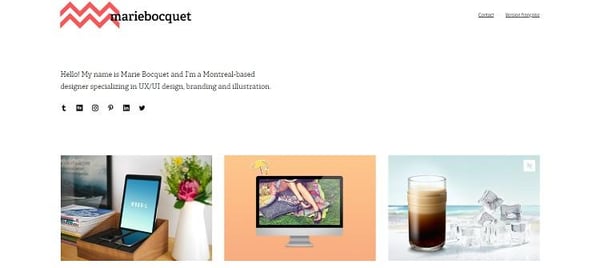 Marie Bocquet's online portfolio showcases some of her best design work and illustrations by sharing gorgeous photos that catch the eye. She's even utilized a mix of colors so that your eye is drawn from one image to the next rather than fixating on any single image.
6. List Your Skills
Don't forget to add in a list of your different skill sets. While you might be an expert at designing websites, perhaps you also have the ability to create short promotional videos.
You never know when a client or potential client might need that specific service, so be sure to list that you offer promotional videos as well. Whenever possible, highlight an example of the different skills you possess.
7. A Tag Line
What is your tag line? Think about why you do what you do and what sets you apart from others in your particular niche? Now, how can you communicate that in a single line of about 5-10 words?
This is your tag line and it tells others what you're all about in a quick snapshot of words. Spend some time brainstorming your tag line and coming up with something memorable.
8. Update Regularly
It's tempting to create a beautiful portfolio and then let it do its work. However, if you're working regularly, you also need to update your portfolio to reflect your latest work and skills.
As in the beginning, highlight only your best work. However, posting updated images and information shows that you are consistently working on new projects and further developing your skills.
Perfect Online Portfolios
There is no such thing as a perfect portfolio. However, a good portfolio will change frequently and showcase your abilities. The goal is to grab the site visitor's attention and make them want to get in touch.
If you're hunting for a job with a company, your online portfolio can give you that extra edge that makes you stand out from other candidates. Whatever the purpose of your online portfolio, taking the time to make it the best it can be will pay off.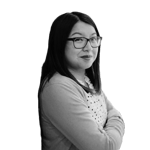 Lexie Lu
Lexie Lu is a freelance graphic designer and blogger. She keeps up with the latest design news and always has some coffee in close proximity. She writes on Design Roast and can be followed on Twitter @lexieludesigner.
Visit Website
Published on July 12, 2018