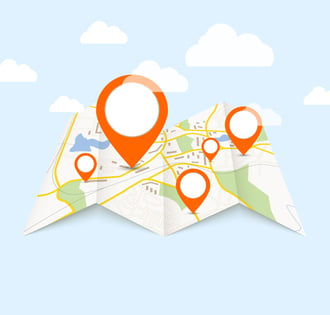 Inbound marketing is the art of generating organic traffic and leads based on buyer pain points; problems your target audience or buyer personas are looking to solve, and what you can do to help them.
Inbound can be thought of as an umbrella term for a range of marketing services, all intended to drive traffic to your business online. This includes things like content marketing, growth-driven design, keyword research and (as you may have surmised from the title of this blog) local business listings online.
No matter what industry you're in, inbound provides the foundation and tools for online growth. For certain businesses, however, local business listings play a big role in generating business; think service industries, like plumbing, restaurants, lawn care or home improvement companies that operate in a set geographical area. While national traffic is always good, the real money lies in ranking well in local search engine listings.
What Local Rankings Can Do for Your Business
If you're in a service industry or any other that relies on local business, here's a refresher on ways that registering for local search engine rankings can benefit your business:
Increased recognition and awareness within a geographical area

For effective networking with potential buyers within your service range

service area/location pages create additional inbound links and help your business rank higher
For businesses that rely on local traffic and word-of-mouth, local listings are everything. Inbound marketing is flexible; what works for Company A won't always work for Company B. A business that provides a service to, say, property owners in South Florida would have to take a different approach to internet marketing than a manufacturer that ships goods internationally.
The entire focus of your company's inbound marketing strategy should be on your target customer. If that customer only lives in a certain geographical area, your content, blogging and SEO should emphasize local service areas as well as your services in general.
As search engine rankings take unique content and perceived value into account, it's important to not create local pages for the sake of visibility; rather, you should supplement your informative, actually-helpful content with a mention of your service areas, and include areas in things like keywords, your blogs and social media.
Register your company for local online listings with services like Yahoo!, CitySearch and other such sites, and use keywords, content and SEO (the essence of inbound) to rank higher for Google and social media.

Local Listings as Part of an Inbound Strategy
In one of HubSpot's blogs on local listings, they run through the big 50 local business directories for online search. We won't run through all 50 and overload you with information, but here's the most SEO-relevant and lucrative 15, in the order that HubSpot classifies them:
Google (big surprise there, huh?)

Bing

Yahoo!

Yelp

Merchant Circle

LinkedIn

YellowPages.com

Whitepages

Supermedia

Yellowbook

CitySearch

Mapquest

Biznik

Local.com

Foursquare
For service industry businesses where local traffic is the name of the game, registering for sites like these and building a local SEO strategy are essential. While this does add an extra - and absolutely necessary - step for a local-based inbound marketing strategy, it helps better qualify leads that actually live in your service areas, in addition to leads that will naturally come in from outside those areas. Inbound is the craft of qualifying: qualifying and extracting the highest potential leads from a universal pool. Local SEO and listings help business that service a specific area reach those in need within that scope.