How many copies of the Yellow Pages have you seen piled up in recycling bins lately?

If you're like us, the answer is more than we can count. All we know is that they're mainly being used for children to stand on so that they can reach the cookie jar when you aren't looking.
But what about you? What are you using to stand on to put your hand in that proverbial cookie jar? What we mean is, what methods are you using to put more money in your bank account? We may get older, but that doesn't mean we don't want more cookies.
If you're still using the Yellow Pages to reach the cookie jar, chances are you aren't finding very many cookies in it. The future is now, it's the Internet, and understanding how to use inbound marketing effectively to generate phone calls and conversions for your plumbing business is essential in today's marketplace.
Get Out Of The Yellow Pages! Quit Flushing Money Down The Drain!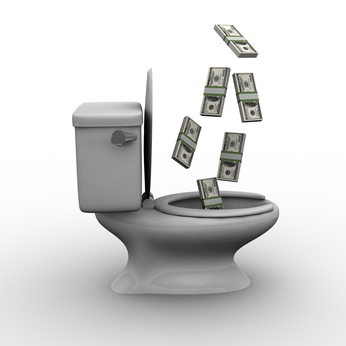 We can show you how to transition from yesterday to today by ditching the Yellow Pages and getting the most out of the Internet.
What Is Your Cost Per Call? How Internet Marketing Can Reduce Your Overhead And Save Valuable Time
As a plumber, you know how expensive it can be to respond to a call for a minor repair. Although this builds excellent relationships with your customers, you also have to be realistic and weigh how much each trip out to their home or office costs. The price per gallon of gas and consolidating your time are important. It's a cost/benefit analysis issue. You may not make enough money fixing your customer's toilet handle to pay for a quarter of the fuel it took for you to make it to their home.
Ask us how to use inbound marketing and Internet-specific tools to build your business and increase your retention rate while saving you time and money.
Implementing A Great Internet Marketing Strategy For Plumbers
A comprehensive Internet marketing plan can help you understand and control your costs in several ways. In fact, there are many key benefits of a solid Internet marketing strategy that you can implement simply by getting your customer's email address - with their permission, of course. And you can benefit even more by building a better website that's keyword optimized to attract local marketplace traffic to you. Search engine optimization (SEO), email marketing and providing enticing offers to your customer-base not only maintains your retention rate, it can potentially increase that base and make you more money. And who doesn't need a few more cookies these days?
You need to make the most out of those low-profit calls. We can help you do that online. Forget the Yellow Pages. They're fossils.
Elements And Advantages Of A Strategic Internet Marketing Plan For Plumbers
Build Email Lists - You can get email addresses from your customers when you make that low-profit call to their home. Explain that you will only send them periodic notifications about special deals or important information. Tell them that you will not share their email address with anyone. In fact, it's a good idea to have your email privacy policy printed on your invoices above their signature box. If you find your lead online, put a link to that policy on your website. Privacy matters.
SEO Website - An attractive, informative and fully-optimized website with keyword-rich content will attract search engine users (Google, Yahoo, Bing) to your site.
Landing Pages - Landing pages are crucial for Internet marketing. They are usually brief, to-the-point call-to-action pages that serve the purpose of growing your email list via some sort of special offer or beneficial eBook. For instance, you might want to build a landing page about the benefits of a sewer video inspection. We will write a short eBook about those benefits. All your visitor will have to do is fill out a minimal form including his or her email address for its delivery.
Reconversion - Awesome landing pages, ON and OFF-page SEO and well-timed, customer-loving email lists often lead to reconversion. That means phone calls to your business. Repeat phone calls.
Cut Costs, Increase Profits - Each of the above examples do both. But savvy Internet marketing doesn't end there. Contact us to find out even more about inbound marketing and its benefits.
Throw Away The Yellow Pages And Stand On A Sound Internet Marketing Strategy
We can show you how to quickly put more cookies in your jar. Check out our page for plumbers to see a sample of what we did for one company. We can do it for yours, too! Contact us for more information today.