6 min read
Your online presence is one of the most important parts of your success in 2018.
There's a lot to get excited about in digital marketing, but one of the most compelling ideas is this: Almost everything you do will continue to pay dividends a long way in the future.
That is especially true when it comes to posting helpful, informative content on your website's blog, but it remains the case for almost every aspect of digital marketing.
Knowing that, the sooner you get started building your online presence, the better.
Exactly What Do We Mean by Online Presence?
The term online presence might seem vague, but it's not so hard to bring it down to earth.
You can think of your online presence as something like your company's "footprint" online. No matter what campaign you're running (or not running), everything your brand leaves behind in the digital world is part of its online presence.
While a term like "footprint" implies a digital trail that's gone cold, your online presence should always lead readers in the direction of your hottest, newest, most valuable content.
So, you can think of that presence as including all these:
Your digital properties, including your company website and any brand websites.
Everything within those properties that generates new content, such as your blogs.
All of your branded social media pages and accounts across every online platform.
All branded content across partner sites that pulls visitors toward your main website.
When people go searching for information in your area of expertise, they'll get caught up in part of your online presence – ideally, the portion of it that's useful and informative for them at that moment.
So, your online presence needs to be vibrant, compelling, and most of all, current.
Five Ways to Establish Your Online Presence Today

1. Set Up a Social Media Account
If your brand isn't represented on all the social media networks your target audience uses, you are missing out.
For B2C enterprises, that means Facebook and Twitter at the very least – and it could mean many others, from Instagram to Tumblr.
Setting up a beautiful, branded account with all the trimmings can take a few hours, so devote yourself to doing one at a time, starting today. Even marginal improvement in social following can make a difference, especially if your automate away some of the work.
Speaking of which!
2. Start a Queue of Posts
Of course, a social media account will serve no real purpose unless you actually post to it.
Luckily, it's never been easier to get organized in the social sphere. There are all kinds of apps that will not only save up posts for you, but will also distribute them at the best hour.
These programs also help you make sure you're recycling and upcycling social content so that posts you originally designed for one network can be used seamlessly across all the rest. You'll no longer have to worry about juggling different restrictions on word count and images.
3. Post to Your Company Blog
Writing a great blog post can be a challenge, but the more you do it, the easier it gets.
You probably already have your keyword research and buyer personas set up, so a new post is where the rubber meets the road on strengthening your online presence.
Not sure what to write about? Remember evergreen content: A basic overview or advice about a topic that will be useful to most readers and rarely go out of date. Not only is it some of the most valuable content, but it can also be the easiest to plan and compose.
At the beginning of your inbound marketing plan, about 80% of your blogs may be evergreen.

4. Set Up a Content Calendar
Getting one blog post up is an achievement, but publishing one per week is a milestone that will kick your online presence into overdrive. To get there, you need a content calendar.
A streamlined content calendar makes it easy for your whole team to collaborate effectively. Marketing automation apps allow anyone in your workgroup to access the schedule at any time from any platform.
But, since we're only talking about what you can do today, accept that done is often better than perfect. You can use Microsoft Excel, Google Docs, or any free alternative of your choice to get your first content calendar started. Just bear in mind you'll probably need to upgrade later on.
And what does your super simple content calendar need to include?
Use this method:
Pick out one of your existing keywords and punch it into Google.
Read the top 3-5 pieces of content rivals have posted on each one.
Take some quick notes about what's missing or could be done better.
This exercise, which might take as little as half an hour for a single keyword, can give you grist for the content mill for an entire month, especially when you're just getting started. Eventually, you'll have to keep track of your previous topics and headlines, but not today.

5. Verify Your Local Listings (if Any)
If you have a traditional "brick and mortar" establishment, it's a good idea to make sure your local listings are accurate. This will help Google and other services deliver targeted traffic to your doorstep – literally. It's especially valuable for "near me" searches on the mobile Web.
Local listings come in many forms, but you can verify their two main sources in a few minutes.
They are:
Naturally, search engines also use your website for attribution of things like your address and phone number. When it makes sense to do so, best practices advise you to include these in the footer across your site. Also be sure you have a contact page, privacy policy, and Terms of Service.
There you go: Five things you can do today to boost your online presence.
Now, check "read this blog" off your to-do list and go get started!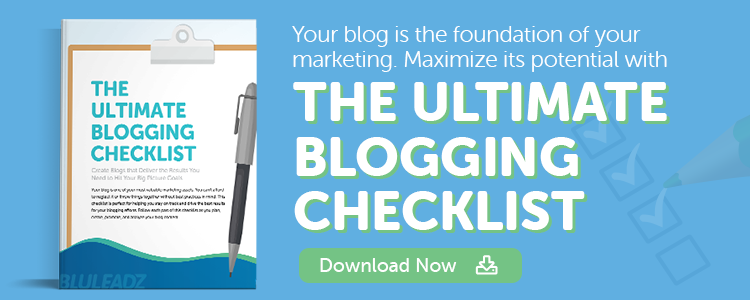 Published on August 6, 2018