"Does inbound marketing work for (insert industry name here)?" is a question we hear pretty often at the Bluleadz office. People in many industries, and especially B2B companies, question how effective using content to attract and convert leads is compared to the more traditional outbound marketing practices that they may be used to.
However, this is 2015, not 1995.
Marketing has changed over the last two decades with the rise of the internet, social media, and convenient online search engines such as Google. The way that people look for solutions to their needs has changed with the introduction of these new technologies.
This holds true, even for manufacturing companies.
Now, people search for solutions to their problems by typing a question into Google such as "How can I improve surface conditioning for my parts?" and look for the best answer to their question in the results list. Google and other search engines populate these results with sites that the search engine algorithm calculates as being the best.
The better your content, the higher you'll rank. The higher you rank, the more likely you are to get visits and conversions based on that piece of content. So, to answer the question from the title, "Can Content Offers Attract Leads for the Manufacturing Industry?" the answer is "YES!"
Rather than ask if content offers can attract leads for the manufacturing industry, the real question should probably be how manufacturers can leverage content offers to attract leads. To help with this, here are a few tips for manufacturers looking to attract leads with their content offers.
Tip #1: Put Content Offers Where Website Visitors Can Find Them
So, you've poured hours into carefully writing the perfect piece of content. You've even gone the extra mile and hired a designer to add attractive photos to your new eBook and turn it into an easy to read .pdf file so that anyone with a free Adobe reader software can get it.
You create a landing page on your website, and then you wait… and wait… and wait some more. Week 1 results: a whole lot of nothing. No conversions or even views of your landing page.
So, what gives?
Well, what may have happened is that you may have created a landing page for your content offer, but forgotten to add navigation to your website leading to that new page or to put up CTAs (Calls to Action) on your site to draw attention to the content offer.
Whoops.
Without some navigation from your regular site to the landing pages of your content offers, it is unlikely that your website's visitors will be able to find those landing pages without the exact URL. Putting a CTA highlighting the content offer in a related blog post or on your site pages can also help guide traffic to your content offer's landing page, where visitors can fill out the form on the page to become leads.
Tip #2: Produce Content that Answers a Need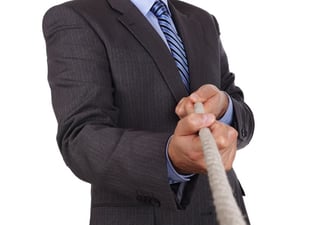 A common problem with content offers is that rather than creating a great piece of content that answers a customer concern or pain point, the content sometimes becomes little more than a prolonged ad piece listing off product or company features.
Self-promotion in content is fine, but it shouldn't necessarily be the main focus of the content, especially for top-of-the-funnel offers meant to answer a basic customer question. Think about it, if someone on the street asked you if you knew how to replace a window in your home, would you say:
"Sure, just remove the existing window, build a new frame and secure the replacement window in place with caulking supplies."
OR
"XYZ Windows & Doors are the only way you can replace a window in your home because…"
One gives an effective answer to a common question, the other is a sales pitch that will have people questioning if you're actually going to help.
By answering common questions in a content offer, manufacturers can establish a positive relationship with potential clients while collecting contact information. This helps to not only build leads, but make them more amenable to converting into customers at a later date.
After you've answered general questions and gotten the lead interested in your brand, then you can hit them with branded content for the middle and bottom of your sales funnel.
Tip #3: Keep Form Fields Simple
More than once, a truly great and useful piece of content has been passed over by a potential lead because the form on the landing page to get to that piece of content asked for too much info at once.
While having lots of form fields can help you get really detailed information about a lead that you can use to better segment them, asking for too much info up front can be intimidating or worse, tedious. This leads to forms not getting filled out, and a perfectly good content offer being ignored.
While there's no hard, fast rule for the number of content fields a landing page should have, research cited by HubSpot shows that somewhere between 5 and 10 fields usually provides the best results.
However, there is a way around this if you want to collect lots of customer info: use smart form fields.
Rather than banking on getting all of a customer's information with a single piece of content, create lots of content offers and set up smart form fields that recognize return visitors and ask them for new information each time they visit. This way, no one piece of content becomes too tedious to fill out, and you get lots of great information for your analytics to optimize future content.
With the right content, businesses in the manufacturing industry can attract leads, and eventually convert these leads into customers.
Want to know if your website is equipped to build your business? Sign up for a FREE website marketing review at the link below: