How to Develop a Customer Journey Map
1.

Determine Your Objectives For Creating the Map.

2.

Conduct Research.

3.

Target Customer Personas.

4.

List Out the Touch Points Your Customers Interact With.

5.

Decide Which Elements You Want to Show on Your Map.

6.

Take Inventory of the Resources You Have.

7.

Try Out the Customer Journey For Yourself.

8.

Adapt Your Journey Depending on Your Results.
The customer is everything, so creating a customer journey map is a no brainer.
As Sam Walton says, "There is only one boss. The customer. And he can fire everybody in the company from the chairman on down, simply by spending his money somewhere else."
Customers are the center of your entire business model, which is what makes the flywheel framework so impactful. When you understand their journey, you can refine every aspect of your business around the customer experience at every touchpoint.
What Is a Customer Journey Map?
Essentially, a customer journey map helps you visualize the whole process a customer goes through, from their initial touchpoint throughout their entire lifecycle as they strive to achieve a specific goal.
The map shows where customers enter your marketing and sales cycle, then how they find success with your products or services. And if they're not successful, this map shows you where to help them find success.
The Benefits of Creating a Customer Journey Map
Everyone in your organization benefits from customer journey maps. In the big picture, they ensure alignment throughout the company, with a customer-focused perspective. This continuous focus on the customer is essential to building an effective flywheel framework.
via GIPHY
Your map can be shared with every team. And it should be shared throughout – your customer's experience impacts everyone.
Let's look at how each part of your flywheel – marketing, sales, and service – benefits from a customer journey map.
Advantages for Marketing
The inbound marketing philosophy is founded on a simple idea: delivering the right content to the right people at the right time. With a customer journey map handy, your marketing team can identify opportunities to deliver relevant content to each of your customers.
They can map content so each user interacting with your brand gets exactly what they're looking for at each stage of their journey – awareness, consideration, and decision.
Advantages for Sales
Your sales team can review customer journey maps to uncover opportunities they might be overlooking. It also helps better allocate resources and sales tools at each stage of the sales process.
For example, you might find that sales is struggling to make prospects aware of their real pain points. This might call for more targeted sales content or a new sales engagement strategy altogether. These insights ultimately help speed up sales cycles.
Advantages for Service
Your service team can visualize their touchpoints when they review your customer journey map. Plus, the map can detail specific pain points based on real customer experiences.
Ultimately, this tool empowers your service team to be more proactive in addressing customer problems, which in turn lead to delight (and hopefully referrals and positive word of mouth).
Bottom line: Your entire organization can find opportunities for collaboration throughout the customer experience to ensure consistency in each of their valuable interactions.
And the potential ROI of customer journey maps is real and impressive.
The Astounding ROI of Customer Journey Mapping
Customer centricity is not just a buzzword in the business lexicon. It's a business strategy that paves the road for sustainable growth.
And building these maps takes all the guesswork out of determining how to put your customer in the center of every aspect of your business. But when you use this tool to guide your team strategies, you yield amazing results.
The Aberdeen Group conducted research on companies that use a formal customer journey management program. What they found is remarkable.
Here are a few noteworthy stats that highlight the financial benefit of mapping:
54 percent greater return on marketing investment
This is not surprising when you consider how the insights from mapping make conducting targeted content marketing initiatives much easier.
3.5 times greater revenue from customer referrals
Simply put, when you invest energy and resources at every customer touchpoint, you're bound to turn happy customers into promoters of your brand.
18 times faster average sales cycle
Your sales team has a better perspective on the entire cycle, showing them where and how to engage in a more meaningful way.
56 percent more cross- and up-sell revenue
Mapping paves the road for consistently delighted customers, who are open to buying more from you.
Elements of Effective Customer Journey Maps
Let's state the obvious here: not all customer journey maps are good or helpful. You can't simply throw one together without any preparation.
Here are the elements you need to get started:
Clear Objectives
Your map should have a specific goal. Maybe you want to better align sales and marketing. Perhaps you want the map to help your service team better support customers.
Whatever your goal is, make it clear before you get started. This will make it easier for you to mold your map into a format that best suits your objectives.
Buyer Persona
Remember, you're building your map from a customer perspective, not an internal perspective. If you're building from an internal view, your map will use business processes and teams as the foundation of the journey.
Instead, you need to use the customer's point of view as a foundation, and to fully understand their point of view, you need detailed buyer personas.
Outline a customer's motivations, pain points, goals, and considerations to lay the foundation. You can build out detailed personas and develop in-depth maps using data from several sources, including:
Customer surveys
Customer reviews
Website analytics
Customer interviews
Onstage and Offstage Details
Successful maps define the difference between onstage and offstage elements at every touchpoint. Onstage elements refer to things that are visible to customers, and offstage elements are things going on that customers can't see.
Some maps use graphics to indicate this distinction, like a line that denotes customer visibility. This distinction helps you see what how operations are separate from what the customer is actually experiencing.
Key Performance Indicators (KPIs)
As with every business strategy, you need metrics to analyze in order to gauge performance. Common metrics used for customer journey maps include customer satisfaction measures, net promoter score (NPS), and the like.
These KPIs should align directly with your objective. So if you're aiming to boost referrals by 20 percent, you would likely be analyzing NPS.
8 Steps of Customer Journey Mapping
Customer journey mapping is easier when you break it down into smaller steps that align with your goals. Here are some common steps you can take when mapping your customer journey:
1. Determine Your Objectives For Creating the Map.
You can't begin to create your customer journey map until you ask yourself why you need one in the first place. Who is the map about? What experience should your map follow? What goals do you have for this map?
These questions suggest that you need buyer personas to help guide and direct your customer journey map to them. Buyer personas are made up customers that represent your real customers demographics and psychographics.
2. Conduct Research.
The best way to conduct research for your buyer personas and customer journey map is to create a questionnaire for your customers and prospects. This way, they can provide feedback based on their experience and you can gain more demographic information such as age and their general location.
Some of the questions you may ask your customers and prospects include:
How did you learn about our company?

What solutions do you hope our company can provide you?

How long have you interacted with our website?

Have you ever purchased anything from our website before?

How easy is it to navigate our website on a scale of 1-10?

Have you ever interacted with our customer support?

What attracted you to our website?

How long do you typically spend on our website?
HubSpot has a great tool that helps you to create buyer personas with the data you collect from customer feedback.
3. Target Customer Personas.
Next, you need to hone in on one or two buyer personas to create a more accurate customer journey map. If you use too many buyer personas, the less likely it is for your customer journey map to reflect one specific customer's route while engaging with your business.
This is why you should select the customer persona that is most common. Compare and contrast these personas until you find the right one to map. You can always create separate customer journey maps for your other personas later on.
4. List Out the Touch Points Your Customers Interact With.
Touch points are the different places that allow your customers to interact with you. Write a list of all the touch points your customers currently use along with the ones you want them to use. Doing so gives you insight into your customers actions.
Maybe your customers don't access more than one or two of the touch points on your website. This could mean that they are leaving your site early for some reason. If they are using many more touch points than you expect, it may be an indicator that your site's navigation is too complicated.
Knowing and understanding your touch points is a good way to gain an understanding of the objectives and ease of your customer journeys.
The touch points you have extend to other online channels besides your site. Make sure you know all of your touch points so you can track them. This includes social media, email marketing, and paid ads.
Verify your touch points by double-checking your analytics to make sure you know where your traffic is coming from. Then determine the actions your customers perform through each touchpoint, the emotional driver or motivation for your customers actions, and the obstacles and pain points they may encounter through each touch point.
5. Decide Which Elements You Want to Show on Your Map.
There are four types of customer journey maps you may choose from. These four types are:
Day in the Life
This type of customer journey map helps you to picture the thoughts, emotions, and actions your customers experience daily, with or without your company. This map is good for helping you to meet customers' unmet needs.
Current State
This type is the most frequently used customer journey map. This map displays the thoughts, actions, and emotions your customers experience during their interaction with your company. This customer journey map helps you to improve the customer journey continually.
Future State
This customer journey map is based on your predictions about the customers' future actions, emotions, and thoughts in regards to your company. With the future state type, you assess the current state your customers are in to determine where you would like your customers to go.
This type of map is good for displaying your vision and it helps you see your objectives clearly.
Service Blueprint
This map type starts with the basic structure of one of the previously listed maps. Next, you are supposed to layer on different factors that are responsible for delivering customer experience.
These factors may be things like processes, technology, policies, and people. The service blueprint map type is best for finding the core causes of customer journeys.
6. Take Inventory of the Resources You Have.
Your customer journey map will likely touch on several areas of your business. You will need to highlight all of the resources that go into the customer journey and experience. This means you must know what resources you have and the ones you may need to contribute to the customer's journey.
For instance, you may include the flaws your content marketing team may have when it comes to your SEO rankings. This may allow you to notice that your team doesn't have the proper SEO tools. You can add these new SEO tools to your map to predict how they'll impact your content strategy and customer touch points to drive value.
7. Try Out the Customer Journey For Yourself.
Mapping out your customer journey doesn't mean there is nothing else to do. You must analyze the results and follow the journey yourself. Trying the journey out for yourself involves following your map step by step and going through all of the touch points to find gaps.
Some lingering questions you may want to ask yourself after your map is finished are:
How many people click on links to your website and then exit before making a purchase?

How can you help your customers better?
Your analysis of the results from your customer journey map will help you to identify the unmet needs of your customers. This helps you to ensure that your customers are able to find solutions to their problems with your customers help.
8. Adapt Your Journey Depending on Your Results.
The analysis you make by mapping and following your journey will give you a better idea of what adaptations you need to make to your website and your other marketing efforts. You can then make the necessary changes to help you meet your goals and objectives.
Your map isn't something that you complete and never look at it again. You should be consistently looking at your customer journey map to identify new opportunities to give your customers a better experience. You can analyze your customer journey map quarterly and after you add new products or services to see how the journey has changed.
Customer Journey Map Examples and Templates
This can feel like an abstract concept, but when you see what customer journey maps look like, it makes a lot more sense. But here's the thing – there are many different versions of customer journey maps.
Your company's customer journey map will be unique to your business, so keep that in mind as you build yours. But in the meantime, here are a couple of customer journey map examples to spark your inspiration.
Stellar Customer Journey Map Examples
Lancôme's Brand Experience Journey
This leading luxury cosmetics company built a map to visualize the brand experience their customers have through various touchpoints.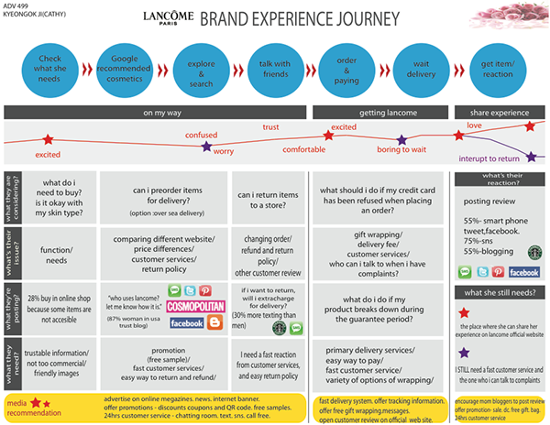 Source: Behance
As you can see, this map walks through important aspects of the customer experience. At the top, you can see each stage of the journey: from the customers looking up what they need, to searching options, to ordering, and ending with their purchase.
Underneath the journey stages, they included emotional responses, like excited, confused, and love. They also map out common questions throughout the journey and reactions after they receive their items.
At the bottom, they make notes for their team, recommending various tactics, like offering promotions and encouraging bloggers to post reviews.
Carnegie Mellon University's Traveling Student Experience
The prestigious university created a map to address a specific problem – their Visit CMU website only offered a few resources that did not meet student needs.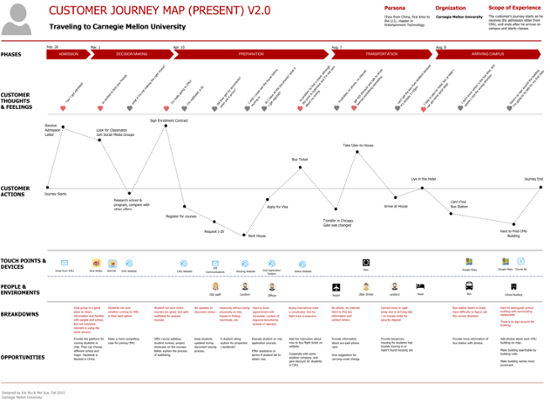 Source: Iris Tong Wu
Their maps captured the experiences of students and acted as an excellent visual tool to detail touchpoints and disconnects that proved problematic for students.
They used a couple maps to sketch out wireframes and build a better digital experience to better support people visiting their campus.
Templates to Consider Using
As you can imagine, the possibilities for mapping your customer experience are endless. There are so many different ways to build out your map, which means you have great opportunities to find what works best for your business.
Here are a few common customer journey map templates.
Day in the Life
This map follows the daily routine of your customer.
| | | | | | |
| --- | --- | --- | --- | --- | --- |
| | Morning | Noon | Afternoon . | Evening | Nighttime |
| Thoughts and Feelings | | | | | |
| Actions | | | | | |
| Unmet Needs | | | | | |
| Pain Points | | | | | |
| Problem Solving Ideas | | | | | |
This map helps you pinpoint exactly what times of the day your company can best support your customer.
Buyer's Journey
This template follows the basic three stage process and lays out the awareness, consideration, and decision stage.
| | | | |
| --- | --- | --- | --- |
| | Awareness | Consideration | Decision |
| Customer Steps | | | |
| Customer Questions and Considerations | | | |
| Emotional State | | | |
| Actions | | | |
| Pain Points | | | |
| Touchpoints to Leverage | | | |

With their journey in mind, your teams can step into the customer's shoes at every stage. As you walk in their shoes, you can find touchpoints where certain teams can interact with them.
Future State
This template is helpful because it helps everyone in your organization to consider the goals of your customers. What is their desired state after buying from you and how can you empower them to reach this state?
| | | | | | |
| --- | --- | --- | --- | --- | --- |
| | Phase 1 | Phase 2 | Phase 3 | Phase 4 | Phase 5 |
| Future Thoughts and Feelings | | | | | |
| Future Actions | | | | | |
| Future Touchpoints | | | | | |
| Potential Changes | | | | | |

This template is great for conditioning your team to be future-oriented with customers. They want to help customers succeed, and this shows how to help them get there.
Your customer journey map can be as simple or as complex as you need it to be. One thing to keep in mind: don't overthink your format.
There are a ton of intricate, colorful, well designed maps out there. Don't get too concerned with finding your perfect format. Just stick to the main goal you set and build a map to get started. It might evolve over time, and that's ok.
Looking for a simple template? We've got one!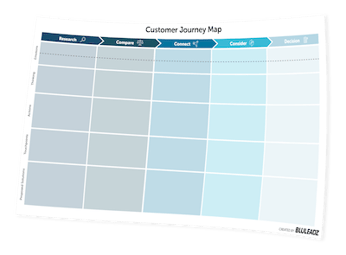 Download our Customer Journey Map Template here! ➡️➡️➡️➡️
The important thing to do is to start mapping. Fortunately, there are some great tools for this.
5 Customer Journey Mapping Tools You Need to Try
1. Microsoft Visio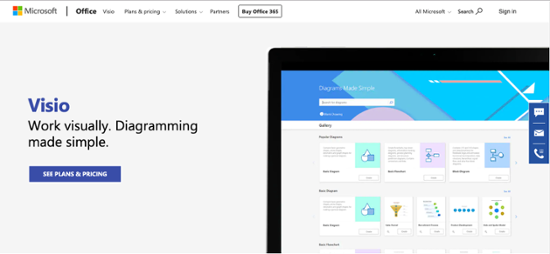 One of the most popular tools for creating flowcharts and diagrams, Microsoft Visio is a great solution. It's part of the Microsoft Office suite, and it's incredibly user friendly. Overall, this is a great place to start for beginners because you can make your maps as simple or as complex as you want with this tool.
2. Gliffy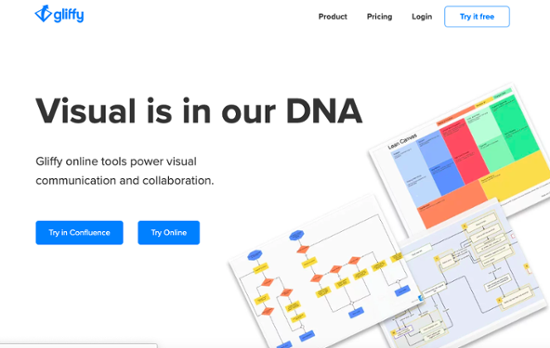 The value proposition statement on Gliffy's homepage says it all: this company takes visual communication seriously. This tool is a little more simplistic compared to others, but it does the trick. And it comes with user friendly templates and even integrates with Atlassian apps, making collaborating as easy as one click.
3. Smaply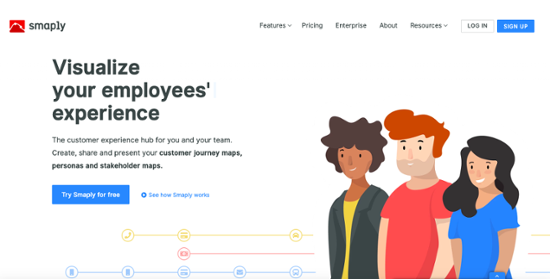 Smaply is made specifically for mapping out customer experiences, so it has all the features you need to jump right into your first map. One of the coolest features is the persona creator, giving you all you need to know about your customer just a click away.
4. Touchpoint Dashboard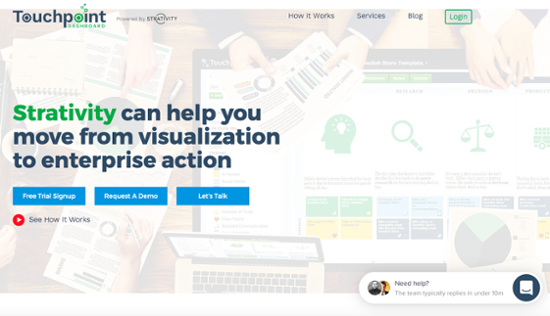 Touchpoint Dashboard is excellent for teams of all sizes. It incorporates images, storyboards, and data attributes. Plus, the story mode makes it easy to deliver an engaging presentation of the maps you create.
5. IBM Journey Designer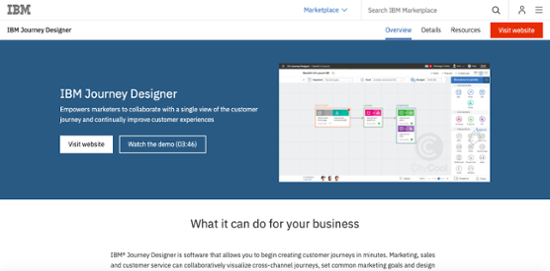 One of the best tools for collaboration, IBM Journey Designer is a top choice. Break down the silos so marketing, sales, and service can work together on journey mapping in near real time.
The customer journey map is your best tool for aligning your entire organization around the most important piece of your business: the customer.