Your business lives and dies by the customer. This is why so many organizations are embracing customer centricity as a business strategy.
Customer centricity is the mindset of viewing situations from the viewpoint of your customer, not just your personal perspective or the perspective of your company. This is a necessary evolution in today's crowded world of business, and it's founded on the wisdom of many reputable leaders.
Some of the best business minds have shared how they think about customers and build their business philosophy around them:
"We see our customers as invited guests to a party, and we are the hosts. It's our job every day to make every important aspect of the customer experience a little bit better." – Jeff Bezos
"There is only one boss. The customer. And he can fire everybody in the company from the chairman on down, simply by spending his money somewhere else." – Sam Walton
"It is so much easier to be nice, to be respectful, to put yourself in your customers' shoes and try to understand how you might help them before they ask for help, than it is to try to mend a broken customer relationship." – Mark Cuban
Growing businesses don't simply become customer centric to look good. Putting the customer at the center of everything actually yields significant results.
Why Customer Centricity Matters
via GIPHY
The benefits are far reaching for customer-centric organizations. First of all, it has a direct impact on revenue – customer-centric companies were 60 percent more profitable compared to companies that were not focused on the customer.
This is likely due to high customer retention and referral marketing. It's human nature – if you're treated well, you're going to remain as a customer and even sing a company's praises (especially if that company offers incentives).
Customer centricity is what the flywheel framework is built on – not only educating and delighting the customer with marketing and sales, but also following through on a consistent basis with strong customer service.
An important ingredient of becoming a customer-centric organization is collecting customer feedback and using that data to inform the way your business operates.
The outdated, old way of doing things was simple. Your company would build a product or a service and simply sell it. The customer wouldn't have much of a voice (and therefore, an impact) on the product or service they need to address a pain point.
Fortunately, thanks to the birth of the inbound organization, the best companies are evolving with their customers to better serve them. Most companies let their customers dictate the future of their business.
Customer feedback isn't just collected; it's acted upon. If you're truly listening, your product and service will change over time. On the other hand, if you stick to the old mentality, as your target audience's needs change, you won't be able to keep up, diminishing the size of your audience significantly.
Successful companies address these changing needs and adapt, ensuring customer satisfaction to build brand loyalty. As you make changes, customers see through your actions that you care.
Even if customers aren't directly voicing their feedback, you can still evolve with their needs. For example, SaaS companies do this well because they change their products based on the customer's behavior. They track how each person uses their tools and help craft a better customer experience based on those metrics.
via GIPHY
If customers are spending a lot of time trying to find something, the company can add a pop-up tutorial video. They can also eliminate pieces of their software that are underused or create more instructional content to highlight features and better teach customers how to make the most of it.
But you don't just assume the role of a customer-centric company overnight. And it's certainly not just a matter of updating your values.
To become truly focused on the customer, you need to start at the culture level.
The Best Customer-Centric Cultures
The customer experience is informed by how your entire business operates, which is dictated by your company culture. Putting people over profits is a business strategy that every person on your team needs to embrace.
Let's learn from the best customer-centric cultures:
Zappos: Focusing on the Wow
CEO Tony Hsieh couldn't have said it any better: "Customer service shouldn't be a department, it should be the entire company."
This isn't just lip service. Zappos, the famed online shoe and clothing retailer that generates billions of dollars annually, is known not just for their awesome prices and amazing user experience on their website. They're known for their unique culture.
A central theme in their core values is "wowing" the customer. One of their coolest policies is that they don't set limits to call times with their customer loyalty team. The focus here is on the customer.
via GIPHY
If they were company focused, they would establish tight call limits to ensure every ticket is dealt with as fast as possible. Their team is encouraged to stay on the line until they solve the customer's problems. In fact, some of their longest calls lasted over 10 hours.
Intuit: Always Observing Behaviors
As a leading name in the software space, Intuit stays among the most popular brands because they pay attention and evolve their services.
This dedication to the customer experience goes as far back as their early days in the 1990s. Founder Scott Cook created usability labs to give customers a space to use products while employees observed and identified what those problems were.
They would also observe customers in their real lives as part of "Follow Me Homes." Why? Because they need to see how you use their products in your natural habitat.
They also conduct annual customer surveys to gather insights and find solutions for common issues.
HubSpot: Fostering a HEARTfelt Community
This isn't shocking when you consider the fact that HubSpot sparked the inbound movement, favoring the customer experience at every touchpoint. Not to mention, their culture is really cool.
In fact, their culture code shows their employees work with HEART:
Humble
Empathetic
Adaptable
Remarkable
Transparent
Another aspect they have ingrained in their minds – Solve For The Customer – is not just centered on their happiness, but also their success.
You can see this commitment to the customer in action, thanks to their robust blog, vast knowledge base, excellent support resources, use of live chat and chatbots, and, most notably, their active community.
They host several forums, including ones for ideas that customers can submit to help improve their platform. As a HubSpotter, your concerns and frustrations never fall on deaf ears. You can often solve problems yourself by engaging with their community, or you can search the knowledge base.
Worst case, you get to contact their amazing staff of experts to walk you through any issue.
Shore: Enabling Customers With Personalized Content
One thing that everyone is looking for in their work is efficiency. And with awesome tools from Shore, you can achieve an optimal experience to be your most productive self.
They're customer-focused through their products, thanks in large part to their clear vision: "We enable people to focus on their profession."
One of their best tactics for enabling their audience is their use of customized landing pages targeted for each of their buyer personas, specific to their industry. Between insurance, coaching, bridal, healthcare and more, their tools are built for several different industries.
For example, if you're looking for scheduling software for your restaurant business, you might land on this page: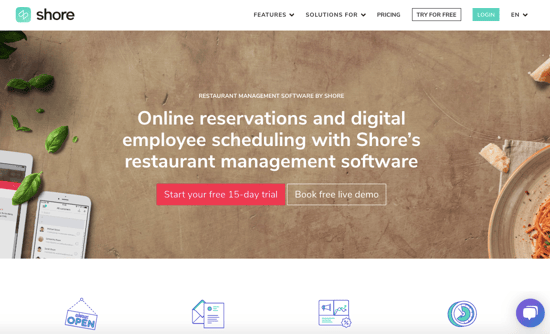 But if you're a repair professional looking to streamline processes, you might find this landing page: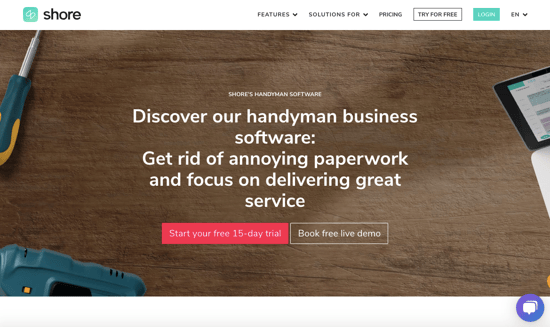 This shows their commitment to helping their future customers find the most helpful resources available.
PatSnap: Delivering Education As Customer Support
Your customers, especially in the world of SaaS, will need your ongoing support after they purchase your product or sign up for your services. This is why customer education strategies are important to the sustainable growth of your company.
Without providing educational resources, you leave your customers fending for themselves. Companies like PatSnap, an intellectual property software company, deliver support by keeping their customers educated.
The Academy by PatSnap provides full video courses to teach their customers how to use the intellectual property data they're getting by using the PatSnap platform. Instead of just leaving their customers to their own devices, they give users full access to a variety of lessons and interactive resources.
Customer centricity is more than just a buzzword. It's the business strategy that companies need to embrace today to thrive tomorrow. Get started by building your flywheel framework.