In today's day and age, digital marketing is the foundation of every company's marketing engine. Initiatives like user friendly web design, SEO, blogging, social media, and such are all part of an effective digital marketing strategy.
But as you can imagine, all of these moving parts call for a lot of resources, which can be a major burden for certain organizations, especially nonprofits.
What Are Nonprofits?
We've all heard of various nonprofits and their causes, but not many people understand what they actually do. A nonprofit organization uses its revenue surplus to invest in their big objective rather than distributing profits to their shareholders and leadership team.
These companies are accountable to their donors, volunteers, recipients within their program, and the community around them, not just stakeholders. They invest in the people and communities that invest in them.
Most are dedicated to advocacy, social causes, and serving public interest. Many nonprofits rely on aid from volunteers, with an estimated 8.7 billion hours contributed in 2016.
via GIPHY
Examples of Nonprofits
The National Center for Charitable Statistics (NCCS) found that there are 1.56 million companies registered as nonprofits. In the U.S., 27 different types are recognized by the IRS as tax-exempt. Some of the most common types include:
Social advocacy groups
Charitable organizations
Foundations
Social clubs
Fraternal societies
Veterans organizations
Religious associations
Social welfare organizations
Due to the nature of their work, these organizations aren't quiet or hidden either. Their presence can be felt in communities across the globe.
Chances are, you've probably heard of the larger nonprofits, such as the following:
United Way
Focused on supporting domestic needs, such as healthcare, education, and financial stability, they are the nation's largest charity. United Way is 100 percent dependent on donors, with most of their fundraising stemming from payroll deductions. They support a wide range of other charities also.
Feeding America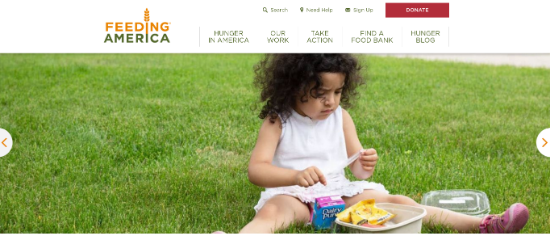 Source: Feeding America
The nation's leading hunger-relief organization, they host a network of over 200 food banks and food rescue sites. They feed over 46 million people by way of soup kitchens, food pantries, shelters, and other community-supported agencies, accepting both monetary and grocery donations.
Salvation Army
They're located in over 130 countries, offering charity work to impoverished families. The organization's 1.7 million members run charity shops, shelters, offer disaster relief, and humanitarian aid. Salvation Army also provides spiritual care as part of its Protestant Christian church founding.
The YMCA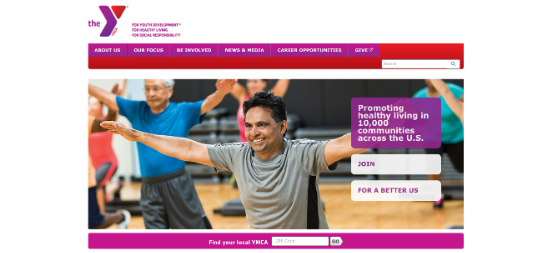 Source: YMCA
The Young Men's Christian Association, known affectionately as "the Y," aims to empower youth across nations. They offer a wide range of youth development programs ranging from athletic facilities, community engagement, and holding classes for skill development.
Boys & Girls Clubs of America
This nonprofit operates after-school care programs nationally, aiming to give American youth a safe place to learn, grow, and interact with peers. With an impressive members roster, advocates like Mario Lopez often share that their local chapters gave them somewhere to escape difficult neighborhoods and find life mentors.
Habitat for Humanity
Habitat uses its donation money to build or improve homes for people in need internationally. Community-level offices are independently run and offer services for fundraising, building site selection and construction, and mortgage servicing.
Goodwill
Its used-goods stores are well known, but Goodwill also provides job training, employment placement services, and other community-based programs.
American Cancer Society
A voluntary health organization, this nonprofit is focused on finding a way to eliminate cancer. There are over 250 offices across the U.S. organized regionally. They also offer patient services such as early detection, treatment, and education.
The Nature Conservancy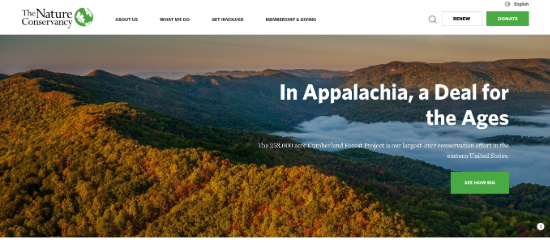 Source: The Nature Conservancy
Their efforts are centered on conserving land, water, and wildlife. Now operating in 30 countries, research from The Nature Conservancy is used to influence global policy, aid indigenous communities, and even acquire land to preserve biodiversity.
Planned Parenthood
Offering reproductive health services and education, this nonprofit is the largest American provider of HIV and cancer screening, contraceptives, and research in reproductive technology.
Creating a Nonprofit Marketing Strategy
With these nonprofits being as popular and successful as they are, they have to be doing something right in their digital marketing strategies. Some have been around for years and are, rightfully, incredibly established. But marketing as a whole has changed and adapting to the new digital age is a large obstacle to tackle.
Let's go through the steps of creating your own nonprofit marketing plan to see how you can stay ahead of the game.
1. Establish Clear Goals
Your goal is the foundation of your plan. It's what you build all other ideas upon. You can't have success if you have no definition for it. You need a target to aim at. Here are some common goals to get you started:
Boosting donations: You can use your digital space to energize your donors with a "Donate" page, CTAs, calls, and highlighting donations via blogging.
Generating awareness: Expanding your reach and the public's knowledge of your organization can be easily achieved through social media campaigns, newsletters, and the like.
Increasing the number of volunteers: If you need to boost volunteer support, maybe you want to segment your email list or post CTAs on your website and across social media platforms.
Depending on the needs and pains of your organization, your goals may vary in priority and number. Once you've decided on what they are, you'll want to map them to your initiatives so your plan is clear.
2. Audit Your Current Digital Marketing Plan
This is where you get to see where your nonprofit actually is in digital marketing now. Carefully look at what's already in place so that you can make the improvements you need to make to achieve your goals.
Ask the right questions when you're assessing your current efforts. Some questions you need to answer include:
Where are most of our donations coming from?
How are we managing our CRM?
What are we currently doing to engage our leads?
What channels are we using currently?
These kinds of questions will drill down on where the gaps are in your digital marketing.
3. Get Your CRM In Order
via GIPHY
If your CRM isn't already organized, do it now. It can seem a little overwhelming, but you'll be able to better manage insights about each of your contacts. This will later enable you to better segment your audience.
You can try sending more targeted messaging to other segments, like first time donors, corporate partners, etc. They should all receive different messages depending on their relationship with your organization.
The goals you set at the beginning should help you identify key segments that you should address.
4. Map Content to Each Donor Lifecycle
You know the buyer's journey? Donors go through the same lifecycle stages of awareness, consideration, and decision. Content should be used to educate, engage, and encourage visitors in ways to advance toward your goals.
Awareness stage content: Educate your audience on your mission.
Consideration stage content: Introduce audiences to your company and show how your nonprofit is impacting your community.
Decision stage content: Your audience needs to know where, when, and how to contribute to your cause.
Make sure your content is optimized for search engines. SEO ensures you're targeting the right keywords and getting your content to rank well on search engine result pages. When your buyer personas search for information, they'll find your content and start trusting you.
5. Build Conversion Paths
Content is only one part of your nonprofit's digital marketing plan. It needs to lead readers to convert on a landing page. That's where you can capture their information, enabling you to begin lead nurturing campaigns.
via GIPHY
Don't forget that you're aiming to deliver value to your audience. Content offers are an important part of any strategy.
For example, say a visitor reads your blog post on disaster relief. They see a CTA button promoting your disaster relief ebook and feel enticed to download it to learn more about the process of aiding in disaster relief. In exchange for this offer, you get their email and other information to further engage them with email marketing.
Building these conversion paths isn't optional. It's essential to finding the leads that will back your organization.
6. Continue Engaging Leads
Converting these leads is only the first step. Don't forget them or let them fizzle out. Keep them engaged and interested in what you can offer.
Email drip campaigns are great for sending a series of emails to each segment. This keeps them engaged and allows you to deliver more impactful content to them. You're also able to gain more data than you would from a general monthly newsletter email.
7. Measure and Evolve
Speaking of data, now is when you want to start keying into your metrics. Every digital marketing tactic should be tracked and measured.
Establish key performance indicators (KPIs) for each initiative. Then, as you measure, evolve your strategy.
For example, if your drip campaign has low email open rates, then you probably need to adjust your subject lines and email content.
Content Marketing for Nonprofits
Content marketing is a big piece of the digital marketing puzzle. It encompasses a ton of initiatives, including:
Blogging
Email marketing
Video marketing
Case studies
Social media
And content marketing is a massive driving force in the nonprofit world – a staggering 76 percent of nonprofits use content marketing. There's a ton of potential in the nonprofit space to nail your content marketing and drive digital marketing results.
via GIPHY
Here are some successful nonprofit marketing examples to learn from:
UNICEF
The United Nations Children's Fund has been around for over 70 years, improving the lives of impoverished children. Even though they work under and face some pretty heavy circumstances, they create emotionally impactful visual content for their social campaigns.
For example, this Facebook post shows a baby reacting to a caretaker showing affection. It's a beautiful moment capture, and the messaging gets to the point – we only have one shot at shaping a child's future.
Source: Facebook
People often rely on their emotions to make decisions in life, and UNICEF uses that to inform its audience on the nature of their cause and who their outreach impacts.
They are also incredibly engaging on their social media channels, replying to comments and answering questions. Their activity builds trust with their viewers. Viewers who can be enticed to learn more about the organization and turn into leads.
March of Dimes
The March of Dimes has been saving babies since the 1930s, so they have plenty of life-changing anecdotes that they share with the public. Not only are these stories content, but they're also endorsements sharing that the nonprofit is making a difference.
Their campaign stretches across platforms: blogging, Facebook, Twitter, and YouTube. Again, they use emotional content to spread awareness. Recently, they educated on the dangers of pregnancy and labor in a raw, honest video campaign.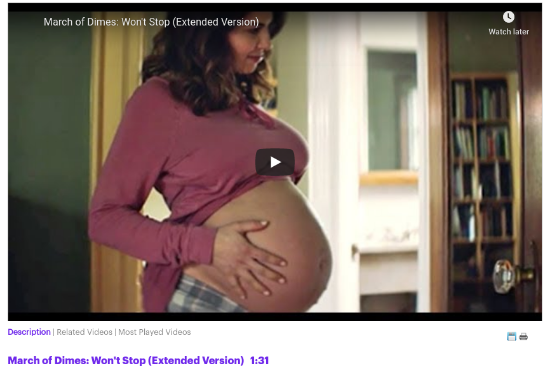 Source: March of Dimes
Big Brothers Big Sisters
For an organization that has practiced content marketing for a while, Big Brothers Big Sisters of America has done a great job of integrating social media into their strategies so that they can make their presence known in the online world.
They produced the Start Something Web Series, using today's video and streaming craze to tell their stories. Each episode shines light on the impact a "big" had on a "little." The campaign spread fast via Facebook and website shares.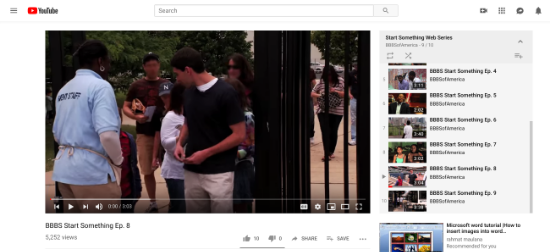 Source: YouTube
Make-A-WIsh
Make-A-Wish's most well known campaign was Batkid. A cancer survivor and wish recipient, Miles Scott got to be Batman's sidekick for a day in "Gotham City" when thousands of volunteers, city officials, and supporters transformed San Francisco to make his wish come true.
A series of crimes were staged for him to thwart on behalf of the public. Police officers volunteered their time to participate, and he even received a key to the city from the mayor.
The project, shared through a video on Make-A-Wish's YouTube page, became so viral that it was covered by credible news outlets across the country. A documentary film of the day, Batkid Begins, was produced and shared the entire process.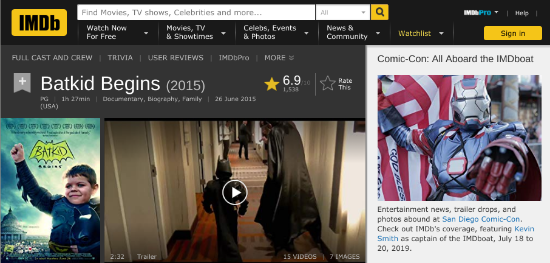 Source: IMDb
Social Tees Animal Rescue
A New York based animal rescue, Social Tees launched a unique campaign when they were inspired by the popular dating app, Tinder. Matching potential owners to dogs in need of homes, they advertised "Puppy Love" in a series of YouTube videos.
Like social media inception, using a social media app to market in your social media campaign was brilliant. It worked too!
If you look at the nature of media right now, it's not surprising that social media is a top digital marketing channel for nonprofits. Most of the examples mentioned above used at least one social media platform.
In fact, 97 percent of nonprofit marketers use social media content, and 64 percent said it was proving effective for them. The top platforms used by nonprofit marketers were:
Facebook (96 percent)
Twitter (93 percent)
YouTube (77 percent)
LinkedIn (65 percent)
Instagram (58 percent)
Understandably, the explosion in popularity on social channels makes it a more promising area of focus for nonprofits. But your other outlets shouldn't be neglected either.
We established the effects email marketing can have, and there are plenty of other digital marketing assets you can create to engage your audience. Case studies, for instance, will earn your organization credibility and trust because they demonstrate how your nonprofit serves communities.
Blogging is also an excellent approach to sharing your value. For example, Amnesty International USA has a very successful blog that showcases individual stories of people overcoming injustices and highlights human rights violations globally. Their posts are categorized by region and topic, so their audience can find the stories they want to learn more about.
Best Nonprofit Marketing Campaigns
Now that we've fleshed out the logistics, it shouldn't be too hard to admit that truly successful digital marketing campaigns are built on a diverse selection of initiatives. From social media tactics, content marketing, and everything in between, there's so many different paths to explore.
Here are some of the best well-rounded nonprofit digital marketing campaigns out there: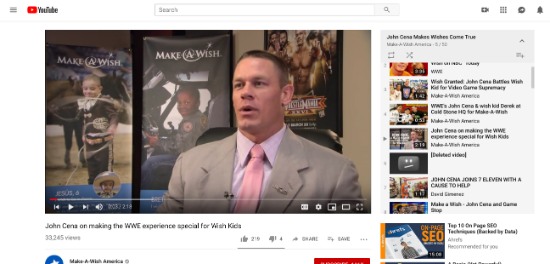 Source: YouTube
They frequently partner up with celebrities, athletes, and even influencers to bring joy to their wish receivers. Many social media stars will record and post about their experiences with the kids, furthering the foundation's outreach and impact.
This kind of large-scale campaign not only pulls on the heartstrings of leads, but also acts as its own case study, giving proof of the organization's impact.
UNICEF
UNICEF does a great job of building campaigns that have a lasting effect on audiences. Through a strong combination of video, social media, and email marketing, there's no question of where donations go within this organization.
The approach of being painfully direct about the nature of their work has proven to be incredibly important for their marketing strategies. "Likes Don't Save Lives" was meant to earn donations for children's vaccines while also calling out hypocrisy in digital culture. The message was received and nearly 637,000 children were vaccinated.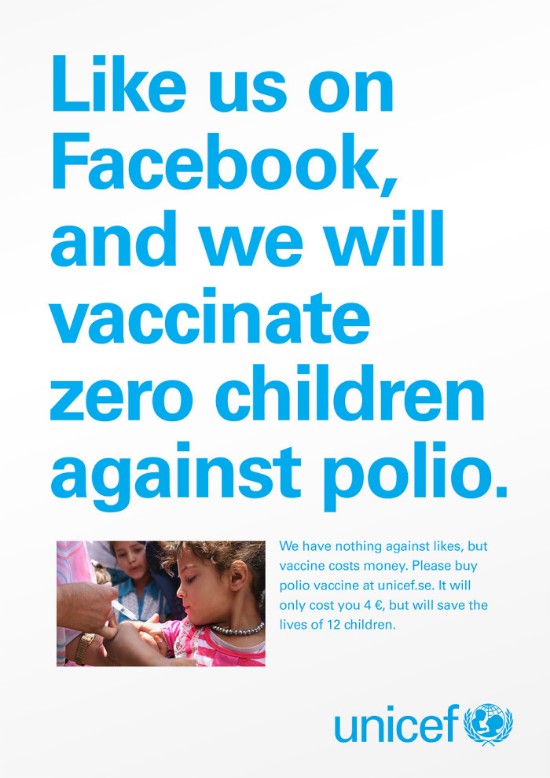 Source: forsman
This campaign also included a powerful TV commercial.
ASPCA
Not many people are able to hear Sarah McLachlan's "Angel" without having the image of a sad puppy flash through their mind. What was originally a television commercial campaign has evolved and taken on new power in the digital sphere as a meme. Whether this was intentional or not is up for debate, but what's done is obviously done.
The American Society for the Prevention of Cruelty to Animals has a presence on several different social media platforms. One of their more popular outlets is IGTV, where pet and owner stories are highlighted. The tone of the content varies from hilarious kitten mischievousness to touching reunions after natural disasters.
Their newsletters feature current events, touching adoption stories, and future plans and are dispersed through email, their website, and across social media channels.
Charity Water
Charity Water has embraced the power of content marketing and video. They build awareness and support for their clean water initiatives with high quality, on location footage. Visitors can also read field stories to learn what it's like in the countries that receive aid. They are aggressive in their marketing, offering an immersive digital experience for those who have purchased their book or enter their information on their website.
Their site has several, well placed CTAs to generate leads. For example, on their homepage, they give you plenty of CTAs to click, depending on what information you're looking for.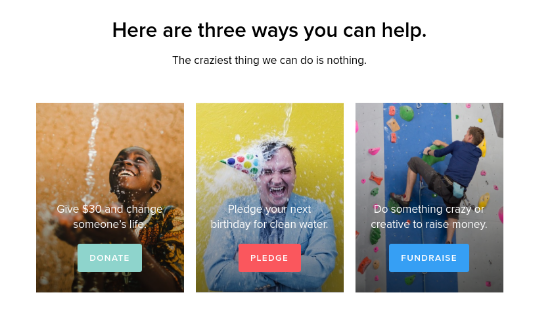 Source: Charity Water
Their educational information remains ungated and offers real value to their audience.
Girl Scouts of America
Boasting an impressive social media presence, the Girl Scouts of America don't depend on your front door anymore. They have 116,000 followers on Instagram and 89,800 on Twitter. From there, they keep leads informed on current events and the associations plans for the future.
Online PSAs are meant to uplift young girls, encourage community involvement, and also recruit new scouts. In 2016, Liz Rose and Emily Shackleton wrote a song for the organization that was made available on iTunes, Google Play, and Amazon Music. You can even order beloved Girl Scout cookies online or find local booths with their mobile app.
Planned Parenthood
Planned Parenthood has been producing online videos for sex education for several years now. They've taken it a few steps forward since that campaign began.
With several different digital tools available, teens can decide if they're ready to talk about sex with their parents on a mobile quiz, educators have access to nine different digital tools to supplement their lessons, and potential patients can get care online on their website.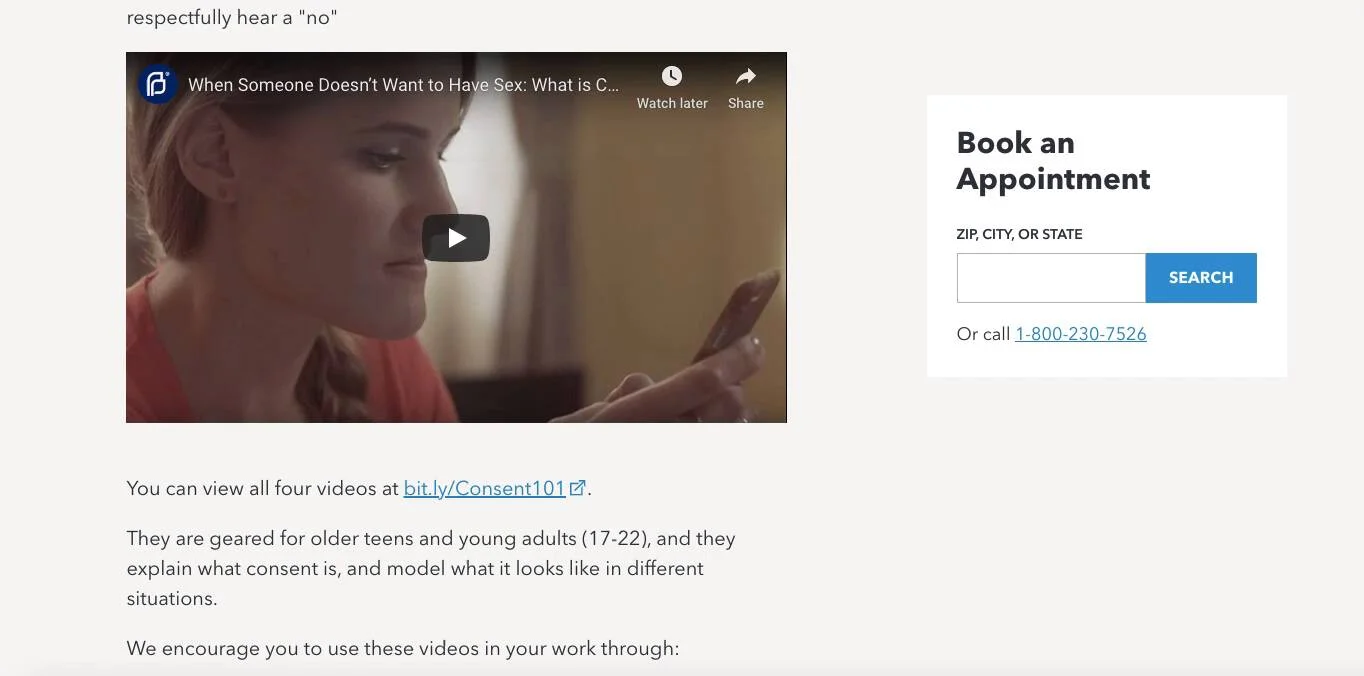 Women can even order birth control from the Planned Parenthood Direct mobile app.
All of this information is shared through social media channels, like Facebook, Twitter, and Snapchat ads.
St. Jude Children's Research Hospital
The child cancer research organization has plenty of case studies to offer insight on their research. With an interactive and inspirational website, they lift the veil on how they operate and what their goals are.
Twitter is used to give patient spotlights, featuring families within the program in their day to day life. Some tweets give details about a child's fight, others are simply meant to be an uplifting highlight in your day. Either way, they've successfully kept their leads and donors engaged with their cause.
Nonprofits have to face such a wide variety of unique challenges in digital marketing, like securing enough budget and standing out in their own areas of expertise. Even so, they can still persevere and achieve their goals.
In the same way these admirable organizations tackle their respective social causes with fervor, you can jump at these marketing strategies and start driving real results.