These days, many nonprofits are finding themselves in a real bind.
Donations have been down for years – in many cases, since before the Great Recession – and are only now starting to recover. But the fundraising landscape completely changed in that time.
To succeed in today's nonprofit sector, you need a strong online presence that fully expresses the good you do. However, most nonprofits are still relying on someone's young cousin or "friend of a friend" to manage online marketing in their spare time.
That model isn't sustainable any longer. But what's the best alternative?
Even if you have the most devoted volunteers, you still need the tools to get the job done. The HubSpot CRM is the way to take things to the next level by maintaining total visibility of donor relationships and empowering your website to inspire donations.
What is a CRM?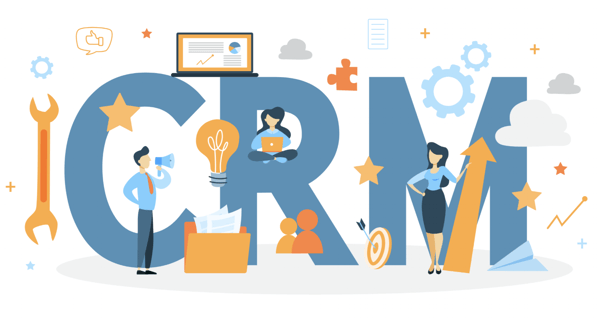 A Customer Relationship Management system – CRM for short – centralizes key information about your prospective and current donors. It gives you vital insights like how donors reached your website, what interactions they've had, and when you were last in contact.
In fact, it ensures you can review the entire history of touch points with every donor, forever. That means a fully personalized experience for each and every person who might be engaged by your mission – and perfect follow-up every time so you can maximize donations.
Plus, the HubSpot CRM has powerful features to design, develop, and maintain your site.
Why HubSpot CRM for Nonprofits?
HubSpot CRM is the best CRM for nonprofits, bar none.
This CRM was developed by the masters of inbound marketing over at HubSpot. They're the bright bulbs who have developed some of the most effective online marketing tactics of the 21st century. Thanks to their expertise, the CRM is always being refined.
Also: HubSpot CRM for nonprofits is free.
That's right – free!
You can have a database of up to 1,000,000 unique contacts and you'll never have to pay a dime. You can use HubSpot's free training resources to get up and running fast.
With HubSpot CRM, one single volunteer can coordinate your entire effort. And, as you recruit more, the software swiftly scales to meet your needs.
Benefits of HubSpot CRM for Nonprofits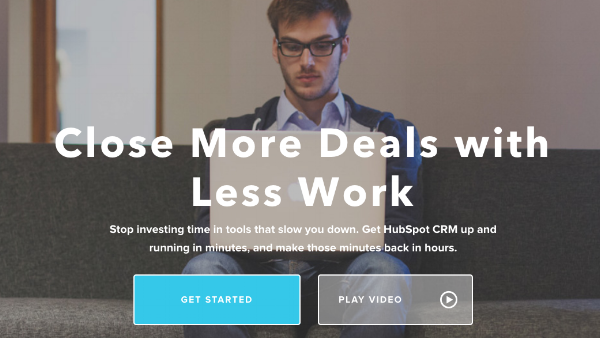 1. Modern Web Marketing All in One Place
The HubSpot CRM gives you everything you need for the web from start to finish. An easy site builder interface and blogging platform is just the start. You'll be able to tap the energy of social media, email marketing, marketing automation, and reporting all under one roof.
To check out all the features available through HubSpot's CRM, check out their pricing page. Anything with a check mark is 100% free to use, and anything with a dash comes with certain limitations; buying a marketing or sales hub package unlocks a lot more features, so you're not boxed in with too many limitations.
For example, email templates included with the free CRM are limited to five email templates per account. If your business decided to buy the Sales Hub Professional, you can create up to 1,000 email templates per account.
You don't need to be a marketing whiz to understand how each element of the HubSpot CRM gets your message in front of donors and contributes to your mission. Once you've gotten more familiar with the toolkit, you can build automated marketing workflows to speed things up, too.
2. Personalized Donor Experiences Faster
To get donors excited about your vision, you need to build true relationships with them. For example, custom messaging improves donation rates: Someone who has donated 10 times has different needs and expectations than someone who has donated once so far.
HubSpot CRM for nonprofits allows you to do this quickly by segmenting your donor list into different categories in a snap. From there, you can use the handy "drag and drop" interface to build sleek, professional-looking email messages personalized to each segment.
3. Better, Clearer Reporting for Everyone
Most nonprofits need to disclose a great deal of information about their goals, performance, and prospects. Until now, that has usually meant keeping track of many separate data points and bringing them together at the end of the quarter or end of the year.
Unfortunately, this leaves your operation as a sort of "black box."
You can always find out about total donations, total number of donors, and averages, but can you dig deeper into the data to uncover lessons that will make your future results better? With the HubSpot CRM, you can! And you can do it all with simple, intuitive methods.
HubSpot allows you to deliver customized reports for every segment. That makes it easier than ever to interface with your board, your committed donor community, your volunteers, and all the other groups who have a driving interest in your success.
Finally, you can prove ROI from marketing efforts and optimize allocation of your funds.
For a Real "Raiser's Edge," HubSpot CRM for Nonprofits is the Clear Winner
If you want a complete donor relationship management and web marketing solution for your nonprofit, HubSpot CRM is the leading choice. And you can start as soon as today.
HubSpot will get you off to a running start so you can focus on what really matters: Cultivating donor investment in a way that truly resonates with your unique audience!