Interactive content has been around for years. Those old enough to remember early social spaces like Livejournal and MySpace were around for the explosion of "personality quizzes" that dominated the web of the late 1990s and early 2000s, for example.
Web 2.0 provides the perfect opportunity for interactive content to have a renaissance. It's particularly powerful in B2B marketing, since it cuts through the clutter and offers a unique experience.
Many marketing materials offer only a one-way conversation – interactive content is different.
By definition, interactivity holds attention and wins engagement. It makes the user a participant instead of a passive consumer of content. Plus, it helps them get exactly the information they need from each piece of content, which accelerates the buyer journey.
Many B2B companies have had remarkable success with interactive assessments that help a user understand their product options, then offer to schedule a discovery call.
But: There are countless fascinating ways to structure your interactive content.
What does the best interactive content do?
Provides value in a way that's relevant and interesting.
Appeals to users' emotion, curiosity, or – yes – vanity.
Offer insights tying back to cool data or current events.
Furnishes opportunities for users to focus on their interests.
Let's look at some of the top examples of interactive content online:
1. Women.com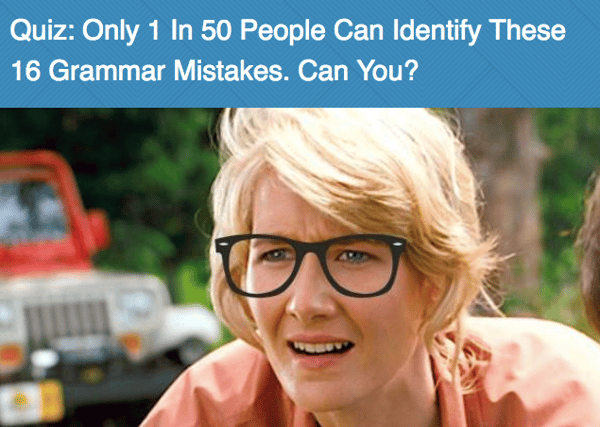 If you spend any time on Facebook, you've probably seen quiz results from Women.com getting shared. It's the undisputed leader in the "fun, trendy quiz" genre. It uses a time-tested headline formula to get attention, then snappy results pages to drive social shares.
The format is pretty simple: "Only X in Y People Can Pass This Quiz, Can You?"
The answer is yes. And yet, users consistently share quiz content that appeals to their ego by giving them a quick, fun challenge that they can win. Very few people can't pass this quiz, but millions of them find it enjoyable enough to share it with their friends.
The Takeaway: A breezy appeal to the ego can net you tons of shares.
2. Pew Research
Pew wants to know if you can tell the difference between fact and opinion in news articles. In a piece of interactive content truly ripped from today's headlines, it gives a chance to evaluate 10 phrases and determine which ones are objective statements and which ones aren't.
While the quiz itself is simple, the fact that it's from Pew lends it gravitas.
Plus, it centers around a timely global problem makes it uniquely topical.
The Takeaway: Let your interactive content be guided by recent events and trends.
3. PBS
How many books have you read lately? PBS, the go-to for smart television content, wants to know with its interactive assessment, "The Great American Read." This provides a big list of 100 classic books, in order alphabetically, so big brains can compare their reading prowess.
Subtle differences in the format and presentation position the PBS quiz for appeal to its target audience while still maintaining the snappy and sleek presentation everyone expects from web 2.0. That means it stands out and gets more currency among users who might not enjoy simpler quizzes.
The Takeaway: Structure your interactive content to appeal to your audience.
4. New York Times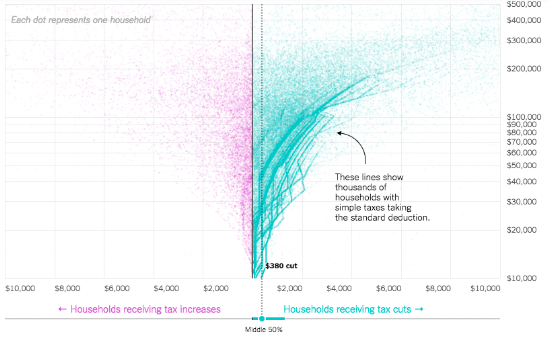 Like a fun infographic, interactive content often helps people make sense of complex topics that would be difficult to slog through in a more conventional, linear way. Your power to help your audience focus in on what interests them the most is limited only by your imagination.
The New York Times answers a burning question among its readers with its tax bill calculator, which allows users to preview the concrete effect of new tax rules on their income. Not only does it provide valuable insights, but the data is visualized beautifully, too.
The Takeaway: Combine interactivity and visual content to make data personal.
5. FiveThirtyEight
FiveThirtyEight is truly one of the web's leaders in incisive interactive content. It has the luxury of dissecting breaking news from all angles to craft a truly memorable experience out of it – and that's what it did earlier this year to explain how international trade wars work.
How to Win a Trade War is an astonishing piece of interactive content that pits you against past players by simulating their patterns of behavior.
By choosing from one of six trade strategies (or developing your own with sliders) you live your own trade war scenario and see the odds of winning.
There are several interesting things about How to Win a Trade War. It responds to your input, but it's only complex enough to be interesting. You see your results in just a few seconds, and you can do it as many times as you want. Each time, your unique result is cleanly visualized.
In effect, FiveThirtyEight convinced news-hounds to play a game. And it got millions of shares.
The Takeaway: Gamifying your interactive content can make it more memorable.
6. FiveThirtyEight (Again!)
FiveThirtyEight comes through again with another timely topic that deserves mention. Like its other entrant, How to Win a Nuclear Standoff is built on clever math, clear presentation, and an addictive premise: How much risk is too much when the stakes are high?
By its nature, the premise incorporates chance. The way it's visualized – a game-like spinner that twirls for a few seconds before declaring your fate – even has a whiff of gambling to it. When all is said and done, though, it's a deceptively educational experience.
The Takeaway: Adding chance (even a coin flip!) makes interactive content compelling.
7. Urban Ministries of Durham
Urban Ministries of Durham provides Spent, an interactive narrative that challenges users to try navigating poverty while maintaining their job, their health, and their child's future.
Spent is an exercise in empathy: It puts people in the shoes of millions of struggling Americans and asks them to make compelling, realistic choices that are genuinely tough. Every choice has real consequences, which the tool explains with a combination of context and hard math.
As an interactive lead generation tool, Spent leaves you thinking ... and it also presents you with the opportunity to donate to Urban Ministries of Durham when you're done.
The Takeaway: Tackling tough subjects can energize your interactive content.
8. Quartz at Work
Quartz at Work shines a light on the hours of unpaid labor performed by women with a custom calculator that links common household chores to market rates.
This provides a striking perspective on tasks that many women (and some men, of course!) do around the home without thinking about it and the opportunity costs they represent.
It's a hot topic that could rub some the wrong way, but the interactive content by Quartz handles it in a straightforward manner with a quick and simple calculator that cuts to the heart of the issue.
The Takeaway: A pinch of data can serve as the core of a whole content piece.
Interactive content isn't just for fun. For B2B brands, it can be part of a meaningful strategy for content marketing, thought leadership, and viral social dominance. Make interactivity count by looking for truly novel ways to organize, present, and share what you want to say.