What Is a Sales Funnel?
A sales funnel is a visual representation of how your company generates leads and nurtures them through the entire sales process – from awareness stage to decision stage.
It's kind of this invisible thing that most marketing and sales teams don't think about. It feels almost implied.
But ignoring your sales funnel could actually be costing you a ton of customers, ergo a ton of revenue. Especially since every stage has so much to do with customer behavior.
We'll go over what your sales funnel actually means and why you should take the time to properly optimize it.
What Is a Sales Funnel?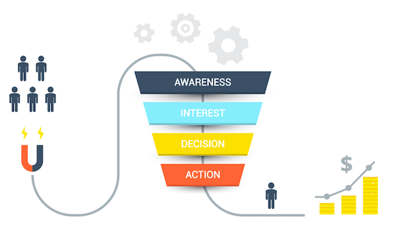 The sales funnel is the visual representation of how you generate leads and nurture prospects through the sales process.
Literally picture a funnel. The widest part at the top is your attempt to capture any leads possible no matter how broad. But as you move down and it narrows, you scale back your prospects that fit your ideal customer.
Why Is a Sales Funnel Important?
When you fully understand your sales funnel, you'll be able to refine your sales approach and properly scale your entire process.
Your prospects and leads are often industry specific and require intimate knowledge of their needs, wants, and goals. In order to get your messaging right and build trust, you'll need to understand how they transition from a curious visitor to a paying customer.
A well defined sales funnel can also:
Forecast sales revenue
Indicate gaps in the sales process
Lead to optimization opportunities
You'll gain an invaluable amount of insight on how to move prospects forward when you can see exactly how they move through their own journey with you.
The Sales Funnel Stages: A Breakdown
There are four stages in a sales funnel and each one represents the customer's mindset as they're in them.
Each stage requires different messaging based off of that mindset so that you can meet the customer where they are in their buying process.
Let's break down each stage:
1. Awareness
Here's where the meet cute happens.
via GIPHY
Where the potential customer comes across your company via a Google search, shared tweet, or a paid media ad.
However it is that they stumbled upon you, you've caught their attention and they become aware of what you offer.
Sometimes, when it's love at first sight, they'll purchase immediately. That's not the standard, though, so you'll need to prove that you're worth their time and attention in this stage.
Give them a reason to engage with you further and get to know you.
2. Interest
When you enter the interest stage, the prospect has expressed some level of consideration toward your offer. They'll perform some research and maybe investigate other opportunities too.
They recognize that they have a need, but they don't want to act too quickly.
In order to keep their interest and guide them further down the sales funnel, offer them resources and valuable content that will appeal to them.
Avoid trying to sell too early or you'll scare them off by being too forward. Instead, focus on establishing yourself as an expert that's looking out for their best interest rather than just trying to make a sale.
3. Decision
At this point, the prospect knows they're likely going to make a purchase, but they're probably still debating from who. If they're still in contact with your business, then you're a possible contender.
You'll want to make a great offer during this stage in order to seal the deal. Whether it's a discount, an add-on, or a free trial or shipping, you'll have to show how you're different from your competition and win them over.
4. Action
Naturally, this is the stage where the prospect finally acts and makes their purchase. They transition from prospect to customer.
via GIPHY
Even though you've made a sale, you're not done offering value yet.
Customer retention is just as important as winning new customers, so you'll need to act in response to their action. Thank them for their business, offer any customer or technical services that may be necessary, and ask for their feedback.
Think of them as a new partner that you'll be able to provide returning value to. Who knows? They might purchase again or upgrade!
How to Build a Sales Funnel
Sales funnels can feel like a natural progression from a recognized need to a final sale, but there is a necessary structure for the process to work. Here's how you can build one for your own business:
Study Customer Behavior.
Understanding your target audience means that you'll be able to refine your sales funnel and effectively tailor it to your business specifically.
To successfully market to leads who are a good fit for your brand, analyze how they interact with your website. Look for:
Which pages they go to
The content they consume
What they click on
How much time they spend on pages
Get Their Attention.
via GIPHY
The sales funnel is a moot point if you don't have anyone entering it.
Leverage your content to pull in your target audience and capture their interest at the awareness stage. Make sure to use a diverse range of graphics, from videos to blogs and beyond.
Paid advertisements can also generate leads if you know which watering holes to place them in to get in front of consumers.
Create a Landing Page to Convert On.
When your leads find your content, it will need to bring them somewhere that they can learn more and convert.
Design a landing page with an offer that they can't pass up and lead them into the next stage of the funnel. If you jump to trying to force a sale too early, you'll lose them, so stick to lead nurturing techniques.
The goal here should be collecting contact information.
Don't forget to leverage enticing calls to action to make moving forward an easy next step.
Develop an Email Marketing Campaign.
With your newly acquired contact info, you can begin building a strong relationship with prospects via an email marketing campaign.
You can provide access to great educational content this way and foster trust between them and your brand. Each email should build up toward an incredible offer as they make their way down the sales funnel.
Make sure not to bombard their inbox, though. Stick to one or two emails per week. Regular contact is key, but being overbearing will result in you being sent to trash.
Follow Up with Customers.
Even after they've hit the action stage and made a purchase, you should still reach out and touch base with existing customers.
Have an engagement strategy in place to keep them in the loop. You can offer discounts, let them know about new product or service releases, and ask them for referrals or reviews.
3 Sales Funnel Examples
Examining real-world examples is a great way to find inspiration and spark new ideas. Here are a few examples of successful sales funnels in action:
1. Groupon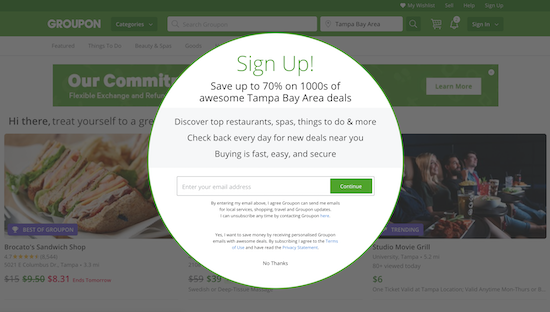 Groupon sees millions of consumers cross their plate a month, and that's because they've mastered top-of-the-funnel marketing. Through ads, referrals, affiliates, email lists, and several other channels, they bring in interested leads on a daily basis.
Once leads land on their homepage, they're met with an email opt-in pop-up that asks for an email in exchange for the chance to save up to 70 percent on thousands of deals in hundreds of industries.
Couple that with their brand recognition and some clear CTAs and you have a pretty hard to resist offer.
Groupon also does a great job of following up with customers with personalized offers to get them to use their services again.
2. Basecamp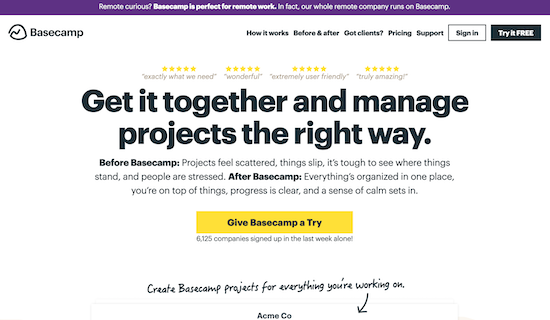 Basecamp leverages social proof and educational copy to explain to customers how their project management services can help them excel.
They draw in leads via their impressive blog and high rank on SERPs. Their homepage also has an "in action" demonstration of their software at work, showing value upfront and differentiating themselves from their competition.
As prospects move down their funnel, they're offered a 30-day free trial after signing up. Once that contact info is captured, Basecamp can follow up both during the trial and after, winning users over by being involved every step of the way.
3. Harvest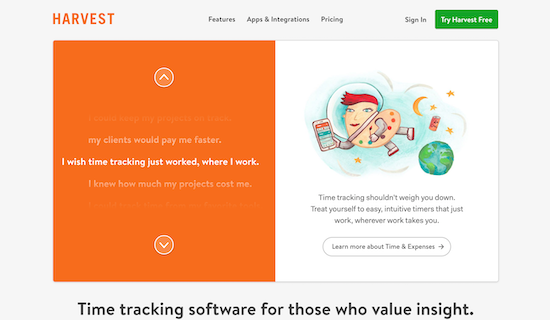 Harvest has a similar offer to Basecamp, offering up a 30-day free trial as one of the first CTAs on their homepage.
But while Basecamp relies on word of mouth and social proof, Harvest leverages on detailed testimonials, giving them a more authentic feel.
Case studies are a great resource for consumers who are in the decision stage, and usually act as the push they need to get ready for action.
Developing a sales funnel takes time and careful attention, but it's crucial if you're in a competitive industry. Every element of every stage has an impact on your ability to convert.
That's why understanding it and optimizing it is important to every business.
Build a sales funnel that works for your audience and your business and watch your customer count grow.