If you want to be successful in content marketing – really, truly successful – you need more than just a handful of keywords and the will to succeed.
You need a documented content marketing strategy.
Most enterprises don't start out with a content marketing strategy in place before they go to town posting on their blog. Instead, they pursue an ad hoc approach and hope for the best.
Sure enough, organizations that consistently refine their content marketing usually develop the mature processes that lead to lasting success. But this is a long, laborious process that involves a lot of fits and starts. That, in turn, means plenty of lost opportunities along the way.
Why not do it all correctly the first time?
We know: Documentation isn't fun.
But it saves you a bunch of work in the long run – and that keeps you focused on the fun later.
Enterprises that invest time and effort in a solid content marketing strategy report:
Are more likely to consider content marketing efforts effective.
Feel less challenged with the many aspects of content marketing.
Have clearer ROI and are able to justify their budgeting decisions.
Let's face it: There are people out there who are not having great content marketing results.
When you look at the reasons why, though, it quickly becomes obvious that most organizations that fail in content marketing are doing so because they got involved with no clear plan.
On the flip side, most that succeed are following a content marketing strategy to the letter.
Luckily, getting that strategy in place is worthwhile – and a lot easier than it might seem.
Here's how you do it.
Step 1: Figure Out What Your Content Marketing Goals Are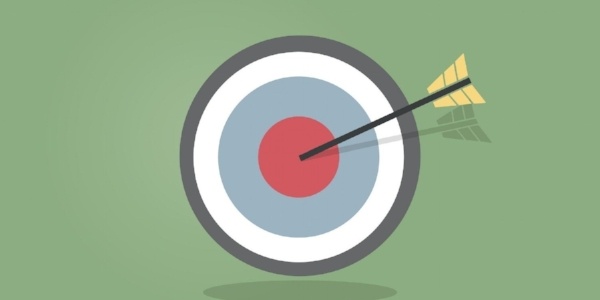 In general, content marketing is about attracting leads to your site and cultivating a relationship that will end in a sale. Along the way, there are many smaller conversions, all aided by content.
Although this is a good "big picture," you need tangible, concrete goals to really get started with content marketing. When you start with the end in mind, you'll be more driven to achieve goals that might seem like they're firmly out of sight when you first get started.
Many first-time content marketers document one of the following goals:
Raise brand awareness
Heighten social engagement
Attract more website traffic
Win more email subscribers
Even if you can't be sure how much improvement is realistic with content, you should work to determine which metrics and data will guide you in quantifying that improvement. As you learn more about content, you'll be able to establish specific monthly and quarterly goals.
With that in mind, one of the best things you can do to get started with your content strategy has very little to do with content itself: Make sure you have a reliable analytics suite in place so you can track changes in website activity over time and attribute them to content.
Step 2: Figure Out Who Your Target Audience Is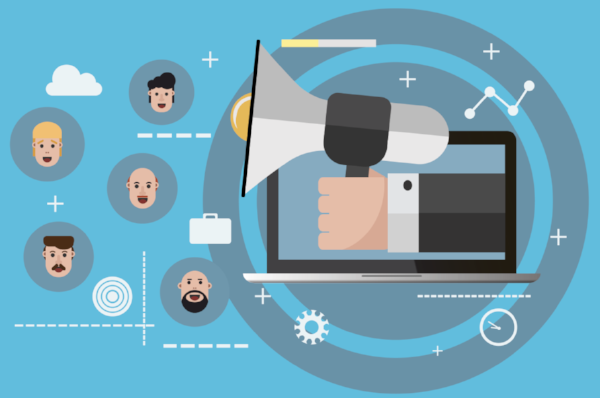 There's no such thing as "general" content. All content is for someone.
To make a great impression with content, you have to know who that "someone" is. Every piece of content you develop should answer a burning question or solve a problem.
To narrow down your target audience, turn back to your buyer personas.
A buyer persona defines exactly who will consume a certain product and how they will use it. Any buyer persona you've developed for your products and services can also be used to help you understand where your content can meet a need, too.
If you don't have any buyer persona yet, then now's the time to create one.
Some of the questions you could ask about potential buyers include:
What industry do they work in? What size is the typical employer?
What are the main business problems they face? Opportunities?
What role do they hold within the organization? Who is their boss?
What region do they live in? What is their educational attainment?
What influencers do they like? What platforms do they research on?
Naturally, you'll have to fill out your buyer persona with your best understanding and validate assumptions as you go. The data you collect in content marketing will make this easier over time. Use your buyer persona to distill your knowledge down to what you'll want to know at a glance.
Step 3: See What Your Competitors Are Doing
You already know that a competitive analysis is a great step for SEO.
Now, you can apply those same ideas to your content marketing efforts. The gaps in your rivals' content strategies will allow you to capitalize on your readers' unmet needs.
Your existing SEO tools will come in handy here, as you can learn which keywords competitors are targeting with their content and what content attracts the most backlinks.
As you explore existing content, ask yourself:
What content types, topics, and media choices are your competitors using?
How often is new content published? Where? Does it inspire engagement?
What topics have been covered to exhaustion? What topics are still missing?
Step 4: Align Your Content With Your Buyer Journey

Each piece of content you generate will help move your readers forward through one of the steps in the three-phase buyer journey: Awareness, Consideration, and Decision.
In general, each time someone moves forward from one step to the next, they will start looking for more sophisticated, detailed content to provide more pieces of the puzzle.
The best way to understand this is to look at each step individually:
Awareness
Blog posts will be the mainstay of your Awareness content. These posts not only serve to drive traffic to your door, but also equip you to inform prospective buyers about whatever problem they happen to be dealing with. This builds rapport as they begin to trust in your advice.
Conversion Goal: Getting users onto to your email subscriber list for future mailings.
Best Content Types: Blog posts with some infographics and short-form video content.
Consideration
During Consideration, your content helps prospects establish their buying criteria as they start to draw up a list of potential solutions. As you demonstrate the success factors that make some options preferable to others, you'll also spark interest in your own offerings.
Conversion Goal: To request a demo or otherwise reach out to sales.
Best Content Types: Longer ebooks, white papers, and case studies.
Decision
In the Decision phase, your leads narrow down the options to just a small handful and are ready to make the final choice. They know certain products or services might work, but now they're trying to understand which one will work best for them, in their specific context.
Conversion Goal: A final purchase that converts the lead into a customer.
Best Content Types: Case studies, product literature, demos, and trials.
Of course, this isn't the whole story. Once someone buys, you have an established relationship with them that your content will continue to cultivate. Luckily, you'll also get all kinds of new insights about them that you can use to craft truly customized content around their needs.
Before you push forward any further on your content marketing strategy, consider what content you already have and what resources you could devise over the next month or quarter. Which of the goals you outlined above can you meet the fastest by deploying more Web content?
Step 5: Establish Your Content Pillars
To keep your content marketing strategy on track, you need to consistently add new content that speaks to the basic needs of your readers. Distilling your work down to a few core categories allows you to track their growth and see their effect on your audience.
These categories can also be thought as content pillars or content silos.
While providing a consistent theme and general direction to your work, they also allow you to branch out into adjacent topics that will add value for your audience. When you set up your blog, its navigation and topic structure should be reflective of your pillars.
Your content pillars provide you with the structure to create cornerstone content.
Cornerstone content is big, deep content that provides so much value, you can easily cycle it into different formats and use it across multiple channels. Cornerstone content is aligned with a content pillar and pertains to one step in the buyer journey, but it ultimately touches all of them.
For example, a good ebook can be repurposed as an email series, video series, infographics, social updates (or even a whole social community!), slide decks and much more. The ebook itself is the cornerstone content that all the other content springs from.
Cornerstone content can be 2,000 words – or even more – with multiple installments.
When planning it, keep the following in mind:
"Big" content should be relevant to most readers and accurate for a long time to come.
It should be divided into meaningful chapters – so, start with a detailed outline ready.
Each chapter should be designed with its future use in other content pieces in mind.
Step 6: Build Out an Editorial Calendar for Your Content
If you don't have a calendar for your content ... when will you get it done?
At the beginning of your content marketing strategy, it might be enough to say that you'll write and post a keyword-rich blog post once a week.
Pretty soon, however, you'll be spinning a lot of plates – and unless you want them to start slipping, you'll need to keep them organized.
This is especially important when you're working on cornerstone content. Basic blog posts might require just one person – a writer, who also handles all the related research – but thought leadership content might call for input from a graphic designer, video expert, or others.
Your favorite workplace collaboration suite probably already has the features you need to coordinate the different workstreams. You can also try out a content calendar spreadsheet such as this one available from Content Marketing Institute to get you started.
Some teams handle the process directly within their site's Content Management System, too.
Step 7: Start Collecting That Data and Crunching Those Numbers!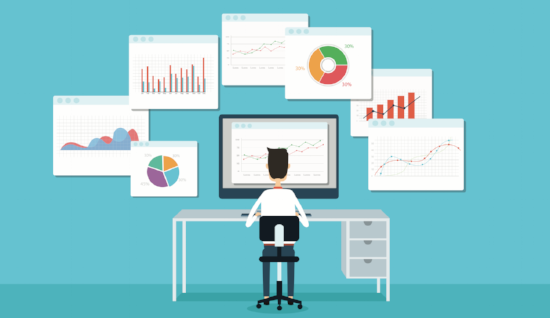 Way back at the beginning of this quest, we told you data would be a huge part of your content marketing strategy. Now, it's time to start snapping that data into the big picture.
We'll assume you have a data analytics suite that provides you with detailed stats on the performance of your individual content pieces – including your social links.
Now, take the goals you defined above and join them with the metrics that matter.
For example:
For brand awareness, you need to look at metrics like new sessions, session length, social shares, social engagement, social media brand mentions, and brand sentiment.
For revenue generation, focus on areas like conversion rates, sales qualified leads, organic search traffic, return visitor rate, and content requests by buyer journey step.
For customer loyalty, check out your growth in return visitors, email subscribers, social following, and average pieces of content read per each visitor.
For long-term business growth through content marketing, you need to assess your achievements on a monthly basis. It might take several months to catch on to important trends, such as a shift in your audience's tastes – but you can't notice them unless you're looking in the first place.
From there, the last step becomes simple: Write content and post it consistently – several times a week, if you can.
Like so many things in life and business, a content marketing strategy seems huge ... but when you break it into bite-sized chunks, it becomes manageable and satisfying.
If you start now and take it one thing at a time, you could easily have your content marketing strategy in place and ready to be acted on in just 30 days.
By reading this post, you're already on the right path. Make your next move today and see where you stand by the year's end!