Employee buy-in is a powerful, often invisible factor that drives your business success.
Pew Research calls it engagement. Engaged employees are "cognitively and emotionally" connected to their work and workplace. They bring energy and enthusiasm to their work and, though they may experience setbacks, they contribute to an overall positive atmosphere.
As far as employee engagement goes, Pew findings haven't always been that great. In fact, U.S. employee engagement has been relatively low since data collection started in 2000: Today's figure, 34 percent engagement, is tied with the high last recorded in 2000.
But here's the secret: Your individual teams can have much higher than 34 percent engagement.
The right strategy can get your customer service reps fully engaged. That, in turn, will make a tremendous impact on how your customers perceive your customer care and your brand.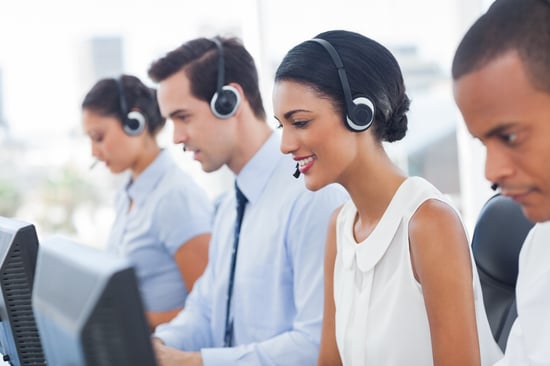 Of course, when we talk about customer engagement, we're talking about something else: Brand communication that deepens the emotional relationship a customer has with a company.
When you look at it that way, the two concepts are clearly related:
Employee engagement is the depth of the emotional connection to the workplace.
Customer engagement is the depth of the connection customers have to your brand.
To put it another way, employee engagement energizes customer engagement.
When a customer is engaged with your brand, it doesn't mean they're infatuated with every aspect of it all the time. The most important emotion your customers can have around your brand is trust, and it's often service reps who will help that seed take root.
Here's how you can get them revved up to do their best work:
1. Set Clear Customer Engagement Goals
Customer engagement has plenty of moving parts. In fact, many organizations have their own definition of exactly what customer engagement entails.
With that in mind, make sure you have clear targets for your reps to hit – and systems that can record the data you need. One-on-one training based on actual calls and recordings will often move telephone reps forward the fastest.
2. Make Training and Other Resources Available
You've worked hard to make success resources available to your customers. Why not do the same for your customer service reps?
Today's business landscape is a wonderland of "one too many" training opportunities, including video and self-paced courses. Make sure you have a talent development plan in place that lets reps build toward customer engagement excellence.
3. Recognize Your Customer Engagement MVPs
Your customer engagement strategies work the best when your team members go above and beyond. It's good to recognize both outstanding achievements and improvements over time.
This way, each person in your organization always has something to celebrate and something to strive for. That helps keep everyone focused on progress – and more resilient when bad days happen. Just remember to individualize your recognition to what works best for each person.
4. Let Your Team Provide Customer Engagement Strategies
Most customer engagement strategies will be defined at a higher level of the organization, but not all of them.
A healthy workforce thrives on involvement, so be sure there are feedback mechanisms team members can use to propose ideas. Their frontline experience could provide you with insights about your customers that would be easy to overlook otherwise.
5. Encourage Teams to Share Customer Engagement Strategies With Each Other
Many larger enterprises have annual meetings where team members come together to share best practices.
While this is most visible in areas like sales and marketing, there's no reason why customer care can't participate – especially when you do things the inbound way. Quarterly "all hands" meetings can help keep you nimble when an annual meeting just won't do.
6. Show Your Teams How Customer Engagement Matters
The results of customer engagement strategies can be remote from the people who carry them out.
Many teams have had success "humanizing" their customers by showing frontline personnel testimonials, videos, and even photos of the real people their efforts have helped. This can change the mentality of any team from performance numbers to genuine impact.
7. Make Customer Engagement Part of Performance Reviews
Your performance reviews can be helpful or they can be harmful. Actionable feedback that fosters improvement is helpful. Comments that are meandering or just hard to interpret are harmful.
Leaders at all levels should put their heads together to ensure feedback is truly being implemented in ways that make sense. Then, link that process to customer engagement goals.
Nothing in business happens in a vacuum. If you want your teams to drive customer engagement every day, build it into their employee experience. The more excited employees are about your brand, the more they'll be able to communicate that to customers who can help you build it. In the end, everyone works together as brand advocates.