Companies With the Best Customer Service
1.

Publix Supermarkets

2.

Costco

3.

IKEA

4.

Trader Joe's

5.

Wegmans

6.

HubSpot

7.

MailChimp

8.

Buffer

9.

Shopify

10.

Pollfish
11.

Apple

12.

Google

13.

Rackspace

14.

Amazon

15.

Wistia

16.

Chick-fil-A

17.

Cracker Barrel

18.

Toyota

19.

Southwest

20.

JetBlue
Your customers deserve the best service possible. Once you close a deal with a new client, you should continue to delight them with great customer service.
Unfortunately, many sales funnels are designed in a way that customers just drop out the bottom as an afterthought once the sale is made. This means that many companies overlook the importance of serving their customers well.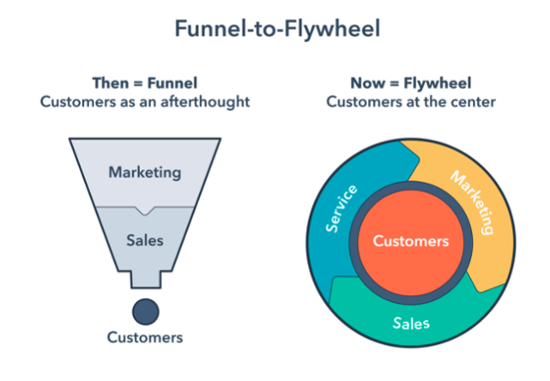 Source: HubSpot
In today's customer-centric world, companies can't afford to keep customer service as an afterthought. The power has shifted within sales markets so buyers now have the upper hand, and they can easily choose who they do and don't want to do business with.
Companies now need to do everything they can to obtain, delight, and retain their customers. And the best way to do this? With great customer service.
Why Customer Service Matters
Positive customer experiences fuel sustainable business growth by boosting your retention rate. But to create great experiences, companies need to commit to continuous support.
It's also important to consider how providing poor customer service can impact your business. If your company is known for unsatisfactory service, people will start to develop a negative view of your brand.
Unhappy customers aren't shy about expressing their qualms on the internet, and customer service horror stories are all too common. Even a single bad customer service review online can drive away new potential customers.
Now that we know how poor customer service can impact your brand, let's take a look at the different benefits that prioritizing quality customer service can have for your company.
It's an Extension of Your Values and Mission.
For businesses, aligning your actions with the words you plaster all over your website and office walls is important.
Your mission and core values are not just a lip service – you should exemplify your integrity by demonstrating those values every single day within the service you provide. Doing so will build respect for your brand amongst your customers and even your competitors.
Good Service Leads to Loyalty and Referrals.
Customer service plays a huge role in customer loyalty and referrals. If someone has an exceptionally positive experience with your company, they'll likely return again and again. It's one of the best ways to boost brand loyalty.
In fact, seven out of 10 U.S. consumers say they've spent more money to do business with a company that delivers great service.
And believe it or not, people will actually spend more money to work with a company with a good reputation, in order to avoid a company with a poor one. People are actually willing to spend 17 percent more to do business with companies that deliver excellent service.
And what do loyal brand lovers do? They recommend you to their friends and family. They even recommend you to strangers they meet on the street. People recommend the brands they love to everyone, and personal recommendations go a long way in the world of consumerism.
Your Service Team Can Gather Data on the Customer Experience.
When your service team members interact with customers and ask them questions, they have a direct feedback channel that can help you find opportunities to improve the customer experience.
For example, if multiple customers complain about the same issue, that's a pretty good indicator that there's a flaw within your services that needs to be fixed.
Additionally, frequent communication with your customers allows you to identify whether or not there may be any issues with the products that you provide and how you can improve them to better serve your customers.
It Costs Less to Retain Customers Than to Find New Ones.
via GIPHY
Did you know that it costs you less money to retain a current customer than convert a new one? Don't get me wrong, new business is important. But customer retention is a great, reliable revenue stream for your business.
If you're still not convinced on the ROI of retention, you should know that increasing customer retention rates by five percent can increase profits anywhere from 25 to 95 percent.
For larger companies with an annual revenue of $1 billion, reports show that a moderate improvement in customer experiences generates an average revenue increase of $823 million over three years.
Great Service Impacts Your Reputation.
Just like how poor customer service can damage your public reputation, good service can improve it! With exceptional customer service and support teams, you can become known as the go-to company in your industry.
Companies known for excellent customer service stand out from their competitors. It can make the difference when distinguishing yourself in your industry. A strong, positive reputation contributes to organically attracting new customers.
Companies With Great Customer Service
Speaking of companies with great customer service, let's review the top companies in retail, SaaS, technology, and other industries who are known for exceptional service.
Retail Companies With Great Customer Service
1. Publix Supermarkets
This employee owned supermarket aligns their tagline "Where shopping is a pleasure" with how they treat customers.
Publix was voted "the South's best grocery store" by Southern Living readers in 2018 and listed #2 in Temkin's 2018 customer experience ratings.
2. Costco
Like Publix, supermarket chain Costco has won a few service awards in their day. On top of this, their brand Kirkland's (a home decor store) is known for excellent service and a liberal return policy, which always pleases customers.
3. IKEA
via GIPHY
If you've ever been to IKEA, you know it's not just a furniture store – it's an experience. They constantly improve to create better customer experiences, including elements in their stores like cafés and children play centers.
Recently, they've even added augmented reality apps for smartphones, allowing customers to virtually design a room with their furniture.
4. Trader Joe's
Trader Joe's is loved by many. But this supermarket chain isn't just known for their delicious foods – they're also noted as a top employer in the country, and happy employees make for happy customers.
5. Wegmans
Another supermarket chain on our list, but a top competitor amongst the others. Wegmans consistently ranked as a Fortune 100 best company for 22 years. It's a family-owned chain that prioritizes treating their employees well, and thus their employees treat customers well.
SaaS Companies With Great Customer Service
6. HubSpot
Inbound marketing software company HubSpot is known within the marketing world for their exceptional customer service. Their service team is easy to reach, and the company possesses a robust knowledge base that allows them to help their customers quickly and easily.
Additionally, HubSpot also has an active community element that provides helpful information for their marketing, sales, and service hub, as well as web developers and their educational platform, HubSpot Academy. They even have an 'Ideas' section where customers can submit suggestions on how to improve their tools.
7. MailChimp
Email marketing software company MailChimp proactively engages with their customers from the get-go, launching immediate assistance as soon as you activate your account. Providing this level of set-up assistance allows customers to make the most of their software right off the bat, and thus pleases them greatly.
8. Buffer
Buffer makes in-app support as easy as possible. Forget spending your time hunting down service phone numbers – Buffer's app includes a support search icon on every single page, making it incredibly quick and easy to find answers to something that you might be struggling with.
9. Shopify
Shopify identified and utilized the communications channels that their customers frequent most often to implement their support services.
That's right – Shopify actually made a Twitter account dedicated entirely to providing support to their customers. People can tweet their problems to Shopify and receive prompt responses for immediate assistance.
10. Pollfish
Pollfish has mastered the growing use of live chat by nailing a way to encourage their customers to use it.
Instead of letting their customers come to them to start a chat, they open with a question targeted toward their relevant audience. This tactic boosts engagement and displays their active involvement in the interests of their customers.
Tech Companies With Great Customer Service
11. Apple
via GIPHY
Surely everyone knows Apple support by now. Unsurprisingly, the company and their genius staff of knowledgeable service provides has earned a place on this list. Apple only hires the best of the best in their industry, which ensures that their people really know what they're talking about when troubleshooting with a product.
Their engagement with customers and expert knowledge makes for a truly superb customer experience.
12. Google
Google has had an immeasurable impact on the human experience. They're able to best serve customers because they heavily invest in developing top-of-the-line technology. Their employees are always actively engaged and looking to make for the most satisfying customer experience possible.
Additionally, they consistently rank as a top company to work for – noticing the trend? Treating employees well leads to top notch customer experiences.
13. Rackspace
Rackspace's customer service team makes small gestures. For example, they ordered a customer a pizza while they helped troubleshooting with a problem – seriously, who doesn't love free pizza?
Small gestures like this go a long way to contributing to higher customer satisfaction – it displays that they genuinely care about their customers.
14. Amazon
Another powerhouse, Amazon consistently ranks at the top of lists for high customer satisfaction. If you've ever returned an item to Amazon, you know how quick and painless it is. Personally, nothing brings me joy quite like a painless return process.
15. Wistia
Wistia is incredibly adaptive when it comes to providing service, and they constantly assess their process to make sure they're providing the very best support at all times. Their company is made up of a small team, which allows them to pay attention to important details.
They noticed that their phone service was dragging down their overall ability to help their customers. Thus, they switched their team over to delivering personalized emails, a much more scalable method.
Other Notable Companies With the Best Customer Service
16. Chick-fil-A
As if people need another reason to love Chick-fil-a, this kingdom of delicious chicken is known for having great service. They invest in training their staff to be professional and courteous, and the results show. According to Business Insider, the food chain was voted to have the "most polite staff."
17. Cracker Barrel
Cracker Barrel is an American staple that delivers a consistent home-cooked meal experience. They focus on pleasing customers by providing a family feel, and it always pays off. They consistently win consumer choice awards for quality customer experience within the food industry.
18. Toyota
No car company is without their issues with recalls and faulty parts now and again. Nevertheless, Toyota is ranked amongst the top-rated automobile markers, and they've won awards for their vehicles and service to their customers.
19. Southwest
Southwest holds a place as a consistently top-rated company for high customer satisfaction among low-cost airlines in North America. While low cost airlines are sometimes known for having poor customer service, Southwest really outshines them all and competes with the big dogs for providing an exceptional passenger experience.
20. JetBlue
I don't know about you, but JetBlue is my favorite airline. They provide top-quality service and treat customers with respect. Flying with them is always easy, especially if you have the JetBlue mobile app.
Want to bring your fur friend on the plane? No problem, you can quickly and easily book that through their "jet with your pet" option on their mobile app when you're checking in for your flight. This is just one of the ways that JetBlue makes traveling with them pleasurable for customers.
They truly go above and beyond with customer service. For example, Chief People Officer Dave Clark recently handed out refreshments and donuts to customers waiting at a long check-in line, and even raffled off free flight tickets to 60 different cities. Seriously, free flights? Helloooo happy customers!
How These Service Teams Earn High Customer Satisfaction
Providing quality service to delight your customers isn't as hard as you might think. So how did these companies earn such shining customer satisfaction ratings? Simple – they followed some important customer service best practices.
Hire the Right People and Invest in Them.
One of the first steps to providing excellent service to your customers is hiring an excellent service team. Hire people who are experienced both in your industry and in providing customer support.
But don't stop there. No matter how experienced they are, invest in training your whole team on your business practices and core values and on how to handle challenging situations with unhappy customers.
Focus on First Impressions and Delivering a Consistently Valuable Experience.
Believe it or not, customer service begins with your first interaction with a lead, and carries through the entire customer journey.
Start by delighting your customer from the very beginning, and focus on continuing to delight them even after they've made a purchase. How can you further add value to the service you provide?
Remember, quality support leads to happier customers and thus higher retention rates.
Personalize the Experience.
All of the best customer experiences are personalized ones. When you tailor an experience to each individual customer, they feel more valued.
Collect information about each customer during the initial phases of their buyer journey, even if it's just simple personal facts like where their favorite vacation spot is or what kinds of pets they have. Use this information to provide a more personal touch to your communication with customers.
In addition to personal information, make sure you pay attention to each customer's individual pain points. Developing buyer personas will help you better understand the challenges and pain points of your target audience.
Remove the Burden From the Customer.
If a customer has to jump through hoops to find a solution to their problem, you can bet that by the end of the experience, they won't be happy. Don't guide customers through how to resolve problems themselves; do it for them.
via GIPHY
Whether it's remotely resetting a device or walking through steps with them via a screenshare or other technology, you should seek to reduce the customer's efforts as much as possible.
Express Appreciation and Apologize.
Customers really just want to feel understood. They want to feel listened to. They want service providers to understand what their problem is, and why they're frustrated by it.
Apologizing for the issue in the first place, as well as the inconvenience that it creates, can go a long way. So can expressing appreciation to the customer for their understanding and patience during the situation.
Practicing these simple notes of gratitude can strengthen your relationships with customers. Next time you go into Chick-fil-A, make a point to notice how gracious the staff is.
Don't Let Customer Service Fall Flat
It's easy to let customer service fall by the wayside in pursuit of bettering other departments.
But in order to create a well rounded, continually valuable customer experience, you'll need to invest time and resources into developing your service team and tactics.
Remember that quality service can have a myriad of benefits – from high customer satisfaction to better retention rates. Companies known for customer service have better overall reputations, and thus draw in more new business organically as well.
By taking examples from the companies listed above, as well as the best practices that they follow to delight their customers, your business can rank amongst the best of the best for top-tier customer service.