The healthcare industry has had a slow integration into the world of modern day digital marketing. While medical research and healthcare itself is constantly advancing, the marketing of this industry is a very different story.
The industry faces unique challenges in this area – healthcare has typically been run by old school mentality, leaders who aren't sold on the benefits of new age digital marketing tactics.
Additionally, the wide breadth of medical specializations and the vast audience to which healthcare applies (that is – absolutely everyone) make marketing for healthcare a particularly tricky endeavor.
Despite these challenges, it's absolutely crucial for healthcare services to step out of the dark age of old practices and into the light of digital marketing – like other industries, they can't afford to not adapt to the digital age.
via GIPHY
The internet is a patient's primary hub for acquiring information and learning about medical issues. Obviously, this doesn't mean that people are staying home from the doctor's office to test out some home remedy from the internet – it means that people like taking their healthcare into their own hands.
Patients like to be informed, and with the abundance of information available on the web – from patient stories and forums, testimonials, and drug reaction information to disease outbreak alerts and symptom information – that's generally where they flock to find out more about what's going on.
What's the first thing you do when you have a rash? You Google it. What do you do when you feel abdominal pain? You Google it. And when your leg just spontaneously drops off? Well, you'll probably take a trip to the ER before anything else, but for most things – you turn to Google to find answers online.
In other words, you need to create a healthcare digital marketing strategy. The best way to learn how to make an awesome strategy is by studying the best of the best.
Here are examples of healthcare digital marketing fundamentals from top performing healthcare companies:
The Best Healthcare Marketing Blogs
It's important to stay informed on the latest digital marketing trends within healthcare. Otherwise you'll quickly lose your competitive edge.
Content creation plays a major role in successful digital marketing strategies, as it contributes to your organization's relevance and allows you to be found in important places – like search engine results.
Blogs are a great way to provide constant, fresh information to patients. You can pack your blog full of all kinds of resources – patient stories, outbreak information, general health advice and health risks, and answers to questions about a countless variety of medical conditions.
That way, when a patient goes looking for answers about a medical condition, they'll land on your blog.
via GIPHY
Each blog post will likely be targeted toward a different audience, given that there is such a wide expanse of medical topics to cover, and each one will apply to individual groups of patients with different conditions.
Take a look at these healthcare blogs as examples of effective content distribution.
The Doctor Weighs In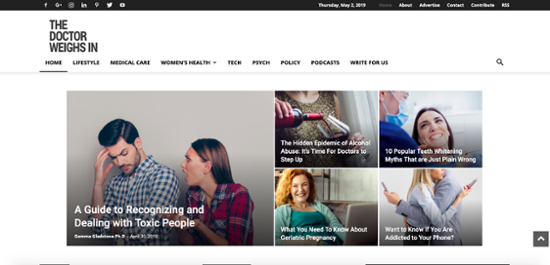 The Doctor Weighs In started as a blog about obesity and weight loss back in 2005. But as it picked up steam, they branched out to cover a wide breadth of health topics, including healthcare policies, mental health, medical care, tech, and lifestyle.
They have numerous writers who contribute to the blog, and their content is composed of "evidence-based stories."
Healthcare Success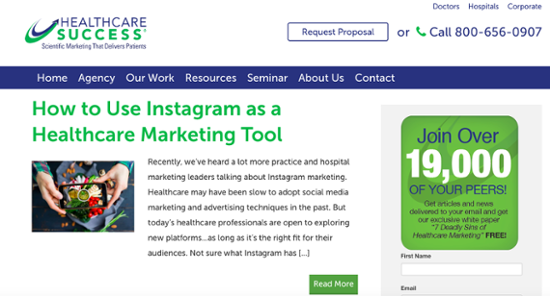 Healthcare Success is actually a marketing agency, but they cater exclusively to healthcare organizations with the goal of helping them attract new clients and "maximize their business success."
Their blog is dedicated to discussing the latest healthcare marketing trends, and it's a great resource for organizations looking to gain a knowledgeable edge over their competitors.
Brigham Health Hub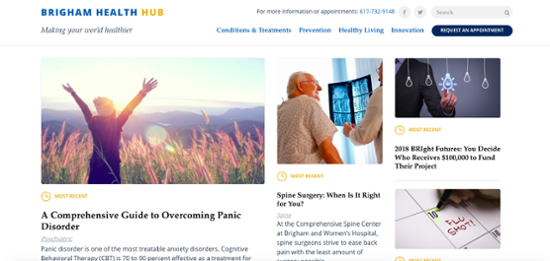 The Brigham and Women's Hospital is located in Boston, MA. The hospital is ranked among the best in the nation, so it's only natural that their digital marketing reflects their enormous success and quality of healthcare.
The hospital's blog, Brigham Health Hub, is a valuable educational resource for patients. It not only covers news about the hospital itself, but also features a wide range of medical topics and advice for patients.
The blog has a navigation bar with sections for you to browse a specific category of articles, including conditions and treatments, prevention, healthy living, and innovation. It even has a "top viewed articles" section for content that is popular amongst the public.
Rothman Orthopaedics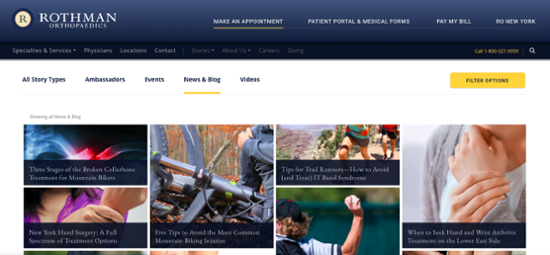 If your company works within a designated specialty, you should consider having a blog tailored to that. Rothman Orthopaedics has a fantastic specialized blog, covering just about anything and everything you might ever need to know about orthopaedic injuries and issues.
While they cover complex topics, they present their content in a user-friendly way, making it easy for readers to understand. They also provide very specific content focused toward individual audience groups.
For example, some of their article titles include "Tips for Trail Runners – How to Avoid (and Treat) IT Band Syndrome" and "How to Prevent Cycling Back Injuries."
Healthcare Social Media Marketing Examples
Social media has become a key element of any good digital marketing strategy. In a world where patients are now demanding transparency in healthcare, they turn to organizations they trust over anyone else.
In order to establish trust with your patients, you have to interact with them in their own platforms – Facebook, Instagram, and even Twitter. Establishing a social media presence and engaging via these channels allows them to make a more personal connection with your healthcare organization and thus, build trust.
via GIPHY
You can use social media to create a trusted medical community for patients to turn to when they need help. Direct people toward informational resources to answer questions, feature patient testimonials, and host and participate in important discussions.
Take a look at some organizations that have created a strong social media presence and use it to their advantage:
Mayo Clinic

The Mayo Clinic showcases its exceptional digital marketing strategy with a very strong social media presence.
Their Facebook page has 1.1M followers, and for good reason. They make multiple posts throughout the day, including informational articles and videos targeting specific medical concerns and conditions, as well as direct messages to their patients and donors.
They also take advantage of Facebook's event promotion option and create individual pages for all of their upcoming events, making it incredibly easy for users to find out what's coming up so they can plan to attend.
Harvard Pilgrim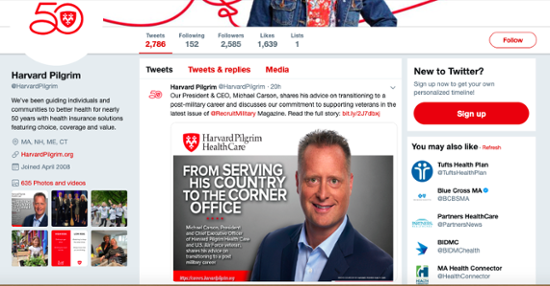 Harvard Pilgrim uses their Twitter account to provide their customers with up-to-date news about their organization. You'll find plenty of event promotion and recap, especially for fundraising and events they have sponsored with partner organizations like Red Cross and BARCC – The Boston Area Rape Crisis Center.
Their tweets can also be very informational, providing hyperlinks to health insurance resources and general health information.
Additionally, Harvard Pilgrim provides grants for small organizations and projects looking to make a difference in the health of their community, such as the growth of healthy and sustainable food.
You can find little updates about these projects on Harvard Pilgrim's Twitter, complete with photos to show how those involved are working to make a difference.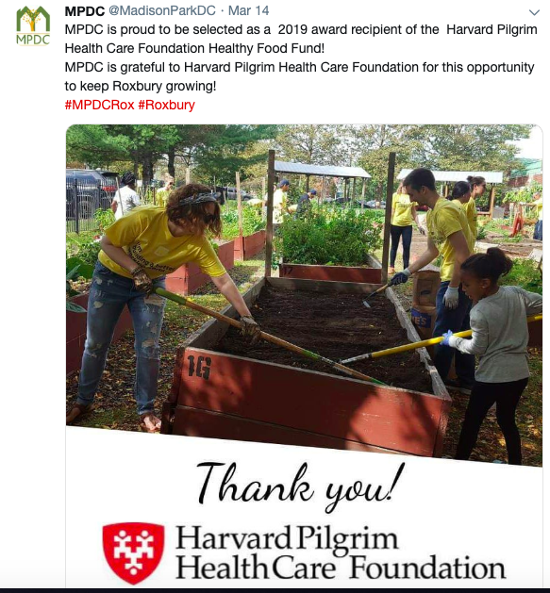 Advent Health
Created in January 2019, Advent Health's Instagram page is still quite new, but after just four months, they already have over 8,000 followers. They use pleasing visual imagery to engage with their customers, even asking them questions in photo captions to spark conversations in the post comments.
They also use Instagram to contribute to their ongoing campaigns, making the most of their social media channels. As their Instagram page grows, we expect to see a lot more engaging posts!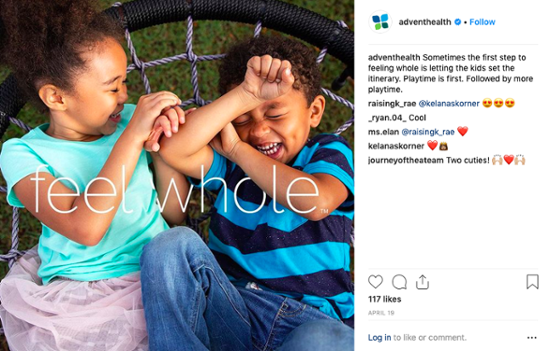 The Best Healthcare Marketing Campaigns
Digital marketing campaigns for healthcare organizations increase exposure, drive engagement, and build trust with consumers. Developing and launching a full fledged campaign takes a lot of work, but if it's done well, it often pays off.
Whether you're rebranding, looking to make a meaningful impact in the community, or simply wanting to increase engagement (or maybe all three at once), campaigns can serve a significant purpose in your digital marketing strategy.
Take a look at three of the best healthcare industry marketing campaigns that have engaged the public and made a difference:
Advent Health – Feeling Whole
Adventist Health System recently underwent a complete rebranding of the Florida Hospital entities in their organization, changing their name to Advent Health.
With the rebranding came a lot of changes, as they have refocused to become "a more consumer-focused health care system" that "better meets the needs of those [they] care for and the communities [they] serve."
To stay in theme with the rebrand, Advent launched their new #FeelingWhole campaign. The campaign focuses on real people stories, featuring quick consumer-like clips with personal captions and #FeelingWhole messaging (which they expertly share on their Instagram, as noted above).
WHO – Global Public Health Days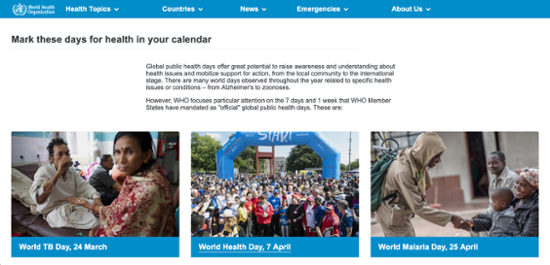 The WHO has established a number of global public health days, including World TB Day on March 24, World No Tobacco Day on May 31, World Health Day on April 7, World AIDS Day on December 1, and many more.
The campaigns were created with the goal to raise awareness about specific issues and encourage support for people to take action. Each specific public health day has an informational video, fact sheets, petitions, and action steps that you can take to help contribute to the cause.
Philips – Better Me, Better World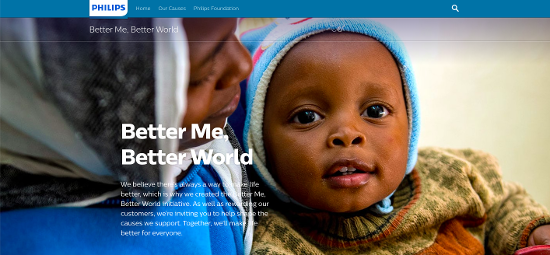 Philips started their Better Me, Better World campaign back in 2017 with the goal to improve the lives of three billion people every year by 2025. They even created a hashtag for the campaign to track its presence on social media: #MakeLifeBetter.
The campaign covers causes like caring for at risk mothers and children, first aid education, community access to healthcare, and healthy lifestyles for children.
The campaign has enabled Philips to connect with the public in a more engaged way, asking them which causes matter most to them, so Philips can focus their efforts on the issues that have the biggest impact.
2 Healthcare Marketing Ideas You Need to Try
1. Deliver an Awesome User Experience on Your Site.
Your website is possibly the most important element of your digital marketing campaign. It completely shapes how a user experiences your services, before they even step foot in the brick and mortar establishment of your organization.
If your website is difficult to use, patients will become quickly frustrated and turn to another organization. To a user, their experience on your website is largely a reflection of what they expect to experience with you as a healthcare provider.
That means that if your website is a headache to use, they expect that your services will likely be unsatisfactory.
via GIPHY
Let's take a look at some examples of healthcare websites that are user friendly, easy to navigate, and designed in both an aesthetically pleasing and efficient way.
Dartmouth Hitchcock Medical Center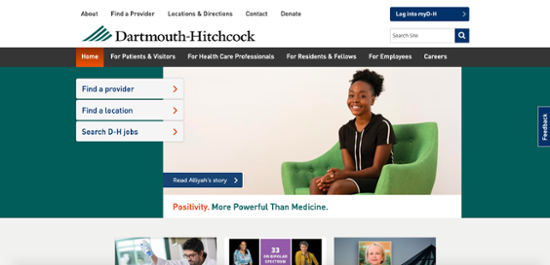 Dartmouth Hitchcock's website provides an easy and helpful user experience. Their homepage features a positive patient testimonial story front and center, which helps create a human connection with the visitor and attracts new prospective patients.
Their design is simple and effective – it provides all the necessary information, without being overly cluttered. If you're an existing patient, the "log in to my DH" button at the top of the page allows people to easily and quickly access their medical files.
For new prospective patients, resources are put front and center on the website to make the experience as easy as possible. The "find a provider" and "find locations" buttons create an easy path to meeting their needs and providing medical care.
The directories are broken up into simple, relevant categories – patients and visitors, healthcare professionals, residents and fellows, and employees – so you know exactly where you should be clicking based on what you're looking for.
Mayo Clinic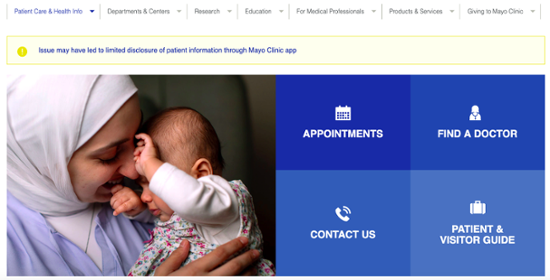 Surprise surprise, Mayo Clinic has a killer website. They balance visual imagery with bold pathways to create an aesthetically pleasing design.
Their color scheme stays on brand, and the design utilizes white space to ensure that the website is not cluttered. Patients can very clearly find what they're looking for – whether they want to make an appointment, find a location, or contact a specialist.
Additionally, a clear pathway to educational resources is provided amongst the tabs along the top bar, as well as research information, available medical services, and in-depth medical condition resources for patients.
2. Produce Strong Video Content.
Video has become an increasingly popular form of content and an essential tool in successful digital marketing strategies.
Healthcare organizations can use video to their advantage in some very unique ways, including the showcasing of patient testimonials and even as an avenue to provide educational medical information to patients.
Here's a few examples of how video has been used in healthcare marketing:
Patient Testimonials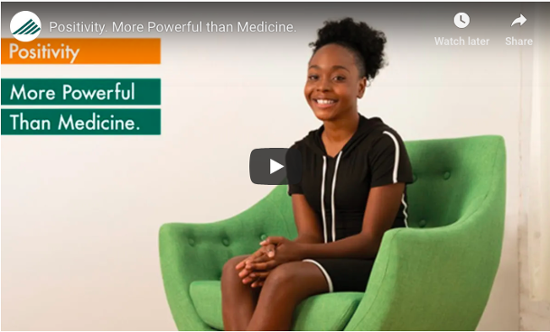 Remember that patient story on Dartmouth Hitchcock's website? Dartmouth made a short video in which the patient talks about her medical condition and how the Dartmouth Hitchcock has helped her deal with it. Video is a great way to showcase testimonials that will build trust with new prospective patients.
Informational Videos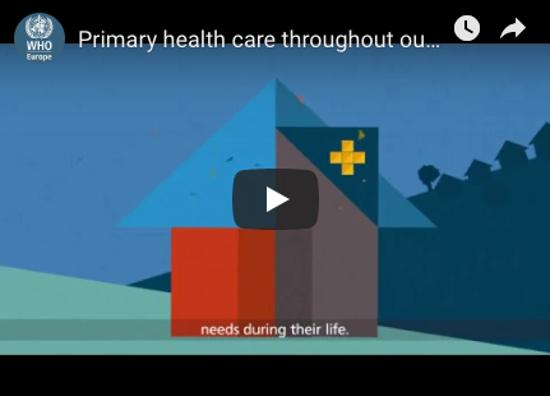 The WHO public health day campaigns include informational videos to educate people on a wide variety of medical conditions and public health matters. This specific video uses animation as the primary visual style to educate patients about the accessibility and services of primary health care.
The Future of Healthcare Marketing
Digital marketing has become a necessity for survival in the healthcare industry. Old marketing methods are quickly dying out in the era of social media engagement and online content creation.
But in addition to surviving in the industry, digital communication has become the primary pathway through which healthcare organizations are able to provide medical information and education to their patients.
It is in the interest of better public health that healthcare organizations share their knowledge and resources online in a clear and effective way as well as create online communities for patients to turn to when they are in need of support.
Now that you've seen some of the best examples from top performing healthcare companies, you're ready to build an awesome healthcare digital marketing strategy of your own.