All marketing has challenges – but healthcare marketing challenges are especially complex.
There's no other industry like healthcare. The services we get and the relationships we build as patients are central to our well-being. It can be tough for even the most experienced marketer to catch that lightning in a bottle. What makes one doctor or clinic special?
For healthcare marketers, that question is only the beginning.
Though most of their tools and techniques are the same, they navigate an environment like no other. It's crucial to understand how healthcare marketing is different before you jump in with both feet.
Although every market has its own opportunities, the structure of healthcare limits what marketers can do and how. Working within those boundaries isn't just important, it's essential. Forgetting to do so can cost businesses millions or force them to shut their doors.
So, what are the healthcare marketing challenges everyone should know?
Let's put them under the microscope.
1. HIPAA Compliance Woes
HIPAA is the name of the game when it comes to all things healthcare in the United States. This complex set of regulations touches virtually every aspect of the industry, from the delivery of care to the healthcare sales cycle.
Healthcare marketing compliance is a head-scratcher. Up until the 1970s, it was illegal to market hospitals and practices. Healthcare marketers are restricted from using certain tools, such as remarketing ads, in order to safeguard users' confidential health data.
Solution
First of all, encourage team members to brush up on the HIPAA Privacy Rule in terms of how it impacts marketing. This way, your staff isn't accidentally (or purposely) sharing patient information that is confidential.
But most importantly, manage expectations through your messaging. You can't make false claims or inflate the results of a certain service or product. Avoid using cliche buzzwords like "world class" or "best" because these aren't quantifiable or accurate.
Consider hosting a comprehensive HIPAA regulations training program to keep everyone on your marketing team in the know. Update this program throughout the year and retrain to keep compliance at top of mind.
2. Public Perception of Healthcare
Let's face it: Most people aren't in love with the healthcare industry. Recent skirmishes over the nature of health insurance have only underscored healthcare marketing challenges. Finding a doctor you trust is a relief, but not one all consumers have experienced.
Today's consumers have been bombarded with some frankly weird medication advertisements and hounded by mountains of "mouse print." It may take effort to win over a skeptical – even cynical – public. Luckily, practices can achieve a lot through inbound content marketing.
Solution
When you're developing your inbound content marketing campaigns, find ways to humanize your messaging. A lot of your audience might be skeptical of your brand, but a human element can create an authentic, positive relationship with them.
Use real stories in your content, while ensuring it's HIPAA compliant. You don't want to expose real patient information, but you can be strategic in how position testimonials and case studies.
Also, include real employees in your content. This gives your audience a name and a face to relate to.
3. Tight Marketing Budgets
Although pharmaceutical firms often have robust marketing budgets, one of the top healthcare marketing challenges is found across the other links in the value chain. Small practices and clinics traditionally don't make marketing a priority, while hospital outreach focuses on donors.
Hospitals are coming around to the idea they need to differentiate within a digital-driven and consumer-oriented healthcare market. However, it could take a lot of education and campaigning before the principals of other healthcare enterprises see the light. Budgets reflect that, sadly.
Solution
Earning buy in from senior leadership for enough budget is one of the biggest challenges for marketing teams in healthcare. You need to approach your budget for both the short and the long term.
In the short team, measure your efforts and build reports that you can present to senior leadership proving ROI. This way, you can prove that marketing is not just a cost; it's a revenue generator.
You need a skilled analyst on staff who knows how to make the most of tools like Google Analytics. They can attribute revenue to specific campaigns and tactics.
Then, you can map out other concrete goals with senior leadership and customize goal-based budgets for upcoming budget planning sessions with the C-suite. For the long term, you can continually earn trust and faith as you prove consistent ROI, ideally leading to bigger marketing budgets every quarter or year.
4. Resistance to Change
Most consumers are pleased at having choice and agency in healthcare. However, some doctors have a contrasting view. They worry marketing proactively will increase the pressure to give in to ill-informed patient demands and cheapen the value of their expert advice.
It's true that when it comes to healthcare, physicians are the experts. Modern consumers need to strike a balance and create partnerships with them. But doctors can serve their patients better than ever by looking for ways to strengthen trust and make each patient feel valued.
Solution
Paint the picture of the patient experience for your audience. This way, they know exactly what to expect when they arrive. For example, shoot a short video walking the viewer through every step of the service you're marketing.
Also, put your team's expertise front and center on your marketing channels, like your company website and social media presence. Introduce your team, and detail how long they've had experience, what their specialities are, and other important aspects (like their education history).
5. The Power of Reviews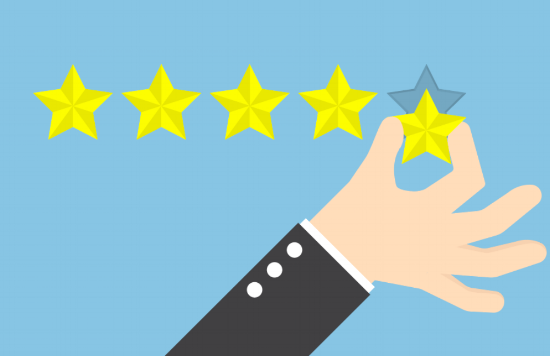 And that brings us to this. It's understandable why some "old school" doctors feel resentful at the idea online reviews have so much influence. But don't give in to pessimism: Doctors have immense power to garner reviews that move their business forward.
Marketers can partner with doctors to help. While no one can control a patient's health, reducing the ambiguity and confusion of the healthcare experience is vital. Better communication, clearer paperwork, and – yes – great web content all play roles.
Solution
Patient care should always come first in the world of healthcare. And that dedication to your patient's well-being needs to be apparent.
Make that part of your brand's messaging, and highlight how your company delivers the best results for their patient's wellness. Impactful content that includes real stories can build trust over time, leading your audience to better understand your healthcare team's expertise and knowledge.
Some of the best healthcare marketing content can come from reviews, which you can earn through many tactics, including:
Making direct requests in person with clear instructions for patients to leave online reviews.
Engaging with all reviews online, like thanking those who leave positive ones and responding professionally to negative reviewers.
Delivering links to online reviews through email correspondence and adding links on your website.
6. Market Segmentation
Over the last decade, healthcare firms have rolled out electronic medical records (EMR) systems to help them make sense of an enormous amount of information. However, most of them still do not use best in class marketing tools, such as a customer relationship management suite.
Before you can have effective campaigns – especially with personalized, high touch methods like email marketing – you need to know who your customers are. This requires both the tools and strategic thinking to lay out a plan that comports with compliance responsibilities.
Solution
Invest in tools that simplify collecting information about your audience. This kind of social data helps your marketing team deliver more contextual, impactful content.
With segmentation, your team can target specific audience segments, based on their age, gender, location, and even behavioral data. This also helps refine your marketing strategies and determine which channels to use.
7. Marketing Triangulation
The U.S. healthcare system is one of the most complicated around. Hospitals need to have whole billing departments just to make sense of it. This affects marketers directly because prospective consumers who might otherwise be a "perfect fit" could be ruled out for insurance reasons.
Squaring the circle of all the different stakeholders is one of the never-ending healthcare marketing challenges. In addition to consumers and physicians, marketers need to clarify how their work will be perceived by insurers, regulators, and even lawmakers.
Solution
It all comes down to gathering and managing your data. The more you know about your audience, the better you can market to them.
The market is so complex and hard to pin down, so your approach to managing your database needs to be ongoing. This helps you accurately gauge the size of your actual market and stay current with pertinent information.
So train your marketing team on data management and establish a clear plan for keeping your database clean and updated. While this process will require a good amount of time and resources, it'll save you big by preventing you from marketing to people who are not actually a proper fit for your company and your products and services.
Healthcare marketing is more necessary to patient decision making than ever. Craft your campaigns with these issues in mind and you'll help your brand stand out in a crowded, contentious field.