Social media has taken the marketing world by storm, and more and more businesses are hopping online to promote their brand. And it seems to be working.
Nearly 90 percent of marketers say their social media marketing efforts have resulted in increased exposure for their business. Better yet, 75 percent say they've increase traffic.
Hence why social media is a necessity in your marketing strategy.
As a visual-centric social media platform, Instagram is just one of the few top social sites marketers utilize to brand their business. Feeds full of photos and videos are used to highlight company culture, company updates, products, and more.
But there's one part of an Instagram post – and social media image posts in general – that far too many businesses overlook: the caption.
What Is a Social Media Caption?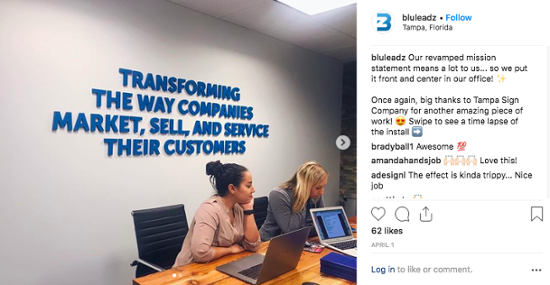 In short, a caption is used to describe an image or video that someone posts online.
They vary in character length based on the platform you publish your content to. Here's a quick breakdown of some of the most common social media sites where captions are beneficial:
Instagram: 2,200 characters
Facebook: 63,206 characters
Twitter: 280 characters
Now here's the thing: No one wants to read a caption that is 63,000 characters long. You might as well write your own novel if you are crafting captions of that length.
Captions in today's social media realm should be short, punchy, and actionable. While they describe your content in more detail, they can also encourage your followers to engage in the comments or take action to further send them down the sales funnel.
While businesses often post image and video content to both Facebook and Twitter, we will focus more on Instagram captions in this article. Why? Instagram is solely a visual sharing platform – so the pressure is on to write the perfect caption to accompany your content.
4 Elements of a Strong Social Media Caption
1. Add Context
You can post the world's greatest photo, but if it's not 100 percent clear what it's about, you're basically creating a guessing game for your followers.
A great caption will provide the proper context to describe or add to the imagery you published.
2. Grab Attention
Don't just settle for the most basic of captions. You want entice your followers to keep coming back for more, so give them something good to talk about later. Grab their attention, and they'll stick around.
3. Focus on Readability
While emojis and abbreviations are fun, the best caption will use them sparingly. Puzzling emoji-only captions will just confuse your followers. To clarify: 🚫✍️🤨📱📝 (If you can't speak emoji, I said, "Don't write confusing social media captions.")
4. Compel Action
Whoever thinks captions are pointless are sorely mistaken. While all the above elements are huge factors in creating a strong social media caption, compelling your prospects to take a next step is one of the best ways to grow your business.
A great caption will end with some sort of conversion element, whether it encourages users to comment on a post, share the post, or check the link in your bio.
Tips for Creating Awesome Instagram Captions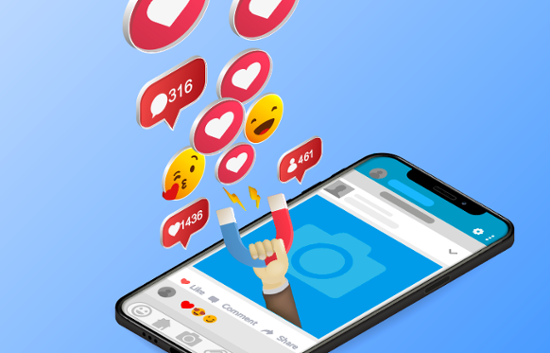 Understand Who Your Audience Is and What They Want.
Your audience should alway come first in your business, and it's no different on social media.
Before writing your caption, consider the kind of audience you attract and the kind of audience you want to attract. Depending on their age, gender, demographics, etc., you might need to write a different sort of caption.
Keep It Lighthearted.
Humor really can go a long way on social media. It fascinates the reader and makes them smile, which in turn creates positive impressions of your brand.
Depending on your industry and what you post, you can use humor, fun, and even emojis to add a little lightheartedness to your content. Being a business isn't all serious... sometimes you have to show off your fun side!
Aim to Entertain.
On Instagram, you really can get away with posting fun, engaging content that highlights your company culture and the products you make/sell while entertaining your followers.
To accompany your entertaining visual content, write captions that entertain. If you're posting a picture of a dog at your office, don't caption it, "A dog at our office." We get it – we have eyes too.
Rather, spice up what you write in context to your image or video, but keep in mind that people love to be entertained. Instead of stating the obvious about a dog in the office, you can write "Buddy was having a ruff day at home, so he joined his best human friend Stacy in the office today!"
Use Your Most Important Words First.
The human attention span is getting shorter and shorter, and you can easily lose a user's attention within seconds of them coming across your Instagram posts.
To give them the most contextual information in the shortest amount of time, use the most important words at the beginning of your caption. That way, it can either:
Entice them enough to keep reading and potentially engage with your content.

At the least, give them the most basic understanding of your image/video.
In an example you'll see below, Wendy's is sure to use the term "Made to Crave burgers" at the very beginning of their caption. That way, at the very least, users will know the name of the delicious burgers standing before them.
5 Examples of Perfect Instagram Captions
1. E! News (@enews)
Caption: This is all we ever wanted, all we ever needed. 🎤 #Coachella (📷: @nsync)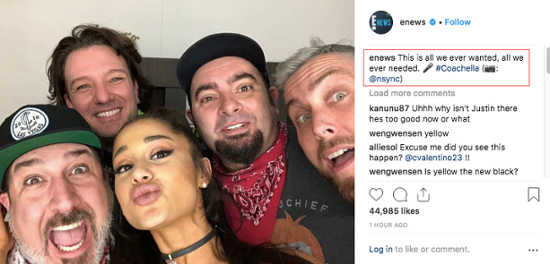 If you're an NSYNC fan, this caption will put that song in your head for days.
Short, sweet, and to the point, E! News shares a photo of the former boy band with Ariana Grande at Coachella. Within a few characters, you'll be captivated by such an iconic selfie. Plus, the use of emojis is superb.
Caption: Who are you this #Monday: 😀😟😠? #LEGO #mood #coffee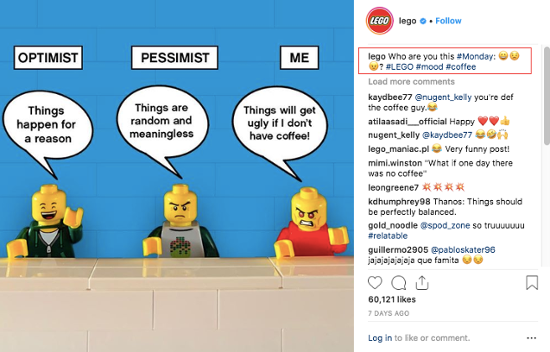 I'm almost positive every adult has played with LEGOs at some point in their life. As a fun, young-at-heart brand, LEGO's Instagram caption game appeals to their young-at-heart follower base.
Without a caption, the picture mostly makes sense: You can get an idea of the ways different people think. But, by the company adding the question, "Who are you this Monday?," users instantly relate to those Monday blues.
Caption: Turns out our new Made to Crave burgers can't talk, like at all. It's the flavors that make them the real MVPs. Hit up DoorDash and get yours delivered today.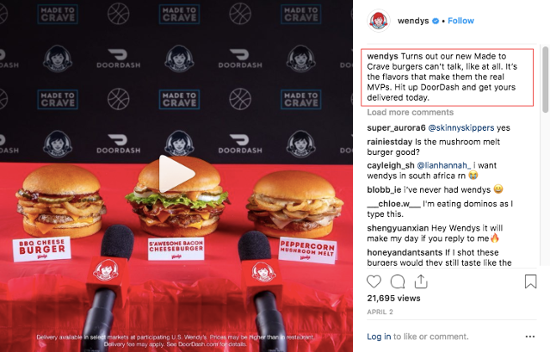 Known for its kickass social media presence, Wendy's captions are just as fire as their food.
In a recent GIF about their Made to Crave burgers, they are able to recreate a post-game interview scene, and their caption perfectly draws on that, giving them MVP status. Plus, the last sentence really entices people to check out DoorDash and get a burger for themselves. 🍔
4. New Belgium Brewing (@newbelgium)
Caption: We're so ready for those summer vibes to hit 😎 Mural, is helping us get there. Watermelon + hibiscus + lime + agave, it's basically summer in a can. Find it at the link in our bio.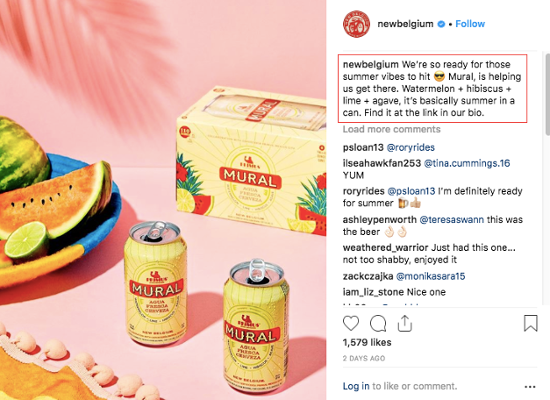 We're all ready for those summer vibes, New Belgium Brewing... so naturally, bringing it up will start putting people in the summer spirit!
New Belgium Brewing really captivates their followers with their vivid images and colorful scenes. Their captions are descriptive yet to the point and encourage followers to check out the link in their bio!
Caption: BLUE or GREEN — which one do you see? - #hydrogrip primer is packed with 🌱blue agave extract for long-lasting grip and 🌿 hemp-derived cannabis extract for all day hydration. AKA she's pretty great 😋 - 🌿#countdowntokush: 6 days🌿
Milk Makeup loves using emojis – because emojis are fun! This caption adds more context as to what their hydrogrip primer is and why you need it. Plus, they don't forget to to use relevant, brand-specific hashtags that brand their post and help get their content found.

With captions, you can capture attention for your brand and get the opportunity to show off your brand's personality. Instagram allows you to have a little more fun with what you post and how you engage with your audience, so go all in and give them a reason to comment.