EON Solutions is a company that specializes in helping other businesses achieve "operational excellence," which they define as "creating a sustainable competitive advantage through operations management." First founded in 2005 as Phase 5 Group, a more traditional management consultancy, they have always had one major goal: to help companies improve.
Their consultative approach to helping companies achieve continuous improvement (CI) and proprietary platform for managing operational excellence (OpEx) strategies have helped numerous companies create and sustain a competitive advantage over the last decade.
What Was EON's Biggest Challenge?
For all of their success, EON Solutions had a major issue: the company sales cycle was pretty long—taking several months to drag each deal down the sales cycle from "opportunity" to "customer." Additionally, their demo-to-sale conversion rate was around 3%, and they needed to improve upon that or find other ways to get people to close. It was a good month if they got one new customer.
They needed to get more people to become contacts—and, to make sure that those new contacts were qualified leads who would be more likely to close as customers rather than spending their sales team's valuable time on fruitless outbound marketing practices.
This slow, inefficient sales pipeline was holding their business back from growing and expanding, as well as making the key investments they wanted to so they could better serve their customers.
EON Solutions had already identified a potential solution in the HubSpot platform and inbound marketing as a whole. In fact, when EON first came to Bluleadz for assistance with their inbound marketing efforts, they already had a lot of the basics in place—an internal copywriter, defined buyer personas, HubSpot's enterprise inbound marketing service, workflows, and even a pillar page. They just weren't achieving the results they needed yet.
How Bluleadz Helped EON Solutions
One of the nice things about this particular client engagement was that they already had a lot of the groundwork done—which allowed our team to focus on activities that could drive value rather than on setup tasks. After double-checking many of the most important inbound marketing setup documents and ensuring that any remaining gaps in our 90-day roadmap were covered, the Bluleadz team set to work.
Since EON had an in-house copywriter who specialized in operational excellence and continuous improvement, we worked with her to create new content for the EON Solutions website. She would write each blog post, and our team would review the content and optimize it for search engine optimization (SEO) to maintain a healthy pace of about two blogs a week.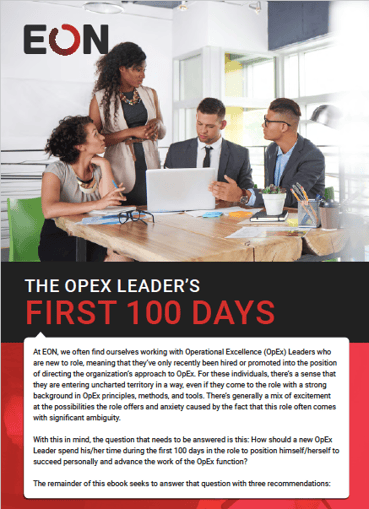 However, a blog post, while useful for attracting traffic, isn't enough to convert customers on its own—EON needed an offer with a full campaign backing it to get blog visitors to click and convert. The offer, titled The OpEx Leader's First 100 Days, would mark a major turning point in EON's efforts to gather new leads.
With EON tackling the text of the eBook, and the Bluleadz team handling the various aspects of content editing, email marketing, CTA design/placement, landing page creation, and the eBook's design, we collaborated to launch the eBook on May 24, 2018 at 9:41 AM.
Once the eBook was live on the site, we set about publishing a few related blogs, and tweaking some of the client's older blogs to include a CTA for the new eBook at the bottom. For the landing page, we ran an A/B test for two contact forms on the landing page to compare each and to see which performed the best.
In addition to the CTAs used in the blogs, we used HubSpot's lead flows tool to create a few sliders and pop-up CTAs for other pages on the site to help promote the new eBook.
Naturally, a new workflow was also created to help promote the new content offer to existing contacts, generating additional clicks for the offer and helping to delight EON's current customers with new content. Additional promo and workflow emails went out to other lists to help increase reach and awareness for the new content as well.
The promo email launched in support of the eBook had a click-through-rate (CTR) of 16.6%, generating an additional 115 unique clicks that attracted more customers to the new content.
Since that effort worked out so well, the Bluleadz team created an extra workflow for customers that didn't open the initial email promo, generating a further 97 clicks to increase the form submissions on the landing page. This extra effort had a profound impact on the success of the eBook shortly after its launch.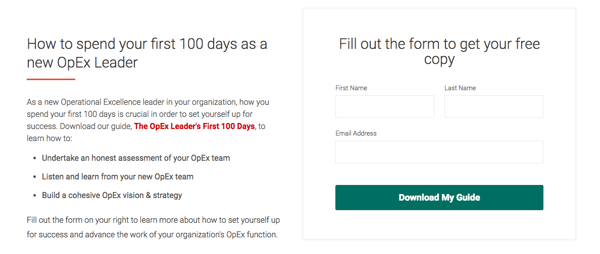 The Results
So, how did the new eBook perform for the client, EON?
It's performed remarkably well. Here are a few statistics from the landing page's report, taken from almost exactly one month after the campaign launched:
Variation A Stats:

Views: 164
Submissions: 52
Rate: 31.71%

Variation B Stats:

Views: 186
Submissions: 81
Rate: 43.55%
In addition to the landing page, the lead flow gathered 1,550 total views and had a conversion rate of 2.65%, generating an additional 41 contacts.
All told, this one campaign generated 174 new contacts in a single month—making up 78.7% of the client's Q2 contacts and busting their goal of 117 new contacts in Q2 by itself.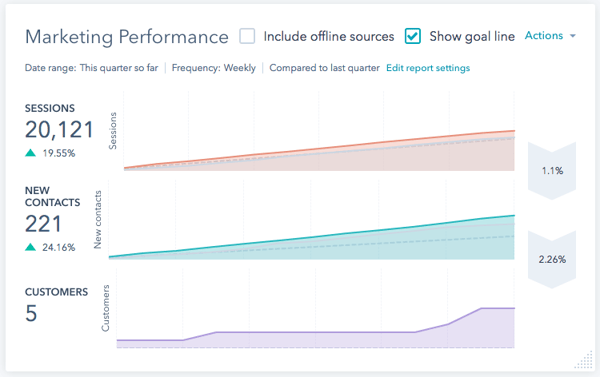 Since Bluleadz uses a points-based system for work, establishing the cost-per-lead for this offer is fairly simple. All told, between proofing the text, designing the eBook and CTAs, setting up the landing page and thank you page, as well as promoting the guide through email and social media, the entire content offer campaign came to a total cost of $1,800. In one month, the campaign generated 174 leads, coming to a cost per lead of $10.34 (rounded down to the nearest penny).
Basically, within a month of starting the new eBook campaign, Bluleadz was able to massively improve the client's contact pool, which gave EON's sales team more to work with so they could close more deals in the future. In fact, during the month of June alone, EON added three new customers—triple the amount they would typically add in a month compared to previous data.
The big challenge that Bluleadz faced, providing fast results for a company that normally had a long sales cycle, was met quickly and effectively by the BZ team, and especially by Jenna Tinney, who collaborated closely with the client on their strategy and implementation to create a cohesive vision for EON's future inbound marketing efforts.