In pretty much every market, there's at least two or three businesses offering a service or product to meet needs. Unless, of course, it's a really obscure market, like lamps made from dried cow pies. But honestly, that may be a thing…
For the most part, though, your company likely has competition. Similar businesses are working to convince your mutual audience to buy from them and not you.
And in any competition, it's important to know as much as you can about who you're up against.
That's where a competitor analysis comes in.
What Is a Competitor Analysis?
Competitive analysis is research intended to collect data on rival businesses. You're looking closely at what they're doing, how they're doing it, how it's working for them, and how big of a threat it is to your business.
Think of it like this: When a football team is preparing for a game with one of their biggest rivals, it's not uncommon for the coaches to study tapes of the other team playing games. They're studying their plays and tactics, planning ahead on the best way to beat the competition.
A competitor analysis is pretty similar to that practice. You're looking at the state of your competition in order to best prep your own team.
Why Is a Competitor Analysis Important?
A thorough analysis is going to provide you with the insight you need to assess the threat to your financial well-being. There are some extremely competitive industries out there, like food and entertainment.
When a market is flooded with competition, it's critical to stay on top of what's happening around you.
It will also help you assess your own business. By comparing your efforts to a competitor's, you can identify what you're doing well and where there are blindspots or gaps.
How are you unique from your rivals? How can you leverage that even more?
There's a lot of to analyze, from their marketing tactics all the way to the user experience on their website. It's a lot to reflect on.
What to Look for In a Competitor Analysis
When thinking on all the different parts that make up your own business, the idea of digging into another's can feel a bit overwhelming.
But the cool thing about performing an analysis is that it's kind of a one-size-fits-all act.
Of course, depending on the size of your rivals and the market you're in, you may need to adjust some of the finer details you're looking for. But, most competitor analyses examine these key elements:
Who Is Their Target Audience?
Typically, you and your competition have a similar audience. That's what makes them your competition. But it's still possible that they're reaching markets that you're not, and if so, why aren't you getting those leads too?
Looking into this can open you up to a new audience that you can begin targeting. Or, you may find out that their larger pool is actually full of unqualified leads that you don't need to be concerned with.
What Makes Them Unique?
Every business has some sort of spin or story. What's theirs? How have they earned their place in the market?
Even though you should never just straight up copy another business, you can still discover some takeaways that you can adapt into your own strategies.
What Do They Market As Their Big Benefit?
You likely have a particular benefit that your business provides for your customers. You can provide value in a lot of ways, but there's usually one that you use as your go-to elevator pitch perk.
By identifying your competitor's, you can better understand both your market and your competition. How well does their highlighted feature work for them? If that's their pride and joy, what tactics should you pursue to outshine them?
What's Their Pricing?
You probably already know this because gauging market prices is a huge part of setting your own, but it never hurts to really look into it again.
Have their prices changed? If so, why? Do they offer any specials or discounts?
Take the time to really look into the how and why here. Just because they've dropped their cost, that doesn't mean you should rush to do the same.
They could be underselling their services, which will hurt their business in the long run. It's always safe to do your research.
How Is Their Website Performing?
You'll want to examine their ranking in SERPs, their SEO, search tools, design, and layout.
Your market can be so varied and diverse that you may be inspired to make a few updates or changes to your own site.
By learning how their website is performing and why they're at that level, you can key into both good and bad practices. All of that data will help you optimize your company website and start driving more traffic, hopefully, and better leads.
What's Their Customer Experience Like?
Does your competition experience a lot of cart abandonment? How do they handle it? What's their customer support like? Does their mobile user experience suck? Does yours in comparison?
Analyzing their customer experience can benefit you in the same way that assessing their website performance can. Adapt and improve your own interface based on what they do well, and steer clear of any serious customer friction points that they may have.
How Do They Approach Marketing?
Marketing strategies are constantly evolving as new tactics come in and old ones are retired.
Analyzing your rival's marketing techniques will help you stay current on new industry trends and may even inspire some ideas for your business.
You'll want to examine their marketing from top to bottom:
Content marketing: What blog topics are they writing about? What content types?
Social media marketing: Which channels are being used? How are they engaging with customers? How frequently?
Email marketing: Do they have a company newsletter? Do they offer promo codes or discounts regularly?
What Do Customers Say About Them?
This is where the grapevine is sweetest. Dive into the customer reviews and social mentions of your competitor to get real insight into what your audiences are saying about them.
What's the language they use? Any common complaints? What do they praise the most?
You can compare this with your own customer feedback and get a clear understanding of where you stand in relation to your competition in the customer's eyes.
Step-by-Step Guide to Running a Competitor Analysis
So how do you actually perform a competitor analysis?
It's important that your research stays organized and structured so that the data you collect appropriately reflects their business. Here are the steps to running an effective analysis:
1. Find Your Top 10 Competitors.
Probably the easiest part of the analysis, run a quick Google search of other businesses in your market. You can search for your service or industry and leverage local SEO to find your more immediate competition.
Doing this will also give you a quick look into where you're ranking in your market. Are you appearing on the first page with your competition? Are you on the third?
Paying attention to this will give you a rough idea on whether you have improvements to make or not.
Once you've found your top competitors, segment them into primary, secondary, and tertiary categories. This will help rank them from greatest to least concern.
2. Analyze Their Website.
By leveraging web analytics tools, you can find out how your competitors' webpages are performing.
Key into their traffic and where it's coming from. Are they pulling leads from the same sources as you? If not, does it make sense for your business to start trying to tap into those lines?
It's important to pay attention to web design and interface as well. What's the user experience like?
Some webpages might take forever to load and are difficult to navigate while others are much more streamlined, relaying information clearly.
3. Dive Into Their Content.
Analyzing your competitors' content can help you identify areas of opportunity to outperform them.
Find what kind of content they produce and where it lives on their site. It's likely that they'll have multiple formats, but which do they prioritize? How frequently do they publish? What topics are they covering?
Diving into the quality of their material is important to the analysis process because you'll need to compare it to your own. How can you improve your own content based off of what they're doing?
The same goes for the social media and email marketing. Look into their unique strategies for both and try to identify some takeaways that will help your business grow.
4. Analyze Their SEO.
Even if you and your competitors have a pretty similar editorial calendar, they might still have a stronger SEO structure than you. Look into what keywords they're using and how they're using them.
What does the structure of their titles and tags look like? How are they constructing their URLs? How do they leverage internal linking?
By assessing what your competitors are ranking for, whether intentional or not, you can find ways to improve your content and outperform them, boosting your ranking on SERPs.
5. Look Into Their Customer Feedback.
A quick search of their company name will probably lead you to a few sources of reviews on websites like Yelp, Yellowpages, and Facebook. Oftentimes, Google has reviews listed as well.
Take a peek at what customers are sharing about their experiences with your competitors. Are they mostly positive? Do they recommend them to others? If there are complaints, what are they and how often does it come up as a problem?
Run all of that feedback against your own business' reviews. Where are you doing better in the customer's eyes? Do you share the same gaps as your competitors? How can you fill them?
6. Identify Gaps In Your Own Business.
Having collected all of the data from above, you probably have a decent chart made for how your business compares to the others. Really analyze the results of each step and look for areas of improvement.
If you're holding up pretty well against the competition, then give yourself a moment to pat yourself on the back.
Then dig deeper and figure out why your methods are working so well. How can you optimize your strategies to get even better results?
It may feel a little redundant to keep diving in when you feel like you've already run, but it's important to remember that business isn't a sprint. You'll have to continuously adapt and improve in order to stay at the top of your game.
It's very likely that your competitors are performing their own competitor analyses, so you shouldn't give them a single opportunity to outperform you.
7. Adapt Your Strategies and Monitor Results.
Once you've figured out where you can push harder within your own company, develop new strategies and implement them. You'll want to hit the ground running in order to start seeing results fast.
It's important to monitor your results as you start seeing a shift in business. Are your new strategies working for you? How? And if not, how you can tweak them so that they do start performing?
The Best Competitor Analysis Tools at Your Disposal
A lot of the data you're looking for requires you to use tools to analyze your competitors' performances.
We've found some of the best competitor analysis tools available right now and explained what they're good for:
Ahrefs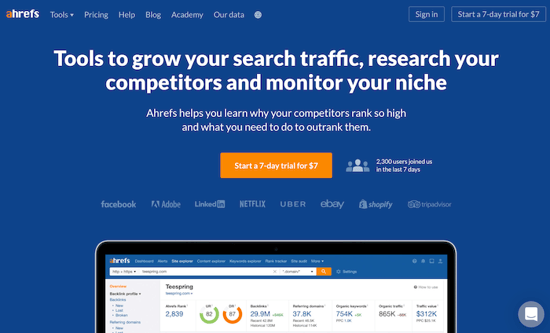 Ahrefs possesses an enormous database of keywords that you can track and analyze for search volume, rank difficulty, and even a SERP snapshot.
There's plenty of other tools included. You can receive reports on specific webpages, looking into their backlinks, domain authority, and keywords.
Looking for a specific phrase? Find the search volume, competition, and projected traffic with this tool. You can even search by different countries.
Price: Ahrefs' plans start at $99/mo.
Buzzsumo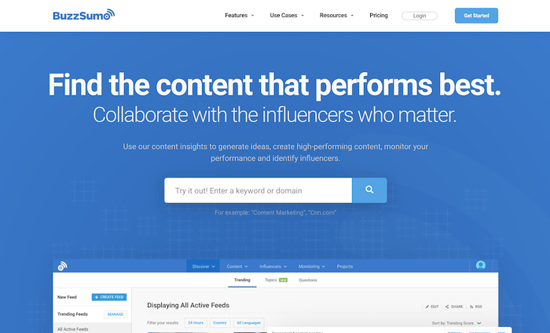 During the content portion of your competitor analysis, you may want to use Buzzsumo to help. A social listening tool, you can put your competitor's website URL into the search and pull up their top blog posts and social shares.
You can identify exactly who is sharing what, whether it be journalists or influencers, and on what channels they're sharing them. It provides valuable insight on how your target audience prefers to engage with businesses and what topics they're interested in.
Price: Buzzsumo's plans start at $99/mo.
Moz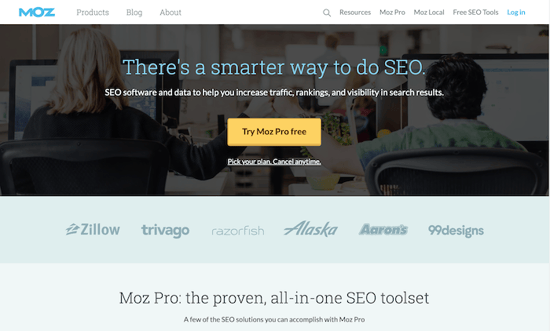 Moz is a great SEO tool that allows you to assess a page's domain authority and ranking keywords. The Link Explorer feature is a means to compare two different pages together, like yours versus a competitor's.
Price: Moz offers a free domain analysis tool and a 30-day free trial of Moz Pro. After that, it costs $99/mo.
SEMrush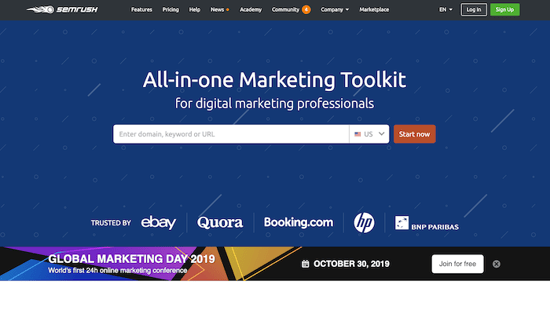 One of the most popular analysis tools out right now, SEMrush provides you with both organic and paid search rankings for any site. It doesn't matter if it's mobile, desktop, or you're searching for it in a different country.
The scale of this tool is important since it looks into domain authority, social media, marketing, and more. You can filter your results by excluding low volume keywords and rankings.
Site audits are also available, giving you a truly comprehensive look into your competitors' online presences.
Price: SEMrush offers a free seven day trial before charging $99.95/mo.
Alexa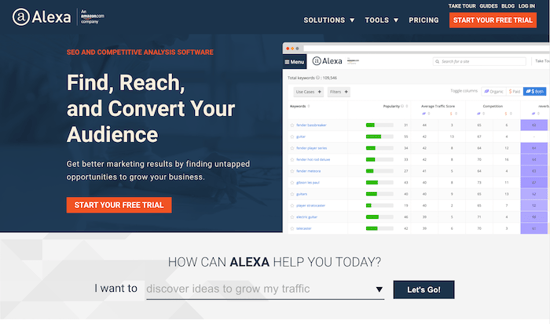 Another all-in-one tool would be Alexa. Not to be confused with Amazon's popular home assistant, this tool is just as helpful in context of a competitor analysis. You can look at any competitor's rankings globally, getting an estimate of their popularity.
Alexa analyzes behavior data, like bounce rate and session times, and visitor demographics for you. Paired with the Audience Overlap Tool, which shows which sites you're competing with and what for, you can get a closer look at your mutual target markets.
Price: Alexa's website traffic analysis starts at $79/mo. For a full marketing stack, you can begin at $149/mo.
Competitor Analysis Examples
When it comes to how you want your competitor analysis to look, that's all up to your own imagination. So long as it's structured and organized, you can be as creative as you want.
Here are a few examples of some pretty diverse analysis reports: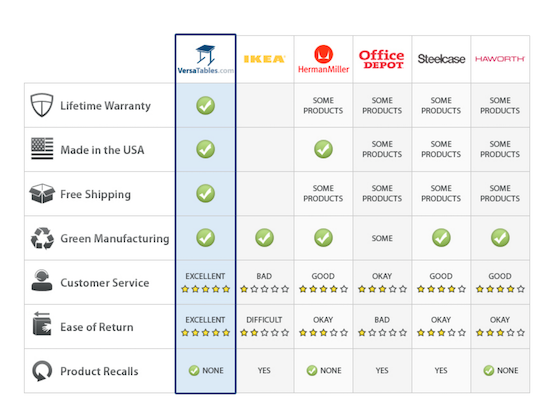 Source: Carnegie Melon University
This is a great example of a product-focused competitor analysis. A light comparison of shipping and service, VersaTables was able to look into how their business' quality sized up against other furniture stores.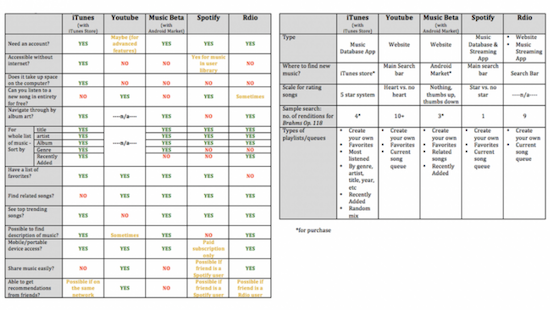 Source: Carnegie Melon University
A much more thorough example than the one above, this is a more direct table listing of features and services compared across music streaming platforms.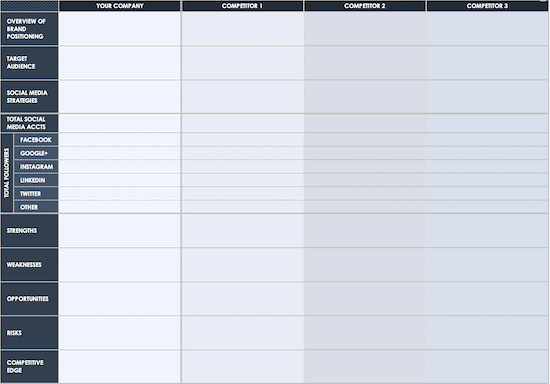 Source: IC Online Strategy
This is a pretty cool template covering all of the core elements we discussed in this post. Your analysis doesn't have to be super flashy or decorative if you don't want it to be. Just a simple sheet or table will suffice.
As you can see, performing an in-depth competitor analysis has a ton of perks, not just in knowing what your market landscape looks like, but also in identifying gaps in your own business.
You'll be able to keep up with new trends and strategies, new competition, and old rivals too.
With tools in hand, it's time to start doing your research.