The Best Customer Feedback Tools
1.

HubSpot

2.

Qualaroo

3.

ProProfs Survey Maker

4.

GetFeedback

5.

Client Heartbeat

6.

CustomerSure
7.

SurveyMonkey

8.

Get Satisfaction

9.

Bazaarvoice

10.

Survicate

11.

Reevoo

12.

UseResponse
One of the most amazing and game changing benefits of inbound marketing is the depth of information you can gather. Traditional marketing, while effective, is always difficult to pin down the effectiveness of your initiatives.
Today, digital marketing has changed all of that.
Analytics examines all kinds of data points including where your prospect came from, how long they spent on your site, what content they interacted with, what actions they took on your website, and much more.
One essential aspect every business needs to measure and track is how impactful products and services are for their customer base.
This is where customer feedback comes in handy.
What Is Customer Feedback?
In today's online world, while analytic metrics are extremely detailed and useful, the business environment is competitive. Your customers and potential customers have plenty of options, so being able to understand why they chose your company is very useful information to possess.
In order to compete with other businesses, you have to keep your customers happy by understanding your business, your customers, and the overall customer experience.
The best way to accomplish this is by seeking customer feedback in the most direct way – by asking them.
Customer feedback is the information you gather when you're soliciting input from people who purchased your products or services. The best way to collect and manage this data is using customer feedback software.
What Is Customer Feedback Software?
Essentially, this kind of software is built to help you create and distribute customer surveys. These kinds of tools help you gain valuable insights from customers as to how you can improve your product or service, identify unhappy customers, and reduce churn.
Depending on your goals, needs, and budget, you can find a customer feedback solution that includes many key features, such as the following:
Social network listening – Track online reviews, social media comments, star ratings, and more.
Net promoter score (NPS) – Learn how many of your customers are brand advocates, passives, and detractors.
Multiple platform functionality – Distribute surveys through multiple channels, including email, social media, text messaging, and landing pages.
Sentiment analysis – Analyze customer sentiment by looking for trends and patterns in textual information.
There are many other features you might need, depending on your goals. For example, if you want to increase the amount of star reviews your brand has online, you may need a customer feedback software solution that includes review generation.
Some tools will allow you to track comments in real time, which is great for staying engaging and making your customers feel valued and understood. Bottom line: No matter what tool you pick, all of them help you better understand the customer experience you're creating.
Let's take a look at our top 12 customer feedback tools available on the market today.
The Best Customer Feedback Tools
1. HubSpot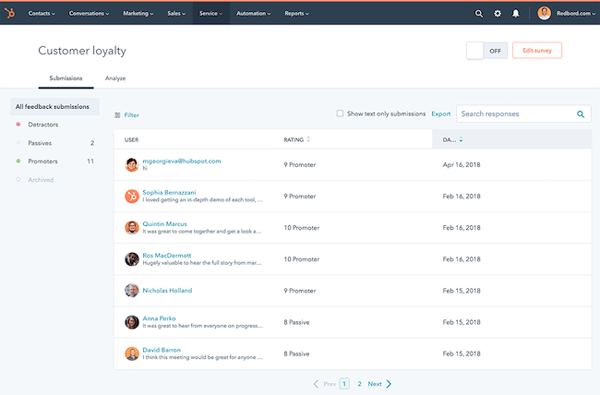 HubSpot's out-of-the-box feedback tools make it easy to capture qualitative and quantitative feedback so you can understand your customers better. With HubSpot, you can create and deliver surveys via email and on your website.
The tool will also help you choose the right format for your survey and track your surveys so you can improve your customer experience over time.
Use a net promoter score (NPS) survey to measure customer loyalty over time, send customer effort score (CES) surveys to understand how easy it is for customers to get the support they need, or distribute customer satisfaction (CSAT) surveys to understand how satisfied customers are after different points in the customer journey.
Moreover, keep track of all your customer feedback in a single dashboard so your whole team can monitor changes in customer satisfaction over time.
The HubSpot Service Hub includes a free version that is packed with a ton of awesome features that help your team develop an amazing customer experience. Explore their pricing tiers for more information about each tool.
2. Qualaroo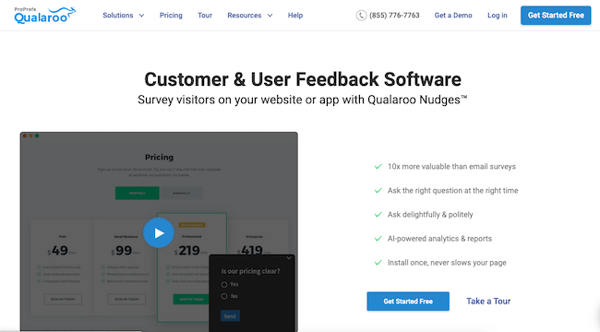 Qualaroo stands out in this list thanks to its most notable feature – Qualaroo Nudges.
While sending customer surveys via email is certainly important in gathering data about your customer experience, you can gain even more valuable insights by adding surveys to particular webpages and within your apps.
These surveys appear in a non-intrusive manner, and they don't slow page speeds, so you don't need to worry about disrupting your visitors. Plus, installation takes no time, and once you install it, you're set up to make changes to questions and adjust what pages to add surveys to – all without having to seek help from developers.
Another noteworthy feature is Qualaroo's integration with IBM Watson's Natural Language Understanding, which enables sentiment analysis, providing insights into how your audience feels and what emotions they experience.
You can assign your qualitative data to positive, negative, or neutral values, attribute expression values to five categories of emotion (anger, disgust, sadness, fear, and joy), and assess relevant keywords being used by respondents to better understand how expectations are being met for your products or services.
Pricing starts at $25/mo for the Essentials plan, which is the perfect solution for small businesses. The Premium plan is the next tier, starting at $50/mo. Both small and large organizations alike can find a plan to fit their needs and budget.
The best part: You can try any plan for free for 15 days, and you can also use their zero cost plan to get started.
3. ProProfs Survey Maker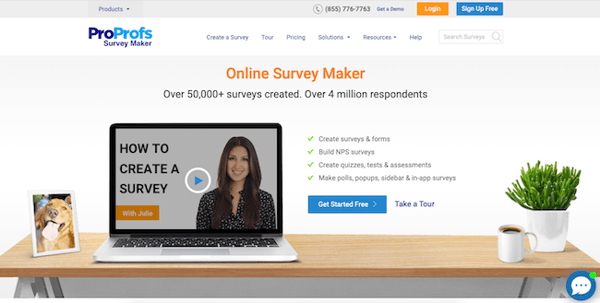 When it comes to user friendliness, ProProfs Survey Maker is one of the best choices for customer feedback tools. Creating a survey is incredibly easy, saving you a lot of time and energy that you would otherwise be spending navigating complicated survey builds.
It's also incredibly versatile, enabling you to create several types of surveys and forms, including:
Quizzes
Sidebar forms
Polls
Pop-up surveys
You can hit the ground running by using one of their 100+ survey templates and over one million ready-to-use survey questions. And all your data you collect integrates seamless with your marketing automation software and your CRM.
Pricing is broken down by cost per response on a monthly basis. You can use it for free for up to 10 responses. The next two tiers are $0.05 per response each month and then $0.10 per response per month. Both tiers offer various benefits, including branding options, email notifications, detailed reports, and integrations.
4. GetFeedback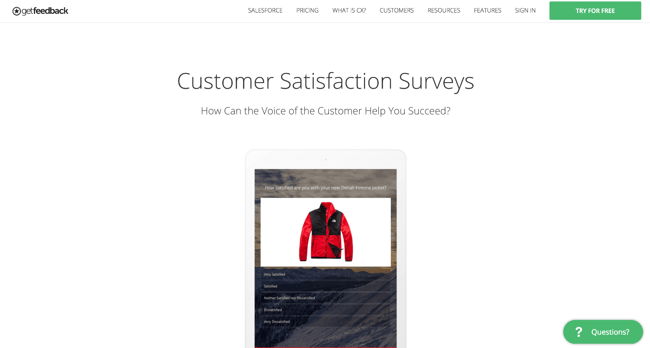 GetFeedback is a visually appealing tool that focuses on the user experience. You can create surveys with images and customize the colors and fonts to fit your brand.
Surveys on GetFeedback are more like having a conversation with your customer rather than just handing over a "survey." And the process is easy for your customers. Basically, you send your customers a link in your "thank you" email, they fill out the survey, and you receive the data.
You can start using the tool for free for a 14-day trial. To get pricing information, you need to reach out to them directly.
5. Client Heartbeat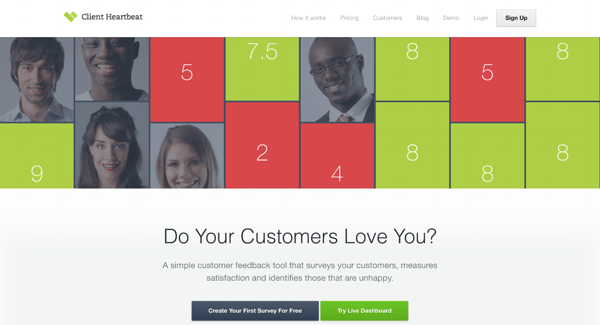 Client Heartbeat enables you to send surveys to your customers via email and measures customer satisfaction over time. It offers a great feature, which gives you the option of using your customer satisfaction scores as a benchmark to compare against similar companies in your industry and region.
You can automate the survey process so they are sent out based on time periods, such as three months or six months. Just set it and forget it, and then gauge your product over time.
This is one of the best programs out there, receiving almost a 60 percent response rate. Plans start at $29 per month for up to 50 contacts and unlimited surveys.
6. CustomerSure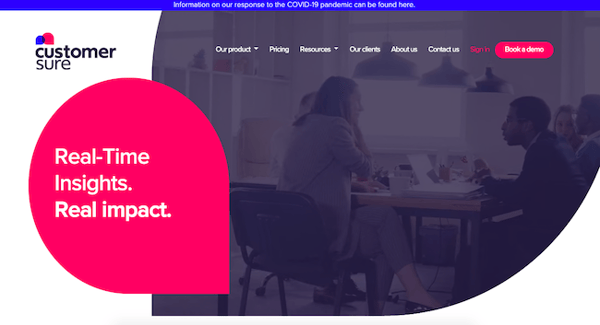 CustomerSure collects data by sending surveys via email. Your customers fill them out, and the feedback is collected into a customer service dashboard where you can find and fix issues.
This UK based tool also allows you to trend customer satisfaction over time, a widget on your website allows direct feedback, and extra features like Reviews and HelpDesk make it a well-rounded platform if you're looking for more than just a customer feedback tool.
The price for this platform starts at £199 per month, which is about $250. Larger companies that need more features can sign up for the higher tiered options.
7. SurveyMonkey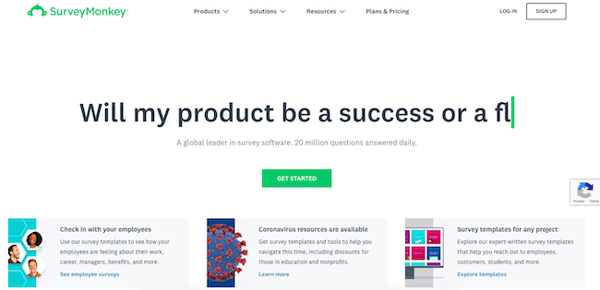 SurveyMonkey is a popular online survey tool used by millions of businesses worldwide. It offers a wide range of features, including automated reporting, permission controls that simplify sharing data, and customization tools.
There are many options for adding your branding and customizing the experience for your audience. Plus, their selection of integrations is impressive. With over 100 apps and plugins available, you're well equipped to streamline gathering and organizing customer data.
Their business plans start at $25 per user every month, with the second tier starting at $75 per user per month. Larger organizations that need less restrictions than the first two business plans need to inquire for a custom quote.
8. Get Satisfaction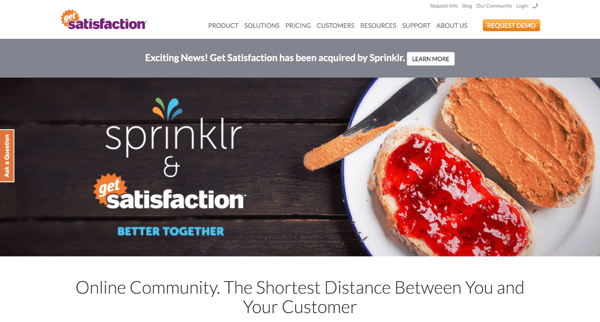 Get Satisfaction is a community platform that helps you get feedback and share it with other customers. This benefits everyone because customers with similar questions can use it as an FAQ.
If you're looking for product launch testing and feedback, Get Satisfaction allows you to ask for customer input and have them vote on their favorite product ideas.
This tool offers a widget that can be placed anywhere on your page. Clients who click are given four options – give praise, ask a question, report a problem, and share an idea. Another benefit is that it easily integrates with your CRM, help desk, social media tools, and marketing automation.
You can find a package that aligns with your needs by contacting their sales team. They will break down what features you need to hit your goals and provide you with detailed pricing information.
9. Bazaarvoice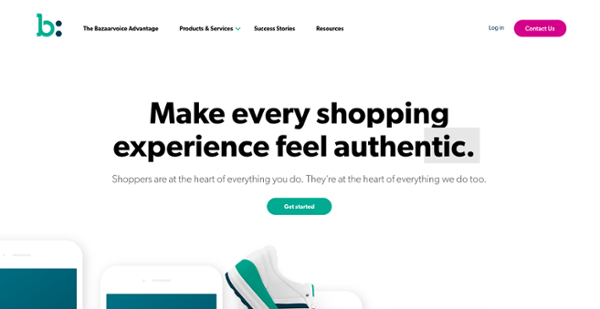 Bazaarvoice is a great customer feedback platform with a lot of flexibility and options. You can collect ratings and reviews and allow shoppers to ask questions and deliver them answers, or both with Bazaarvoice Connections.
With Bazaarvoice Connections, your company can easily collect reviews and answer any questions that pop up. The best news? It's an all-in-one, easy-to-use portal.
Bazaarvoice Connections comes in one of two packages. Connections Basic gives you access to 25 reviews, and you can answer all your customers' questions for free. And, when you're ready to learn more about Connections Premium to access all your reviews, it's any easy upgrade!
10. Survicate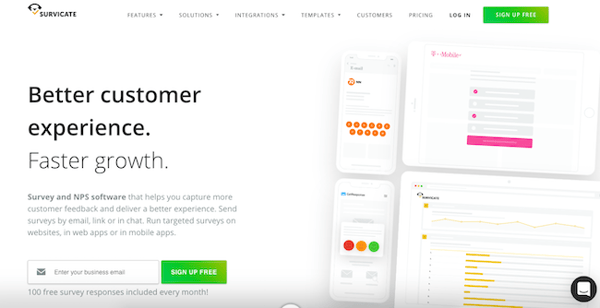 If you're looking for a customer survey platform that easily integrates with your marketing application, Survicate is the one for you. It works with HubSpot, Mailchimp, Slack, and more!
With Survicate, it's simple to collect feedback from customers who visit your website, embed surveys into emails, and even learn about your mobile app users.
Pricing is available in three tiers:
Essentials: At $49 each month, t

his package comes with all the basic features and allows you to collect up to 1,000 monthly responses.

Professional: Starting at $99 per month, this tier

offers everything the Essentials package does, and you can collect 5,000 responses. It also includes more exclusive features such as design customization and branding, survey results export, and advanced survey targeting.

Ultimate: The $249-per-month option

is the top-dog package with everything you can think of. Gain access to all of the Professional package features, plus two-factor authentication, workspaces for domains and teams, and more.
11. Reevoo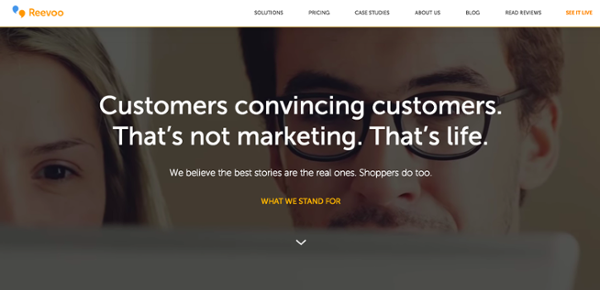 Reevoo's homepage mantra says it all: "Customers convincing customers. That's not marketing. That's life."
Basically, Reevoo thrives off of getting valuable reviews from their clients' customers. They go out of their way to verify a customer completed a purchase before sending over an email asking them about it. And, they go above and beyond a typical review to ask questions about the purchase process and the service they received.
Another great feature about Reevoo is that they will notify you when someone leaves a negative review or customer inquiry, allowing your team to be quick to respond.
Pricing is a little different with Reevoo. In attempt to keep the price fair for everyone, what you pay depends on how much content they are able to collect. Contact them directly to get a quote.
12. UseResponse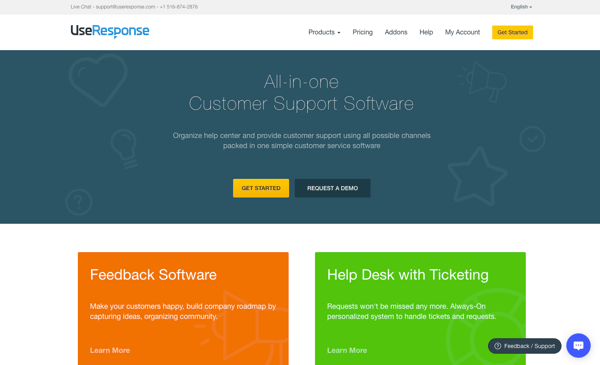 Touted as an all-in-one customer support solution, UseResponse covers all the bases. Your service team is set up to succeed with this tool.
Need to build your knowledge base? Use their knowledge management software to create branded community portals, where you can share documentation. Build out your FAQs and create categories to organize knowledge base articles from one simple interface.
There are several other perks to using this tool, like the omnichannel help desk software, where AI helps automate ticket assignments, the live chat tool that integrates with plenty of popular channels, and, of course, the feedback software.
You can try all their solutions for free to gauge how well it fits your needs. The feedback tool starts at $49 per month, giving three agents access to the software. You can also get the knowledge base tool and help desk and live chat tool separately, or opt for the complete suite, starting at $69 per month.
Collect Customer Data Now
Adding a customer feedback component to your marketing strategy allows you to learn more about the people behind your sales and really see how your company performs in terms of customer service and customer satisfaction.
Customer survey tools can be used to develop new related products based on feedback and can alert you to any problems you may be having so you can nip them in the bud and make proper adjustments in a timely manner.
Today's business environment is competitive, and to truly succeed, you need to focus on your customers.
The more information you have about actual experiences with your business, the more you can differentiate yourself from your competition. A customer feedback system is the perfect way to engage with your audience!