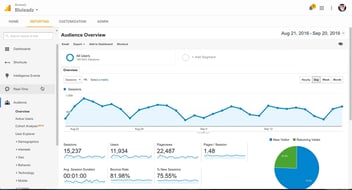 Having Google Analytics installed on your website will allow you to make informed business decisions based off of real user data, including data on everything from global trends to inidividual users. It allows you to see both what is working and what's not. HubSpot also has a very robust reporting tool that allows you to see many of the same things that Google Analytics reports, but not everything.
A few key items that you can track inside of Google Analytics, but not with HubSpot, are:
Visitor locations
A behavior flow that shows you what page users arrived to on your site, where they went from there and where they dropped off your site
Step-by-Step: Google Analytics + HubSpot Integration
If your website is being hosted on HubSpot, you're in luck! You can have HubSpot's Reporting Tool AND Google Analytics installed on your site.
Want to reap the reporting benefits of both platforms? Check out our video tutorial below to learn how you can integrate Google Analytics with HubSpot to track traffic to your site, individual page visits and blog article performance.

Interested in learning more about how you can strengthen your business's analytics and reporting practices? Check out our free guide, The Marketer's Review to Tracking Analytics.