Videos are among the most powerful items in your digital marketing toolkit.
Research has shown video makes it more likely a landing page will lead to a conversion ... even if a site visitor doesn't actually watch the video.
Why? Video is seen as professional, intuitive, and trustworthy. It can communicate a tremendous amount of information in a few minutes and motivate people to take action.
So, why aren't more marketers using video in email?
Some marketers shy away from video in email because they worry a video will add complexity to their messaging – making it more likely recipients won't read included text, for example.
The truth is, video in email is a smart move for marketers.
Today, most emails are opened on mobile clients. Video is the ideal medium for mobile: It's fast, convenient, and engaging. B2B decision-makers in particular can be relied on to use mobile for product research while making the most of their "downtime."
Let's look at some creative ways to make video in email stand out:
1. Roll Out a Video Series
In general, short videos hold attention better than a long one. If you have complex concepts to get across, a series of short videos is a great option.
A sequential chain of videos is a strong way to do customer onboarding, while a modular approach can hook people into your evergreen web content.
2. Employ Social Proof
Interviews from experts an email reader identifies with can provide you with compelling video content people are more likely to get excited about.
Customer testimonials can energize click-through, too: They show email viewers that others "like them" have succeeded with your product.
3. Have Some Fun with GIFs
As you can see around the Bluleadz website, animated GIF files have become a popular alternative to regular video.
GIFs load quickly and can communicate several seconds of footage in a fun or quirky way. In marketing emails, animated GIF "snapshots" make great CTA buttons.
4. Push to Optimized Landers
Many marketers using video in email make a big mistake: When users click on the video, they wind up at a hosting platform like YouTube instead of directly on the company site. An optimized landing page will reduce friction and raise conversion for your email traffic.
5. Experiment with Personal Messages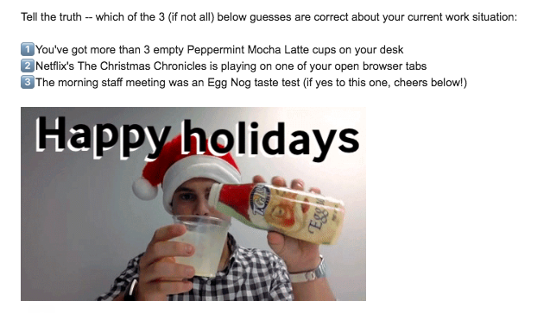 The newest trend in videos in email rewards high effort with high returns.
Enterprises focused on account-based marketing can get attention from top decision-makers by recording personal videos especially for them. This can pique interest even among your most elite clientele.
6. Use Video to Win Webinar Signups...
Small businesses and individual entrepreneurs have had smashing success using video in email to prompt event signups.
In this case, your video should serve as a preview of the event and the value attendees will get. If the video is classy and informative, conversions are more likely.
7. ...and Humanize Post-Event Follow Up
Since viewers see video as a more personal form of contact, it's an effective way to solidify a relationship after a seed is planted. A message from your event leader, CEO, or other figure known to your list makes subscribers more likely to fill out a survey or perform other follow-up.
8. Demonstrate Something Cool
A video is the perfect opportunity to show subscribers something that would be hard to communicate in text or still images. This is terrific method for conducting a review of new software features or showing target buyers your latest product in action.
9. Play Around With Video Formats
When it comes to video in email, you can be as experimental as you want – as long as you align your message with your buyer personas. You can often deliver a more authentic and personable message using a grainy cellphone camera than a $1,000 dedicated device.
10. Mark Important Account Anniversaries
Once you've converted a lead into a customer, the future is an ongoing journey to delight and retain them.
Videos take time, effort, and thought – they are truly "special," so you can use them to call attention to those special moments in your customer relationship.
11. Try Putting "Video" Right in the Subject Line
Savvy marketers know that your subject line is the key to getting people to read your email. Just the fact that an email message contains video can make it more enticing.
To do that job, though, people need to know about it! Try using the word "video" in your subject and split test your results.
Video in email is a lot more common than it used to be, but it's still rare enough that it adds extra punch to any marketing message. With ever-growing data limits, people are ready to eat up hours of video content on their phone – so be sure your marketing feeds that need!