There's a unique correlation between building positive customer relationships and the longevity of a business. Maintaining those connections is the present and future of business, with customer centricity taking front and center.
The customer is central to marketing, sales, and service. Everything a company does is in an effort to please the customer and keep them content with their business.
This is why you need customer relationship management (CRM) software.
What Is a CRM?
via GIPHY
Customer relationship management is a means of, well, managing relationships with your customers. It's pretty straightforward.
As simple as a definition it is, it's actually central to your entire business, especially as it grows.
Keeping track of your customers and all of their details as your business expands becomes more and more of a task. But those are not details that you can risk losing or have disorganized.
Without the ease of access to that data, your teams will be dramatically slowed down as they have to hunt for how a prospect has interacted with your business in the past.
CRM solutions create a home for all of your customer data, such as who they are, what they're looking for, and what interactions they've had with your business. It helps keep customers at the center of everything, per the flywheel framework.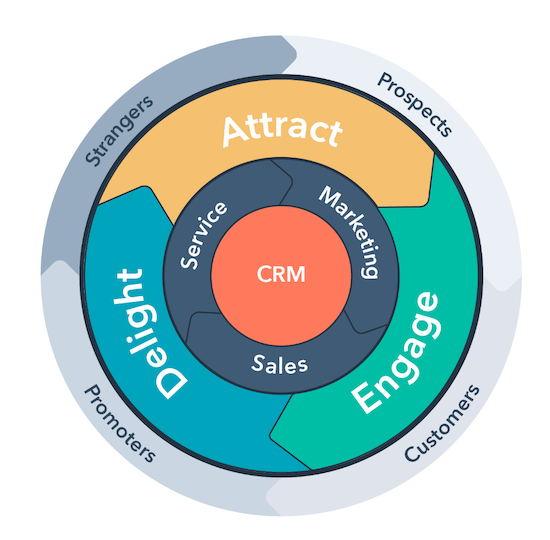 Source: HubSpot
The Benefits of a CRM
There's a lot more to CRM software than just housing data. In fact, a CRM does a lot to streamline your business' sales process. It shouldn't be dismissed as just another cog in the machine where data is entered and nothing of value comes out.
Here are some great benefits of implementing a CRM system into your company:
Customer Data Is More Organized.
Keeping track of customer data is so much easier with a CRM. All of their behavioral data, such as the pages they visit, the content they download, and who they speak to, is logged.
This makes maintaining seamless, authentic engagement easier for your sales team as they follow up with contacts over email and phone calls.
You Can Segment Your Contacts.
Categorizing and defining contacts by specific criteria makes outreach easier and more efficient for your sales reps.
In a CRM, you can segment contacts by company size, location, deal stage, and more. Messaging and email marketing efforts become more targeted and contacts feel like they're more than just another sale. Interactions become dramatically more personalized.
Sales Reporting Becomes More Accurate.
via GIPHY
CRMs allow for the collection of customer and deal data directly related to your pipeline. You can get a clear overview of how your business is rolling through sales dashboards and reports provided by the system.
Forecasting Sales Is Easier.
With all of that sales data aggregated in one place and regular reporting being performed, it's easier for sales managers to identify trends and predict and plan for the future.
They can identify which lead generation strategies and activities are the most profitable and strategize new ways to optimize the sourcing. It also helps develop sales projections and estimates for the company.
Sales Teams Will Be Improved.
Sales teams can use all of this collected data to recognize patterns and improve their interactions with prospects and customers. Most powerful CRMs, including Salesforce and HubSpot, offer lead scoring capabilities that help sales and marketing teams prioritize leads, and ultimately increase their chances to turn those leads into customers.
Plus, salespeople's schedules become more organized since most CRMs display booked meetings, scheduled calls, and email logs.
via GIPHY
Having one place to search for information streamlines your team's operations and helps your business grow. And two of the best CRMs on the market are provided by HubSpot and Salesforce.
What Is HubSpot?
HubSpot offers a full stack of software for marketing, sales, and customer service, with a powerful CRM at its core.
They have a full deck of tools that are equipped to host websites, landing pages, blogs, and create email sequences. Users can also log and track contact interactions and behavior.
Their incredible CRM is the heart of all these tools, pulling all of these different elements into one system.
Source: Simple Strat
A Brief Overview of the HubSpot CRM
HubSpot's CRM makes it easier for sales to organize and grow their customers, but there's always a flip side to every coin.
Pros
The basic CRM is free to use by your entire team if you're a HubSpot user.
Even for paid plans, the overall cost of ownership is much lower than Salesforce's.
Marketing automation, service, and sales tools exist within the same system.
There's a Live Chat tool for your hosted website.
Customer interactions and behaviors are tracked automatically.
The CRM is entirely customizable.
Free high-quality customer support via phone and email for all customers on its Professional and Enterprise plans.
HubSpot CRM also offers a free WordPress and WooCommerce plugin.
Cons
It's still a relatively new system that isn't as advanced, so large sales teams may run into obstacles.
Complex sales processes may not fit the inflexibility of HubSpot's operations.
Frequent updates often interrupt user experience.
The Ideal User
HubSpot is perfect for organizations that aren't familiar with CRM software and need a more lightweight, clean-cut system that isn't too big or complex.
What Is Salesforce?
Salesforce is another CRM provider that aims to bring organizations and customers together through relationship management. They highlight marketing, sales, commerce, and service all in one deck.
Their Salesforce Customer 360 program offers products that cater to 12 unique elements of a business.

Source: Salesforce
A Brief Overview of the Salesforce CRM
It's a robust system that offers a lot to experienced, large-scale companies, but can overwhelm those who are only just dipping their toes into CRM software.
Pros
It's a cloud-based CRM, therefore requiring fewer resources.
Salesforce's products cover a wide variety of business needs.
It's customizable.
Users can integrate with external systems easily.
The system has features meant to optimize the user interface and improve user experience.
Cons
Access and operation is 100% reliant on a strong internet connection.
Extensive functionality and products requires higher expenses.
Limited data storage for organizations operating on an international scale.
Customized UI requires JavaScript optimization.
Frequent updates often interrupt user experience.
The Ideal User
Salesforce is a uniquely feature-rich CRM that provides a ton of functionality to larger corporations who require a more hands-on approach to their CRM. But they may not be the ideal choice for organizations with smaller budgets or less experience.
The Ultimate Side-by-Side Comparison of HubSpot and Salesforce
via GIPHY
HubSpot and Salesforce are both powerful CRM platforms. Both companies provide a great service to their ideal customers, but it can be hard to decide which umbrella you fall under.
There are many elements to consider when comparing both of these options.
4 Key Elements to Look At When Comparing CRM Solutions
The most notable aspects to look at include the following:

Ease of Use
Ease of use is important when it comes to your CRM: When your CRM is easy to use, that means sales reps are more likely to use it.
HubSpot is known as being very easy to use. In fact, G2 reviewers gave it a score of 8.6 for "ease of use," compared to a 7.8 for Salesforce. Salesforce, on the other hand, offers a lot of customization for its users, but has a bigger learning curve.
Customer Support
Customer support is key when choosing a CRM. You need to ensure you can access support when you need it without adding to your bill.
Salesforce charges 20 percent of the software cost for phone support. Meanwhile, HubSpot offers high-quality customer support via phone and email for all customers on its Professional and Enterprise plans at no extra cost.
Another thing that differentiates HubSpot from Salesforce is their HubSpot Academy – this is a free resource center where users can learn anything from how to develop their marketing strategy to the best ways to use the HubSpot platform to grow better.
Add-ons
You need to make sure your CRM fits in with all of the other tools you use.
Both HubSpot and Salesforce offer similar functionality when it comes to this: They both have robust app ecosystems, open APIs, and developer tools. Aside from its CRM and Sales Hub, HubSpot also has a Service Hub and marketing automation tools (Marketing Hub) if you're looking for an all-in-one platform.
Pricing
Pricing is likely what most stakeholders at your company will have the most questions about: What does it cost to get started with the CRM and what will it cost over time?
Salesforce is very pricey, and the costs only add up for implementation and customer support. HubSpot's total cost of ownership is much lower than Salesforce's. For example, take a look at this pricing comparison from HubSpot, where the estimated annual total cost for a team of 10 using Salesforce Sales Cloud Enterprise is $43,680, as opposed to the cost of HubSpot Sales Hub Enterprise, which is $17,400.
The HubSpot-Salesforce Comparison Chart
For a high level overview of how both of these solutions stack up, check out this comparison chart: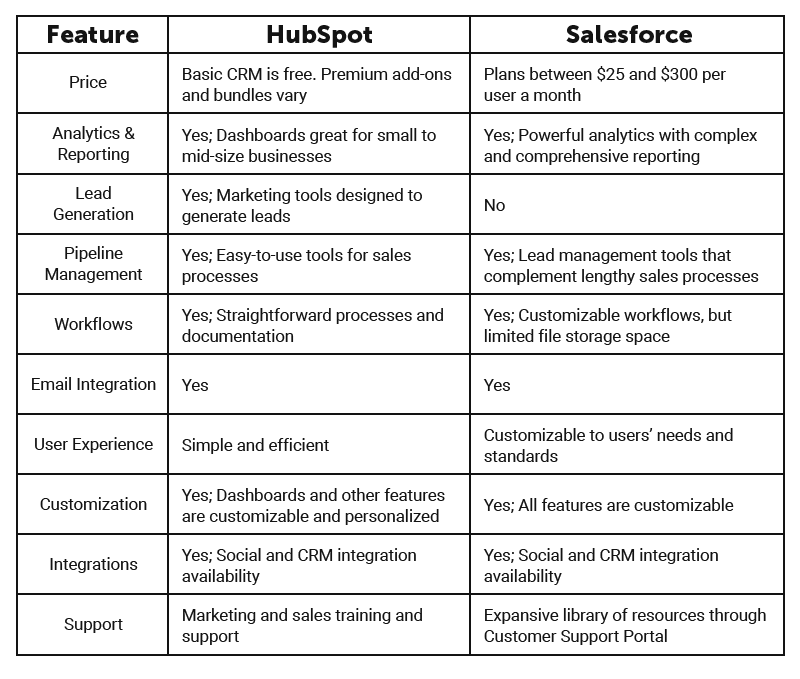 Which CRM Is Your Best Option?
For larger businesses with deep pockets and the need to integrate with a lot of the different apps that are available in the Salesforce marketplace, Salesforce is a great tool.
However, for smaller businesses that don't have thousands of contacts (or are already on HubSpot's inbound marketing platform), the HubSpot CRM is the easier, more affordable solution (though HubSpot is just one of many Salesforce alternatives).
Ultimately, it might come down to which one is more in-line with your budget, team size, and current situation.
Of course, if you're using the Salesforce CRM and have a HubSpot Pro inbound marketing platform for your marketing efforts, the HubSpot CRM integrates with Salesforce. This allows you to sync your HubSpot database with Salesforce so you can get the best of both worlds.