The development of the digital age birthed a huge movement in online education. Today, there is an abundance of resources available for driven professionals looking to engage in self-education to acquire the skills they need to thrive.
In the marketing world, no matter where you or your team are in your career, it's always helpful to brush up on the latest information in digital marketing. Some of the most notable options are Google Analytics Academy, various SEO courses, and HubSpot Academy certification tracks.
Among these resources, HubSpot Academy certifications stand out specifically because they cover far more than your average material.
Are HubSpot Certifications Worth It?
Full disclosure: Our entire team here at Bluleadz earns their HubSpot Academy certifications, and we renew them as needed. When we hire new employees, they go through multiple HubSpot certification courses within their first few weeks on the job.
There's a number of reasons why we implement this training, and all of them have to do with the value that HubSpot certifications add to our team and our work as far as applicable knowledge and skill sets.
But in case you need a little more convincing, let's review the reasons why HubSpot certifications are absolutely worth taking.
They're Free.
Sometimes, education just isn't easily accessible. Courses and certifications cost money, and not everyone has extra cash lying around to spend on education tools.
There are tons of online learning platforms on the web like Udemy and Coursera, all of which charge for their online courses. They can cost hundreds or even sometimes thousands of dollars. If you ask us, that's a lot of cheddar.
via GIPHY
The first great thing about HubSpot Academy? All of their courses are 100 percent free of charge. That's right! Free knowledge! Free training!
They're Being Used in Universities.
You know that an online course is credible and reliable when higher education institutions recognize their certifications.
Northeastern University accepts HubSpot Academy certifications as transfer credits for their social media concentration in master's programs. As one of the most prestigious universities in Boston, this goes a long way in displaying their belief in the value of HubSpot courses.
When it's acknowledged and trusted by such a respected name in higher education, you know it's good.
The Cool Kids Are Doing It.
In recent years, the amount of HubSpot certifications awarded has skyrocketed, almost tripling in just two years. What does this mean? That people have started to realize the value of these courses, and they're all hopping on the HubSpot bandwagon. Looks like you probably should too.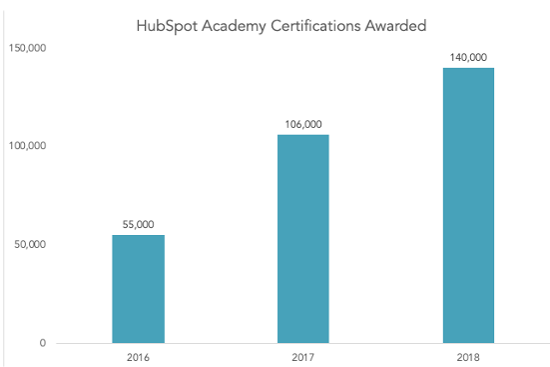 Source: HubSpot
They're Highly Rated.
HubSpot Academy continually receives rave reviews for their certification courses. A whopping 121 G2 users give HubSpot Academy 4.5/5 stars, and Indeed users tend to agree, also rating it 4.5/5 stars.
Take a look at some comments from Academy users about why they love HubSpot's courses:
Jenny S | Sr. Compliance Strategist, Management Consulting
"The education through the academy is free, which is a huge benefit for me and our company. The trainings relate back to the services HubSpot offers but they can be useful for those that don't use HubSpot but are looking at ways to increase their knowledge on sales, marketing and CRMs."
Marc Gabriel A. | Client Success Manager, Marketing and Advertising
"HubSpot Academy is unique in that it's a free resource online where people of all levels of experience and skill can learn, add certifications to their resume, and grow. They set out to build the best resource on the internet for learning about marketing and sales, and they might have actually done it.
"When I'm interviewing a candidate for a marketing position, I'm more impressed when they list HS Academy certs than if they list coursework they took in a business school program."
Chris G. | Inbound Marketing, Sales Enablement and CRM Implementation
"Using the Academy has given me the knowledge and tools to get better and better at my job, gain new customers and really understand the Inbound ecosystem. the other thing is how responsive and helpful the Academy team are!!"
They Help You Advance Your Career.
Trust us, knowledge and industry training is only going to help your career. Nothing looks better on your resume and helps you stay ahead of the game within your industry than a whole list of powerful certifications that set you apart from other professionals.
via GIPHY
By earning relevant certifications and renewing them every two years, you can stay on top of the latest trends in all things marketing, sales, service, and more.
And if you work with HubSpot within your profession, these certifications will help you stay in the know on making the most of HubSpot tools and platforms.
How to Become HubSpot Certified
Right, now that we've convinced you that HubSpot Academy courses are well worth your time, let's get you certified!
Step One: Sign up for a free HubSpot account.
Step Two: Explore!
It really is that simple. Once you sign up, you'll have access to a whole range of different focus areas, including marketing, sales, and service. Each category offers a whole set of certifications in different topics.
Marketing
The marketing courses are amongst the most varied and expansive set of certifications available. As you probably already know, mastering marketing requires a vast understanding of different variables, from understanding your audience and communicating messages, to keeping up with the latest trends and navigating search engine algorithms.
Marketing HubSpot courses cover topics such as:
Contact management – Managing contact information in your marketing hub.
Content marketing – Creating and distributing content to attract and engage your target audience.
Email marketing – Applying best practices to building and maintaining email lists.
Lead generation – Driving conversions through marketing initiatives.
Marketing automation – Leveraging technology to boost efficiency and automate certain tasks.
Search engine optimization (SEO) – Mastering the process of boosting ranking potential with content.
Social media – Managing various social channels and driving results.
Website design – Understanding the impact design has on user experience.
Sales
If you're a sales professional, HubSpot provides some valuable training on how to best attract and delight your customers throughout every step of your sales funnel.
Sales certifications include topics such as:
Contact management - Managing contacts in your sales hub.
Inbound sales – Applying the inbound methodology to your sales cycle.
Sales enablement – Learning the technology, content, and processes to sell efficiently on a team level.
Service
One of the most important elements of customer retention is quality of service, and nobody understands that better than HubSpot. HubSpot's contact management tools provide ample opportunity for achieving this.
Service certifications focus on contact management, helping you learn how to managing contacts in your service hub and make the most of their tools, like their free CRM.
HubSpot Certifications You Need to Earn
via GIPHY
Depending on your interests and specialities, you have a lot of opportunities to get certified.
There are essentially two main breakups between the certification courses: HubSpot software certifications and general marketing, sales, and service training certifications.
If you're a professional who uses HubSpot within your career, then taking the software certifications is a great way to make the most of the incredible tool that you've got your hands on, and we highly recommend it.
However, you don't need to be a HubSpot software user to find value in their courses. You can always skip the software certifications and jump right into general knowledge training courses to advance your career.
Here's a list of the most noteworthy HubSpot Academy certification courses:
HubSpot Marketing Software Certification
Who Is This For?
HubSpot users who want to learn the basics of the marketing hub within the software.
Course Details:
16 lessons
75 videos
13 quizzes
Completion time: 4 hours 32 minutes
How This Course Helps:
Get ahead of the learning curve of the software.
You learn how to make the most of your marketing hub and its tools.
You see real case studies of how companies use it.
Note:
You need a pro or enterprise subscription for HubSpot to complete this certification.
Take the Marketing Software Certification Course.
HubSpot Inbound Certification
Who Is This For?
Perfect for novices who don't know about the inbound methodology or experts who want to brush up on the basics.
Course Details:
6 lessons
15 videos
4 quizzes
Completion time: 1 hour 54 minutes
How This Course Helps:
Learn inbound methodology fundamentals and the basics of the flywheel framework.
Covers the basic framework of all inbound practices, from marketing to sales to service.
Take the Inbound Certification Course.
HubSpot Content Marketing Certification
Who Is This For?
Novices who want to better understand the uses of content marketing, and how to build an effective content strategy. Also good for content creators and copywriters who are looking to hone their skills.
Course Details:
11 Lessons
32 Videos
11 Quizzes
Completion time: 4 hours 1 minute
How This Course Helps:
Take the Content Marketing Course.
HubSpot Inbound Marketing Certification
Who Is This For?
Novice marketing professionals looking to develop the inbound skills to advance their career. Also useful for traditional marketers looking to make the switch over to the inbound methodology to keep up with changing tides.
Course Details:
7 Lessons
25 Videos
6 Quizzes
Completion time: 2 hours 58 minutes
How This Course Helps:
Learn specific, applicable inbound marketing techniques.
Provides the knowledge tools to enable you to build a fully developed inbound marketing strategy.
Take the Inbound Marketing Certification Course.
HubSpot Inbound Sales Certification
Who Is This For?
Sales professionals who are looking to utilize inbound tactics to enhance their sales strategies.
Course Details:
5 Lessons
21 Videos
5 Quizzes
Completion time: 2 hours 11 minutes
How This Course Helps:
Learn effective, actionable skills to use during customer calls and meetings.
Learn how to identify and connect with prospects to explore their needs.
Learn how to provide valuable, solution-based offers to your customers.
Take the Inbound Sales Certification Course.
HubSpot Contextual Marketing Certification
Who Is This For?
People and/or companies who have a clear understanding of lead segmentation practices and have developed buyer personas and targeted content, and are looking to hone their website experience to delight their audience.
Course Details:
6 Lessons
25 Videos
0 Quizzes
Completion time: 1 hour 17 minutes
How This Course Helps:
Learn how to personalize your website to delight your customers for optimum ROI.
Note:
You need a pro or enterprise subscription for HubSpot to complete this certification.
To get the most out of this course, you should have 500 contacts in your CRM and be comfortable with lead segmentation practices.
Take the Contextual Marketing Certification Course.
HubSpot Sales Enablement Certification
Who Is This For?
Marketers, marketing managers, and sales leaders who are looking to learn about marketing-driven sales enablement.
Course Details:
12 Lessons
40 Videos
12 Quizzes
Completion time: 4 hours 29 minutes
How This Course Helps:
Learn how to align your marketing and sales team to reach for unified goals.
Learn how to define target customers for a greater ROI.
Learn how to integrate marketing practices to generate a more consistent stream of leads for your sales team.
Take the Sales Enablement Course.
Other Notable HubSpot Courses and Training Videos
While HubSpot certifications are valuable assets, HubSpot Academy also offers plenty of other shorter learning paths for specific areas of information.
via GIPHY
HubSpot CRM Courses
If you're a HubSpot user, you'll probably benefit from taking a few HubSpot CRM courses to help you better navigate the platform and make the most of the tools you have available to you.
Try these courses out:
Set Up Your HubSpot CRM for Growth
In this course, you'll learn why a customer relations management (CRM) system is important, and how to integrate it into your larger business strategy. This course will guide you through how to get started with your new HubSpot CRM, so you can get a jump start on this new process.
Take the Set Up Your HubSpot CRM course.
Understanding Activities in the HubSpot CRM
This one is pretty straight forward – with this course, you'll know how to log and track specific actions and activities carried out in HubSpot. While it might seem simple enough, taking this course can help you eliminate any obstacles you might run into when you're carrying out these tasks.
Take the Understanding Activities in HubSpot course.
Implementing Your Sales Process With the HubSpot CRM
Integrating HubSpot and your sales process can be a daunting, time consuming task for your sales team. Luckily, this course helps walk you through the steps of how to do this quickly and seamlessly, so your sales team never misses a beat in the transition period.
Take the Implementing Your Sales Process with HubSpot course.
Specialized HubSpot Courses
Even if you're not a HubSpot user, there are still quite a few courses you can take to expand your knowledge on a wide range of topics and hone applicable professional skills.
Take a look at these courses you should consider:
Learn What Website Optimization Is And How To Do It
Your website should act as a growth lever for your business. This course teaches you how to enhance your SEO, optimize your site for mobile, implement security best practices, and use website personalization to improve overall performance.
Writing Course With Bestselling Author Daniel Pink
For bloggers, copywriters, and content creators, imagine being able to take a free course with a bestselling author. Well, now you can. In this course, you'll learn valuable skills throughout every stage of the writing process – from ideating, researching, and outlining, to drafting, editing, and proofreading.
Take the Writing Course with Author Daniel Pink.
Start and Grow Your Video Marketing Strategy
If you want to keep up with your competition in this day and age, you need a video marketing strategy. In this course, you'll learn what kinds of videos are most effective, and how to develop an effective video marketing strategy to attract and engage your audience. And of course, you'll learn how to produce videos.
Take the Video Marketing Strategy course.
Measuring Brand Engagement and Emotional Connection
In this course, you'll learn how to leverage an emotional connection between your brand and your customers to engage and attract more leads. You'll also learn about metrics that you should be tracking to measure your audience's engagement throughout their buyer journey with your company.
Take the Brand Engagement and Emotional Connection course.
Facebook Ads Training: How to Build Great Ads & Audiences
Social media utilization is an important element of successful marketing strategy. This course will help you get the most out of your Facebook advertising strategy by teaching you how to design quality ads, run campaigns, and measure their success.
Take the Facebook Ads Training course.
SEO Training Course: Building Sustainable Traffic for Business Growth
SEO is an incredibly important element for generating website traffic and overall business growth. In this course, you'll learn the most important fundamental of SEO in order to boost your site traffic, including blogging strategies, link building, and domain authority.
Invest Time in Your Education
No matter what point you're at in your career, whether novice or advanced, HubSpot Academy can offer valuable educational resources to everyone. If you want to take your career to the next level, invest some time in your education, explore the specialized topic courses, and start earning your HubSpot Academy certifications.
Honing your specializations and expanding your knowledge to reach new topics within your industry will both help you stay ahead of fellow professionals and lead your company to success over your competitors.