The Best HubSpot Integrations for Live Chat
1.

LiveChat

2.

Dossier

3.

WhosOn

4.

Pure Chat

5.

Salesmsg

6.

Facebook Messenger

7.

LiveHelpNow Help Desk
Methods of communication have changed over time for both personal and business use. The ways your grandparents, parents, younger siblings, nieces, and nephews grew up communicating are probably all different from one another.
Throughout the decades of letters, telegraphs, telephone lines, fax machines, voicemail, instant messengers, and SMS messages, we finally arrived at live chat. Live chat provides you with an instantaneous response that allows you to communicate with your leads and customers in real time.
Conversations about your business and your products or services are happening all the time. Using live chat gives you what you need to gain more insights into your customers and helps you capture more qualified leads.
HubSpot provides numerous integrations that empower you with all of the unique capabilities of live chat software, built to work directly with your HubSpot CRM and Marketing Hub.
Let's explore the basics of conversational marketing, how you can benefit from it, and list out the best HubSpot live chat integrations for you to use.
What Is Conversational Marketing?
Conversational marketing refers to the process of engaging with visitors, prospects, and customers in real time to provide a one-to-one approach to marketing. Companies use conversational marketing to learn more about their customers, provide personalized services, create a more human buying experience, and to shorten their sales cycles.
Conversational marketing isn't new. In fact, you likely have conversations with your customers every day. The way the conversations take place is what has changed. For instance, chatbots and live chat systems are examples of conversational marketing tools that have taken off.
They have changed the way customers engage with businesses by providing easier ways for customers to get in touch. Rather than asking site visitors to fill out lead capture forms on a contact us page and wait for a response, they can use live chat and chatbots to get answers right away.
Why You Need Conversational Marketing
There are many awesome advantages of developing and executing a conversational marketing strategy for your business.
It's a Great Way to Gain Valuable Insights About Your Customers.
When you have a conversation with your customers, they'll typically tell you what they'd like to learn, do, or change. Websites and ads can't capture information with that candor.
With conversational marketing, you can also gather data simply through messaging channels that automatically record and store data to be used to improve customer interactions later on.
All consumer data you collect from conversational marketing can be used to identify trends so your marketing and sales teams can make more informed decisions.
Live chat solves customers' immediate concerns and needs, keeps them on your website, and provides you with the information you need to determine what parts of your site's user experience (UX) need to be fixed.
It's a More Enjoyable Way For Customers to Get Answers.
As more people turn to mobile to search for what they want and to make purchases, they interact with mobile friendly content that makes their interactions easy and fast. Customers that use their phones as their primary device tend to prefer messaging-based interactions.
Conversational marketing channels that use messaging apps like live chat or email are already optimized for mobile. For the growing group of consumers that enjoy browsing on mobile, it's often easier for them to chat with a rep or a bot instead of scrolling and clicking through your site to get an answer.
Using live chat or other messaging apps is more enjoyable and less frustrating for people to engage with when they need answers to quick questions.
It Builds Relationships in a Proactive Manner.
Conversational marketing opens up communication, thereby offering people a more convenient way to start building a relationship with your brand. Messaging apps provide a continuous thread between customers and brands that makes conversations more natural, which helps establish customer trust in your brand.
Instead of customers coming into contact with a long form they need to fill out, they can share a little bit of information each time they have a conversation with your brand.
Conversational marketing channels like live chat are a great way to show off your brand's personality. Customers are more likely to continue engaging with your brand when you make it easy and enjoyable to do so!
HubSpot found they were able to attract 20 percent more qualified leads by adding live chat as a conversational marketing channel on their site. If you are already a HubSpot user, you can achieve similar results by using one of the many live chat integrations that HubSpot offers.
7 of the Best HubSpot Integrations for Live Chat
Here are seven of the best HubSpot integrations for live chat that will help you with your conversational marketing strategy.
1. LiveChat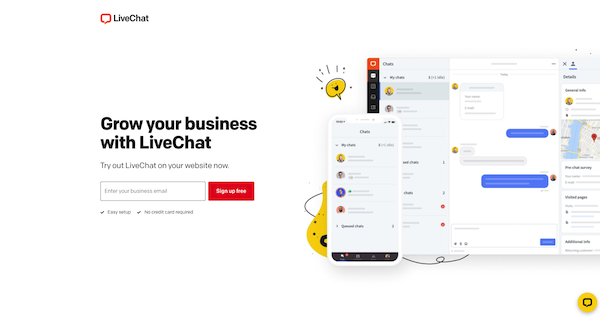 Pricing: Starting at $19 per seat per month
With the LiveChat-HubSpot integration, you gain access to new leads created in your pipeline instantly. After your leads engage with you, you don't have to manually transfer and share new lead information with your team. You even get your chat transcripts added to HubSpot without needing to put in any extra effort.
This gives you the ability to focus less on administrative tasks and more on selling.
2. Dossier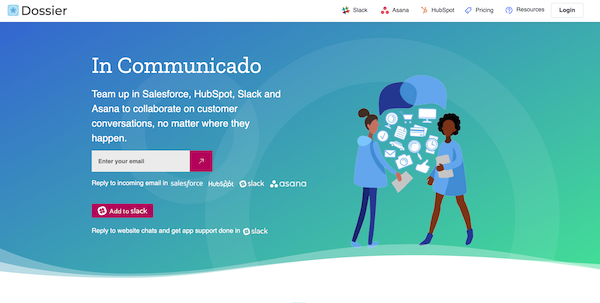 Pricing: Starting at $249 per year
Dossier acts as a personal assistant on your website and can sync your messages, files, and contacts to other apps that your team uses.
You can collaborate with your sales team, operations team, and customer support team to complete service requests, answer sales questions, or to simply receive product or user experience feedback.
With the Dossier-HubSpot Integration, you can chat and engage with your buyers in real-time without ever leaving Slack, and all chat transcripts are added to HubSpot Contacts. You also are able to track leads automatically in HubSpot, and manage your prospects and customers as they move through the sales process with their app.
3. WhosOn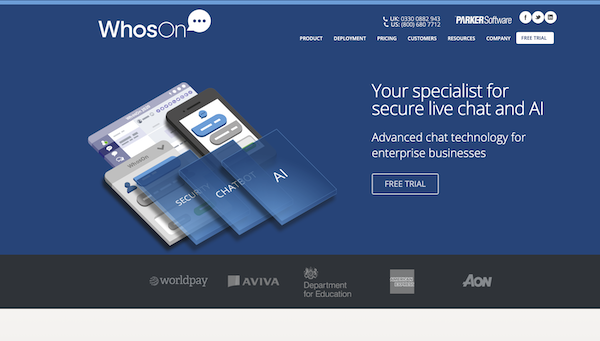 Pricing: Starting at $33 per user, per month
Easily integrate your chat data with HubSpot using the WhosOn-HubSpot integration.
WhosOn feeds chats directly to your CRM and creates contacts directly through chat sessions. All you have to do is click a few buttons in your WhosOn chat app, which means you don't have to switch between platforms to keep your CRM records current.
WhosOn also automatically stores your chat sessions so you can refer back to valuable customer information later on.
4. Pure Chat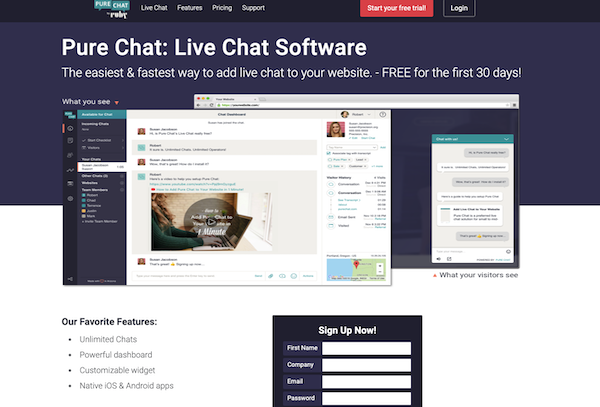 Pricing: Free for up to three users, $49 per month
Pure Chat is a simple live chat tool that you can use with your HubSpot website. With the Pure Chat integration, you get the best live chat features such as canned responses, chat box customization, a free mobile app, and file transfer.
It's also easy to transfer your contacts and chat transcripts into HubSpot with a simple click.
5. Salesmsg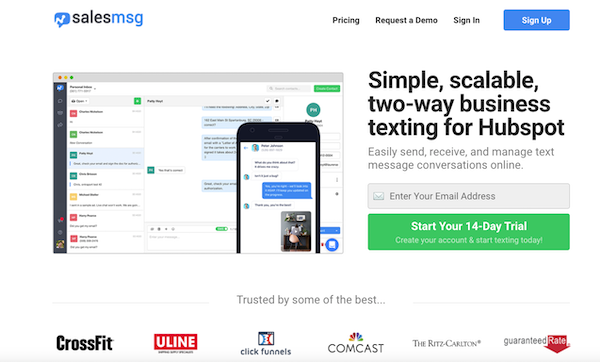 Pricing: Starting at $35 per month
Salesmsg is the leading two-way SMS and MMS software for HubSpot. With this integration, you are able to send and receive text messages from your contact's profile in HubSpot to engage with your customers in real time from local numbers.
You can even add SMS texts to HubSpot workflows with ease and text from anywhere using the Salesmsg app on a mobile device.
6. Facebook Messenger
Pricing: Free
Make your social media conversations on your Facebook business page easier to convert with the Facebook Messenger-HubSpot integration.
Use this integration to manage Facebook Messenger interactions right from HubSpot Conversations, create a Messenger chatbot that interacts with customers on your Facebook business page, report of chat volume via Messenger, and assign Messenger chats to customer support reps to create tickets.
7. LiveHelpNow Help Desk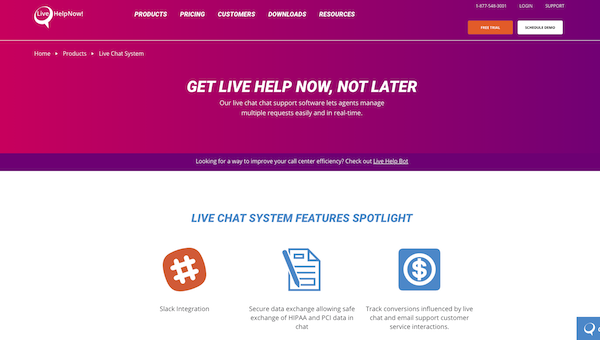 Pricing: Starting at $21 per month per agent
The LiveHelpNow Help Desk integration collects relevant user information and makes transferring live chat information into your HubSpot account easy for additional marketing purposes and business analytics.
With this integration, you can manage timeline events and create new contacts for customers who aren't in your system already. LiveHelpNow ensures that all customer service inquiries are recorded in your HubSpot account as they occur.
Conversations help brands build relationships. The technology we have available today makes managing these customer relationships through conversational marketing easier than ever before.
Engaging your leads and prospects using the live chat integrations HubSpot has available allows you to remain more human in your conversational marketing and conversational sales strategies.