4 min read
It's happened to most — especially those of us embedded in technology — you're explaining an unfamiliar process, only to realize you have completely lost who you're talking to.
Using lingo, abbreviations, and savvy tech terms has become almost normal in day to day conversations and has immensely shifted the learning curve associated.
It's like explaining Facebook to Grandma.
Or, having a developer talk in tags to someone who has never seen a CSS code before.
It's a different language.
While becoming embedded in the platform, I too have noticed this language barrier when speaking to HubSpot newbies.
Over time and more prominently than before, I've become a teacher — not only of best practices and processes, but of the HubSpot platform itself. In the past few months, I've hosted training sessions with new users who are completely new to HubSpot or have the software but aren't fully aware of the capabilities.
With that being said, through these training workshops, I've learned to shift my approach and explanation of these tools to truly portray the value that is available.
But, in order to understand HOW these tools will help you — you must first understand WHAT they do.
I've taken some HubSpot lingo and broken down what they really mean.
Buyer Persona
A buyer persona is your ideal customer and you will likely have 3-4 buyer personas.
It is important to note — A buyer persona is your ideal customer but not your target audience. While these may sound the same - toe-may-to, tah-mat-o, there is a key differentiator between the two.
An example target audience: Males ages 55-65 years old, located in Florida, looking for contracting services.
The problem here, this is a lot of people and we really have not identified the why.
Why are they looking for your product or service? And what is going to push them to make a decision?
Now let's create an individual person - the most perfect fit you can possibly think of. This is your buyer persona. We identify their age, job title, responsibilities, pain points, concerns, and develop a story. By knowing exactly who your perfect customer is - we're able to tailor our marketing directly to them.
Calls to Action
A call to action or CTA can be created as a clickable button or an image to promote an important action to be made. A CTA will draw the attention to exactly what you want a visitor to do; "Watch Webinar" or "Download Now".
This action oriented link will bring the visitor directly to where they need to be.
CTAs are often used in blog articles to promote further education or in emails to provide easy access to more information.
Lead Flows
If I've spoken to you about HubSpot's lead flow tool— you've likely heard me say this before. It's the most simple way I've found to describe this newer tool.
A lead flow is a non-invasive popup that can be added to all or specific pages of a website. Now the non-invasive part is crucial here because the word pop-up has a negative connotation-- picture the flashing free cruise that takes over your screen while your shopping online.
Now, you do not have to offer a free cruise, but you can offer valuable content that is helpful and accessible for an end user. The purpose of a lead flow is to engage users quickly and efficiently.
Workflows
The workflow tool in HubSpot can be a little bit tricky to interpret because you can automate almost anything you would like to. At a high level, a workflow is used to automate the work involved, in a consistent flow of events.
A workflow can be used for both internal and external automation. Here's a few examples of each.
Internal:
Mark contacts as the appropriate persona when they meet a specific criteria
Send emails to members of the sales team when a qualified lead is marked.
Notify team members when specific actions are taken.
Sync with other platforms such as Salesforce to keep marketing and sales aligned.
External:
Automate emails to keep visitors engaged with your content — lead nurturing.
Promote an event and setup reminders based on amount of days away
Touch base after a customer service interaction and provide additional help.
For e-commerce, use abandon cart email notifications to remind potential customers of their order.
Smart Content
Smart content uses the information you have already obtained on a user and provides the ability to target content directly to them. Once a visitor becomes a lead by filling out a form on your website, you now have the information they were required to fill out (first name, job title, company name, etc). This data can now be used to display different content to different contacts.
Smart Content branches off into a few different areas in addition to the content itself, including; CTAs, form fields, and goals.
Read on to learn more about smart content:
The good news is -- once you have the HubSpot lingo down, you are able to utilize the platform to its greatest ability. In turn, you will provide results and growth for your marketing efforts and business.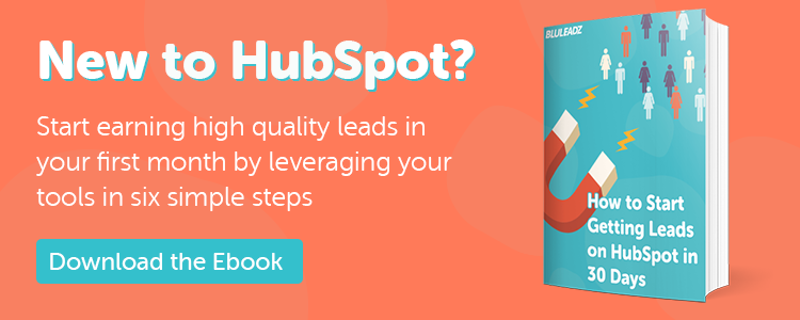 Published on April 29, 2018