HubSpot is often praised for being powerful and incredibly versatile in their marketing, sales, and service hubs. Since launching their free CRM, they've added even more value for businesses of all shapes and sizes.
One of the best features of the platform is HubSpot lists. But to see the real value of how to use lists, first you need to learn what the HubSpot CRM is and how to set it up.
The HubSpot CRM
There is such a wide spread of CRM options available in the marketplace today, but its purpose and benefits may not be common knowledge. A CRM is essential in today's digital business world for a number of reasons.
A CRM Simplifies Task Management.
CRMs are a great tool when it comes to keeping up with your leads. You can keep track of your lead interactions, their behaviors, and the activity that's taken place on both ends.
All of that data can help sales and marketing reps keep their teams and strategies aligned.
A CRM Is Scalable, Serving Businesses As Their Contacts List Grows.
When a business first hits the ground, keeping track of the handful of contacts they may have earned is an easy task. But as the brand grows and more and more prospects are brought in, it becomes less and less feasible.
A CRM serves a business by managing that growing contact list, limiting the struggles the company may feel as it scales up.
A CRM Improves Communication.
via GIPHY
CRMs help sales and marketing reps by logging when they have communicated with a lead or prospect. They can record what was discussed and when, and can even schedule follow up calls or emails right there in the system.
A CRM Centralizes Crucial Data.
When it comes to keeping an accurate and complete record of a lead's history, there's nothing better than a CRM system.
Decentralized data can create a lot of problems for salespeople because of disorganization, but a CRM provides all of a prospect's info in one place.
A CRM Allows for Automation.
As a business' list of prospects grows, small tasks like follow ups and filling out forms can become hard to keep up with. CRMs help alleviate that pain for reps through automation features that can be applied to segmented lists.
A CRM Yields In-Depth Reports.
CRMs can store all of your information in one place, allowing for a better analysis of your data as a whole. With a comprehensive system, reporting becomes much more accurate and in depth.
You can even customize what information you want analyzed so that you can make the most effective decisions as a rep.
A CRM Brings Teams Together.
via GIPHY
All of these different tools and features add up to making each individual team member's job a lot easier to perform.
As a group, the benefits compound over the fact that multiple teams can easily access a centralized data system, giving everyone access to the same information.
Every department of your business can view a prospect's history, leading to better service and a positive experience through the customer's entire journey. Teams will be in sync with one another and their goals.
This can all be a bit overwhelming if you're new to your CRM, but it should be assuring to know that you can achieve so much. The tough part is just knowing where to start.
Setting Up Your HubSpot CRM
All of the different tools available to you can make building your CRM feel much more complicated than it really is. Let's go over how to set it up.
Migrate Data From Your Previous Database.
Your first order of business, if you already have a lot of data, should be to clean up your contacts. You don't want to waste a lot of time transferring over old test data or fields that no longer serve you.
While you're at it, set up a contingency plan just in case you lose any data while moving it to your new HubSpot CRM.
Take it slow. Migrate data one section at a time. This way, if you run into any issues, the amount of data affected will be limited.
To make it easier, you can import information using a spreadsheet or from your contacts in your email provider.
Integrate Your Email.
Installing the email extension and connecting your inbox will help by automatically logging all of your correspondences. The extension will actually allow you to look up important information without having to leave your inbox.
Set Up Filters.
via GIPHY
Filters will help you in the long run by pulling together lists of related contacts based on certain information and criteria in your CRM. Depending on how much information you have, you can get incredibly specific on filtering based on certain properties.
These filters work in real time, so they make hunting through your data a much more efficient process.
Define Deal Stages.
This is actually where your sales team is going to live and breathe. They'll need to familiarize themselves with where each contact is in your sales pipeline.
Within the CRM, you can define deal stages and drag and drop individual deals as they progress. This will provide a bird's eye view of all their deals in play.
Connect Your CRM to Your Website.
This is how you'll actually capture leads on your site. HubSpot's CRM has a JavaScript code that you can add to your website. Once that's installed, you're ready to build lead flows to drive lead generation.
Now that your CRM is up and running, you're ready to focus on the next crucial component of the HubSpot CRM: lists.
HubSpot Lists
Are you ready to build some lists? Are you psyched to get into creating the most impactful ones? If not, it's probably because we need to answer a common question.
What the Hell Are Lists?
via GIPHY
This is a tool that's going to work alongside your CRM and help you organize and track how your contacts relate to your company.
It's your go-to resource for many functions associated with your entire business. Marketing and sales especially benefit from lists.
How Lists Help Your Marketing and Sales
When you break down your contacts into smaller groups based on commonalities, you'll have an easier time tailoring your outreach so that your messages are more relevant and impactful. You'll be able to build specific list types and pull valuable reports.
There are actually two different kinds of lists:
Smart Lists
This type of list will refresh automatically, adding new contacts and deleting them based on criteria you set. Here's a quick guide to setting one up: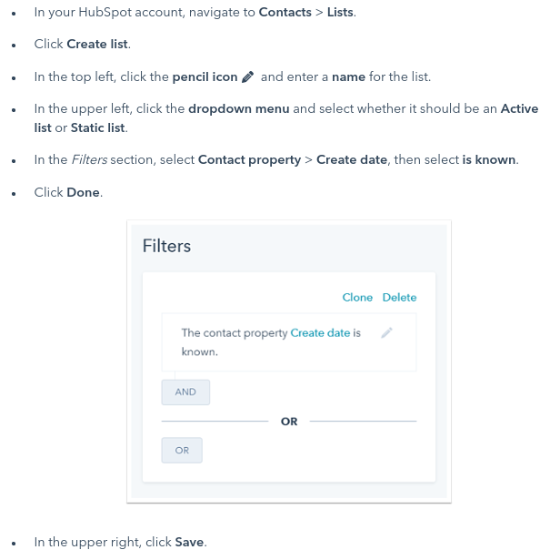 Source: HubSpot
Static Lists
Think of this kind as a sort of snapshot. They aren't going to automatically refresh, so it's on you to manually organize them.
Here are the steps on how to manually add a contact to a static list: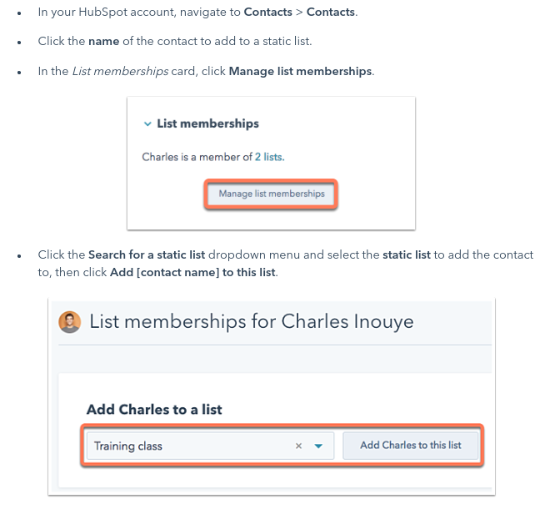 Source: HubSpot
19 Must-Have Lists to Get Started
You'd be surprised by how many different lists you can build. No matter what your goals are, you will find a list that will help drive results for your company.
Let's take a look at each segmentation and run through a few examples of the lists you can build.
Engagement
These lists are based off of how your users interact with your various channels.
Engagement Lists to Build
Website engagement: A contact's engagement metrics on your website, like pageviews, dates of first and last visits, specific page views, etc.
Social engagement: A contact's engagement metrics across social channels, such as followers, profile, links, most recent activity, etc.
Email engagement: A contact's email engagement metrics including the number of emails delivered, opened, bounced, emails they have engaged with, etc.
Blog engagement: A contact's blog engagement metrics, like if they are subscribed, their preferences, blog view count, specific blog post views, etc.
Social influencers: A list that includes the metrics of your most engaged social media contacts that you can partner with to amp up your content strategy.
Behavior
These lists are centered around the actions your contacts take across your channels, including social, email, your website, and the like.
Behavior Lists to Build
Specific elements (buttons, pageviews, etc.): This kind of list will allow you to see how effective your website is in qualifying and nurturing leads. You can follow up on leads based off of their activity.
Core offers: It's important that you work with your sales team to identify which offers, campaigns, and events require immediate follow-up. These lists will help you set goals, track registrations, and communicate with the contacts in that specific segment.
Email Health
These lists focus on the overall health of your subscriber list for your email marketing efforts.
Email Health Lists to Build
Ineligible contacts: This should be the master list of all the other metrics named below. You'll be able to receive a better scope of your email marketing campaign's effectiveness and impact.
Hard bounced contacts: A bounced email is one that was rejected by the contact's email for any number of reasons. Building a list of bounced contacts will allow you to do a deeper analysis of why you aren't reaching these contacts.
Unengaged contacts: This list will help with tracking contacts who haven't engaged with your emails for a certain period of time. You'll be able to decide if you want to attempt re-engaging them or stop sending them emails altogether.
Source: You'll be able to send messages that are designed to be more relevant to the contacts on this list depending on their source. You can also identify and remove leads that may have come from an unqualified source.
Unsubscribed contacts: Unsubscribes are an indication that something is wrong with your email marketing efforts. Whether it be unengaging content or they accidentally signed up for your list, you'll want to monitor the number of unsubscribed contacts you populate so that you can find the problem and resolve it. If your rate is sitting at zero, then it's not a matter of poor content. You're not even reaching your audience, which is an even bigger issue.
Buyer Persona
Defining your contacts based on their unique challenges and pain points will help with the content of your messages.
Buyer Persona Lists to Build
Primary: The contacts on this list should be your ideal customers. You can identify and qualify them by looking at each contact's details, like job title, company title, etc.
Negative: These are unqualified leads that you don't want to spend time and resources pursuing.
Lifecycle
These lists will help you tailor messaging based on where a contact is in terms of their lifespan with your company.
Lifecycle Lists to Build
Subscribers: This is a list of everyone who has subscribed to your blog. You can automate post notification emails, driving traffic to your blogs and links.
Leads: Any contact that has interacted with your business beyond subscribing to your blog counts as a lead. Via some sort of gated content on your website, you've received the contact's information, giving you the opportunity to qualify them and guide them down the sales funnel.
MQLs: A list of marketing qualified leads will help your sales team identify contacts that are sales-ready and on the verge of transition into the decision stage.
Customers: It's important to keep track of your current customers so that you can track their growth and exclude them from any automated lead generating or nurturing campaigns. Instead, send them customer-relevant ones that will work more towards delighting them.
Evangelists: Advocates for your business, you can target them via list with new content and offers that they'll promote for you.
Make the Most of HubSpot Lists
As you can see, with the power of the HubSpot CRM and the lists you create, you're well equipped to organize your life.
Marketing, sales, and service can align and build a proper system for managing contact information for long-term success.
Get your contacts in order, optimize your campaigns, and drive results. Your future self will thank you for it.