How to Integrate Salesforce and HubSpot
1.

Navigate to the marketplace icon, then click on connected apps.

2.

Click the button for visit app marketplace.

3.

Search for Salesforce in the marketplace.

4.

Select the Salesforce app and click request to connect.

5.

Click log in to Salesforce.

6.

Enter your log in information.

7.

Select start the Salesforce package installation to begin.

8.

Choose install for all users, then hit install.

9.

Click done, and an email will be sent to you letting you know the integration was successful.
Wouldn't you like your marketing to be as strong as your sales and vice versa?
It's possible with the HubSpot Salesforce integration. Both of these platforms support businesses in their growth, and some of the features for each software are the same. However, they have different tools that can work well with each other for greater alignment between sales and marketing.
With the HubSpot and Salesforce integration, it is possible to manage and nurture a lead from the initial contact all the way through to the sale.
Let's review why the HubSpot integration with Salesforce is better than using Pardot, discuss the benefits of the integration, and provide you with a step-by-step guide for how to set up the integration yourself.
Why HubSpot Is Better Than Pardot
Pardot is a marketing automation Salesforce product that enables organizations to gain insight on user behavior, track and measure the effectiveness of their marketing messaging, and personalize content across multiple campaigns based on specific criteria.
HubSpot offers all-in-one marketing automation software that provides tools that enable organizations to attract visitors, convert leads, and close customers using an inbound methodology. HubSpot also offers numerous integrations, such as the HubSpot Salesforce integration that merges the power of HubSpot's marketing tools with Salesforce.
HubSpot vs. Pardot
Here is a comparison of HubSpot and Pardot by main functionality.
Lead Generation
HubSpot has a set of integrated tools that focus on generating inbound leads. Some of the most notable HubSpot tools include email marketing, landing pages, forms, workflows, a blogging platform, smart content, lead scoring, and A/B testing.
These tools are easy to use for all businesses, especially small businesses that are just getting started. Simply put, you get all the tools you need under one roof.
Pardot offers similar tools, but their offerings provide a disconnected experience for users because they don't offer website hosting. This means that tracking activity across domains may be a pain. It is also difficult to track your website's SEO when all your content is on a different domain.
Website Hosting
As mentioned above, HubSpot offers website hosting that provides you with the ability to constantly improve your website and landing pages using their growing library of templates. The customization HubSpot offers can support pretty much any type of company webpage that you'd like to build.
Pardot and Salesforce require you to go with a third party hosting solution like WordPress or Squarespace. These web hosting platforms aren't as easy to use as HubSpot's CMS Hub.
Reporting
HubSpot offers actionable and customizable reporting, allowing you to see items that need attention. Pardot's reports include basic reporting information, but it is difficult to get a sense of the actionable insights or key takeaways from the reports without additional customization options.
Price
HubSpot and Pardot both offer tiered pricing. HubSpot Marketing Hub starts at $50 per month for the basic version and comes with their free CRM. Most often, growing businesses will eventually need to spring for the professional tier to achieve goals, which is priced at $800 per month.
Pardot's pricing starts at $1,250 per month, and you still have to add in the cost of the Salesforce CRM.
Both platforms have various add ons that can boost the price, but HubSpot is less expensive in the long run than Pardot. In fact, the standard subscription and total costs of ownership for one year shows a big gap: HubSpot costs $44,400, in comparison to Pardot's cost of $80,600.
When you see the pricing of HubSpot and Pardot side by side, you can see which software best fits your budget.
Benefits of the HubSpot Salesforce Integration
Here are some of the main benefits you can take advantage of when you install and use the HubSpot Salesforce integration:
You Gain Better Visibility Into Your Pipeline.
Marketing teams will gain the ability to look at pipeline data once you sync your Salesforce pipeline with your HubSpot CRM.
Marketers invest their time into generating leads they hope will be qualified, but they usually don't know what happens to a lead once they are handed over to sales.
With pipeline visibility using the integration, they'll be able to align better with sales and make data-driven decisions.
You Can Streamline the Lead Hand-Off Process.
Contacts from HubSpot are synced into Salesforce for the sales team to follow up with automatically once they meet the inclusion list criteria.
This helps to minimize delays and gets your sales team in contact with prospects fast so they can answer their questions and do what they do best – sell.
You Can Access HubSpot Intelligence From Salesforce.
You can see a contact's engagement with various marketing channels at a glance through Salesforce, which provides your sales team with the proper context to get their conversations started off right during the initial outreach.
You Can Create and Assign Tasks Based on Different Triggers in Salesforce.
With this integration, you get access to HubSpot's awesome workflow tool to assign tasks to Salesforce users based on different triggers. For instance, you can set up a task for a sales rep to reach out to a prospect once the lead visits a pricing page three times.
These are just a few of the amazing benefits that come with the HubSpot Salesforce integration. If you're ready to put this integration into use, let's discuss the easy steps you can take to install the integration through HubSpot.
How to Conduct the HubSpot Salesforce Integration
Here are all of the steps you need to follow to get started with the HubSpot Salesforce integration:
1. Navigate to the Marketplace Icon in Your HubSpot Account.
Under Manage, click Connected Apps.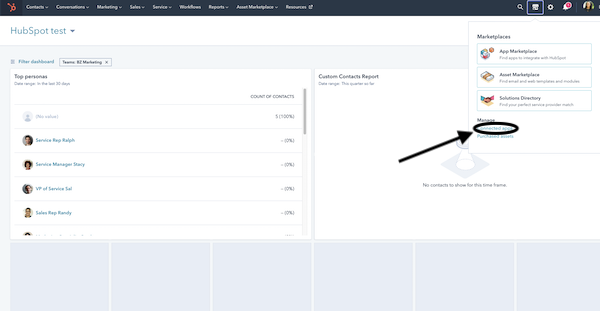 2. Click the Visit App Marketplace Button in the Upper Righthand Corner.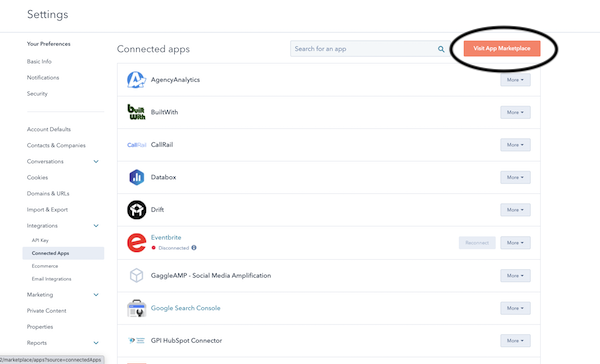 3. Type Salesforce Into the App Search Bar in the Marketplace.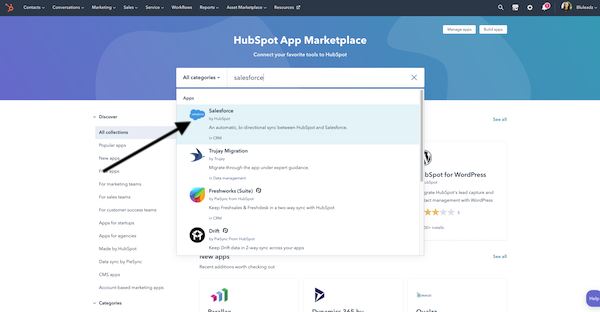 4. Select the Salesforce App.
Click the Request to connect button.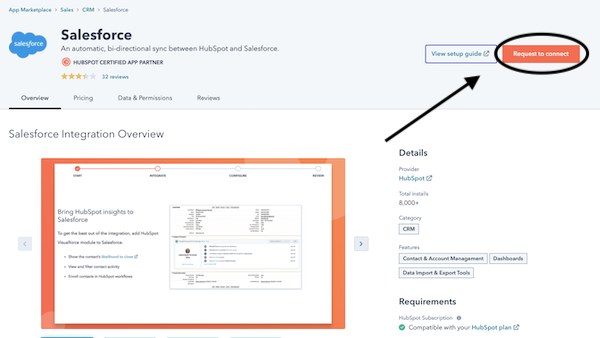 5. Click Log In to Salesforce.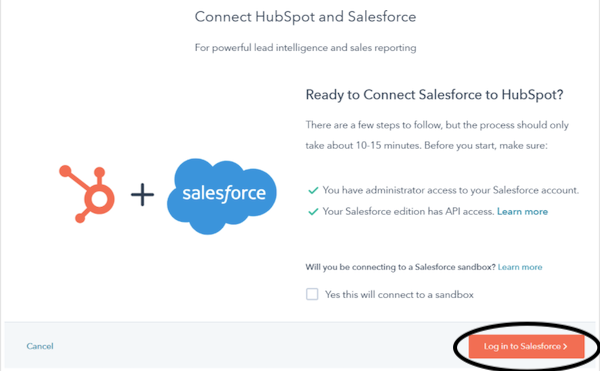 6. Follow the Prompts for Logging In.
Enter your login information for Salesforce, then click log in. After you log in successfully, you will be taken back to the connect wizard in HubSpot.
7. Install HubSpot in Salesforce.
Click the link "Start the Salesforce package installation to begin."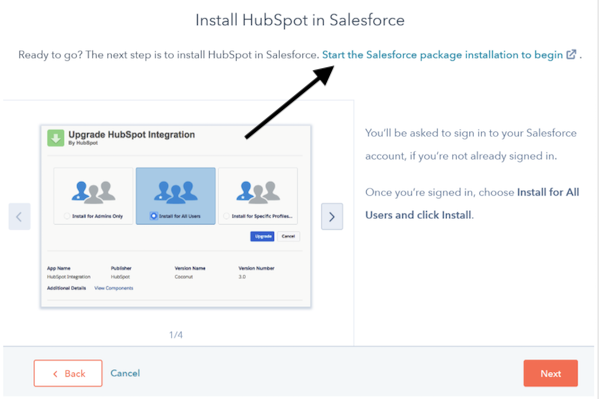 8. Finish the Installation.
Once you click the link, you'll be taken back to Salesforce to finish the install. Choose the "Install for All Users" option, then hit install.
9. Wait for the Installation to Finish.
Salesforce will begin installing the HubSpot integration. The installation takes up to 10 minutes to complete.
A message may pop up on your screen stating: "This app is taking a long time to install." You will receive an email after the installation has completed.
Then, click done, and an email from Salesforce will be sent to you letting you know your HubSpot integration package was installed successfully.
Once your integration is installed, you'll need to go into your sync settings to customize your HubSpot Salesforce integration to ensure all of the proper details are syncing.
Aligning your sales and marketing takes more than an integration to achieve. However, making sure your sales and marketing teams have visibility to see important data from each other with the HubSpot Salesforce integration is a great place to start. Start your integration today using this helpful guide.