If you want to perfect your inbound marketing campaigns and get the best results, you really, REALLY need to perform in-depth analyses of said campaigns. It's not enough to know that your site attracted X number of visitors and had Y conversions, you need to know:
Where those visits and leads came from; and
How they interacted with your site.
This is where analytics solutions such as HubSpot's marketing reports and Google Analytics come into play. While using multiple analytics solutions can provide greater depth of information, most of us only have the time and the budget for one or the other.
So, which analytics solution should you use? Let's do a little HubSpot vs. Google Analytics comparison to find out:
A Bit About HubSpot
At its core, HubSpot is a marketing software platform designed to help companies use inbound marketing strategies to grow their business. Analytics reporting is an important part of the software, but it's still only a part of the whole.
As a part of the larger HubSpot platform, HubSpot's analytics are only available to current HubSpot customers. These monthly costs can range from $200/month for the basic package, to $2,400/month for the enterprise package.
About Google Analytics
Google Analytics is designed to do one thing: report activity on website pages where you've dropped in the analytics system's tracking code.
With Google Analytics, you can get a free account, or you can pay for a yearly fee of $150,000 for a special Google 360 analytics account that offers extra integrations with Google and DoubleClick, a new A/B website testing integration, and marketing ROI performance across multiple channels.
The Google 360 rollout is still relatively recent, with some services still in their beta form.
Which is the Best?
In the interest of full disclosure, I personally find it important to remind you that here at Bluleadz, we're pretty big on the HubSpot platform. That being said, this is a really close call now that Google has introduced several new features into their 360 platform (previously known as Google Analytics Premium, or GAP).
Cost
Google Analytics' free price point can't be beat, but that $150K price point for the Google 360 yearly subscription can be a hefty price to pay for a few added features.
Meanwhile, HubSpot's analytics price could be free, $50/mo, $800/mo, $3,200/mo depending on which level of the HubSpot marketing platform your company has. However, each of these tiers comes with more than just dashboards that count visits, leads, and customers.
Tracking Multiple Websites
Another major difference between Google Analytics and HubSpot is how they handle analytics for multiple website domains.
With Google analytics, you can track multiple websites under a single free account.
With HubSpot, you'll have to get a separate license for each website domain you want to manage. This is less than ideal for enterprises that have to manage multiple domains.
Tracking Custom Elements (Video Plays, Banners, Etc.)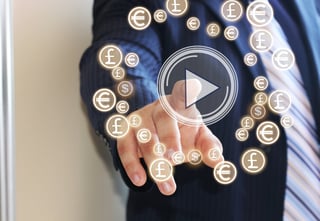 HubSpot is great for tracking interactions with content on your website that was built or deployed exclusively within HubSpot—such as CTA clicks and form fills. However, it's not so great at tracking microconversion events such as video plays.
With Google Analytics, you can create custom tracking elements to track every single interaction a website visitor makes during a single session.
Services/Features
Both platforms can give you totals for website visits, which pages were interacted with, referral sources, and conversion activities. The big differentiator between Google Analytics and HubSpot has long been the different services each platform offers for tracking activity on your website.
Overall, Google Analytics is more powerful and flexible than HubSpot as a pure analytics tool. However, HubSpot has a few advantages of its own.
Service Advantages of HubSpot:
As part of a larger suite of tools, HubSpot's analytics has long offered users integration with marketing software to take website visitor data and put it to use. The different levels of HubSpot offer different added services.
For example, HubSpot Pro (the most popular option) can identify leads and show them "smart content" that is tailored to them. This will require some work on your part. For example, smart forms can be set to only ask for data from a lead that hasn't been collected yet, and smart CTAs (calls to action) can change between showing different offers based on what a lead has already downloaded.
All of HubSpot's services are part of a unified platform that puts page, blog, and email creation tools at your disposal without requiring much advanced programming knowledge. This is massively convenient for non-designers who want to start putting their analytics into action.
Also, HubSpot allows you to track where individual leads are in the buyer's journey—allowing you to forward specially-tailored content to those leads based on where they are in the sales cycle. This can be combined with marketing automation to create workflows that guide visitors and leads down the sales funnel.
What Google Analytics Does that HubSpot Doesn't Do:
Google Analytics (and GA 360) offers out-of-the box integrations with AdWords and DoubleClick to help marketers get way more out of their paid advertising campaigns.
Even with the free version of Google Analytics, you can get much more granular data than you can with HubSpot's analytics reports. GA's free version can track information and events such as:
What type of devices your website is being accessed on;
How your website performs in different markets;
Customized segmentation of data sets so you can find correlations or contradictions between visitor behaviors;
Site performance statistics such as load speed;
How visitors interacted with your site using tools such as live integrated heat mapping and click tracking;
Flow maps of where users enter the site even before filling out a form, and where they drop off of your site.
For companies with designers on call, this information can be especially valuable for guiding the design of a website to optimize performance/user experience on specific devices or for specific markets. Combined with the A/B website testing on GA 360, you could guide users from one market to a version of a web page designed specifically for them, and users from other markets to an alternative version of the page.
The Visitor Count Discrepancy
If you use both HubSpot and Google Analytics, you might occasionally see a discrepancy between the two when it comes to counting visits.
This is because HubSpot bases a visit from a referring domain from outside your website domain and puts no time limit on activity. Google Analytics counts visits based on a referring source within a given amount of time (you can customize this value, but the default is 30 minutes); all interactions in this time frame count as the same visit.
Why does this cause a discrepancy?
Say that someone searched your site online, looked at the homepage, then clicked the back browser button and clicked on another link leading to a different page on your site.
HubSpot would count this as two different visits because the visitor went through the referring domain twice. Google Analytics would only count this as one visit because both interactions came from the same source (the Google Search Engine Results Page).
In another situation, a website visitor is browsing your site and takes an hour-long break to get up and eat/workout/etc. before returning to the computer and clicking on a new internal link.
Here, HubSpot would only count 1 visit, because the visitor never left the site and the action taken kept them in your website domain. Google Analytics would count two visitors because the visitor would have timed out after 30 minutes of not doing anything, and the link click would start a new session.
The Verdict
For pure analytics, Google Analytics is the king of the hill, and that isn't very likely to change in the near future. However, getting the most out of Google Analytics is going to take some time and effort compared to using HubSpot.
HubSpot provides a very easy-to-use interface that even non-marketers can easily interact with and use to improve their company's inbound marketing efforts. It may not be as in-depth or robust as the analytics provided by Google Analytics, but it's user-friendly.
Personally, I typically use the HubSpot analytics tool since Bluleadz already has HubSpot and the tools are easy to use. However, my marketing specialist co-workers will often use the free Google Analytics tool for a comparison point to back up their HubSpot analytics findings.
Also, you may want to consider whether you're focusing on INBOUND marketing or PAID advertising such as PPC. HubSpot is built from the ground up for inbound marketing, while Google Analytics has strong tools and integrations for improving your AdWords campaigns.
Larger enterprises who aren't already on HubSpot who are curious about Google Analytics 360's tools may want to start with the free version of the software to get a feel for it first.