The Best Ways to Use HubSpot Slack Integrations
1.

Use Slack to View, Add, and Update Tasks or Tickets.

2.

View Your Contacts.

3.

Search for and Share Your Records in Slack.

4.

Send Slack Notifications Through Workflows.

5.

Leave HubSpot Notes in Slack Channels.

6.

Respond to Incoming Chats in Slack.

7.

Use Slash Commands to Save Time.

8.

Get HubSpot Notifications in Slack.

9.

Improve Your Conversational Marketing Strategy.

10.

Send Slack Channel Messages for New Blog Articles in HubSpot.
Sales, marketing, and service are, at their core, about building relationships.
However, your reps may get too involved with completing menial tasks and feel like they don't have enough time to focus on relationship building. Software exists to help your reps reduce the amount of menial tasks they do.
For instance, the HubSpot Slack integration does just that.
Merging HubSpot and Slack together has provided teams with a seamless combination of the conversations tool in HubSpot and important Slack channels.
The integration has so many great features and benefits for your business. This guide shows you everything you can do with the new integration and walks you through you how to set it up.
What Is Slack?
Slack is a popular workplace communication tool. It operates as an instant messaging system for teams to use across multiple devices and platforms.
Slack is packed with amazing features that allow you to chat with teammates one on one or in groups. You can even upload and share documents, photos, and other files.
Perhaps one of the best things about Slack is its add-ins or integrations with other workplace apps and services. It is a great place to collaborate, coordinate, and get to know your teammates and organizers.
Impressed by all of Slack's amazing features? It gets even better when you integrate Slack with HubSpot.
10 Ways You Can Use the HubSpot Slack Integration
Here are 10 ways you can use the HubSpot Slack integration to make communicating with and managing your customers easier.
1. Use Slack to View, Add, and Update Tasks or Tickets.
You can easily create a HubSpot ticket or task from a Slack message, and update your HubSpot account records.
If you want to do this in Slack, all you have to do is the following:
Click the more actions icon •••.
Select "add task or ticket."
Enter required information for the tasks and tickets.
Save your changes.
2. View Your Contacts.
All you have to do to view a preview of a contact record in Slack is copy and paste a contact record URL in a Slack channel or chat.
3. Search for and Share Your Records in Slack.
You can search for an asset or record using slash commands. Share records such as HubSpot contacts, company names, deals, knowledge base articles, playbooks, tasks, or tickets in a direct message or channel in Slack.
Companies with multiple HubSpot accounts will see a prompt appear in Slack that directs them to select the correct HubSpot account before they use the slash command.
4. Send Slack Notifications Through Workflows.
You can set up a deal-based workflow in your HubSpot account if you have the professional or enterprise tier of all the available hubs.
The workflows you set up can also be set up to send notifications to specific Slack channels so your sales team can stay on top of their deals.
5. Leave HubSpot Notes in Slack Channels.
When you leave or edit a note on a company record (or any contact record associated with that company), that note is shared directly to the account Slack channel.
6. Respond to Incoming Chats in Slack.
Slack integrates seamlessly with HubSpot conversations to make responding to chats simple. You can respond to incoming chats from HubSpot in Slack, or you can click "Reply in Inbox" and get redirected to the chat in your HubSpot account.
No matter which way you respond to chats using the integration, the whole conversation is still logged in real time in your inbox.
7. Use Slash Commands to Save Time.
With slash commands, you can search and post the following HubSpot objects or actions directly within Slack:
Contact: /hs-search-contact
Deal: /hs-search-deal
Your Deals: /hs-search-my-deal
Company: /hs-search-company
Knowledge Base: /hs-search-kb
KPIs for a Company: /hs-report-company
Task: /hs-search-task
Ticket: /hs-search-ticket
Playbook: /hs-search-playbook
Setting Availability for Live Chat: /hs-chat-away
Provide HubSpot With Feedback About the Integration: /hs-feedback
8. Get HubSpot Notifications in Slack.
You can get more notifications from HubSpot to your Slack account that help you reduce the chances of missing important actions or events, like form submissions or collateral downloads.
This helps your sales team to get in touch with leads much quicker. Customers expect help fast nowadays. With this kind of integration, you can continually delight your audience in a way that earns their trust and develops positive relationships.
9. Improve Your Conversational Marketing Strategy.
Conversational marketing has become the forefront of modern marketing. More and more companies are turning to using chatbots and live chats to answer their customers' questions.
HubSpot is a leading conversational marketing platform that gives businesses the opportunity to connect and engage with customers on a personal level. The integration with Slack has made conversations with customers even easier.
With the integration, you can see the status of a conversation in Slack, as well as respond to incoming chats through Slack to quicken response times.
10. Send Slack Channel Messages for New Blog Articles in HubSpot.
Notify your team when a blog has gone live by setting up channel messages that automatically send alerts. Now, your whole team will be aware of the new blog articles that are posted.
Learn how to set up this integration today so you can make use of all of the great features that HubSpot and Slack offer together.
How to Set Up Your HubSpot Slack Integration
Before you begin setting up this integration, make sure you have app marketplace permissions in your HubSpot account. You must also be an administrator for your Slack account to install the integration.
Here is your step-by-step guide for setting up your HubSpot Slack integration in two different ways.
Setting Up Your HubSpot Slack Integration Through Your HubSpot Account
1. Go to your HubSpot Account, then click the marketplace icon on the upper right of your main navigation bar.
Select "App Marketplace."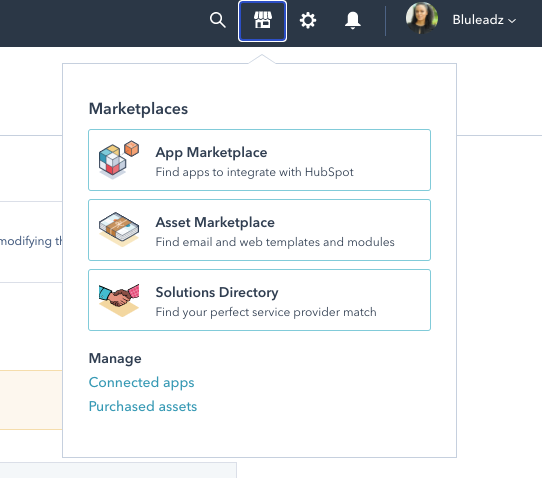 2. Type Slack into the search bar.
Click "Connect app" in the top right.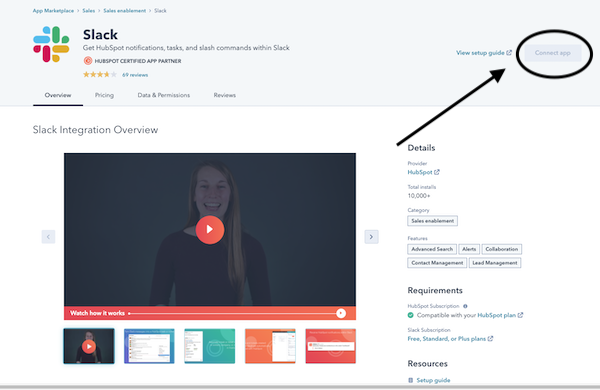 3. A new browser tab will open to Slack. Review the permissions, and hit "Allow."
Once you've accepted permissions, you'll be redirected to HubSpot. You will also receive an email from Slack letting you know that the HubSpot app is installed for your Slack workplace.
Setting Up Your HubSpot Slack Integration Through HubSpot Conversations
Alternatively, you can also connect this integration through your HubSpot conversations settings. Here are the directions:
1. Click the settings icon in your HubSpot account.
2. Navigate to Conversations > Inboxes in the left sidebar menu.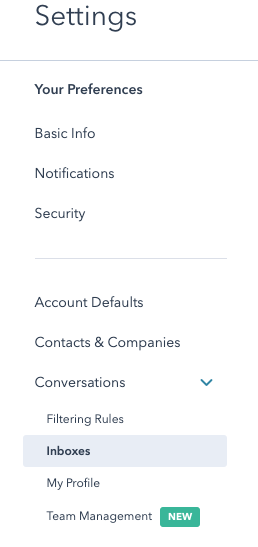 3. Select the current view dropdown menu, and choose the inbox to connect your Slack channel to.

4. In the Slack integration section, choose "Connect account."
5. A dialog box will pop up. Select "Connect to Slack."
6. On the next screen, click "Allow" so HubSpot can access your account in Slack.
7. Turn the toggle on to receive Slack notifications and conversations.

With HubSpot conversations and chatbots along with the Slack integration, you'll see an improvement in the way your company operates and communicates both internally and with your customers.
Messages will be answered faster, and your whole team can stay up to date on HubSpot deals. If you are a HubSpot user, begin your HubSpot Slack integration installation today so you can start focusing more on what truly impacts your business growth.