What Are HubSpot Playbooks?
HubSpot Playbooks are outlines of sales processes that provide key indicators to sales reps about what they should do in specific selling situations. These playbooks can be used for things like prospecting, sales meetings, or other sales process details.
Have you ever wanted a series of cheat sheets that guide your sales team to success? Your wish is granted with sales playbooks.
With these sales playbooks, your sales reps can begin to take on some of their biggest challenges. You can use these playbooks to reduce onboarding and training time for new employees.
Playbooks can help to empower your team to engage customers effectively at every stage throughout the buyer's journey and adapt better to selling situations in no time.
Let's dive into how you can use playbooks, including examples so you can get started making plays today.
What Are HubSpot Playbooks?
A HubSpot sales playbook is an outline with directions and indicators about what a sales representative should do in different selling situations. For instance, they may use a playbook as a guide for prospecting or when they need to sell a certain product or service.
A sales playbook includes many aspects, such as:
Sample emails
Call scripts
Lead qualification
Negotiation
Sales enablement materials
KPIs
Buyer personas
Sales process details
HubSpot sales playbooks are available for you to use to coach and enable scale with the enterprise package through HubSpot Sales Hub.
8 Ways to Use Sales Playbooks
HubSpot sales playbooks provide a wealth of information for everyone on the sales team. This ensures that sales reps always have important information that is only a click away so they can increase their efficiency and knowledge at a moment's notice.
This allows them to move leads from one stage of the sales funnel to another through a variety of selling situations.
Here are eight ways your sales team can use sales playbooks.
Onboarding Process
You can use sales playbooks to educate and train new employees on the way you execute the sales process.
This often makes the training process easier because your new reps have clear explanations written out for them of who your customers are, what to say to them, how they go about buying your products, and their pain points.
Qualifying Leads
Playbooks can be specifically dedicated to lead qualification. Include all the information on how sales reps can identify highly qualified leads to get in contact with.
Product Demonstrations
Your product demonstrations may have a standard process for your sales reps to follow. Make sure they don't miss any steps or any key features by including all the information they need to demo specific products and features to their prospects.
Personalized Content
Use the playbooks to direct your reps on how they can select and share personalized content that fits the buyer's journey and the prospect's interactions.
This helps to nurture leads and provides them with useful information as they consider their options and your offerings.
Use Cases
Your sales reps may not be able to recall relevant use cases at a moment's notice. Create a playbook for use cases and detailed case studies that members of your target audience can relate to.
Prospecting
Playbooks that allow reps to prospect effectively have information about specific tactics they can follow to identify ideal prospects across a variety of platforms and channels.
Using a playbook for prospecting allows you to gain prospects that will convert into qualified leads and then into customers.
Closing
Closing techniques are tricky to perfect. Playbooks can help to provide sales reps with closing tactics that allow them to engage with leads in the last phase of the buyer's journey with ease.
The closing statements you provide them with should feel natural and professional to increase the chances of winning a deal.
Follow Up
Follow-up processes are essential to the sales process. Make sure your reps know when to follow up with prospects at different points throughout the buyer's journey using a sales playbook.
With all the ways you can use a playbook in HubSpot, let's discuss how you can take advantage of these uses by creating, managing, and using playbooks in the platform.
How to Use HubSpot Playbooks: Your Step-by-Step Guide
Here is the full step-by-step list you need to create, manage, and use HubSpot Playbooks.
Creating Playbooks
1. Navigate to the Sales tab in your HubSpot account.
Then, click Playbooks.
2. Click Create Playbook in the upper right.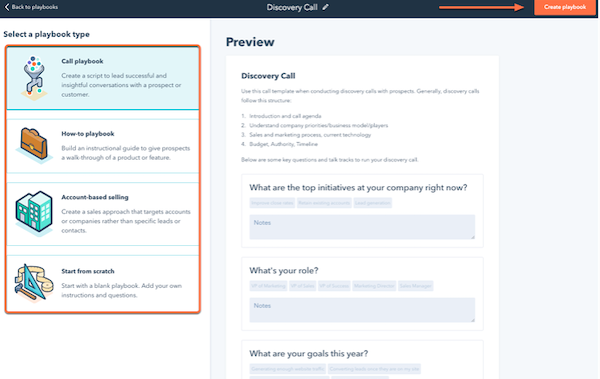 Source: HubSpot
3. Select a playbook type on the left panel.
The types you can choose from are the how-to playbook, account-based selling playbook template, or call script. You may also choose to create a playbook from scratch.
4. Enter the title for your playbook by clicking the pencil icon.
5. Click create playbook.
6. Write the body content.
You can use the toolbar to format your content, add images, insert links, and embed codes.

7. Your users have access to a set of questions and predetermined answers with the Questions & Answers icon. To add this, click the icon and write a question or prompt.
To select an answer option: Open text field only, use a set of answers that saves as a note, or use a set of answers that saves to a property.
8. Click Save.
9. Click the Settings tab after you write your playbook content.
10. Log the engagement type by clicking the Engagement type dropdown box.
Select Email, Call, Meeting, or another engagement type.
11. To see what the playbook will look like, navigate to the upper right corner and click preview.
12. When you are finished, click Publish.
Managing Playbooks
1. After you log in to HubSpot, click Sales and then Playbooks.
2. Use the search bar to find a specific playbook name.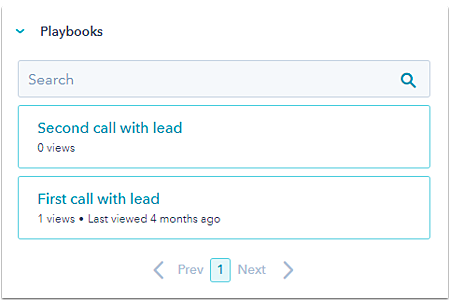 3. Filter playbooks by creator by clicking the View dropdown box.
4. To edit, delete, clone, or unpublish a playbook, use your mouse to hover over the playbook name.
Select the edit or clone button on the dropdown. Click the More option to select Unpublish or Delete.
5. To share the playbooks with other users, click the More dropdown menu, and select Share.
6. You can organize your playbooks into different folders to make it easier for users to find the playbooks they need.
To do this, click New Folder in the upper right corner. Then, enter a name for your folder, and select Add Folder.
Select the check box next to a playbook and then hit Move to place all the selected playbooks into a folder.

Using Playbooks
1. Find your companies, deals, contacts, or tickets in your HubSpot account.
2. Click the name of the record you want.
3. On the right side menu in the Playbooks section, use the search bar to find a playbook or click one to open it.
The playbook content will show up in a pop-up window. If your playbook has a Question & Answer Icon, select quick replies and enter text before saving it to a contact property or notes.
4. Click Log (engagement type) after you are finished using the playbook.
The engagement type should be the same as the one you used on the settings tab in the editor.

5. If the engagement type is a call or a meeting, Select a call or meeting outcome.
The playbook will save as an engagement on the object timeline with the questions, answers, and any notes. Any properties that are linked to a question and answer will be updated with the responses you selected or entered while using the playbook.
Sales Playbook Examples (+ Template)
Here are three sales playbook examples that you should create and add to your playbook library on HubSpot.
Brand Introduction Playbook
A brand introduction sales playbook is great for new sales reps. It effectively introduces your brand's story to your sales team.
In this playbook, you can include your company mission at the top followed by your company vision, company core values, business strategy, and sales strategy.
This template allows companies to condense their mission so they only include the most important information that strictly focuses on how the sales team fits into the overall mission and how they will help solve for the company.
Sales Meeting Playbook
Sales meetings need to be structured and organized so sales reps can gain more wins. Sales meeting playbooks help sales reps to understand their prospect's pain points, situation, and desire to use the product.
They also allow them to demonstrate unique product value for each lead and agree on a plan to move forward.
You'll need to include the following items to make a successful sales meeting template:
Goals of the meeting
Research conducted prior to the meeting
The agenda
Example narrative
Discovery phase: qualifying questions
Demonstration
Closing statements
Your sales reps will be able to refer to this template to keep the meeting on track.
Product Position and Messaging Playbook
Product positioning and messaging is important for sales reps to know for each product offering you have. They don't need to be overwhelmed with a bunch of information on your products, and the best way to organize this information is through a playbook.
Some of the elements to include in this playbook include:
Value proposition
Positioning statement
Elevator pitch
Brand pillars
Key benefits
Supporting product features
Sales playbooks are the perfect tool for sales teams to use in order to increase their win rate. And when you make the most of the HubSpot Playbooks tool, you're equipped to win big.
Remember to treat your sales playbooks as a living document. This means they must evolve with your business. As you change, they change.
Effective sales playbooks are a worthy investment, but you must first master getting them right to reap the benefits of increased revenue and happier customers.