Did you know that, according to HubSpot's Ultimate List of Marketing Statistics, 79% of marketing leads never convert into sales?
If you're having problems converting your leads into sales, you should consider creating a lead nurturing campaign depending on the lifecycle stage of your buyer persona.
HubSpot's marketing statistics also show that a lack of lead nurturing is a common cause for a company to report a significant loss of potential inbound sales.
Understanding the Buyer's Journey
Before you can set up a lead nurturing campaign, it's important that you have a full understanding of the buyer's journey to know what your leads are experiencing when they begin to consider the products and services you offer. Knowing what your leads need in each of the three stages (awareness, consideration, decision) allows you to know what type of content to use to nurture each type of lead based on personas. Once you've broken it down into personas, you can really figure out how to utilize your content for each individual lead.
Nurturing to Convert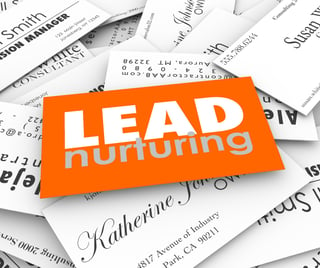 According to the aforementioned list of marketing statistics from HubSpot, 65% of B2B marketers have not established lead nurturing. Although there is no direct correlation, I'm sure those 79% of marketing leads have something to do with this lead nurturing statistic since it is the most common cause of being unable to convert a lead into a sale.
Setting up emails for lead nurturing campaigns can be a timely task, but once completed, you can set them up so leads are automatically placed into these campaigns based on the action they've completed. For example, if a lead downloaded "Offer #1" they will be placed into a different campaign than if they had downloaded "Offer #2." You can create as many email campaigns as you need to track all of your activity and look for areas of improvement.
The emails in your campaigns should be personalized to your leads' experience and help them continue through the buyer's journey. This means including relatable and educational content in your emails. Setting up these campaigns allow you to easily keep track of which lead has gotten what email and when it was opened.
Once all your campaigns are created and actively being used, it's just a matter of making adjustments here and there based on data. Once you see which emails are working and which ones aren't, you can determine what changes you need to make. This should be done on a weekly basis to make sure your leads are being nurtured to the best of your ability so you're able to identify which leads are ready to buy and which ones are simply just not there yet. These leads that may not be ready, and might just need some extra attention and nurturing which is why you want to constantly adjust your campaigns.
Once you've identified those marketing qualified leads (MQLs) that have become sales qualified leads (SQLs), it's time to hand them over to the sales team to complete their conversion!
The Stats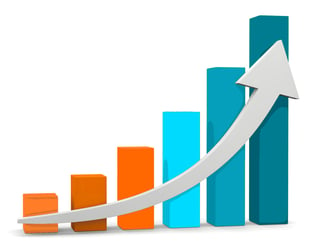 If you're not yet convinced of why you should be nurturing your leads, maybe you'll be convinced after checking out these additional stats from the same list of HubSpot's marketing statistics:
Nurtured leads make 47% larger purchases than non-nurtured leads
Companies that excel at lead nurturing generate 50% more sales ready leads at 33% lower cost
Nurtured leads produce, on average, a 20% increase in sales opportunities versus non-nurtured leads
The Takeaway
Remember that first statistic we talked about -- that 79% of marketing leads never convert into sales? Think about how many times you've downloaded something useful from a website and then have no further interaction with that company. Whether or not you actually had a further interest in what that company was offering, chances are that relationship was over right after it began due to a lack of lead nurturing.
It's important to cultivate that relationship with leads so you can nurture them and their eventual conversion. If not, what are you doing all of this for, anyway?
What are some of your lead nurturing stories and campaigns? What worked for you, and what didn't? Leave us a comment!