With Instagram swallowing the world's attention across borders, are we really that surprised that space has been carved out for advertisements?
And, if you're being honest, don't you think that having a cut of that action is going to help your business out?
Instagram advertising is evolving territory where marketers are experimenting with a new sphere of engagement and interactivity. With testing still being in the early stages, now is as good a time as any to try a piece of the pie.
But, as with more things social media, running ads on this social platform is quite different from the traditional marketing methods you're used to.
What Is Instagram Advertising?
via GIPHY
In 2013, after being purchased by Facebook, the photo sharing platform started offering limited ad services. Two years later, it became open season for businesses.
Brands were allowed the chance to advertise and sponsor posts in an effort to boost business through Facebook Ad Manager. By integrating with the software, they can target specific audiences based off of user information and demographics.
Today, these ads can appear in a variety of formats and templates that are meant to engage users in different capacities.
Types of Instagram Ads You Should Run
As Instagram evolves, so do the ads you can run on it. With each knew software update, there's a new way to target your ideal customer and generate leads.
The most common Instagram ads come in these styles:
Photos
Naturally, Instagram's more popular content medium is also the most popular ad type also.
Photo ads are the most common way brands showcase their product and service catalogs on the platform. With attractive images and engaging captions, you can advertise new products and leverage attention-grabbing CTAs.
Videos
via GIPHY
Videos are a close second in terms of content formats on Instagram. Brands have the autonomy to create simple videos or full on productions.
You can essentially create short commercials for Instagram users to watch. It's the preferred type for well-known fashion brands, films, and food companies.
Stories
A relatively new feature on the social platform, Instagram stories are short, timed highlights of a photo or video that publicly exists for 24 hours.
Advertising between users' stories is a great way to boost brand awareness and drive traffic to your website. Their short life span is a great way of marketing limited offers and timing when your ad is seen.
Storefront
The Instagram Shopping feature allows users, both business and personal, to feature products both in stories and organic posts. Users can tap a product image or sticker and be taken to the product's page, detailing price and where the product can be purchased.
Understanding the Instagram Advertising Costs
via GIPHY
Figuring out exactly how much Instagram ads are going to cost you isn't exactly a straight forward business. It depends on each, individual unique ad, as not all ads are the same.
On average, though, the cost-per-click for them ranges from $0.70 to $0.80.
Pricing can fluctuate though. Some Instagram ads can cost less and others more depending on different factors, such as:
Target age demographics
Ad format
Ad size
Time of year
Why Instagram Advertising Matters
There are some pretty unique benefits that come with running social media ads, especially on a platform as big as Instagram.
Higher Rate of Engagement
There are one billion monthly active users on Instagram. That's a lot of eyes taking in content.
Instagram users engage with content at a far higher rate than most other social platforms. An active account that creates compelling content can almost guarantee an increased level of engagement from their target audience.
Low Cost
The cost-per-click of Instagram is significantly lower than that of Twitter, Facebook, or AdWords. On top of that, publishing your ads is actually free. You can showcase your brand, products, and services to millions at only the cost it takes to make the ad.
Greater Brand Awareness
via GIPHY
Of course, building brand awareness and recognition on such a visual platform is a lot easier than other means. Your target audience will see your ads on their feeds, introducing your services to them.
Increased Conversion Rates
With such a high rate of visibility and engagement, it only makes sense for conversion to increase as well.
If your ads are visually appealing and you keep user intent and purchasing purpose in mind, then you'll see a positive reflection in your ROI.
Omni-Channel Opportunities
Instagram can be integrated and embedded across several different channels. Users have access to their feeds on their phones, desktops, and even through Facebook.
That means your ads can reach them there as well. You can embed your Instagram feed on your website also, offering your website visitors an opportunity to follow you.
Examples of Instagram Ads
Brands have become pretty crafty when it comes to their Instagram advertising recently. A lot of ads are professionally crafted and look extremely well produced.
The great thing about Instagram is, like on personal accounts, it's pretty easy to make a simple thing look spectacular.
Here are some great examples that we've found:
Amazon Prime Video
Promoting their new original series, Hunters, Amazon Prime Video has a quick, catchy, and intriguing trailer on their Instagram page that is promoted on user feeds.
With a clever tag, a few name drops (the famed Al Pacino and recent favorite Jordan Peele), and some bold colors, this ad definitely snatches attention and generates some awareness.
Nasty Gal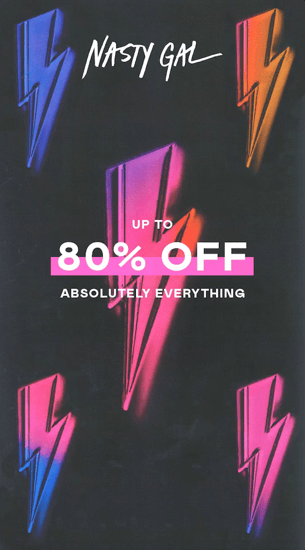 Nasty Gal routinely runs ads on Instagram, targeting women who have expressed an interest in fashion brands and influencers.
This ad that appeared in between Instagram stories features a limited time offer of 80 percent off of everything. Picking a story format was a great idea considering this flash sale likely won't last for long.
LensCrafters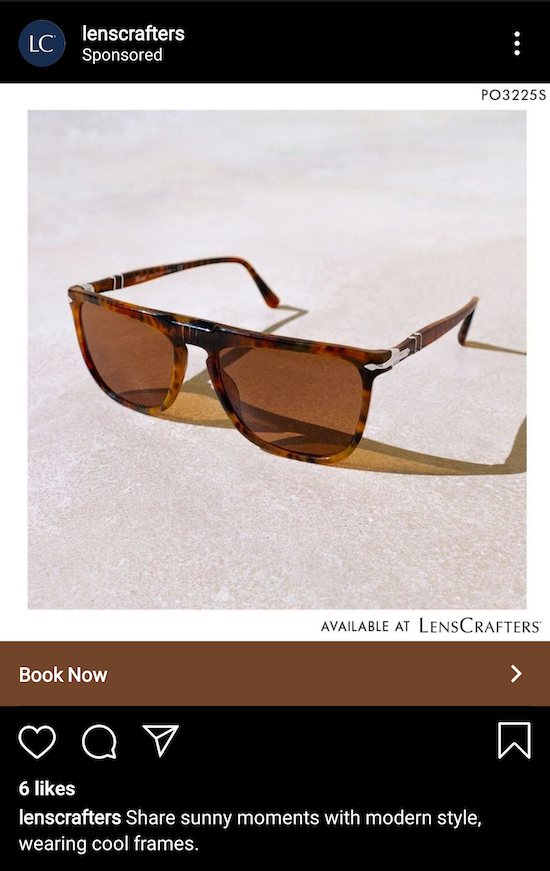 LensCrafters shows off a cool pair of sunglasses along with a sweet caption to try and market to interested audiences.
What's so unique about this ad is that they used a strategic CTA that links to an eye exam booking rather than a purchase page. As a brand that partners with optometrists, this is a pretty great way to generate business since it's assumed a frame purchase will be follow an eye exam.
How to Run an Instagram Ad
Creating sponsored ads on Instagram is pretty easy if you're familiar with the platform. In just a few, short steps, you can have promoted posts right before your audience's eyes in no time.
1. Create a Business Account.
This is a mandatory requirement. Essentially, an Instagram ad is a "promoted post." You can boost a pre-existing post from your Instagram account. In order to do so, though, you'll need to have a business account.
It's free and pretty easy to set up. If it helps your strategy, you can even link it to your Facebook page.
2. Choose a Post to Promote.
Assuming you or your team has already created an epic piece of content for your new Instagram campaign, this is a pretty easy next step.
But, if you're a bit ahead in the game and have options to choose from, pick a post to get everything started. Make sure that you put careful thought into the messaging and imagery so your campaign starts off strong.
3. Select a Goal.
Instagram is going to ask you what you aim to accomplish by promoting this post:
Brand Awareness: Drive brand awareness.
Reach: Expand your reach by touching the largest audience possible.
Traffic: Drive traffic to your website.
App Installs: Get users to download your app.
Engagement: Drive engagement and shares.
Video Views Objective: Increase video views.
Conversions: Get conversions on your app or website.
Select a goal that aligns with the objectives of your campaign and overall marketing strategy.
4. Add a CTA.
A strong, action-oriented call to action is the best way to encourage audience engagement. The whole point of an interactive, clickable ad is to have people... well, click on it.
Some common CTA prompts are:
Contact Us
Download
Sign Up
Learn More
5. Define Your Audience.
Typically, you'll want to create a specific audience for the platform to target. But, if you're a bit unsure, Instagram can choose a default audience for you.
The post can be automated to appear in front of targeted segments by interest, demographic, or location.
6. Establish a Budget.
Consider the average cost-per-click on Instagram when entering in a budget for your ads. As we mentioned before, that price can vary based on demographic and time. (Sundays are the most expensive!)
via GIPHY
You can choose between a Daily Budget, with a set daily spend, or a Lifetime Budget, which is charged by the ad's set lifespan.
7. Create a Timeline.
You can decide whether you want your ads to run continuously or only at certain times of the day. Choose when you want your campaign to start and end, how frequently the ads appear, and at what times.
8. Publish.
After it's all said and done, with a click of a button, your campaign is live!
9. Measure and Optimize.
You can use tools like Facebook Ad Manager and Hootsuite to track the performance of your ads. Measure engagement levels to see which ones are excelling and which are struggling.
Look into why your metrics are where they are and always take the time to update and optimize your campaign.
Social media advertising is a new pool that digital marketers are still exploring the depths of. It's best to dive right in with all the others instead of wading in the shallows while all the big fish get caught by others.
Instagram advertising is easy and there's a lot of space to get creative with it. Get your brand in front of potential leads by going where they spend most of their time: on social media.