It's no secret that social media marketing is a huge component in attracting new leads and visitors, engaging with your audience, and promoting your brand.
And Instagram is no exception.
Over the last few years, Instagram has continued to update and advance its capabilities for businesses to reach prospects in new ways, and companies are beginning to implement Instagram marketing strategies to grow their reach and business. One of these ways is with Instagram Stories.
How Do Instagram Stories Work?
Instagram Stories function very similarly to a Snapchat Story in that they disappear after 24 hours. Users can post photos and videos to their Story for others to watch, then in 24 hours it will be gone.
With Instagram Stories, you can be a lot more creative and fun to engage your audience. Add GIFs, emojis, text, and more to make your content stand out.
How Long Can an Instagram Story Be?
A photo posted on an Instagram Story will show for five seconds. However, if you hold down on the screen, it will pause the time so you can look at the photo longer.
A video posted to a Story can be up to a minute long, broken up into four 15-second clips. When filming a video, hold down the button in the center on the "normal" setting, and you'll see a circling ombre outline. If you are filming a video longer than 15 seconds, just continue to hold down on the button and the ombre outline will continue circling.
Understanding Instagram Stories vs. Instagram Feeds
An Instagram feed is a collection of all photos and videos that people you follow post. It's never-ending, so it's easy to get lost scrolling through your feed.
On the other end of the spectrum, Instagram Stories live at the top of your home feed. When someone you follow posts a Story, their profile picture will appear at the top of your screen, signified with an ombre ring around it.
While the content posted to an Instagram feed lasts forever – or until you delete it – an Instagram Story only has a 24-hour shelf life. So, if someone misses your Story, they won't be able to see it again.
Types of Instagram Stories

When creating an Instagram Story for your business account, Instagram provides you plenty of options to choose from. The most common types for businesses are:
Type: Shows up as a blank screen with just text.
Normal: Used to take a photo (click the button) or record a video (hold the button down).
Boomerang: Films a motion, then replays it back and forth.
Hands-free: Records a video just by tapping the button, so you can film hands-free.
Depending on what you are trying to capture and share with your audience, you can pick and choose any of these Story types to entertain and educate your followers.
How to Use Instagram Stories For Business
1. Ask (and Answer) Questions.

Story via @buffer
We will mention how you can do this with the stickers feature a little later, but a great way to engage with your audience directly and spark new conversations is to ask a question or poll in a Story.
It's also an easy way to share answers, advice, and tips on all the burning questions you may get from prospects and customers!
2. Highlight Your Company Culture.
Hosting an event at your office or attending an event in your area? Story it! Just having fun at work? Story it!
People love to see company culture in action, so highlight it even more on Instagram by live-posting what's going on in your company.
3. Promote New Content and Products.
Keep your followers in the know when you post new content to your website or launch a new handy product. Sure, you should also talk about your products on your feed, but give people live-action updates on launch dates and get them hyped for the release (tip: use the countdown sticker!).
4. Share Products in Use.

Story via @tartecosmetics
Beyond product promotion, you can also use Stories to show how your products are actually used. Many beauty brands do an excellent job of showing their products in use so their followers know all the tips and tricks!
You can also reshare videos of your customers using your products to boost your reputation and collect valuable, honest user reviews. Don't forget to tag them if you reshare it!
5. Provide Easy Access to Your Website.
For businesses with over 10K followers, you have the added bonus of being able to add links to your Stories.
With this feature, you can provide quick access to various pages of your site, a new podcast, and more. All your followers have to do is swipe up – your link will then load directly in Instagram, no redirect necessary!
How to Create an Instagram Story in 5 Easy Steps
Creating an Instagram Story is as easy as taking a picture (well, because it basically is!). Depending on if you are taking a photo or recording or video, there are a few basic steps you should know to create a killer Instagram Story.
1. Click the Camera Button on Your Home Tab.

The home tab (signified by a house icon in the bottom left) is where you can see the content posted by you and the accounts you follow. When you're on this screen, you'll see an outline of a camera in the top left. Clicking this icon is one way to create a new Instagram Story.
If you don't already have an Instagram Story up on your account, you can also click your profile photo in the top left of your home tab or click on your profile photo in your profile tab (which you access by clicking on your profile image in the bottom right of your phone screen).
2. Choose What Kind of Story You Want to Create.
Once you click to create a new Story, you should decide what kind of Story you want to post. As mentioned above, you can choose to create a type Story, normal photo or video Story, boomerang, or hands-free Story.
3. Capture or Film Your Content.
What are you trying to post? Whether it's taking a picture of your latest product, highlighting your fun culture event, or filming your product in use, now's the time to take the photo or video!
4. Add Fun Elements or Text.
Once you take your photo or video, you can choose to add filters, text, stickers, or even draw on your Story. At the least, you should add text to your Story to add context to whatever it is you are posting.
To add a filter:
Swipe left or right to see your 12 different filter options on your image or video.
To add text:
Click the Aa button in the top right. A keyboard will appear you can type our your message, change the text color, and even the font.
To add stickers:

Click the sticker icon (to the left of the volume button). Here, there are tons of options for you to choose from, including a:
Location tag, mention, or hashtag
Normal sticker or GIF sticker
Time stamp or temperature stamp
Poll, question, emoji slider, or quiz, where users can interact with your Story and answer various questions
Much more!
Whatever you end up using, you can press down on your sticker to easily move it across your screen. Resize it how you'd like by pressing the sticker with two fingers and expanding them as though you were zooming in.
5. Post!
Once you've finalized and perfected your Story, you're ready to share it with the world – or, at least – your followers and anyone new that comes to check out your Instagram profile.
To share your Story, click the button in the bottom left that features your profile image (it reads "your Story" underneath). Once you do this, you've successfully published it for the next 24 hours.
To watch your Story once it's up, you can click on your profile image in the top left-hand corner of your home or on your profile. Now that you've published a Story, an ombre circle will appear around your profile image.
4 Companies Who've Mastered Instagram Stories
When you need a little inspiration for how to use Instagram Stories for your business, take some notes from these awesome brands on Instagram.
Note: Each of these businesses uses Highlights to neatly store their Stories to their profile. We will be talking in detail about what Highlights they have, but each Highlight features Stories they've posted in the past!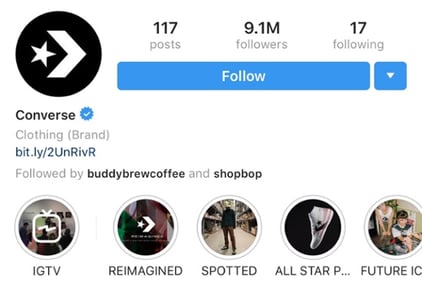 Converse is known for its classic Chuck Taylor kicks – but that's not all they sell, and they let you know it on Instagram.
The clothing brand uses their Stories to show customers wearing their products, promote new releases and collections, and even put the spotlight on rockstar individuals.
What's a better way to show off the popularity of their products than to reshare user-generated content of their customers wearing them?!
Scrolling through their SPOTTED Highlight: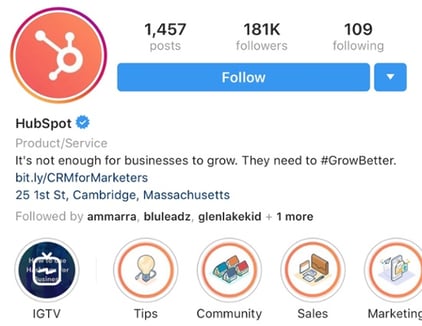 HubSpot, a very successful marketing, sales, and service platform, neatly stores all of their past Stories into categories on their profile – that way, users can find exactly what they're looking for.
Broken up into tips, community, sales, marketing, growth, tech, services, and product, you can find awesome tips, lots of quizzes and polls, and even relevant blog content from HubSpot. It seems education is top of mind here!
Scrolling through their tips Highlight: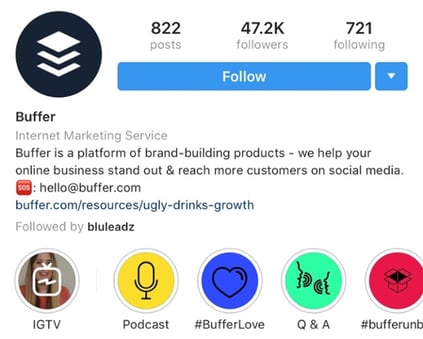 Buffer offers a variety of Stories to its follower base. Their current Story Highlights include: Podcast, #BufferLove, Q & A, #bufferunboxing, IG Marketing, Stories Creator, State of Remote, State of Social, and Salary 3.0.
In their podcast Stories, Buffer promotes the latest podcast and even provides a little description (with killer subtitles so you don't even need sound!). Plus, they offer a link so you don't even have to leave Instagram to check it out.
#bufferunboxing is a fun, culture Story Highlight that shows employees unboxing various packages that get sent to them. Have some questions you want answered? Check out their Q & A Highlight, filled with tons of great answers from employees.
Scrolling through their podcast Highlight: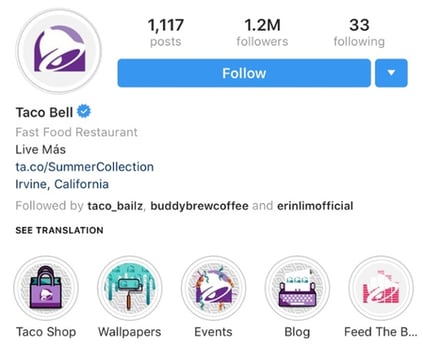 Taco Bell is a very active fast food chain on social media. They have great social presence and flourish off of user engagement.
On their Stories, they love to show off new swag, the latest events around the world, and even new blogs they publish (Spoiler: Taco Bell has a blog!).
Looking for fun, Taco Bell-inspired wallpapers for your phone? Check out their wallpapers Story Highlight! On the hunt for your new favorite band or artist? Taco Bell has a Feed called the Beat Story, where users can listen to new music (with handy links to listen) and discover new tunes.
Beyond food, Taco Bell wants to entertain their followers, and their Stories do just that.
Scrolling through their wallpapers Highlight:
Ready, Set, Story!
If you aren't sure where to start with Instagram Stories, that's ok. There are a lot of components and things you can do.
The best thing you can do is just do it. Go out there, take some awesome pictures of your company, your products, your employees. Answer some common questions you get from prospects. Offer tips and tricks to your followers.
At the end of the day, find ways to engage your audience and provide value. Value is what keeps them coming back for more. Plus, if your Stories include fun elements, they'll enjoy checking them out!