If you're a B2B business looking for a social platform to get creative, post quality images, and highlight your brand, then Instagram is the way to go.
But, you want to make sure you're feed is more unique than your competitors. This requires some good brainstorming and creativity to incorporate different elements into your content.
Do you have any inspiration to help fuel the content creation for your feed?
via GIPHY
Don't worry, we've curated the perfect list of B2B businesses who are killing the Instagram game. There are many different features to consider when planning out a quality feed of content, so we made sure to include all of them.
Let's check out 15 of the best B2B businesses on Instagram and how they are using different elements in their Instagram marketing to stand out above the rest.
1. User-Generated Content
User-generated content (UGC) is a great source of content that can be published on business Instagrams. When sharing UGC, you give other users a glimpse of what your products/services can do for them, as told by another happy customer. These three B2B businesses use UGC to fuel their feed with engaging content.
Apple
Apple uses the hashtag #ShotoniPhone to curate their UGC. The technology that Apple has integrated into their cell phone design has made capturing beautiful photos even easier. What's a better way to show off how great its products are than by gathering photos from real users?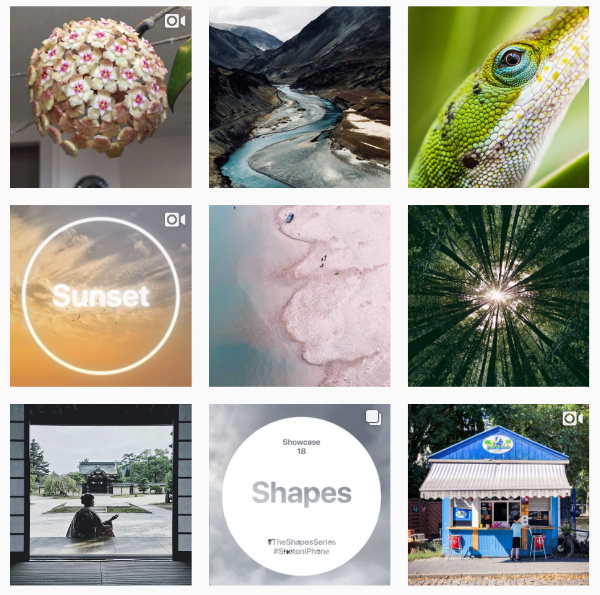 Adobe
As one of the leading developers of digital creative suites, Adobe also does an excellent job of highlighting user content on its Instagram. With strong photography, graphic design, and color, Adobe's Instagram will inspire you to create something of your own.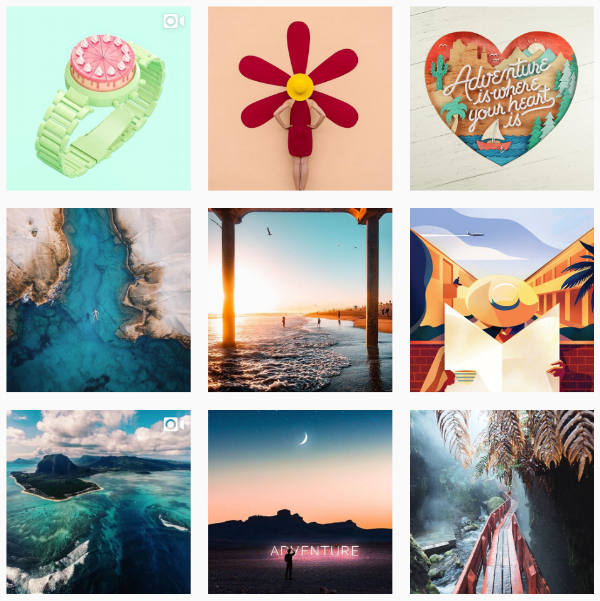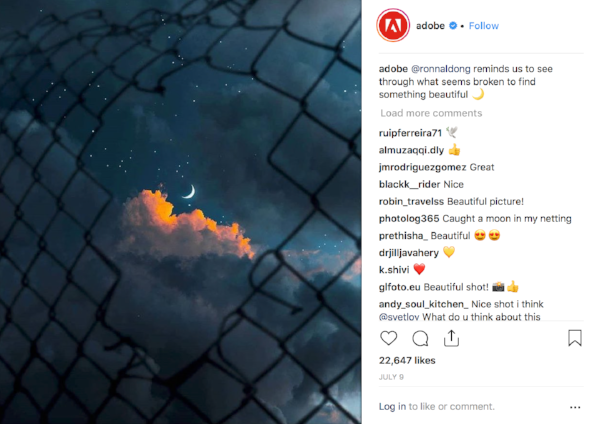 Fedex
Fedex not only delivers our packages – it delivers quality Instagram content, as well. From Father's Day and Mother's Day to dog photos of the day, FedEx proves that it doesn't take much to find great UGC. I mean, who doesn't love dog photos?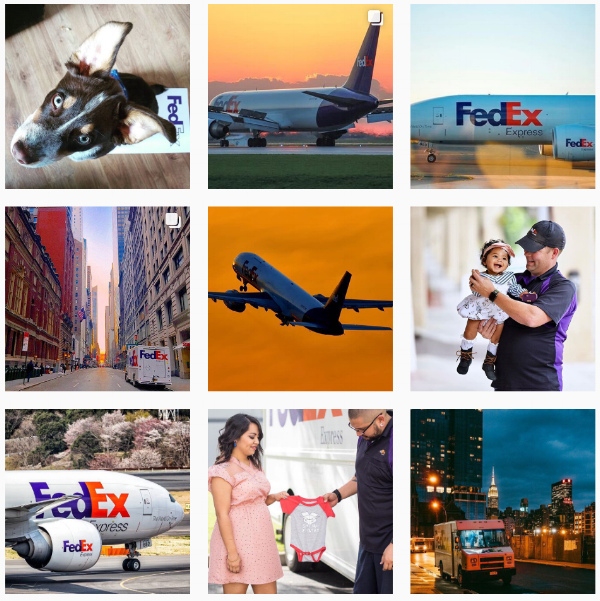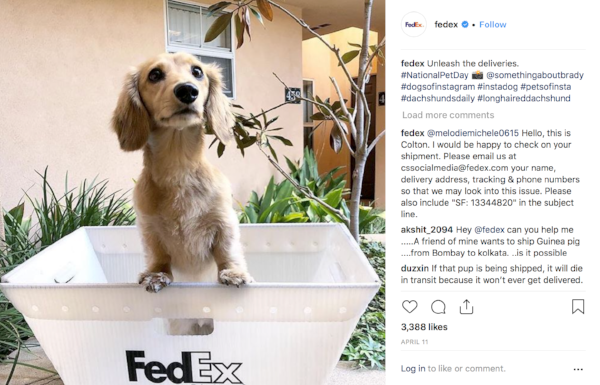 2. Subtle Branding
On social media, it is still important to post content that brands your company. While great photography/graphics are a major factor, including branding elements go a long way in showing off your business. These B2B businesses know exactly how to brand themselves on Instagram, and you'll see why.
HP
The HP Sprocket is one of the coolest new inventions in my eyes – big, clunky printers are a thing of the past. To make it even better, HP does a brilliant job of continuously advertising its product in a beautifully designed, colorful way. Doesn't it make you want to buy one right now? (I may or may not already have...)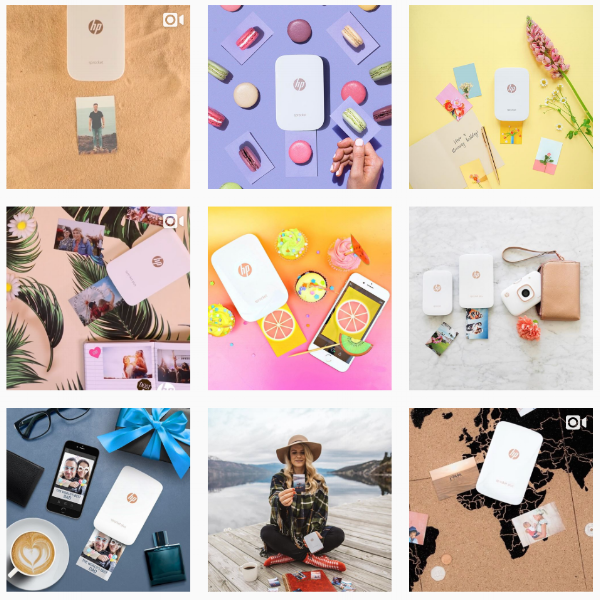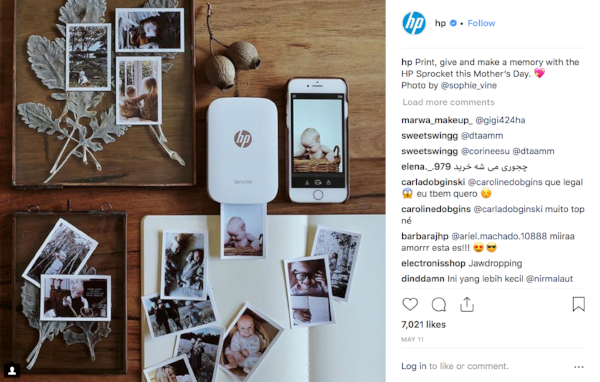 Google
This No. 1 search engine site is best recognized for its color scheme and their famous G. Google is one of the top B2B businesses of all time, and every company aspires to be like them. Well, hop on over to their Instagram and take notes. Google fills their feed with vibrant colors – sticking to their core four, of course – and they find even the smallest ways to incorporate the G into their graphics.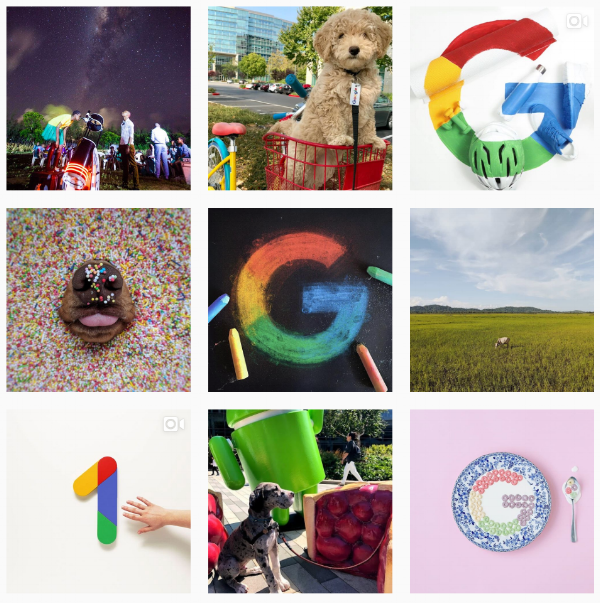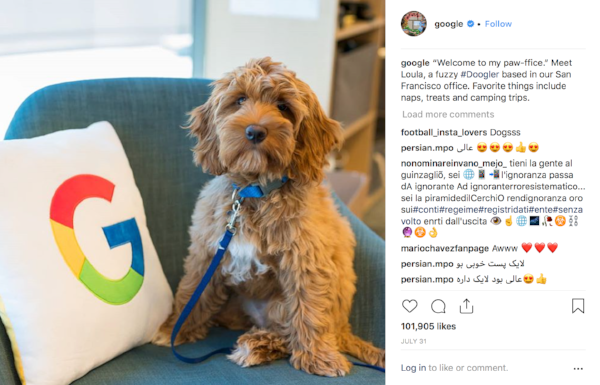 3. Awesome Visuals
Visuals and graphic elements break up the look of a traditional photo-only feed. When done right, they are crisp, clean, inspiring, helpful, and attention-grabbing. Take some inspiration from these businesses on how you can incorporate visuals into your Instagram feed.
Skype
This video chat and communication software features a fun color scheme and emoji use on their website – so it only makes sense that they follow through with the same fun nature on its Instagram. Scrolling through Skype's feed, you will find great videos highlighting the different uses of Skype, each one mimicking what it would look like if using Skype. Their color use is very cohesive, and everything is clearly on brand.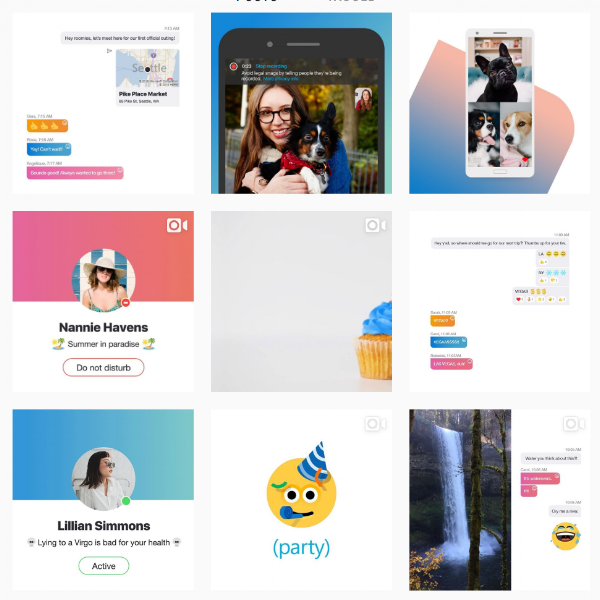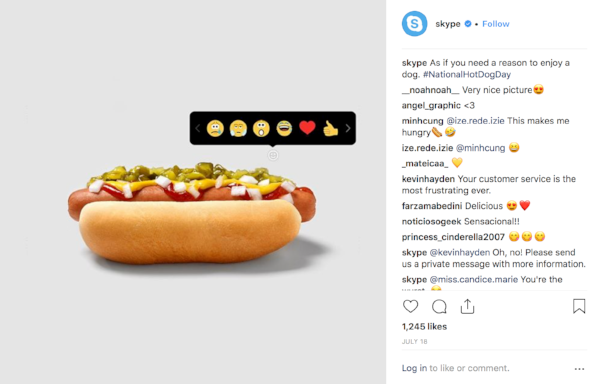 HubSpot
With over 119K followers and a lot to teach us about inbound marketing, HubSpot uses Instagram as a platform to share bright, active graphics to share inspiring quotes and other content. My favorite feature of HubSpot's feed is its use of GIFs to create moving visuals that attract your attention. Every visual is strong on its own, but when looked at together, it creates a beautiful feed of graphic art.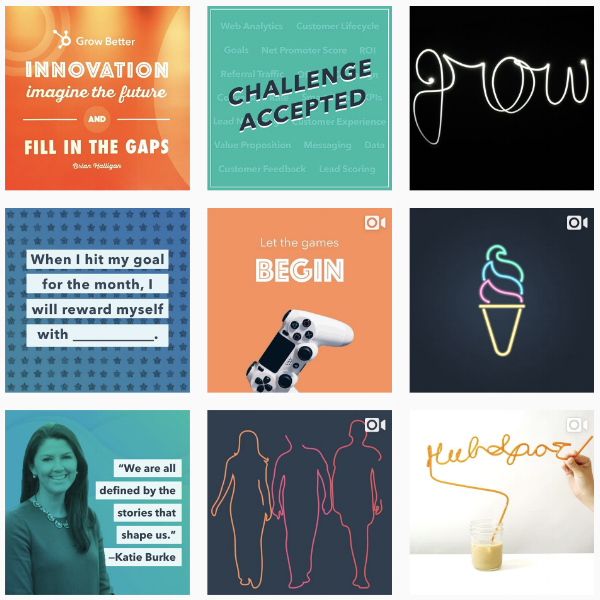 4. Creative Color Use
Color is a key factor in attracting users to check out your feed – without color, photography can look dull and uninteresting. But if you actually consider how you use color on your Instagram, it shows – and it looks fantastic. These companies know exactly what they're doing when they add color to their feed.
Chevron
Scroll through this feed, and you won't be disappointed by lack of color. Chevron has gone above and beyond in utilizing bright colors to create a visually pleasing feed. The closer you look, you can almost spot the clever pattern of ROY G BIV 🌈.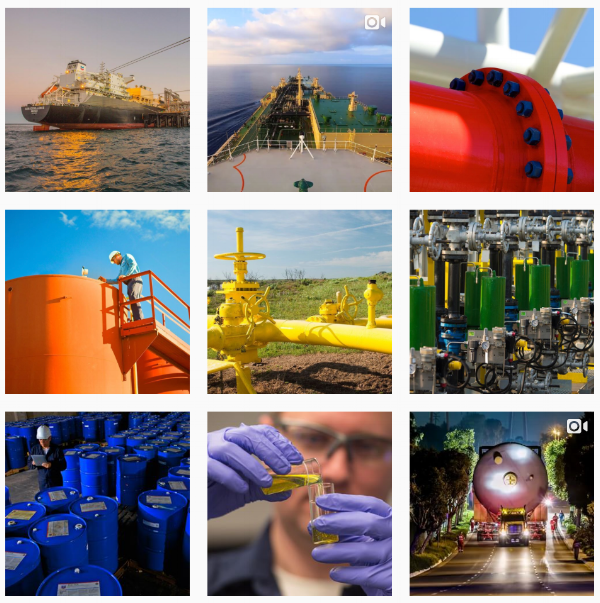 Oracle
Speaking of color, notice how Oracle splashes a touch of their signature red in almost every photo? Even in subtle cases, like in the photo of the adorable cat stretching, it grabs your attention and keeps you searching for hints of red in other photos. Including your colors somewhere in your Instagram content is a quick and easy way to build a cohesive feed that stays on-brand.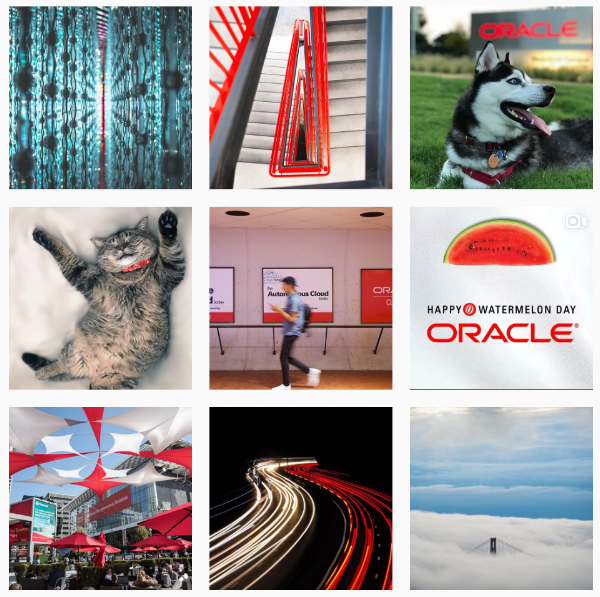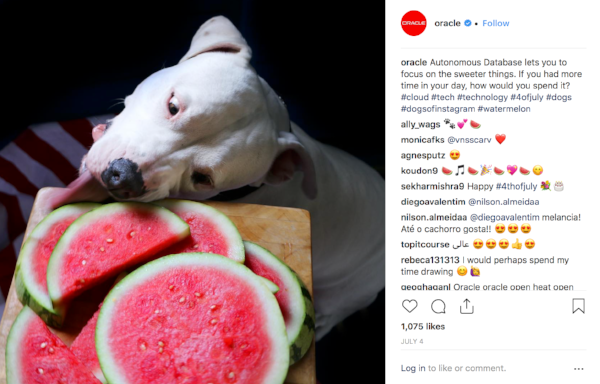 5. Layout Experimentation
Getting into design can really take your Instagram to the next level. With a little planning and a lot of creativity, your business's Instagram feed can catch anyone's eye. Check out these two awesome B2B businesses experimenting with their own Instagram layout.
Ford
As a top automobile innovator, Ford really steps up the game on their Instagram. Currently trending on their feed is a three-photo collection. Every three photos follows a certain theme, from doggos by retro Fords to a birds-eye view of Mustangs forming the number 10,000,000. A feed like this does require strategy, but doggone does it look good.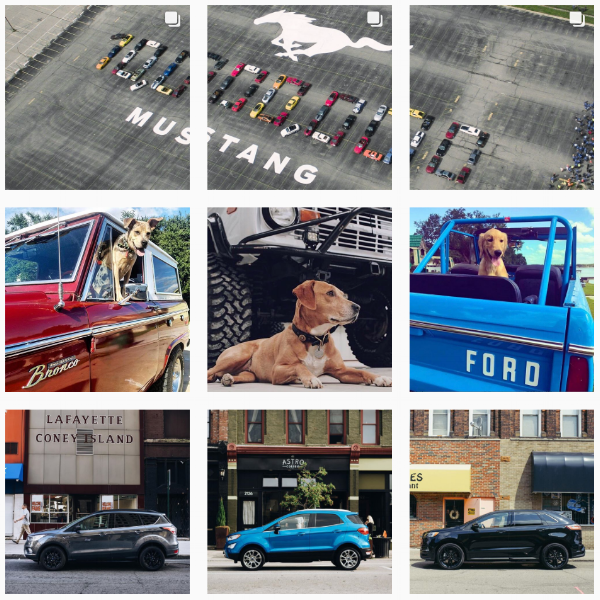 General Electric
Another big player experimenting with unique layouts is GE. A keen eye will notice that the top center photo is a continuation of the photo below it. Again, something like this takes a lot of thought and planned execution, but once complete, it breaks the traditional barriers of the three-column grid and adds a greater visual effect.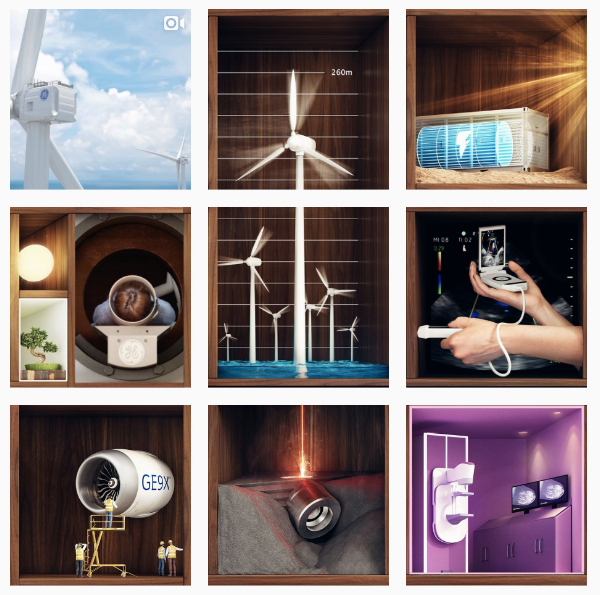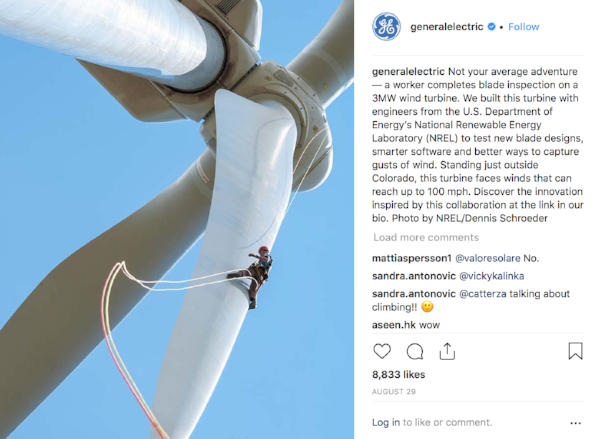 6. Company Culture Highlights
Company culture is a huge part of showcasing your business in a human way. Instagram is one of the best platforms to highlight your company culture to your followers and prospects. These two businesses have perfected this concept on their own feed.
Atlassian
If your company is constantly having fun and doing awesome things, wouldn't you want to share about it? Atlassian does just that. They make sure to highlight all the fun company get togethers they have, yet they don't slack on photo quality – every photo is bright, clean, and engaging.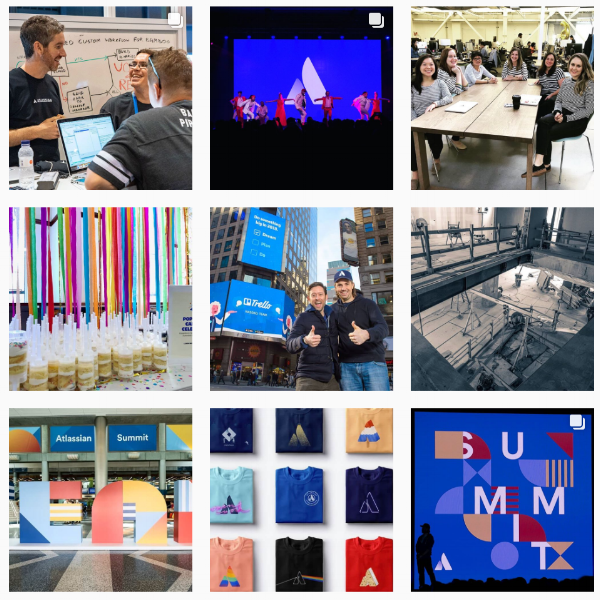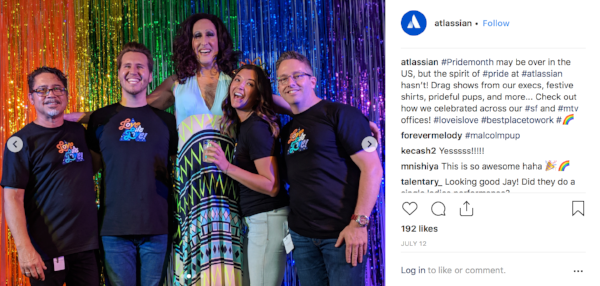 Accenture
Talk about quality photography! Accenture really knows how to show off how fun their company culture is, and their photo quality is top notch. From foam runs to office tours, Accenture does an excellent job of sharing what it's like to work there.
7. Great Use of Stories
Instagram Stories are 24-hour visuals that you share on your feed for users to watch. When done correctly, Stories can be used as a way to provide valuable information to prospects, engage with new leads, and share more about your brand. These B2B businesses utilize Stories in a way that is engaging, useful, and organized.
Cisco
Story Highlights allow you to store your Instagram Stories to your feed so they don't actually disappear once 24 hours has ended. Cisco shows us how to properly categorize and utilize Story Highlights to provide extra content for users. Their graphics are simple yet also very detailed and specific, which draws your eye to them, and the way they post their content is engaging and informative.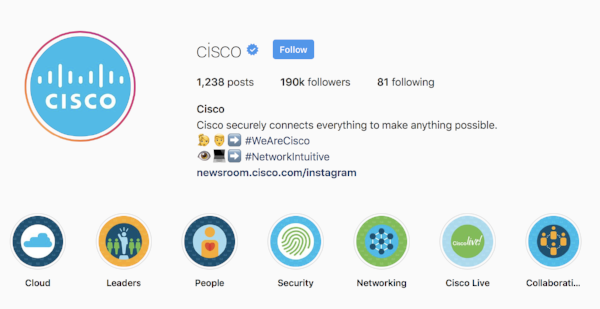 J.P. Morgan
J.P. Morgan utilizes stories to share employee testimonies, offer insights, and provide history about their company. Each cover photo of their Story Highlight is cohesive and simple, and once you start skimming through one, you won't want to stop.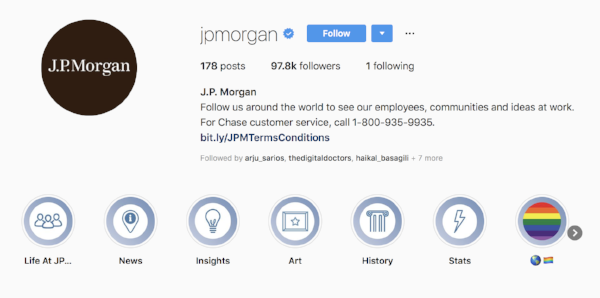 With these B2B businesses as inspiration, consider amping up your Instagram: Play with color and layout, and be sure to highlight your company culture and maybe throw in a few piece of UGC if possible.
Don't be afraid to experiment with your business Instagram. It takes some trial and error to see how your audience reacts and engage with your content. In the end, social media all about reaching new people and forming new relationships, right?