Does your website have a landing page where bottom-of-the-funnel (BOFU) and sales qualified leads (SQLs) can convert?
Having a "Request a Demo" landing page allows visitors and qualified leads to raise their hand and say they want to try your product.
According to HubSpot, 69 percent of survey respondents say that converting these leads is their top priority. Therefore, it is valuable for all business-to-business (B2B) companies to have some type of demo landing page.
What Is a Sales Demo?
via GIPHY
Not to be confused with a product demo, which is probably what you were imagining, a sales demo is a little more intentional than that.
With a sales demo, you focus more on the process of showcasing a product or service to create a sale, not just for the sake of a demonstration. It specifically happens before a sale as a means to highlight the business' value.
Picture "lunch rush" at Costco where there's station after station of food samples.
Where Should I Put a Demo Request on My Site?
Figuring out the most strategic space to put your CTAs is always tricky. You want people to see it, but you don't want to be obnoxious about it.
It's a fine line.
Here are some of the best spots on your webpage to put a demo request button:
Sidebar
Build in an attention-grabbing CTA and graphic pairing to exist on the side of the page as your visitors scroll.
Contextually
via GIPHY
If you're doing it right, then your product or service is detailed out in your web copy somewhere. That's the perfect place to offer the chance to schedule a sales demo.
Visitors will be interested in understanding just what value the sale will provide to them, which provides your sales team the opportunity to really draw them in.
Footer
The footer is pretty universally known to be where you go to find all of the miscellaneous details related to the website, company, products, and services.
Take advantage of the user's habit to fall down to the footer and include a clever CTA.
What Your 'Request a Demo' Page Should Include
There are some common traits that all good "Request a Demo" landing pages have. Your landing page should include:
A clean and simple look

A simple form

A phone number for an alternative form of contact

Social proof to provide credibility

A video, bullet points, or another short message saying what they will learn in the demo
6 of the Best 'Request a Demo' Pages
Here are six kickass examples to inspire your "Request A Demo" landing page.
1. Dropbox Business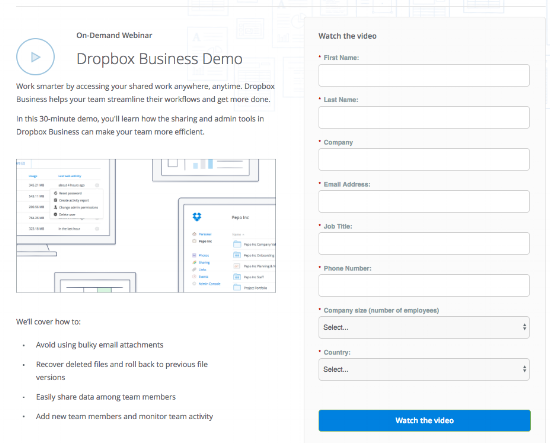 Dropbox has a simple yet awesome demo landing page for the business version of their service. The look of the page is very clean, featuring simple typography and using whitespace to make it easy for visitors to follow, instead of making them feel overwhelmed.
What makes this landing page great is that the form is "above the fold" (which is always important) so that visitors do not have to scroll to submit their request.
The form also doesn't have too many fields, which keeps users from feeling pushed or overwhelmed. It's important to only ask for the essentials so that you don't turn people off from complicated forms.
Chances are you'll be in contact with these leads since they're interested in the demo and you can ask for more details then.
2. Hootsuite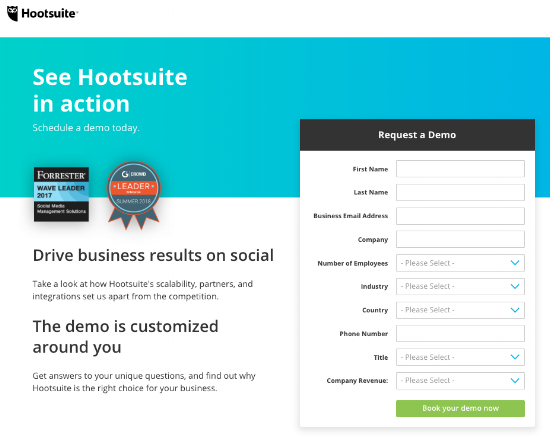 The social media tool, Hootsuite, is another great example for a clean and easy to follow demo landing page.
The title, "See Hootsuite in action," is attention grabbing and allows the visitor to visualize using the tool. The other titles on the page really help to call out what Hootsuite does while also offering a personal touch by stating the demo is personalized to you.
Another plus for this page is that there is not too much copy. Hootsuite's form is simple and not too long. This way, leads don't get overwhelmed by the amount of information they need to provide.
The landing page also shows companies that use their product for social proof and displays two badges representing their awards that help to improve credibility.
3. HubSpot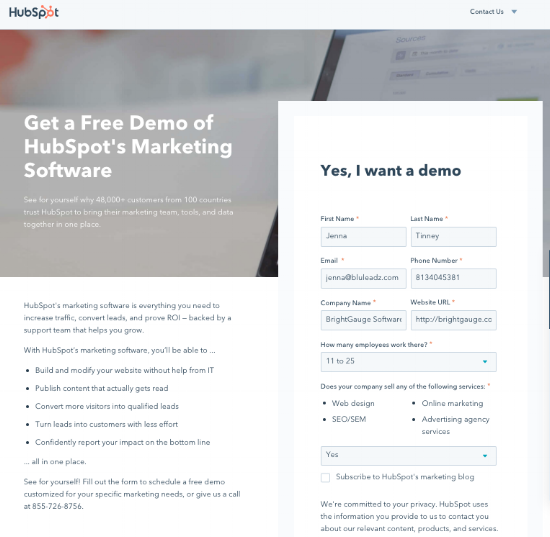 At Bluleadz, we're big fans of HubSpot. Their landing page for their free software demo is just one example of why we love them.
They are very clear in their message on this page, starting with the main title and saying that you can see for yourself why 48,000+ customers from 100 countries trust their software. This is a different, even more subtle way that they provide social proof of their product without having logos or badges.
The title used for the form makes the decision for the visitor – "Yes, I want a demo."
The landing page also highlights all of HubSpot's capabilities to demonstrate how their software can benefit your marketing efforts.
Another great thing that they include is their phone number, making it simple for someone who would rather speak with a representative to contact HubSpot over the phone instead of filling out a form.
Plus, their page also has a chatbot in the bottom right corner, so visitors can contact representatives through that option too.
4. GoToMeeting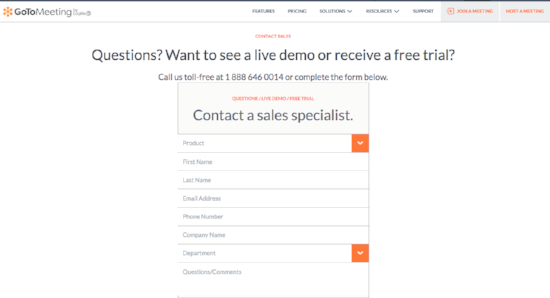 Nothing is more simple and to the point than GoToMeeting's demo request landing page.
The title communicates that visitors can either receive a demo (for those who would like to be walked through how it works) or start a free trial for those who are ready to try it for themselves.
Like HubSpot, they also include the phone number to allow visitors to contact them directly if visitors don't want to fill out the form. The rest of the page is just the form itself. They don't over-complicate the page by adding in any fluff or extraneous content.
5. Zoom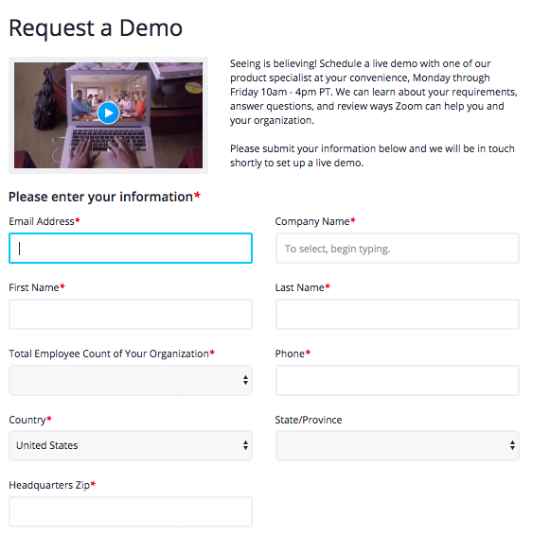 Zoom, a video conferencing software, is another fantastic example of an easy to follow, simple, and clean demo request landing page.
What makes their page great is that they include a video right on their page that visitors can watch to learn more about how Zoom works. The video is located at the top so that leads can interact with the page and watch it instantly.
Zoom also includes a short introduction of copy that states the days and times that they schedule their live demos so visitors can be thinking about their schedule before a team member reaches out to them.
6. Salesforce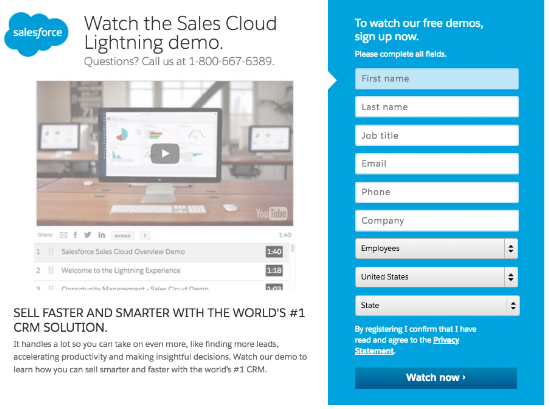 Another kickass "Request A Demo" landing page comes from Salesforce.
On their landing page, everything is kept above the fold of the page to make it easy to follow without having to scroll. Like HubSpot and GoToMeeting, they also provide their phone number at the top.
Their title provides social proof by stating they are the world's No. 1 customer relationship management (CRM) solution. They also only use a very short paragraph of copy to keep things simple.
The button driving users to "watch now" lets you know that you can get started right away instead of waiting to be contacted to schedule a demo.
How to Deliver a Kickass Sales Demo
A sales demo can run pretty similar to other sales calls, but it's important that you pay particular attention to highlighting the uniqueness and value of your product or service.
We'll break down exactly how you should go about delivering a great demo to leads who raise their hand.
1. Research Your Target Audience.
via GIPHY
This is the first step in most situations where you're going to be engaging directly with leads and prospects. As the experts on your product or service, you're expected to understand what pains and needs you're offering to solve for.
Collect as much information as you can about the lead before the sales demo starts so that you can maintain your appearance as a pro.
2. Structure the Demo.
The demo should follow some sort of agenda or schedule in order to stay on track in a way that makes sense. Plan out the demo as thoroughly as possible and clue the lead in on what they should expect.
3. Customize and Personalize the Demo.
This is where the research you performed comes in handy. A generic sales pitch will never land as well as one that's been carefully tailored for a lead.
Build details and information that will appeal to the lead directly into the demo. It shows that you're committed to them and their success, rather than see them as just another sale.
4. Rehearse and Rehearse Again.
Practice makes perfect, right?
Rambling on without any direction or sense is a quick way to lose a potential customer's interest. Take the time to run through the details of the sales demo, as well as familiarizing yourself with the lead.
Be careful of coming across as too scripted, though. This can come across as disingenuous, rude, and actually unprofessional.
5. Consolidate Features.
You're highlighting the best parts of your amazing product, right? Your lead is interested and engaged. But now the demo is starting to run a little long. They're becoming a bit impatient and restless.
This is an easy trap to fall into if you're trying to go over every single detail of every single feature.
If your prospect is inclined to purchase, they'll explore all of the nooks and crannies on their own time. Stick to the big, relevant features that will help serve them best, grouping some of the finer details together under a quick summary when necessary.
6. Pay Attention to Pain Points.
Following the rule above, make sure that you're discussing features that relate to their problem. Remember, they requested the demo because they have pain points they want to eliminate.
via GIPHY
By focusing on solving the problem, you're showing optimal value to the prospect and they'll view your product or service as a solution, not just another neat gadget with a ton of irrelevant tricks.
7. Talk Up Your Company.
Your product or service is a part of your brand. If the prospect decides to purchase, they're purchasing from you.
Market your business as a great company that's delivering a supreme product. This helps serve two purposes:
They could become a repeat or long-time customer.
They'll recommend and refer you to others facing similar issues.
Your brand is a unique selling point that differentiates your product or service from others in the market. So don't be afraid to brag, especially if you have some great customer testimonials or case studies to leverage.
8. Give Opportunities for Questions.
The sales demo should feel like a 60:40 conversation, where you're explaining your product or service's value, but not lecturing.
Encourage the prospect to speak up and ask questions whenever they'd like throughout the demo. Build in brief breaks where you ask if you can clarify anything for them as well.
9. Always Follow Up.
via GIPHY
You'll want to end the sales demo with a strong call to action and clear understanding of next steps — both from you and the prospect.
And don't sit around waiting for a call after it's over. Follow up with them to remind them what you and your product have to offer. Sometimes it's just that gentle reminder that they need.
A great landing page paired with a wonderfully executed sales demo makes for some pretty epic sales.
Put these principles to good use and get started on creating your own "Request a Demo" landing page to help drive and convert more qualified leads.