Does your website have a landing page where bottom-of-the-funnel (BOFU) and sales qualified leads (SQLs) can convert?
Having a "Request a Demo" landing page allows visitors and qualified leads to raise their hand and say they want to try your product.
According to HubSpot, 69% of survey respondents say that converting these leads is their top priority. Therefore, it is valuable for all business-to-business (B2B) companies to have some type of demo landing page.
Here are six kickass examples to inspire your "Request A Demo" landing page.
1. Dropbox Business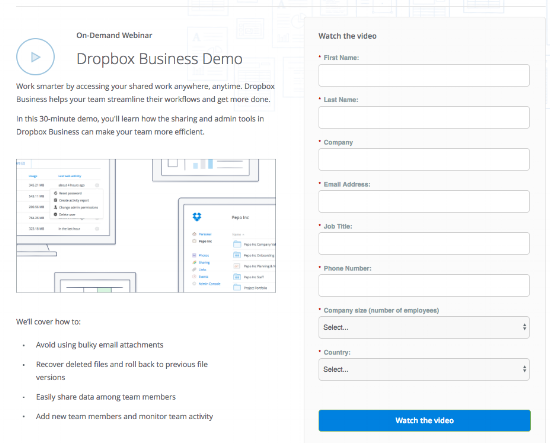 Dropbox has a simple yet awesome demo landing page for the business version of their service. The look of the page is very clean, featuring simple typography and using whitespace to make it easy for visitors to follow, instead of making them feel overwhelmed.
What makes this landing page great is that the form is "above the fold" (which is always important) so that visitors do not have to scroll to submit their request. The form also doesn't have too many fields, which is good because users don't feel like they have to provide all of their personal details just to request a demo video.
It's important to only ask for the essentials so that you don't turn people off from complicated forms. Chances are you'll be in contact with these leads since they're interested in the demo and you can ask more details then.
Another thing that makes this page great is that Dropbox highlights exactly what the demo will cover so that visitors know up front what to expect. The subtle use of company logos of organizations that use Dropbox is also a nice touch. It's a great way to highlight social proof without taking away from the main point of the page.
2. Hootsuite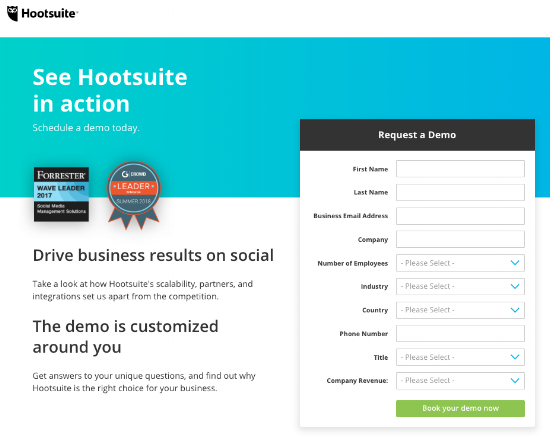 The social media tool, Hootsuite, is another great example for a clean and easy to follow demo landing page.
The title, "See Hootsuite in action," is attention grabbing and allows the visitor to visualize using the tool. The other titles on the page really help to call out what Hootsuite does while also offering a personal touch by stating the demo is personalized to you.
Another plus for this page is that there is not too much copy, and just like the Dropbox example, Hootsuite's form is simple and not too long. This way, leads don't get overwhelmed by the amount of information they need to provide.
The landing page also shows companies that use their product for social proof and displays two badges representing their awards that help to improve credibility.
3. HubSpot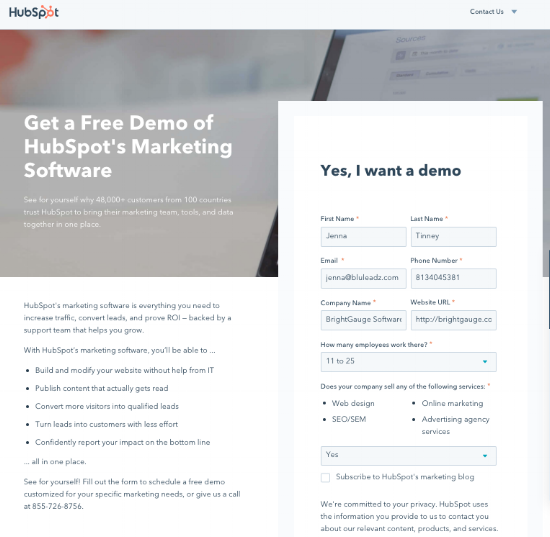 At Bluleadz, we're big fans of HubSpot. Their landing page for their free software demo is just one example of why we love them.
They are very clear in their message on this page, starting with the main title and saying that you can see for yourself why 48,000+ customers from 100 countries trust their software. This is a different and even more subtle way that they provide social proof of their product without having logos or badges.
The title used for the form makes the decision for the visitor – "Yes, I want a demo." This shows them they want a demo without necessarily realizing it.
The landing page also highlights all of HubSpot's capabilities to demonstrate how their software can benefit your marketing efforts. This information is presented in a clear, concise list of bullet points.
Another great thing that they include is their phone number, making it simple for someone who would rather speak with a representative to contact HubSpot over the phone instead of filling out a form. Plus, their page also has a chatbot in the bottom right corner, so visitors can contact representatives through that option too.
4. GoToMeeting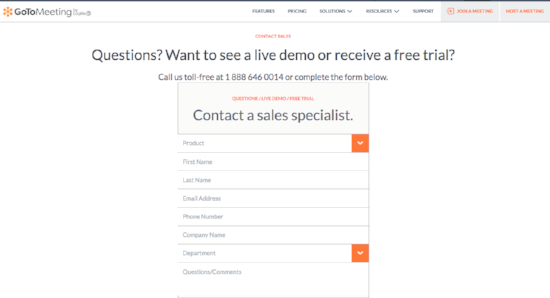 Nothing is more simple and to the point than GoToMeeting's demo request landing page. The title communicates that visitors can either receive a demo (for those who would like to be walked through how it works) or start a free trial for those who are ready to try it for themselves.
Like HubSpot, they also include the phone number to allow visitors to contact them directly if visitors don't want to fill out the form. The rest of the page is just the form itself. They don't over-complicate the page by adding in any fluff or extraneous content.
By having a simple form on the page that doesn't ask for too much information, visitors are not distracted or turned off by it. The point of this page is to drive users to fill out the form, and GoToMeeting does a great job of making it simple by using the form as the only call to action on that page.
5. Zoom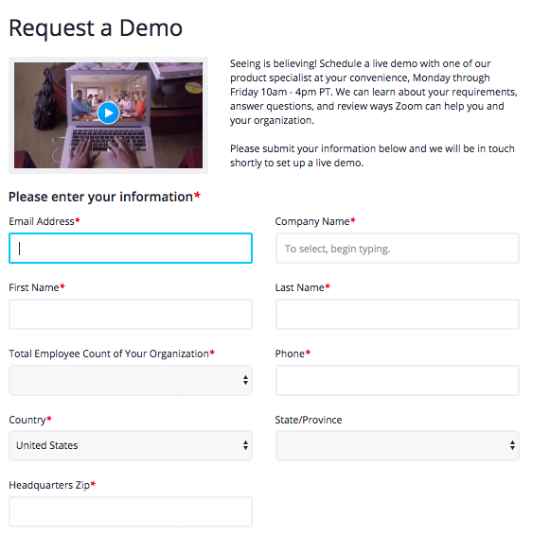 Zoom, a video conferencing software, is another fantastic example of an easy to follow, simple, and clean demo request landing page.
What makes their page great is that they include a video right on their page that visitors can watch to learn more about how Zoom works. The video is located at the top so that leads can interact with the page and watch it instantly.
Videos are a great way to communicate exactly what your company does so your visitors and qualified leads know what to expect in the demo.
Zoom also includes a short introduction of copy that states the days and times that they schedule their live demos so visitors can be thinking about their schedule before a team member reaches out to them.
Just like the other awesome examples listed here, their form only includes a few fields to collect the necessary information.
6. Salesforce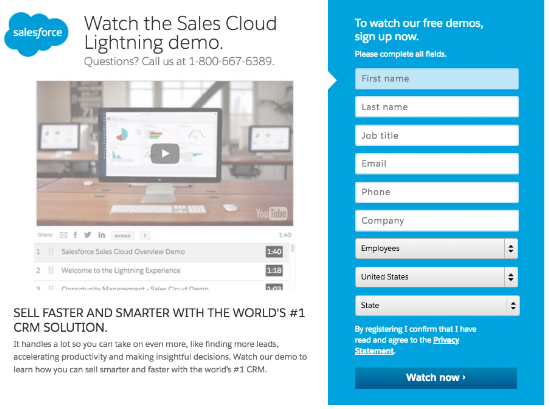 Our last example of a kickass "Request A Demo" landing page is Salesforce.
On their landing page, everything is kept above the fold of the page to make it easy to follow without having to scroll. Like HubSpot and GoToMeeting, they also provide their phone number at the top.
Their title provides social proof by stating they are the world's No. 1 customer relationship management (CRM) solution. They also only use a very short paragraph of copy to keep things simple.
Like all of our other examples, the form is simple, and the button driving users to "watch now" lets you know that you can get started right away instead of waiting to be contacted to schedule a demo.
What Your "Request a Demo" Page Should Include
As you can see from these examples, there are some common traits that all good "Request a Demo" landing pages have. Like these examples, your "Request a Demo" landing page should include:
A clean and simple look.

A simple form.

A phone number for an alternative form of contact.

Social proof to provide credibility.

A video, bullet points, or another short message saying what they will learn in the demo.
Put these principles to good use and get started on creating your own "Request a Demo" landing page to help drive and convert more qualified leads.