Ranking for popular or general keywords almost requires you to have an entire floor of top SEO specialists working 70 hours a week, churning content nonstop.
Experienced marketers, though, have learned to target keywords that interest prospects in the "late" stages of the buying cycle. There's less competition and more serious potential customers in this territory.
Where do they find these opportunities? In the bountiful land of long tail keywords.
What Are Long Tail Keywords?
via GIPHY
Long tail keywords are the keywords that run about three or four words long. They're very specific and very niche.
Typically, these are keywords used by people who are very close to finishing a sale. They're better equipped to bring in leads who are researching your product, service, or industry.
Long Tail Keywords vs. Short Tail Keywords
Short tail keywords are composed of one to two common words that are a bit more generalized and topical. It's harder to pick out the user intent of a search for "Tupperware."
The same can't be said of a long tail keyword, like "20 piece Tupperware set for sale online." It's a lot clearer that the user is looking to buy a 20-count Tupperware set on the web.
It's also clear that they have the intent to follow through on that purchase and aren't just researching how Tupperware is made or what it does.
How Long Tail Keywords Affect SEO
Long tail keywords have a lasting impact on the search engine optimization of your website, blogs, and social media. Honestly, that impact reaches a lot further than most marketers realize.
via GIPHY
If you implement these super specific phrases into your content, you'll see some pretty significant return. Here are just a few of the benefits to leveraging long tail keywords.
Your Content Becomes Much More Targeted.
Content focused on long tail keywords often provides more valuable information to readers purely because they're so much more targeted.
Writing about how a bike chain helps propel a bicycle forward is definitely more specific than a post just about bikes in general. And the visitors reading that particular post definitely have a specific objective or topic in mind.
Because of that fact, it's safe to say that long tail keywords are a great way to fuel your blog strategy.
Your SERP Rankings Will Raise Quickly.
Being more specific than your competitors means that you'll outperform them in intent and value in the eyes of search engines.
Competition for short tail keywords is incredibly high, and, honestly, it can be pretty costly. But there's a lot more territory to claim in the world of long tail ones.
Not only can you dominate those SERPs with some well written, strategic content, you'll be able to rise pretty fast.
You'll Rank For Multiple Keywords.
Long tail keywords may occasionally contain multiple strings of shorter keywords in them. Let's use gluten-free pumpkin pie recipe for example:
gluten-free pumpkin pie recipe
pumpkin pie recipe
pumpkin pie
pumpkin
That's four birds with one stone. Yes, the shorter keywords are all ones that have more competition and will be harder to rank for.
But, you'll be making progress toward ranking for those keywords at the same time that you're building your rank for the long tail keyword.
You'll Get More Qualified Traffic.
via GIPHY
It's better to get fewer website visitors that are likely to convert than it is to stuff the top of your sales funnel with tons of bad visitors who really aren't a good fit for your company.
Ranking for a root keyword is great, but it won't help if people looking up that root keyword are looking for something completely different from what you have to offer.
Using long tail keywords helps ensure that the visitors you get are actually interested in the products or services your company offers.
This refined targeting might mean fewer website visitors in the short term, but more leads and conversions – which means more actual business opportunities and less time wasted on unqualified, go-nowhere leads.
How to Use Long Tail Keywords
It's all about being strategic when it comes to long tail keywords.
You can try and plug them all over the place, but if you're not doing it with a purpose or objective in mind, then it's not going to work in your favor.
Here's a quick guide detailing how to leverage them for all they've got:
1. Decide on the Intent You Want to Rank For.
Just integrating long tail keywords and phrases isn't going to do anything for your content without a defined purpose in mind.
Your content marketing strategy shouldn't be focused solely on product and service promotions. The content you put out needs to offer some sort of value to your audience.
via GIPHY
Whether it be educating them on industry topics, their own pain points, or current events and statistics, you need to be communicating some sort of worth to them.
The keyword is just a means of reaching them.
2. Research Long Tail Keywords.
This is where you can let your keywords of choice guide the subjects your content covers.
Do a deep dive into what your target audience is searching for through different keyword research tools. There's a variety of ways you can find search intent and popular questions or phrases, many of which we explore later on in this post.
Be sure to identify keywords that are relevant to your business and brand. Don't try to exploit any that are unrelated.
Part of being strategic is knowing what not to use as much as it is recognizing what you should.
3. Write Valuable Content Based on Those Keywords.
This is the meat and potatoes of it all. All of this thought and research should be pooled into amazing content that's going to be truly useful to your audience.
SEO best practices apply to long tail keywords just as they do short tail ones. We'll highlight where you want to implement them in your content.
Headlines
Writing a headline or title that absolutely crushes is a great way to get noticed, especially if you're able to naturally incorporate a long tail keyword.
Keep the keyword in the first half of the headline and keep it as short and simple as possible.
Linking
Internal and external links carry a lot of juice in the grand scheme of search engine optimization. Using your targeted keyword as anchor text to link to a page with related content is a great way to provide more insight on your subject matter.
Tags
Of course, if it serves your organizational system, you'll want to include the targeted keyword in your tags. Pretty self-explanatory. Practice this one at your own discretion.
Images
Including images, videos, and infographics is a great way to enrich your written content. It also makes your post more attractive.
You can add your long tail keyword to the alt text and captions of your images to help you rank high in image searches.
Always do your best to find copyright-free images and provide a source if you need to use one owned by somebody else.
Long Tail Keyword Research Tools
via GIPHY
Any marketer or content writer who's ever done keyword research knows that the process can be pretty... involved. Running checks on difficulty, volume and intent for several different keywords can be a pretty time-consuming task.
Thankfully, there are a lot of tools available now to help you along. Here are some great long tail keyword research tools that will help supplement your search:
Google
Surprised? You shouldn't be.
Google can help a marketer find user intent just as well as it can help users find the information they're searching for. The search engine has two great features that can help your research: Google Suggest and Related Searches.
Google Suggest
This friendly helper appears when you begin typing a keyword into the search bar, and it offers a dropdown list of related or relevant search suggestions.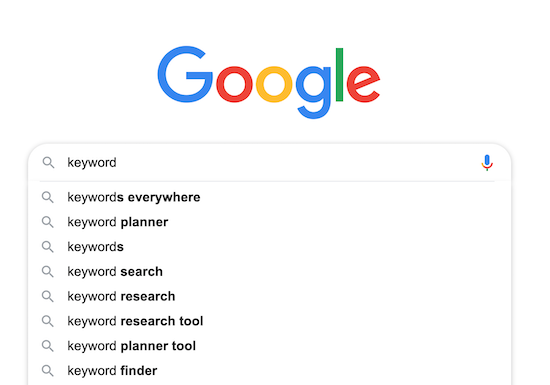 Drop a relevant short tail keyword in there and see what pops up. Not only will you get ideas for long tail phrases, but you'll also learn a bit more on user intent.
Google's Related Searches
Once you've landed on a Google result page, you can scroll to the bottom and find a small list of popular, similar searches.

This feature is a treasure trove of long tail keyword offerings that you can qualify by using the tools listed below.
Ahrefs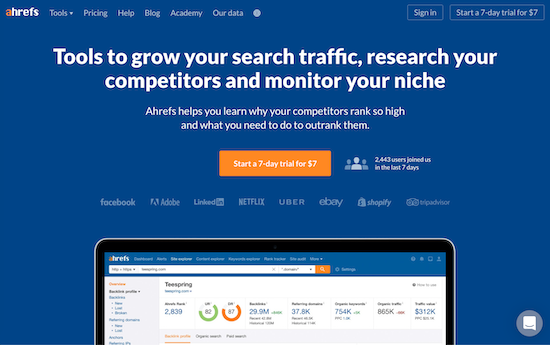 Ahrefs is a great tool that not only offers data on website pages, traffic, and domain rating.
It also has a Keyword Explorer that can provide you with detailed analytics on the rank difficulty of a keyword, who's using it where, what the search traffic is, and it even offers related keyword suggestions.
SEMRush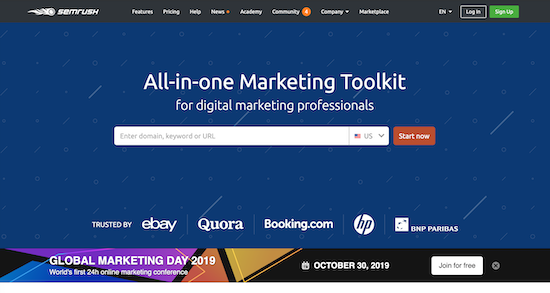 SEMRush helps you investigate and qualify keywords in a different way. All you need to do is enter a seed keyword and it will return with related keywords that have low volume or difficulty, meaning it'll be easier to rank for.
Long Tail Keyword Example
Long tail keywords can feel a little counterintuitive and difficult to integrate organically, but it can be done. Here's one of our blog posts that centered on the keyword "user-generated content."
Let's take a closer look at how we implemented the long tail phrase and other long, semantically related keywords.

There are 18 counts of the keyword in this long form blog. Doesn't seem like a lot when you consider that the post is over 1,500 words long, right?
Keyword stuffing feels unnatural and spammy. We were meticulous in using the keyword in a way that felt organic, contextual, and necessary.
And if you look closer, you'll actually find that some of the highlighted counts are actually part of an even longer keyword, like "user-generated content examples" or "user-generated content platforms."
And we'll rank for all of them and then some. Pretty neat, huh?
Taking the time to research your keywords and find a few long tail keywords that are highly relevant to your business can make it much easier to attract qualified customers and leads.
Sure, you might not reach as large an audience as you would with a short tail keyword, but you'll get a better audience faster.
The long-term payoff of using long tail keywords is that it makes your life easier and gets you better results. Using long tail keywords is just the smart thing to do.
Just be sure to sprinkle them in naturally throughout your content, and to try variations of your keywords.