Are you aware of how much your business benefits when your audience is your advocate?
It's not all that conceited to want your audience to celebrate your brand, products, and services. In fact, it's actually a pretty successful marketing strategy.
It's called user-generated content.
What Is User-Generated Content (UGC)?
Basically, it's exactly what it sounds like: content generated by users of a product or service.
The content can come in all sorts of formats as long as it's informational. The more common types appear as online media in the form of videos, digital photos, or blogs.
The Benefits of User-Generated Content
Having someone sing the praises of your brand isn't exactly new, but the outlets that audiences are responding to have changed.
According to Stackla, most consumers find user-generated content to be almost 10 times more impactful than influencer marketing tactics.
Considering the rise in influencers, this is a bit of a surprise. But it lets us know one thing: authenticity is what consumers are looking for.
Here's an overview of how UGC can get you a leg over your competition.
It Provides Social Proof.
A real customer's positive review provides a great deal of credibility for your brand. Even more so if they take the time to create content and share it with the world.
When you, as a brand, promise a particular value or experience to your audience, there's no better way to back your claim than social proof.
A great example of this benefit would be GoPro's user base acting as its greatest ambassadors. Those loyal to the brand often post videos and photos captured during their adventures on the sturdy cameras, celebrating the memory snapshots they were able to take.
Posting their content with #GoPro gives the company credit and builds the brand's authority.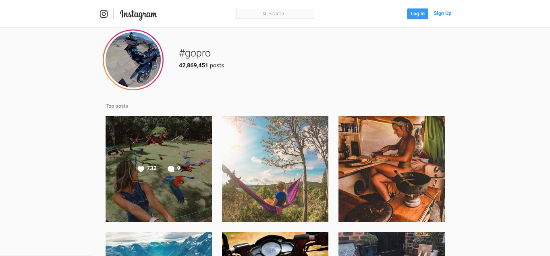 Source: Instagram
It Saves Your Budget.
When it comes to your marketing budget, you probably find yourself running things a bit tight. Limited resources call for creative avenues, and that's where UGC comes in.
Your brand's fans act as a free source of images and content on social media. You'll be able to allocate more of your resources to other branded content that will work alongside the UGC.
It Gives Customers a Voice.
It has been reported that millennials contribute over 70 percent of all user-generated content created. And no one's making them do it.
So that tells us that your audience wants to tell the story of their relationship with your brand. You're giving them a voice as well as a way to participate in your marketing.
Not only that, but you can also make them feel validated by putting the spotlight on those who have helped grow your brand. Giving your customers a chance to speak their mind can generate a degree of brand loyalty that you couldn't win anywhere else.
It Opens Conversations.
When you scroll through whichever channels your consumers are posting on, all of those comments, tweets, and pictures act as valuable data on what your audience is happy and unhappy with.
UGC gives you direct insight into how your products and services are performing for your customers. Take advantage of that fact by engaging with the users. They'll appreciate feeling heard while you also learn how to improve what your business offers. It's a win-win.
It Establishes Your Trustworthiness.
It's been made very clear that people trust user-generated content more than advertisements. In fact, user-generated content is 50 percent more trusted than other media, and 35 percent more memorable.
Word of mouth marketing is a strong way to earn new leads because people trust their peers more than they do a business. It's seen as a more authentic and honest review than a general sales pitch.
It Drives SEO Results.
You may have never considered how UGC could boost your SEO efforts, but that doesn't mean it can't. Positive customer reviews and referrals can actually raise your SEO ranking.
When one of your users includes a link to your website in their content, that backlink helps drive your SEO. Also, you can get a fresh look at which keywords your audience is using and improve your keyword optimization research.
It Delivers Key Insights.
Trying to learn more about what your audience's needs are or how they are using your products? Just look to their content. They're telling you their exact thoughts when they post their opinions of your brand online.
You can analyze what they find engaging, what their complaints are, and other such insights. Your social media marketing will become more data driven, increasing your lead generation and sales.
Tourism Australia did an excellent job of leveraging this benefit. They partnered with The Telegraph, and their audience was asked to share places in Australia that they would like to visit and any photos from trips they've already had.
Using the hashtag #24MillionMates, participants shared their stories and pictures on Instagram, Twitter, or directly to the brand through a submission form. Tourism Australia highlighted a variety of vacation spots through UGC and gained insight on what other locations their audience was interested in seeing.
The Telegraph compiled all of the shared media together to create a cool map of Australia filled with photos from the hashtag submissions, providing inspiration to customers looking to vacay down under.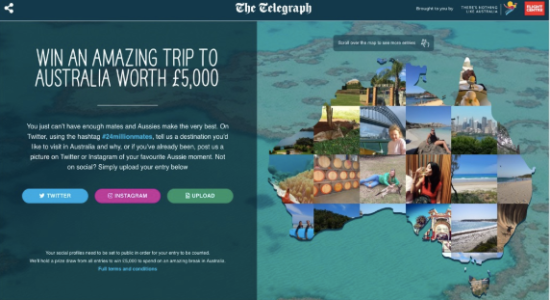 Source: Wayin
It Expands Social Reach.
Honestly, UGC campaigns don't work without social media. It's how the world communicates today and people have become very good at it. Not only will your brand's presence on social channels help provide insight and social proof, but it'll increase brand awareness too.
The media your company posts is greatly limited to the followers you already have and those who peruse industry hashtags. But when your users upload content about your brand that they created themselves, your business is now being presented to their followers, family, and friends.
And they may pass it on to theirs. A chain reaction can occur, and then multiply that by the number of customers who are producing user-generated content for you. That's a lot of eyes and long reach!
It Creates More Personalization.
We live in a world today where people crave curated content, and marketing is no exception. Personalized ads are becoming more and more common with great success, so you don't want to fall behind on the trend.
With a great user-generated content campaign, you can learn what will get your customers excited about engaging with your brand. Implement the data you learn into your marketing strategies to make more personalized content that will strengthen the relationships you have with your users.
What to Look For In a User-Generated Content Platform
What exactly is a user-generated content platform though?
There's software available that will help you search for and curate user-generated online media about your brand. They're extremely helpful tools for companies with an established audience who wants to increase their engagement as well as their reach.
Here are a few elements to consider when researching the right platform for your brand:
Features
Depending on what you are hoping to achieve in your user-generated content campaign, different features can be more important than others. The four main categories that most UGC platforms possess are aggregation, publishing, display, and analytics.
Many platforms will declare themselves as an all-in-one software, but each category may be offered in varying capacities. Make sure you do a full assessment of any platforms you may be considering before you purchase a contract.
Price
Like anything else in your marketing strategy, you have to keep your budget in mind when scouting out potential platforms. There are quite a few free-to-use services available, but their features and campaign capacities are limited.
The larger the subscription plan, the more control you will have over your features, integrations, analytics, and support. Do a thorough analysis of what your campaign goals are so that you can properly allocate resources to a platform and plan that will work best for your business.
Customization
In an effort to keep all of your marketing strategies aligned, find a user-generated content platform that allows you to customize your presentations.
Not all platforms have this available, so if it's important that your branding be consistent across all of your marketing outlets, then you may need to include personalization in your budget when looking for the right one.
Security
Social hacking, unfortunately, isn't uncommon. As a company with a brand and a reputation, you'll want to make sure that your social channels are safe from attack.
Otherwise, you run the risk of your authority, credibility, and the public's perception of your business being compromised. Pick a platform that possesses security measures against someone else getting control of your UGC displays.
Integrations
Your UGC campaign is going to be a key element in your content marketing strategy, but that doesn't mean it's the only element.
Look for a platform that's going to be able to integrate with the rest of your marketing stack, like your CRM and analytics dashboard. Things can become a bit messy if your UGC platform exists outside the rest of your workflow.
Support
There's a lot of data that will be handled as it passes through your platform. In the case of something being lost or crashing, you'll need a strong support team to help you recover what you need fast.
Look into what each platform offers in terms of support, and research user reviews on their reliability. The last thing you want is for your entire campaign to go down the drain because you didn't have someone who knows what they're doing to help you.
You've gone over your budget, what features are necessary for your campaign efforts, confirmed security and support, and now you're ready to get your brand's UGC working for you.
User-Generated Content Platforms You Need to Try
Here are some of the top user-generated content platforms out right now:
1. TINT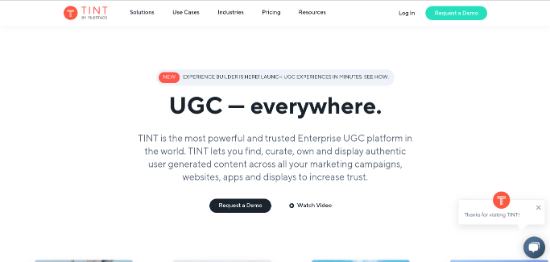 TINT is a social media aggregator with a wide deck of content curation tools available.
Offering services from managing UGC legal rights to an "experience builder," where you can build and start a campaign from scratch, this platform offers a lot for businesses who have fully bought into the power of UGC. You can even build social "walls" for events, where content can be displayed on digital screens in real time.
Price: There are several different plans built for businesses looking for websites, signage, legal rights, and event marketing. Prices vary between $300 and $500/mo.
2. Stackla
Self-proclaimed greatest visual content engine, Stackla allows users to track keywords and hunt for UGC from over 25 sources.
From there, you can curate, manage, obtain rights, and publish content on your own accounts to bolster your marketing. Their Co-Pilot feature is an AI that learns how to detect content engagement patterns, optimizing what digital media is recommended to you.
Price: Stackla doesn't provide preset pricing plans, but after utilizing their product demo, you'll be offered a quote.
3. Pixlee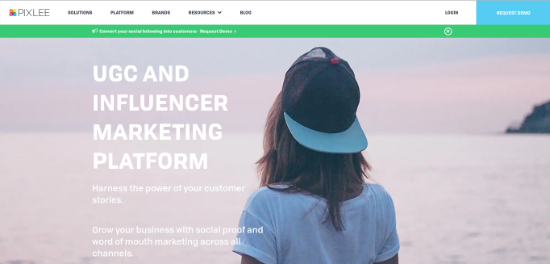 Pixlee pairs UGC with influencer marketing in an effort to give your brand's customers a voice. With a built-in "Social CRM," you can connect with micro-influencers and engaged customers who are willing to create content on your behalf.
You can build ads on the platform, develop an email marketing campaign, implement ecommerce elements into your social media accounts, and even create a mobile store. Partnered with Shopify, Salesforce, and Magneto, you can integrate with your marketing deck to make measuring results that much easier.
Price: After using a free demo, Pixlee's starting price is $399/mo.
4. Votigo
Votigo's platform leverages contests and giveaways to generate UGC from different social channels.
Content created from the promotion can be built into galleries that you can embed on your website, or you can create its own microsite for display. Votigo handles your promotion "from start to finish," including rights management.
Price: Their standard plan includes unlimited campaigns and up to 100,00 lead entries and sits at $300/mo.
5. Yotpo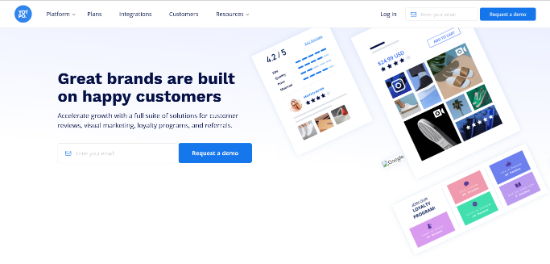 Founded in 2011 as just a review channel, Yotpo has grown into a much larger UGC platform designed to target audiences throughout the buyer journey.
You can still collect and leverage text-based reviews and ratings, but their customizable social proof displays have successfully driven results for several brands.
Starting on the homepage and following the customer all the way through to checkout, Yotpo provides inspiration boards and galleries full of user-generated content to shoppers. You'll have access to an analytics dash that can help you convert customer reviews into insights and monitor trends.
Your Yotpo account can integrate with several other marketing software, including ecommerce platforms and messenger bots.
Price: Their free plan includes 50 monthly orders and basic customization, but you can upgrade as you grow with flexible pricing dependent on what features you select.
Your Customers Want to Sing Your Praises
The voice of consumers carries a lot of weight for your audience.
By leveraging user-generated content, you're reaping the rewards of happy customers. They're excited to spread their positive experience with your brand for your brand.