What Is Predictive SEO?
Predictive SEO is the process of using predictive analysis tools to find topics that will grow in popularity in the near future. Based off of this research, marketers can identify how to refresh old content and create new content before the topic becomes more popular, securing high ranking in SERPs ahead of time.
Growing organic website traffic is like trying to walk up the stairs with a hamper full of clothing. Laundry falls out every time you try to put more laundry back in. Your website is the basket, and your traffic is the laundry.
The more traffic you restore, the more you lose. This may feel like you can't keep up enough to maintain growth.
You may have a great content calendar planned out and as you publish content, your blog posts rank well on search engine results pages (SERP)...until they don't. So you post more and more content.
What if there was a way you could keep traffic while refreshing old content and continuously publishing new content? You can stop traffic leaks by using predictive SEO methods.
It may sound too good to be true, but it is possible when you use SEO tools to find the beginning stages and trends related to traffic loss.
What Is Predictive SEO?
Predictive SEO involves planning and updating content for future release. Editorial or content management teams and SEO specialists use predictive analysis tools to select topics and content that will help them optimize old content and plan new content.
They choose topics that are predicted to perform well in the future to help drive traffic. This means you must plan to write and refresh content in advance, before it becomes popular, to capture a high ranking position in SERPs.
via GIPHY
Applying predictive SEO to your historical optimization strategy has many benefits for your business. For instance, predictive SEO helps you:
Profile and visualize customer behavior.
Target the right customers at the right time.
Implement better marketing campaigns.
Anticipate and meet consumer needs fast.
Boost your rank on SERPs for relevant queries.
Generate more traffic and conversions for your website.
Essentially, predictive SEO helps you stay ahead of your competitors to provide updated and fresh content that is valuable to your audience.
How to Find What Content to Improve
You probably have a whole library with old content that is forgotten about and declining in performance. It is difficult to sort through all of your content without using tools and tricks to help you find what you should improve.
Here are some ways you can select the right content to improve:
Conduct a Content Audit.
Before you can select the right content to improve, you need to conduct a condensed content audit. Condensed content audits help you narrow your goals to determine whether you are achieving them with the content you already have. This way, you can begin to improve your existing assets.
Conducting an audit can provide you with insights that are actionable to inform your upcoming content updates or historical optimizations.
If you want to conduct a thorough content audit, you can use many different SEO tools, like SEMrush's Content Audit tool, to help you analyze thousands of your blog posts and webpages fast.
Assess Your Content Assets.
After you compile your list of existing content, start assessing what pages can be updated, left alone, and deleted. Review your content assets to see if they accomplish these three goals:
Entertain and educate
Convert
Connect
Compelling content that hits those three objectives improves your SEO efforts. If all of your content assets don't accomplish at least one of these goals, it may be time to let those pages go or enhance them with higher quality content.
via GIPHY
Ask yourself, "Does this content asset serve a purpose?" If it has no purpose, delete it. Could the content asset be improved if you add more information? If the answer is yes, optimize and improve it.
Review Content That Once Performed Well.
The most important thing to assess when you look at your content is performance. It is likely that if content once performed well, then it can perform well again. All you have to do is type in some of the keywords and concepts into an SEO tool to see if people still search for this topic.
If they do, check recent blogs and content from your competitors to see what new information can be added to provide value and increase traffic for that piece of content.
Conduct Predictive Analysis to Find Opportunities.
Opportunities to update your content may not always be apparent. There may be conversations surrounding a specific topic that you are unaware of.
Predictive analysis technology can scan millions of sites to give you an idea of what people are considering now.
via GIPHY
It may be related to content you already have, but there may be new information or technology that makes your topic more relevant that you are missing. Take this as a sign to update any content related to your findings.
Restoring Traffic vs. Protecting Traffic
Restoring traffic refers to traffic that has already dropped from organic search. When you restore traffic, you take all the necessary steps to fix all issues associated with the drop in traffic to increase your organic search traffic again.
Protecting traffic refers to restoring traffic you haven't lost yet. This is a new idea that works along with predictive SEO that provides you with the ability to protect or increase your page's traffic before it requires restoration.
Protecting traffic means that you are taking necessary action sooner rather than later to leverage your content for good SEO rankings in the future.
It is easy to notice a decline in traffic through content performance analyses and then to react to it. By the time you are ready to restore traffic, some of the damage is already done.
For instance, you may lose subscribers or free users and sacrifice leads by the time you start recovery.
How do you stay ahead to decrease these losses? The answer is to predict falling traffic and leverage predictive SEO.
How to Predict Falling Traffic
You don't need to be psychic to predict falling traffic, but falling traffic isn't an exact science either. It takes time and careful analysis of your web data to gain more accurate results.
via GIPHY
You need SEO data that helps you see what blog posts and habits could cause you to see your traffic go away if you continue doing something that doesn't engage your audience.
Consider the fundamental truth that most organic traffic is going to webpages ranking high on the first page of SERPs. That's earned through many tactics, like building backlinks from high authority sites and matching search intent for specific keywords.
But sometimes, the webpage or post targeting that keyword will drop off the first page of SERPs.
The easiest way to predict falling traffic is to use predictive analytics and AI-technology. If you don't have access to those tools yet, there are still ways you can predict falling traffic yourself by considering aspects like high keyword rankings, the relationship between keywords, organic traffic, keyword search volume, and ranking position.
The relationships between these components, when measured and analyzed, can be a prelude to predicting falling traffic. SEO tools can give you an inside look at this information to provide you historical value into your content and your website to show you how ranking falls over time.
via GIPHY
The idea is to check the keywords your blog posts are ranking for, assess their position , and follow the trendline to detect ranking drops when they are on the verge of dropping off the top three positions of the SERP.
When you pay attention to this, you can help to restore your traffic before it truly drops below your ideal ranking.
5 of the Best SEO Tools for Predicting Traffic Trends
The key to enjoying the benefits of predictive SEO is using the right tools. Any SEO tools can help you apply the predictive SEO concept if you know how to use them right.
Here are five of the best tools you need to look into.
Google Analytics and Google Search Console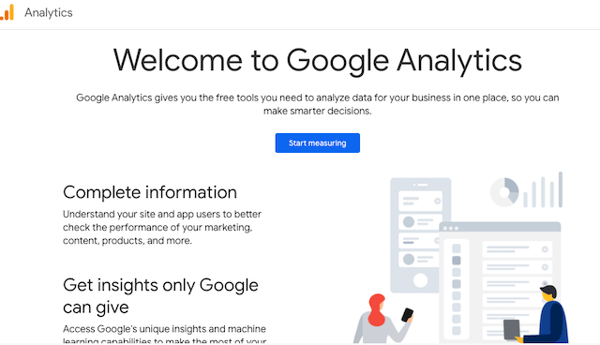 Google Analytics is a free web analytics service that allows you to conduct in-depth analysis about the visitors on your website. It gives you insight that helps you to study your visitors' behaviors and identify how to keep them engaged.
This tool can help you see which of your content marketing efforts is working well, and it can allow you to plan better SEO practices for your content in the future.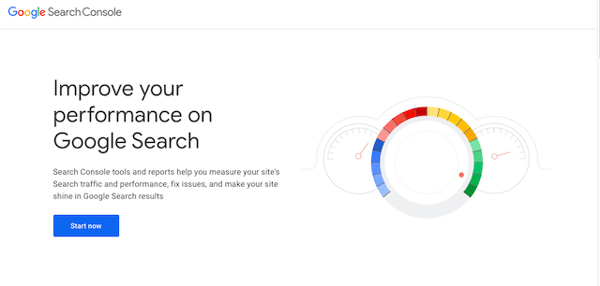 You can use this along with Google Search Console since it allows you to troubleshoot and monitor the way your website appears in the search engine results page. GSC presents you with information about your ranking increases and decreases and identifies your highest-traffic queries.
When you use both of these Google tools together, you can be prepared to project your traffic by identifying trends and seeing what has been working, what doesn't work, and what will continue to work.
Exploding Topics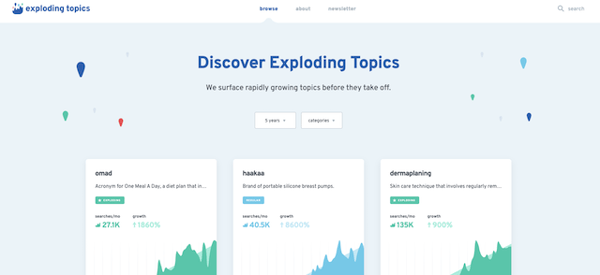 Exploding Topics is a keyword research tool that provides you with rapidly growing topics and keywords before they are popular. They use advanced technology to analyze conversations, searches, and mentions across the internet by the millions.
The tool sends you trending topics every week so you can develop content using some of the keywords from the trending topics. This helps you to stay ahead of the competition by allowing you to be the first one to address a topic that your target audiences are interested in.
Ahrefs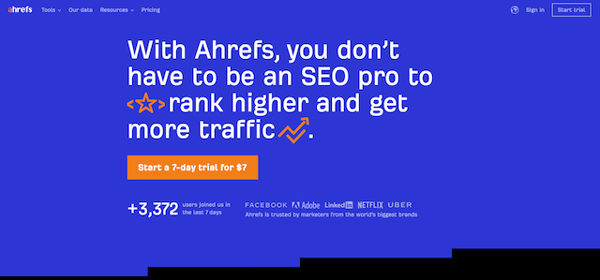 Ahrefs is a comprehensive SEO software package that includes tools for keyword research, competitor analysis, rank tracking, site audits, and link building.
Their tools help you study what your customers may be searching for and allows you to learn from top performing content in your industry.
Moz Pro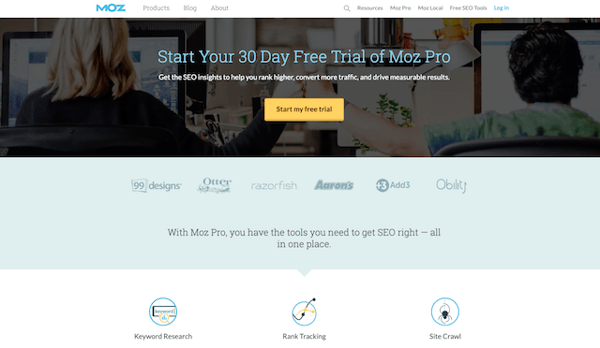 Moz provides marketing professionals with all the necessary SEO tools such as rank tracking, keyword research, site crawl, link research, analytics and reporting, and content optimization.
These tools within Moz Pro help you to improve search visibility and provide you with accurate reports that help you see where your website ranks and what your domain authority is.
Morphio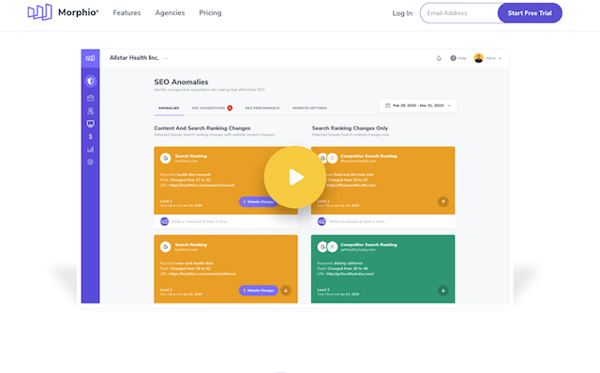 Morphio is an AI-powered tool that provides you with predictive analysis rather than prescriptive analysis.
Using their proprietary Marketing Security Software, you can forecast trends in SEO by identifying search anomalies. This software integrates well with other SEO tools to make sure your site is never outranked.
The tools also show you daily changes that show up as cards to compare your site's search ranking changes to your competitors' search ranking.
To be a leader in your industry, it is essential to be ahead of your competitors when you update content and release new information to your audience. It helps your audience build trust with your brand.
They will begin to see you as a go-to thought leader in your industry. All you have to do is conduct regular analyses and thoroughly research new and decaying keywords and content opportunities.