5 min read
Historically speaking, marketers having been living their professional lives like they are part of Starfleet from the television show and movie franchise Star Trek.
Not sure what I mean? In the franchise's futuristic universe, there is an organization known as Starfleet, a branch of the United Federation of Planets that is dedicated to "the exploration of space and the resulting scientific, diplomatic and defensive duties."
The guiding principle of Starfleet, known as The Prime Directive, prohibits Starfleet representatives from interfering with the natural development of less technologically-advanced civilizations.
The concern is that if Starfleet officers introduce advanced knowledge or technology to less advanced cultures or civilizations, it will distort the timeline of their natural technological advancement.
Building on that, the Temporal Prime Directive specifies the same in the case that a starship captain and their crew somehow finds themselves in a time travel or temporal displacement scenario.
To me, these directives are reminiscent of a traditional marketer's approach to developing and promoting content. If a piece of content was created two or three years ago, it has become outdated (or is a less advanced culture in terms of the Star Trek analogy) in comparison to the knowledge that has since been gained during that time (much like the sophisticated culture of Starfleet).
This situation doesn't have to be the reality for an inbound marketer's marketing content. You don't hold to the conventional "Prime Directive" of old school marketing and leave your past content to the natural order of things. Today, inbound marketers can take a different approach and optimize past content as part of their inbound marketing strategy through the use of historical optimization.
What is Historical Optimization?
The goal of inbound marketing content as part of a robust inbound marketing strategy is to provide useful, informative, and helpful information to visitors (and an added benefit of establishing a company as an authority and building trust with the reader). And, historical optimization, at its core, is the practice of taking old blog content and making it fresh, new, and relevant to readers by optimizing the content to:
Provide new value to readers;
Generate new traffic; and
Create new leads as a result.
No matter whether a blog post is just a few months old or a few years old, if it generated traffic that performed well and was written on a topic that people have been searching for, it's the perfect candidate for historical optimization.
How to Implement Historical Optimization
According to a HubSpot blog post by Crystal Ignatowski, the way to accomplish this is a five-step process:
Determine whether to focus on historical optimization.
If so, prioritize which posts to work on first.
Optimize the posts.
Repeat steps two and three.
Practice the art of patience.
To figure out which blog posts are ideal for this transformative process, you can use the Attribution Report in HubSpot's Marketing Platform (which is available to Enterprise level customers only — similar tools are available in Google Analytics, which can help you to determine which articles you will want to update).
This informative tool helps you to determine which posts got the most number of visitors to convert to a landing page by clicking on an in-post call to action (CTA). You may be surprised to discover that a significant portion of your visitors, views, and leads may be coming from a handful of old blog posts and not the plethora of new content your company may be creating each day, week, or month.
When optimizing historical content, what you'll want to look at (and update) includes the following types of information:
Title

: Restructuring your new blog title to include relevant keywords, emotion words, and employing other useful headline tips are essential to drafting new and engaging post titles.

Body Content

: When we refer to body content, we're talking about both the copy itself as well as any images as well. Because the title is changing, it's also important that we update the section titles and body copy to integrate core topic keywords and related keywords that will generate good results under the new SEO requirements. It's about trying to answer the questions that visitors are wondering. Furthermore, this is about updating any post images to new, relevant images and integrated alt tags.

Links (internal and external)

: Following SEO best practices, we would update our internal links to newer content, when applicable, and external links to newer, more relevant content and to get rid of any outdated or broken links.

Call to Action and Resource

: This is one of the critical components of historical optimization — after all, you're creating content that educates, however, it also needs to have a call to action, or something you want the reader to do. Your updated CTA should include updated content, and a link to a relevant resource.

Publish Date

: The blog post is unpublished and republished a minute later with a different date. What this means is that you'll want to select a particular time and day to set the post to republish that maximizes its results. This way, you'll limit the amount of time that your post is unpublished.

Website URL

: This stays the same from the original blog post.
How Bluleadz Historically Updated Our Content
At Bluleadz, we have taken the concept of historical optimization to heart. Our Marketing and Sales Manager, Rob Steffens, reviewed some of our blog posts and optimized them retroactively. One of the blogs that he performed a historical optimization on is "20 B2B Web Designs We Fell in Love With." The post addresses psychological factors in the purchase process, pricing, and decision making, while providing examples of successful B2B websites.
The post, which was originally published on July 5, 2017, was republished on June 12, 2018. Looking at the last month of the original post and comparing it to when the new post was published (May 12-June 12, 2018) to the latest month of the new content, it resulted in a 36.57% increase in views, a 200% increase in submissions, a 175% increase in new contacts, and a 0.97% decrease in bounce rate.
Concerning strictly organic results, views increased by 32.26%, submissions and new contacts each increased by 150%, and the average time on page increased by 14.35% in the same time period.
These results show that the post is doing incredibly well in the first month after updating the old content. However, what makes it even better is that these results will continue to build upon themselves and gain more traction with search engines as time goes on.
This approach to refreshing and remarketing old content is one that we look to implement across our organization as a whole. We aim to incorporate this process into the inbound marketing strategies for each of our clients to make the most use of their old content.
At Bluleadz, unlike Starfleet, we're making it our own Prime Directive to "interfere" with the natural progression of old posts and integrate new knowledge, current info, and best practices to breathe new life into our clients' old content.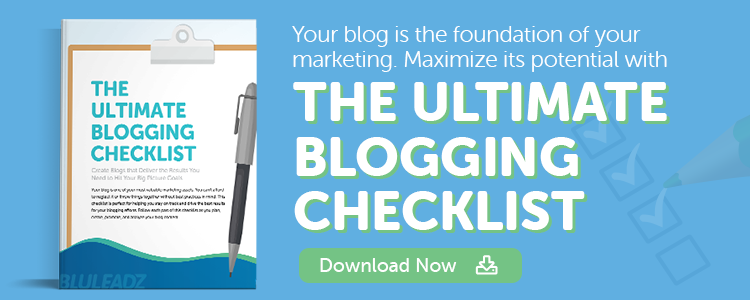 Published on July 23, 2018