In today's modern world of marketing, digital ad space is blowing up. Companies have started to shift farther and farther from traditional advertising efforts in favor of more popular digital strategies.
And what's the purpose of this? To attract prospects of course. In order to market to your customers, you have to be present in the same space as them – today, that means getting online.
In fact, eMarketer research predicts that U.S. digital ad spending will reach $129.34 billion in 2019, accounting for 54.2 percent of total media ad spending.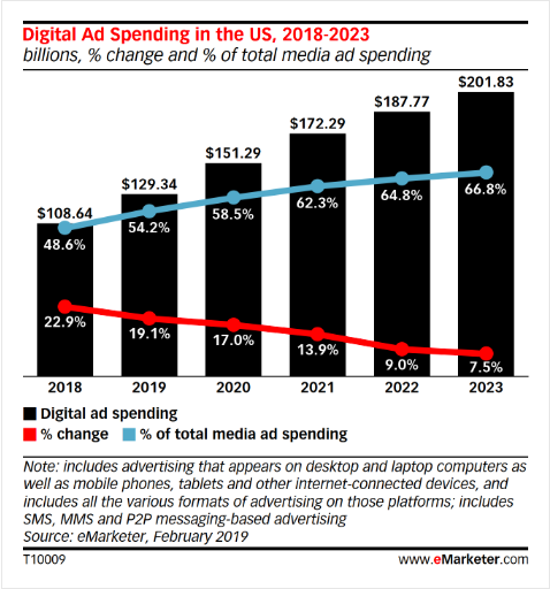 Source: eMarketer
When you're investing in digital ads, it's important to ensure that they show up in front of the right people, in the right place, at the right time. With this in mind, one of the biggest channels for digital ads is social media, as it's a universal hub for most online users.
According to the latest CMO survey, social media advertising budgets are predicted to double by 2023. Companies have now realized the immense benefits of investing in social media advertising and how it can help their business grow.
Why Advertise on Social Media?
In today's competitive market, one of the most essential ways to keep up and maintain an edge over your competition is by investing in your social media strategy. Social media engagement draws in new prospects, and if you're not utilizing it, then you're losing that potential business to your competitors.
Let's dive into the many benefits of running ads on social:
User-Generated Content
Social media engagement and advertising will open your business up to a world of benefits.
For starters, it allows access to widely popular social media influencers, and encourages user-generated content. This can make a significant impact in your sales abilities, as 50 percent of U.S. consumers say user-generated content (images and video from satisfied buyers) makes them more likely to buy a product from a brand's social media channels.
People trust user-generated content because it's unbiased, and they can see the benefits of using your products in real life situations. Using this avenue to build trust with your customers makes it possible to achieve consistent marketing and sales results.
Mobile Use Trends
Modern trends display that consumer behavior favors mobile devices, meaning people are more likely to come in contact with your brand on their phones than their computers.
Ultimately, you want to utilize any possible channels that will enable you to pop up on a person's two by four inch screen, as it's the place you're most likely to be discovered.
This mobile trend is largely thanks to the rise of social media, so that means you'll need to establish your presence on those social sites to make sure your name is seen.
Advanced Targeting and New Leads
Advanced targeting is a key feature of social media advertising that allows you to hit your marketing and sales goals. Using advanced ad targeting, you'll be able to focus your campaign toward your ideal audience, which creates a greater potential for bringing in new leads and driving sales.
According to a Curalate survey, 76 percent of U.S. consumers bought a product they saw in a brand's social media post. What does that mean?
It means you need to be advertising your products on Facebook, Instagram, and even Twitter and LinkedIn to draw in more business. So let's get started.
Ways to Advertise on Social Media
There are numerous best practices to follow when advertising on social media.
While some tactics are universal, there are some specific to individual platforms. Every platform paves the road for lead generation potential in its own way, so make sure you're utilizing each of these avenues for optimum results.
The key social media platforms to advertise on include Facebook, Instagram, LinkedIn, and Twitter. Before you get started advertising on these platforms, you need to follow one primary best practice that will help you shape all of your campaigns – set a goal.
Determining what you hope to achieve through your social advertising will help you develop targeted strategies to help you reach that goal. It's important that you establish SMART goals – so they're realistic and attainable.
For example, maybe you're hoping to generate five new leads through your social advertising. Or maybe you're primarily looking to boost website traffic, but also generate three new leads, and close one new sale.
Consider what you really want to accomplish through your social advertising efforts, and you'll be able to better align your campaigns to meet those goals.
Instagram Advertising Best Practices
Instagram is one of the best platforms to advertise your brand on, especially if you have quality visual content to share with your consumers.
Instagram offers several different types of ads, and each one reaches your audience in a slightly different way.
Types of Ads
Story Ads
If you're at all familiar with Instagram, you know stories live in the little top bar of Instagram. They're a fullscreen photo or video that users can post, but unlike regular Insta posts, they expire after 24 hours. Story advertisements appear in between user's friends' stories, so they're always slipped in nonchalantly.
Because they expire after 24 hours, story ads are great for short-term promotions, like flash sales.
Photo Ads
Photo ads allow you to visually display your products and brand through traditional, static Instagram posts. This is a great option if you have lots of strong visual content to share of your products.
You can also encourage your customers to send in user-generated photos of them using your products, and use the best ones as ads to promote your goods.
Video Ads
If you're looking for something a little bit more lively and kinetic, video ads are a great option.
Instagram users love a good video, and if you can find a way to make an entertaining clip promoting your business, then it can generate a lot of positive results.
Carousel Ads
Carousel ads allow you to include multiple photos or videos in one advertisement. The series of content should tie together to tell a story.
However, it's also a good avenue if you want to promote various products from one line of your company in a single place.
Collection Ads
Collections ads are the newest addition to Instagram marketing, but they're starting to make a big impact. They allow users to purchase products directly from your advertisement on the platform. This kind of advertising method is especially effective for companies like clothing retailers.
No matter which ad type you decide best fits your audience, there's a few best practices you should follow to ensure that your campaign makes an impact.
Write Enticing CTAs
When it comes to Instagram ads, an enticing CTA can make or break how effective it is. Encourage people to take a specific, directed action, like follow your account, visit your website, or make a purchase.
Add Brand Personality
Your ads should always be on theme with your brand to ensure that you're consistently represented. But you can do more than simply add your brand logo or stay within your color scheme – try inserting your brand's personality into your ad to give it some extra life.
What makes your brand unique? Is the voice of your company humorous and relaxed? Are your company mottos upbeat and positive? Maybe you even have a brand mascot, like the GEICO gecko.
Consider how you can inject these unique elements into your ad using creative copy and engaging visuals to set yourself apart from competitors and establish familiarity within your audience.
Use Targeted Hashtags
Instagram and hashtags go hand in hand. Hashtags can make a big impact when it comes to reaching your audience and boosting engagement, but the rule of thumb is generally to go with quality over quantity.
Try using branded hashtags and relevant tags that are associated with your target audience.
Ensure Ad Relevance
There's nothing more annoying than clicking on an ad that promises you 25 percent off a purchase, but when you navigate to the site, the sale is nowhere to be found. Users should always get the value your ad promises, or you'll end up with a very frustrated and unhappy group of people.
If consumers find your ads to be relevant and true to form, they're more likely to return to your company for future purchases.
Facebook Advertising Best Practices
Facebook is another great place to engage with your audience and create ads to boost reach and brand awareness. Just like with Instagram, there's a few key steps you can take to ensure the efficiency of your Facebook ad campaigns.
Define Your Target Audience
Target audiences are an incredibly useful tool that you absolutely need to utilize when you run a Facebook ad campaign. Target audiences allow you to place your ad directly in front of the people who you want to market to.
There are a few different kinds of target audiences, and each one allows you to create a focused group based on various criteria. You can even create lookalike audiences that resemble your current customer base.
Without a target audience, your ad could be placed in front of a wide variety of people who may find no value or relevance in it, essentially wasting your efforts and resources.
Align Your Goals with Ad Types
Establishing what you hope to achieve with this ad campaign will help you determine which type of ad you should create for maximum efficiency and impact.
Which stage of the buyer's journey is your ad going to focus on – awareness, consideration, or decision? Are you looking to boost website traffic, encourage engagement from prospects, or convert people on the edge of a decision to paying customers?
Setting these goals will help you decide what kind of ad you need to choose to best meet your needs. When deciding on which type of ad to run, consider all your options. The Facebook ad types include:
Image ads – use a single image that is relevant to what you're promoting.
Slideshow ads – combine multiple images or videos, text, and sound to tell a story.
Video ads – showcase videos to audiences in their feed.
Carousel ads – showcase up to 10 images or videos in one ad.
Collection ads – combine video, slideshow, and images with product images.
Instant experience – mobile only feature that can be used with all kinds of ads.
Track Campaign Analytics
If you're going to run a campaign, you absolutely need to track and analyze the data that results from it. For starters, try running an A/B test on your messaging and imagery to determine what makes and impact with your audience.
Throughout the campaign, make sure you're tracking the amount of engagement your campaign is receiving, how much people are taking a desired action, and whether you're receiving any leads or conversions from it.
Analyzing this data will help you determine the ROI you receive from your ad, its overall effectiveness, and how you might be able to improve your campaigns in the future.
LinkedIn Advertising Best Practices
Ah yes, LinkedIn – the professional social hub empire of the internet. It's a great place to network with fellow professionals, develop partnerships, and bring in new prospects. One of the best ways to do this is through LinkedIn ad campaigns, so let's take a look at some of the best practices for this avenue:
Test Different Formats
There are four primary formats of LinkedIn Ads – single image, carousel, video, and message. Each format comes with their own individual benefits.
Single image ads can be impactful if you use strong visuals, and carousel ads are a great way to display a more narrative train of information with visuals.
Video is possibly the most engaging format, as it grabs and holds your audience's attention. However, if you don't have any visual content to use, simple text ads are still a good option if you're looking to draw in prospects – you'll just need some enticing copy to get the job done.
Determine what you're hoping to achieve through the campaign, and consider how each format could help you do that.
Use Matched Audiences
Similar to targeted Facebook audiences, LinkedIn matched audiences allow you target specific groups of people based on defined criteria. There are three kinds of matched audiences on LinkedIn:
Account Targets
Account targeting allows you to upload a list of company names so you can target executives within those businesses.
Website Targets
Website targeting allows you to target people who have visited your website.
Contact Targets
Contact targeting allows you to use a list of emails from current contacts in order to place your ad in front of them and encourage more engagement with your brand.
Choose the audience option that will help you best meet your goals for the campaign – whether it's converting customers or fostering B2B partnerships.
Nourish Every Ad Element
In order for an ad to be impactful and effective, it needs to be well rounded in design and direction. There are four primary elements you need to pay attention to – headline, copy, image, and landing page.
The headline of your ad needs to both grab your audience's attention and entice them into considering your offer, and it needs to do this while being as concise as possible. Consider asking a question to intrigue your audience.
For example, a company posting a job ad might use questions like "Do you want to make a difference in the world?" to excite potential applicants.
After your headline grabs your audience's attention, it's up to your ad copy to convince them to take a desired action. Your copy builds upon your headline to make an offer to your audience, whether it's beckoning them to that job opening, or suggesting your products or services. It needs to both provide information and convince them that you offer something valuable
In addition to your copy and headline, an impactful image goes a long way in attracting user's attention. The image should be relevant to the offer you're making in your ad and can even be used to add value to the information you provide.
Finally, once you've got a well rounded ad design, complete with headline, copy and image, you'll need somewhere for the ad to link back to when users click on it. While many companies simply have their ads link back to the homepage of their website, we recommend creating a landing page unique for your LinkedIn ads.
This page can provide more relevant information to build upon the messaging of your campaign. It creates a good next step within the pathway to converting users into customers, job applicants, partners, or more.
Twitter Advertising Best Practices
There are three different kinds of Twitter ads – promoted tweets, promoted accounts, and promoted trends. Each one serves a different purpose and caters to a slightly different audience, so consider what will best fit your needs and help you achieve your goals.
Types of Ads
Promoted Tweets
Fairly self explanatory, but promoted tweets allow you to place a specific tweet in front of an audience of users who do not currently follow your Twitter account. It's a great option to get a message out, promote a specific offer, and more.
Promoted Accounts
Promoted accounts allow you to promote your Twitter account to users who may be interested in your brand. With promoted accounts, the primary goal is to increase your following on the platform.
Promoted Trends
Promoted trends allow you to boost a hashtag to appear on user's Twitter feeds, so it looks like it's a popular topic that is being discussed throughout the public.
Promoting branded hashtags is a great way to place your company in front of people in a more natural, conversational way to get your audience to start talking about you.
Set Your Main Objective
Once you determine the main objective for your campaign, you'll be able to choose the right kind of Twitter ad to meet those goals. Are you trying to boost followers? A promoted account might be the best option for you in that case. Or are you trying to generate awareness? In which case, a promoted tweet or trend would work well.
Each of the three types will distinctly serve varying objectives well. Twitter allows you to choose from the following objectives for your ad campaign:
Generate Awareness
Tweet Engagements
Followers
Website Clicks and Conversions
App Installs
App Re-engagement
Promoted Video Views
In-Stream Video Views
Set Up Ad Groups and Bidding
An ad group allows you to split and categorize a campaign to contain different ads. Within an ad group, you determine the start and end date of your ad, set a budget, and establish a bid type, whether automatic or manual.
You can also choose where your ad will appear, and build a target audience, just like with Facebook and LinkedIn.
Top Social Media Ads For Each Platform
Now that you know how to advertise on each platform, and the best practices to follow when you're running your campaigns, let's take a look at a few examples on each social space.
Instagram Ad Examples
SinglesSwag
SinglesSwag is one of those subscription services where you pay a flat monthly fee, and they send you a box of goodies.
And in case you couldn't guess from the name, this particular subscription service is catered toward single women, so they have a pretty clearly defined target audience.
Source: SinglesSwag Instagram
Their image use is effective because it provides a sneak peak into what consumers will be getting in just one of their many boxes if they sign up for this subscription.
Also, take a peak at that copy below the ad image – the phrase "Reserve yours before they're gone," creates a sense of urgent immediacy within consumers, which will prompt them to act now, rather than later.
It's an effective tactic when customers are on the edge of conversion – mention that supplies are likely to run out, and they'll probably bust out their credit cards.
Local Eclectic
Local Eclectic created this carousel ad to generate brand awareness and try to draw in some new customers.
A carousel ad was an excellent choice for their purposes because it allows them to display a wide range of their jewelry products, and thus creating a greater chance that a potential customer will come across a piece that they want to purchase.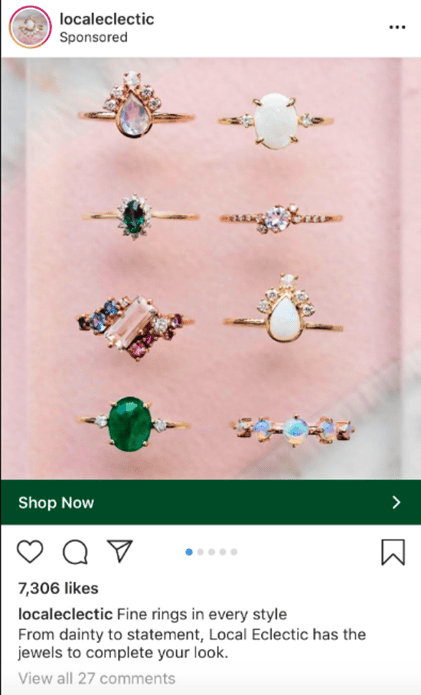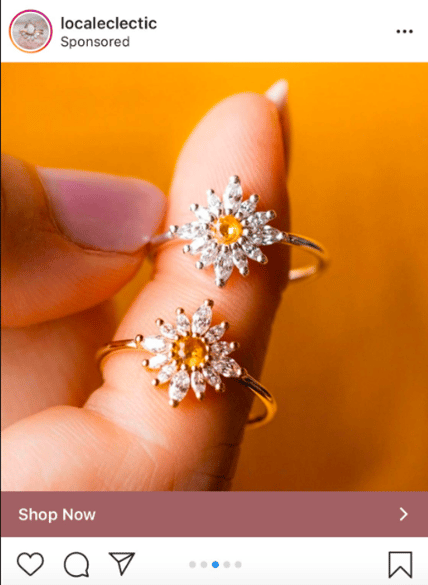 Source: Local Eclectic Instagram
Their CTA "Shop Now" brings you to their website where you can purchase the jewelry that you see, so audience members know exactly what they're going to do when they click on this ad.
Kriser Pets
Um, talk about adorable. If there's one way to attract your audience's attention, it's with a perfect pooch.
That being said, this ad targets an audience who already has a pup of their own, but you get the point – dog owners are drawn to other dog owners.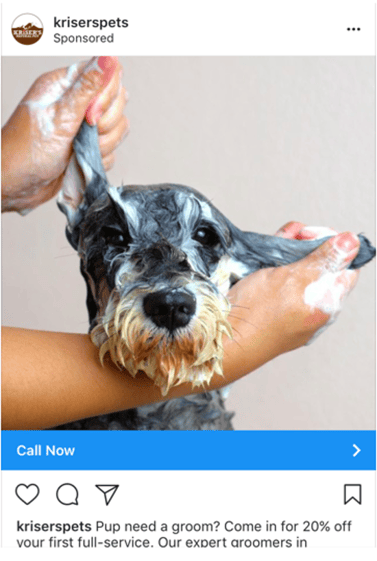 Source: Wordstream
Kriser Pets uses an adorable static image as the primary base of their ad offering 20 percent off a customer's first service with them. Their CTA is clear and creates immediacy with the use of the word "now," but also makes it incredibly easy to redeem this offer – which every consumer loves.
Facebook Ad Examples
The Points Guy
The Points Guy is an advice blog that aims to help people save money when they travel, primarily through accumulating flier miles, or "points."
His Facebook ad promotes a travel credit card that has an enticing sign up bonus. It's a tempting offer, and for those who are interested in earning extra benefits, he beckons them to learn more on his website.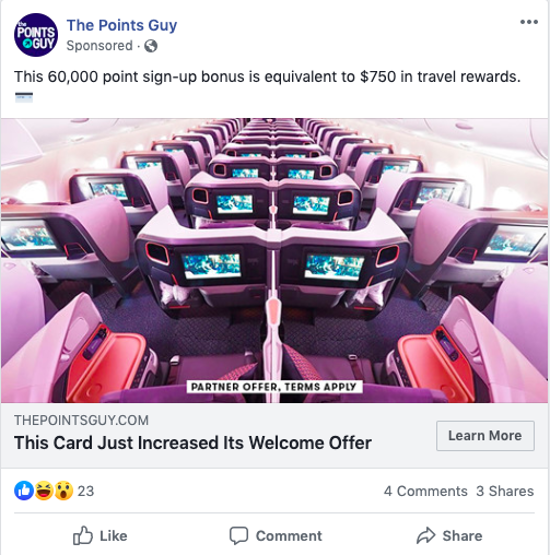 Source: Facebook
While the Points Guy isn't the one offering this credit card, he's sharing information with his audience that they may find valuable, thus establishing himself as a viable and knowledgeable resource for them in the future.
On top of his offer, he also includes a relevant image – airplane seats – to provide context to his offer, implying that the credit card can be used to save money on travel.
Reformation
Reformation, an apparel company, posted a carousel ad to feature some of their most favorable clothing lines, in pursuit of encouraging people to purchase them.
A carousel ad was a great choice for their campaign, as it allows them to display multiple articles of clothing, and thus provide their audience with a solid base knowledge of their style of clothes.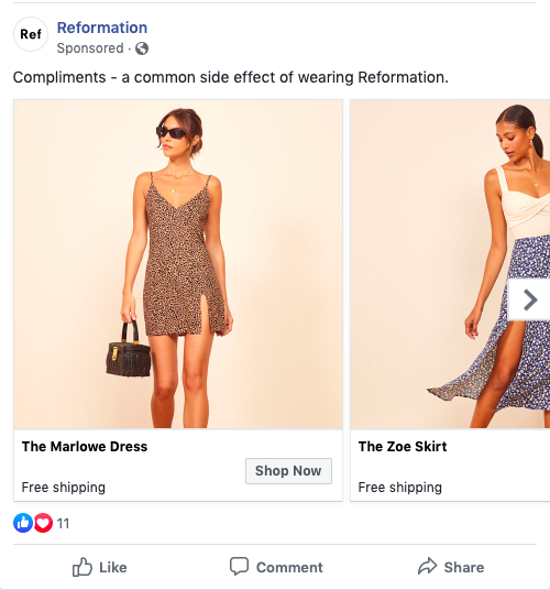 Source: Facebook
They also include witty copy in their ad – "Compliments – a common side effect of wearing Reformation," which implies that their clothes are both aesthetically pleasing and highly coveted.
Daily Harvest
Daily Harvest is a prepared meal company that delivers ingredients right to your door. In this ad, they're promoting the smoothie blends they offer their customers.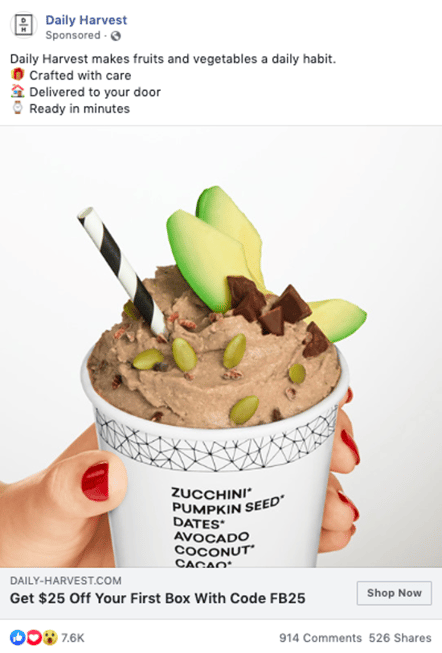 Source: Facebook
Their copy is strong, and includes three of the key factors that make them stand out in their industry: "crafted with care," "delivered to your door," and "ready within minutes."
Their messaging is somewhat ingenious actually because they cater toward our convenience hungry society, but also still promise healthy, high quality, "crafted" products.
It's the best of both worlds, and it's a highly effective tactic for attracting new prospects.
Well played, Daily Harvest.
LinkedIn Ad Examples
If you're looking to advertise to consumers, LinkedIn might not be the best platform to use. However, it's a great place for more professional and B2B focused advertising campaigns.
Take a look at a few of these examples:
Harvard
No name in education grabs an audience's attention like that of Harvard. And LinkedIn is the perfect platform for Harvard's ad promoting its business analytics program.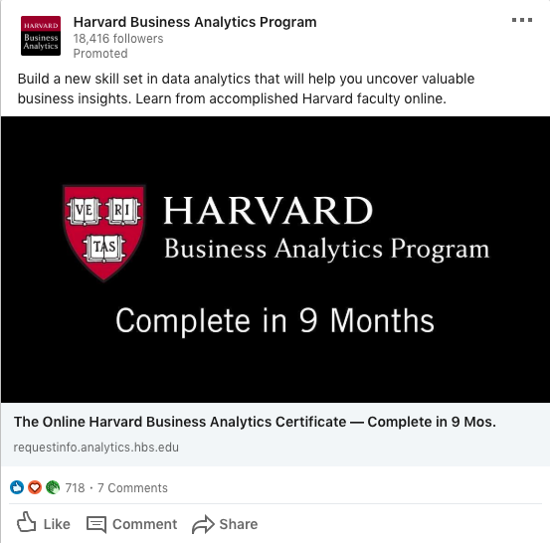 Source: LinkedIn
Harvard uses their image space to grab their audience's attention and make their primary offer, and they know just how to do it – with their logo. The university's logo and name are so well known, that it easily catches users' eye. Their offer is made plain and simple – complete the Business Analytics program in just 9 months.
Their copy makes attractive promises as well, ensuring applicants that they'll be learning from "accomplished Harvard faculty." Honestly, who doesn't want Harvard on their resume?
LinkedIn Marketing Solutions
Funny enough, even LinkedIn needs LinkedIn ad campaigns sometimes!
Why not promote your own content on your website? It makes perfect sense. LinkedIn has simply promoted a piece of content that they believe their users will find valuable, by helping them improve their own LinkedIn pages.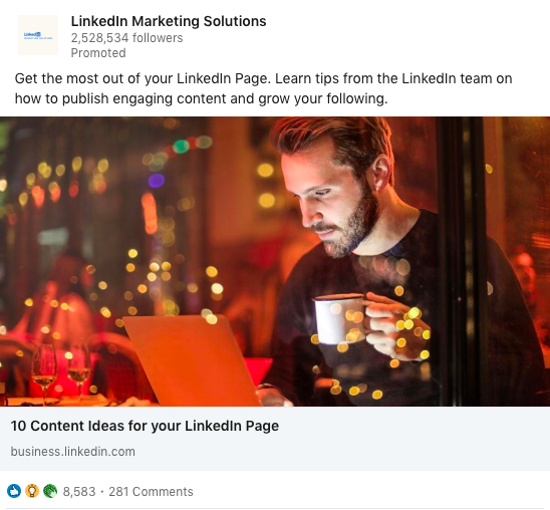 Source: LinkedIn
Notice how they've included a warm, humanistic photo in their image space to appeal to their audience – it makes you want to curl up with your own cup of coffee and read their article in a cozy place.
Act-On Software
Act-On is a marketing automation software company. Being that they work B2B, they recognized that LinkedIn was the best place for their social media advertising campaign.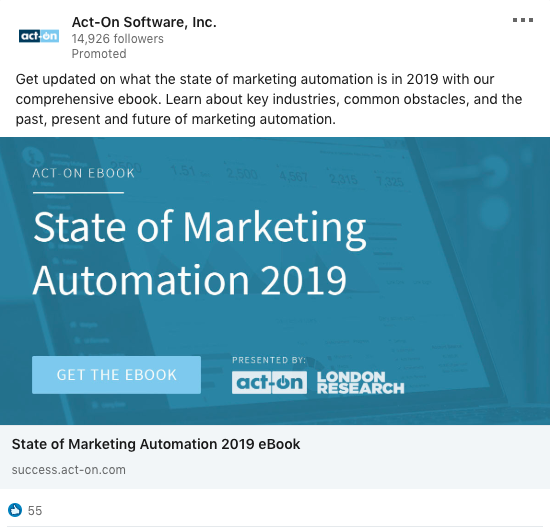 Source: LinkedIn
Similar to LinkedIn's ad, this ad promotes a piece of content they created as an informational resource for their audience – a free ebook on the state of marketing automation in 2019.
Like Harvard, they used their image space to provide an eye-catching informational header offer – people know exactly what kind of knowledge from clicking on this ad.
Act-On is likely aiming to establish themselves as a thought leader with the marketing automation industry with this campaign, and thus attract more prospects.
Twitter Advertising Examples
Southwest Airlines
Southwest promoted one of their tweets advertising their fall flight sale. Their headline and copy grab their audience's attention, asking questions like "wanna get away?" – honestly who would say no to that question?
People are always happy to take a vacation. And their promise of flights from as low as $59 (notice how it's in the biggest, boldest text of the whole ad) is click-inducing enough.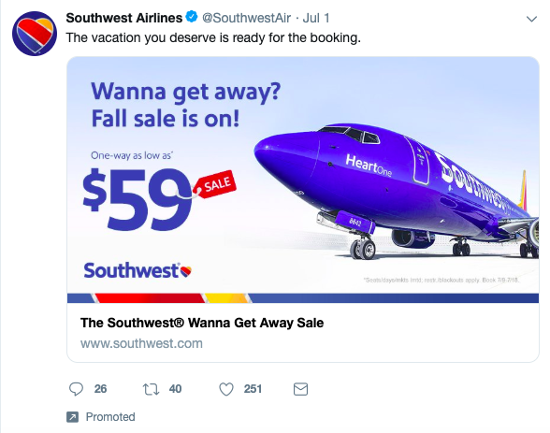 Source: Twitter
Amazon Prime Video
As you can see, Amazon's promoted Prime Video account shows up in your "who to follow" box in the right sidebar of your Twitter page.
While there's not a lot in the way of design elements or copy to critique in these kinds of ads, it is important to note that they've included their recognizable logo as their profile photo, which grabs their audience's attention.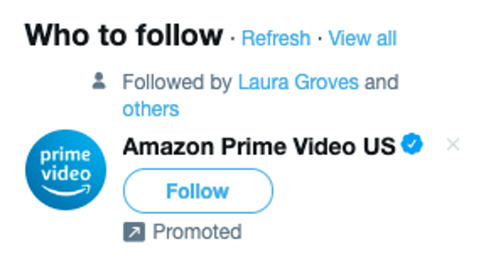 Source: Twitter
MuleSoft
Believe it or not, LinkedIn isn't the only place where you can promote content to a B2B audience who will find your information valuable. MuleSoft promoted a tweet linking to their whitepaper on the secrets of API design.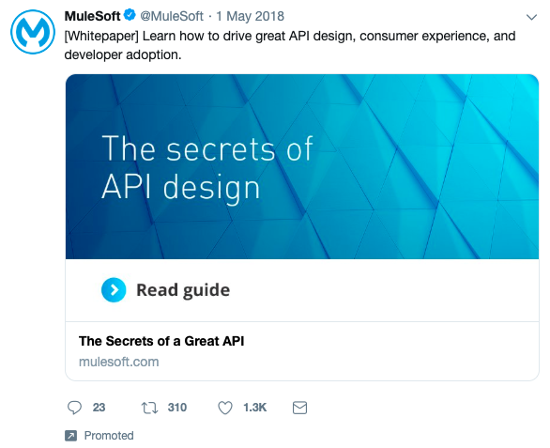 Source: Twitter
Their copy tells their audience exactly what kind of value they'll be able to get from this guide – they'll learn how to "drive great API design, consumer experience, and developer adoption." It's a resource targeted directly toward those who will find it useful, and thus, their potential prospects.
Finally, their CTA is strong and clear – it's a simple button that says "read guide." Their audience knows exactly what they're getting if they take the desired action.
Consider Individual Platform Strengths for Peak Campaign Performance
There's no two ways about it – social media advertising works. It can help you increase brand awareness, drive engagement, and bring in new leads and prospects. But in order to reap these benefits from your social campaigns, you need to find the formula that works for your company and your industry.
Each platform has its own unique strengths and weaknesses – Instagram is great for B2C marketing, while LinkedIn is better for B2B.
Consider these individual factors when you're establishing your goals, designing your ads, and determining where you're going to launch your campaign.