How to Conduct an SEO Analysis
1.

Check Your Visibility on Google.

2.

Check URLs and Meta Descriptions.

3.

Analyze Titles and Headings.

4.

Evaluate Incoming Links.

5.

Analyze Your Spam Score.

6.

Check Your Internal Links.

7.

Investigate for Broken Links.

8.

Analyze Your Web Content.

9.

Audit Your Images.

10.

Check Your Page Speed.
Search engine optimization (SEO), in its simplest terms, is the process of making changes to your website to make it more visible to search engines and improve your site's rank.
But improving your SEO isn't a process you want to simply jump into without a strategy in mind. Therefore, the best first step in developing your SEO strategy is conducting an SEO analysis.
What Is an SEO Analysis?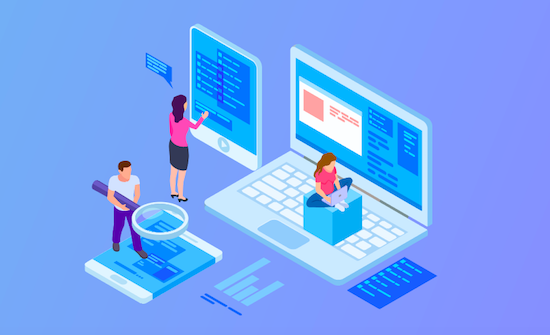 An SEO analysis sheds light on all the opportunities on your site that you can address to improve your ranking potential in search engine results pages (SERPs). It involves auditing your site and identifying where you can optimize for search engine bots.
With an SEO analysis, you can find what aspects of your SEO strategy are working and what your biggest obstacles are that are preventing you from improving your site ranking.
Why Is SEO Analysis Important?
The insights you gain from an SEO analysis give you direction on where you can improve your site's content and technical aspects to deliver a better experience for visitors and to show search engines context and relationships between your content and the search query visitors are using.
To put it simply, an SEO analysis is a must for you to rank higher, expand your reach, drive traffic, and hit your business objectives.
With an analysis, you're not taking shots in the dark; you're making strategic decisions, which reduces time and resources spent.
Without a thorough SEO analysis of your site, it's pretty much impossible to make informed decisions for improving your site's ranking in SERPs.
How to Analyze On-Page SEO: Free Checklist
Analyzing on-page SEO correctly may take some time. There are many factors involved in the on-page SEO analysis process, but with our checklist, you can breeze through your SEO audit to make sure you are optimizing your site correctly.
First, let's discuss the elements involved in on-page SEO.
What Is On-Page SEO?
On-page SEO refers to the process of optimizing one webpage to rank higher on search engine results pages in order to gain more traffic. On-page includes both the content on that page, the page architecture, and the HTML source code.
Focusing on on-page SEO is invaluable for your business because it communicates information with search engines about how your site provides value to people. Essentially, it helps your site be recognized by search engine bots and humans alike.
Poor on-page optimization can hinder your site's ability to be found through organic search. And the thing about on-page SEO is that it is all up to you. This is why it's important that you learn how to analyze it and adapt it to fit current on-page SEO trends.
Use the following SEO checklist to make sure you are optimizing a single page of content correctly.
Your On-Page SEO Checklist
Download the On-Page SEO Checklist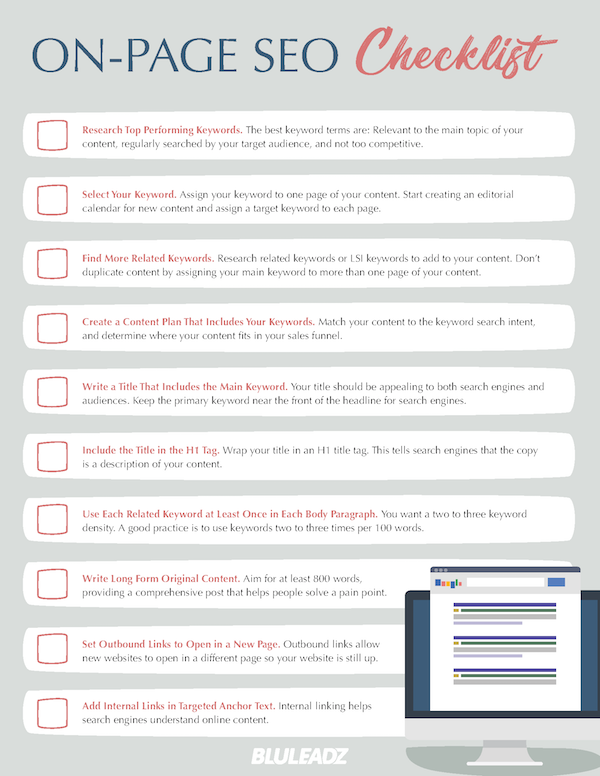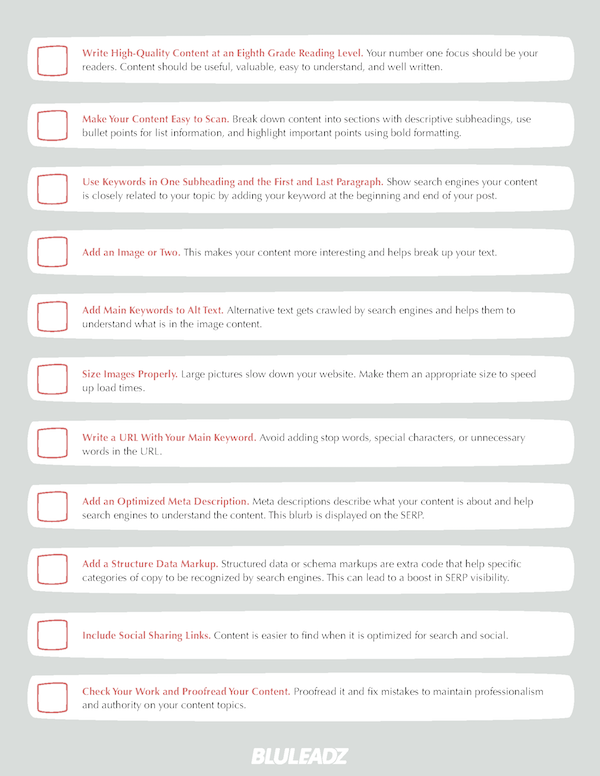 Download the On-Page SEO Checklist
Your SEO efforts don't stop at on-page SEO. You must also learn how to analyze off-page SEO.
How to Analyze Off-Page SEO: Free Checklist
Use our checklist and description of off-page SEO to deepen your understanding of how to make off-page SEO work for you.
What Is Off-Page SEO?

Off-page SEO is a term that describes the SEO activities that you and your team do outside of your website to boost the ranking of a webpage on search engines. Off-page SEO includes aspects like internal link building, external link building, guest blogging, and local citation directories and sites.
Applying off-page SEO to your strategy can help your webpage land the top spot on the search engine results page.
Use our off-page SEO checklist to begin improving your rank.
Your Off-Page SEO Checklist

Download the Off-Page SEO Checklist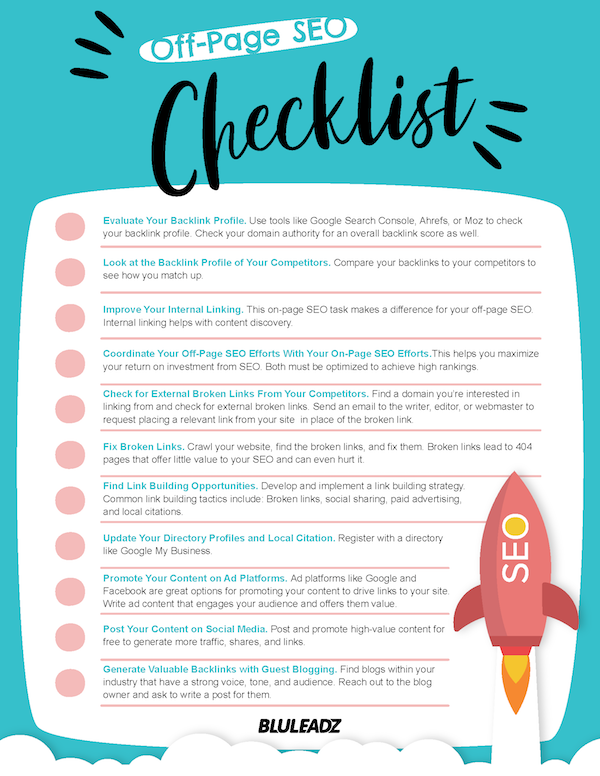 Download the Off-Page SEO Checklist
How to Perform an SEO Analysis of Your Site in 10 Quick Steps
Here are 10 key steps you should take when performing an SEO analysis.
1. Check Your Visibility on Google.
via GIPHY
How does your website rank on Google? What's is average position in the SERP?
When beginning your SEO analysis, it's important to start at a bird's eye view. Identify how many of your website pages are ranked in the search engine, and get a better understanding of your overall website visibility on Google.
2. Check URLs and Meta Descriptions.
URLs should be shortened down to about four to five words that describe the content that's on the page. For example, our article "How to Use Google Site Search to Crawl Your Entire Website" has a simple URL of "how-to-use-google-site-search."
If your URLs are long or irrelevant, you can choose to optimize and edit them so search engine bots better understand what's on the page. But, be warned, this can affect the link juice of the old URL.
You can edit meta descriptions as much as you want, however. Your meta descriptions should include primary and secondary keywords and properly sum up what your page is about.
3. Analyze Titles and Headings.
Titles should be attention-grabbing and encourage users to click on them. In both your titles and headings, ensure that you are using the proper SEO keywords for your page.
Keep in mind that high search volume keywords can be difficult to rank for, so try to find a long-tail keyword that is a little less competitive and will improve your chances of showing up on the first page of a SERP.
4. Evaluate Incoming Links.
Inbound links, also referred to as incoming links or backlinks, are links to your site that are hyperlinked on another site. Backlinks can act as indicators to search engines that your website is a trustworthy source, so they can really impact your SEO ranking for the better.
Analyze the incoming links to your site to help you see who is linking to your business and give you a better understanding of what you need to do to improve your search rankings.
5. Analyze Your Spam Score.
via GIPHY
Your spam score can increase if you have a lot of incoming link from low-authority websites. Therefore, as you're analyzing your inbound links, try to eliminate any "bad" inbound links.
To remove bad backlinks, you can try to contact the webmaster and ask them to remove the link from their page, or you can surpass that step to disavow the link.
6. Check Your Internal Links.
Internal linking is a practice that involves adding links to other pages on your website to help visitors navigate to different pages.
Internal linking is actually a great SEO tactic to help improve your rankings in the search engines. Plus it can improve the user experience.
Go back into newer and older website pages and add internal links to other relevant pages on your site. Keep in mind keywords and anchor text best practices.
7. Investigate For Broken Links.
via GIPHY
Broken links affect user experience and can negatively impact SEO, so be on the lookout for any broken links on your site.
To fix broken links, you can correct them by ensuring proper spelling, or you can complete a 301 redirect to a different yet relevant URL.
8. Analyze Your Website Content.
Content plays a huge role in the SEO of your website. Check for any duplicate content, which is an SEO red flag, and de-index or remove it if necessary.
Also, ensure that your content is high quality and error-free. Start with your most popular pages, then work your way down to smaller posts and pages.
9. Audit Your Images.
Because search engine bots can't crawl your images, it's important that you optimize your images with proper alt text to describe the appearance and function of that image.
Another image optimization tip to follow is to compress your images to reduce their size, which can help improve page load speed. One tool we use at Bluleadz is ImageOptim.
Speaking of loading speed...
10. Check Your Page Speed.
Your page speed actually can influence your website's SEO and overall user experience, so you should be keen on consistently analyzing your load speed to ensure your website is running quickly and efficiently.
For a quick page load speed test, you can use Google's PageSpeed Insights tool.
BONUS. Let Us Do This For You.
Doing your first SEO audit can seem like climbing a mountain. Really big. Really scary.
If you want to make sure your first audit is done right, our inbound specialists can put together a Technical SEO Audit report in 2-3 days and give you a list of things to do to enhance your website.
The 10 Best SEO Evaluation Tools
We get it – performing an SEO analysis is time consuming. No one's got time for that. If you're a busy company, you don't have all day to sit at your desk and manually note every tactic you've ever set in place.
via GIPHY
Luckily, with today's age of technology lovers, there are some handy tools that can perform an SEO analysis for you, leaving you to focus on other result-crushing efforts.
Ahrefs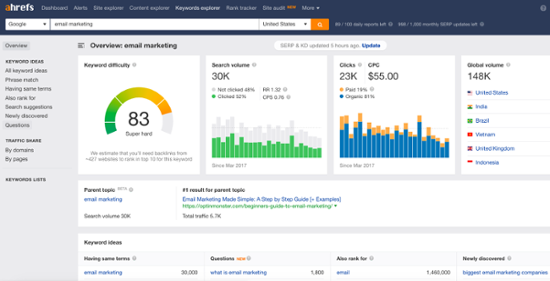 Ahrefs has been our go-to SEO analysis tools as of recent.
You can honestly get lost in this resource... in a good way, of course. The numerous tools on this site will help you identify top-performing keywords, discover content gaps you should jump on, and even spot critical errors – like 4XX redirects, broken links, and images – you should fix to improve your site health.
$$$$: Seven day trial for $7, then plans starting at $99/month
Top Features of Ahrefs:
Keywords Explorer: Find new keyword ideas based on suggestions, difficulty, and see which domains are currently ranking for them.

Content Explorer: Identify the most shared content about any particular topic.
Site Audit: Crawl your website to spot errors, warnings, and notices, and learn how to fix them quickly to improve your site health and performance.
Content Gap Analysis: Match your site up against any of your competitors to understand what keywords and topics they are ranking for that, and identify the topics and keywords you can target. This will allow you to craft your content strategy accordingly.
Moz Pro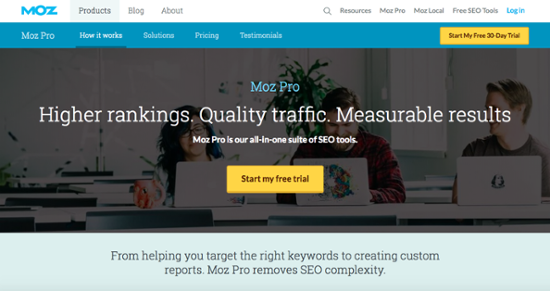 Moz is one of the most highly recommended SEO tools to measure, monitor, and grow keyword performance all in one platform.
While Moz Pro is a paid service, there are free (but limited) Moz features available for anyone looking to boost their page rankings. To get more searches, sign up for a free 30-day trial with Moz Pro to oversee marketing campaigns before moving on to the paid version.
$$$$: Free 30-day trial period, then plans starting at $99/month
Top Features of Moz Pro:
Keyword Explorer: Discover top-performing keywords based on difficulty and volume.

Site Crawl:

Find issues that affect how your site is crawled and learn how to fix them.
On-Page Optimization: Get new content suggestions based on pages that are ranking with similar keywords
Link Explorer: See how your domain authority stacks up to your competitors and track what links they are ranking for.
HubSpot's Website Grader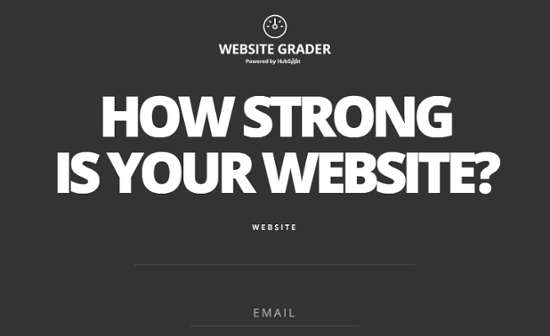 If you don't know already, we're big HubSpot connoisseurs (and Diamond Partners!). So, it wouldn't feel right not including them in this SEO analysis tool list.
Head to the Website Grader site, enter your website and email, and in the blink of an eye you'll be able to answer the question, "How strong is your website?"
While this might not be the most elaborate SEO audit tool in this list, there's a huge benefit to checking out this site: the price! Plus, under each score and description, you'll find a handy "Read More" that will direct you to an article answering the questions you probably have.
$$$$: Free!
Top Features of Website Grader:
Performance: (Scored 0-30) Calculates page size, page requests, page speed, browser caching, compression, and more.
Mobile: (Scored 0-30) Views your website in mobile mode to see if your website is mobile responsive and has an effective website viewport.
SEO: (Scored 0-30) Checks page titles, meta descriptions, headings, and sitemap presence to make sure they're optimized for user search and SEO ranking potential.
Security: (Scored 0-10) Determines whether or not your websites has an SSL certificate.
SEMrush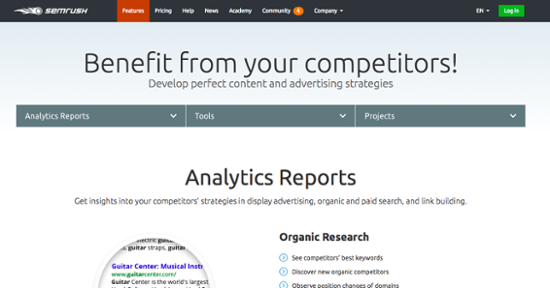 Adding to the number of paid services on the list, SEMrush is another must-have tool for its detailed domain reports. Your dashboard will automatically display the positive or negative changes in organic keywords and traffic plus paid ads keywords and traffic compared to previous time periods.
$$$$: Plans starting at $83.28/month (billed annually) or $99.95/month (billed monthly)
Top Features of SEMrush:
Domain vs. Domain: Compare your site with similar websites to get performance and ranking insights of your organic/paid keywords against your biggest competitors.

Keyword Magic Tool: Gather new, fresh keyword ideas and create up to 50 target keyword lists to use for future content.
Site Audit: Monitor your site health and locate urgent SEO issues on your website.
On Page SEO Checker: Analyze the Google ranking factors that might be affecting your website performance, and find new ideas for strategy, backlinking, content, and more.
Google Search Console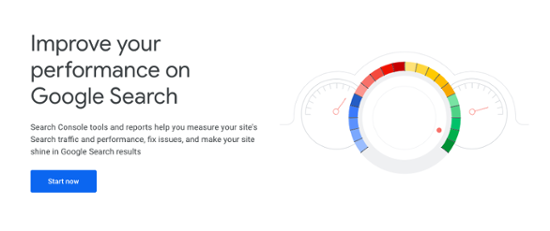 Formerly known as Google Webmaster Tools, Google Search Console is one of the top SEO analysis tools around. Since we look to Google for just about anything these days, why not look to them to help improve your business' site performance too?
Using this tool allows you to see your website just as Google sees it. Monitor your overall performance from clicks and impressions, and even toggle based on query, pages, devices, search appearance, and more.
$$$$: Free!
Top Features of Google Search Console:
Coverage: Discover errors and warnings on your site that may be affecting your overall site performance.
Links: View the internal and external links present on your site, as well as the top linked pages for both.
URL Inspection: Inspect any URL in your domain to check its performance to ensure it's crawlable by Google, mobile-friendly, and more.
Found's SEO Audit Tool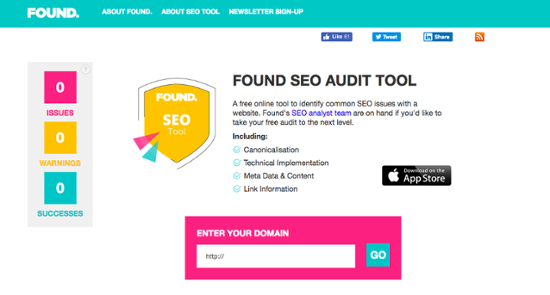 This SEO audit tool is another excellent – and free – tool your business should save in its bookmark tab.
Simply type in your domain, and watch Found break down your entire website into issues, warnings, and successes. It's nice to get applauded on your hard work sometimes, and Found gets that!
This simple tool analyzes everything from canonicalization and load time to analysis on links, headings, keywords, images, and more. It's worth checking out if you want a quick tool to help you improve your SEO efforts.
$$$$: Free!
Top Features of Found's SEO Audit Tool:
Canonicalization:

Ensures your canonical URLs are properly functioning and there are no outlying errors.
Keywords Analysis: Breaks down your top 10 keywords used on your website, noting count and density.
Moz (Formerly SEOmoz) Analysis: Identifies page and domain authority and highlights the top inbound links ranked by Moz.
Majestic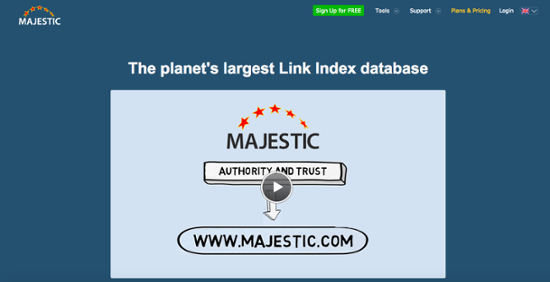 Majestic has a variety of free and paid tools for measuring search volume, but it is most notable for its ability to report on backlinks, which is a big factor in page rankings.
Google views backlinks as "votes" for the popularity and relevance of your site. The larger the number of backlinks, the higher your page is ranked on search engine result pages.
$$$$: Three free tools; Plans starting at $49.99/month (billed monthly) or $41.67/month (billed annually)
Top Features of Majestic SEO:
Backlink History Checker: Determine how many backlinks a domain, subdomain, or URL is getting.

Search Explorer: View page titles and URL that have a particular keyword, as well as the Search Score for the URL

.

Clique Hunter: Find domains that currently link to one of more competitor.
Screaming Frog SEO Spider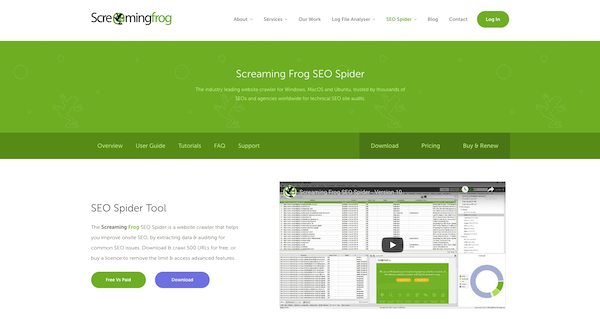 Screaming Frog's SEO Spider tool has a free and paid version that allows you to crawl website URLs so you can retrieve key website elements to analyze for SEO purposes.
The free version allows you to crawl up to 500 URLs, and the paid version gives you access to additional features with the purchase of a license to crawl more URLS.
$$$$: The paid license costs about $200 billed annually.
Top Features of Screaming Frog SEO Spider:
Find Broken Links. Crawl a website and discover 404s and other server errors to fix.
Analyze Page Titles and Meta Data. Identify page titles and meta descriptions to see which ones are too long, too short, or are duplicated on your site.
Integrate with Google Analytics and Search Console: Check out site crawls in greater detail to gain more insight when you connect to Google Analytics and Google Search Console.
Extract Data With XPath. Collect data from a webpage's HTML using regex, CSS path, or Xpath.
WooRank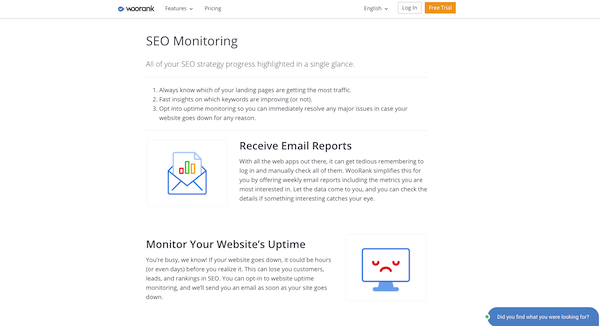 WooRank has various tools that run website analyses. The reviews provide you with detailed data, site maintenance suggestions, sales tools, ranking keywords, and custom reports.
The data they provide can be used to help companies rank higher on SERPs. WooRank has free and paid tools, and they have a free Chrome extension called SEO Analysis and Website Review by WooRank.
$$$$: Paid plans start at $59.99/month.
Top Features of WooRank:
SEO Monitoring Tool: Know which of your pages is getting the most traffic.
Keyword Tool: Understand your current keywords compared to your competitors, and search for new keywords.
Site Crawl: Fix site errors, and track security and redirects.
SEO Site Checkup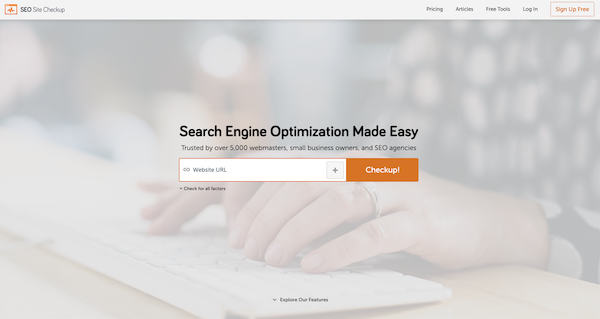 SEO Site Checkup provides you with SEO analysis and monitoring tools that allow you to see how your site is doing with one click. You can check your site's backlinks and analyze your competitor's strategy.
$$$$: SEO Site Checkup has a free trial for their toolbox. Their pricing starts at $24.95/month for the basic plan and goes up to $79.95/month for the professional plan.
They also have free tools, like an SEO friendly URL test and sitemap test.
Top Features of SEO Site Checkup:
Professional SEO Monitoring: Keep track of weekly SEO changes and get a new score when something changes.
Unlimited SEO Analysis: View progress and past work with stored reports.
SEO Reports: Get detailed reports and tutorials on how to fix issues.
An SEO analysis is vital to your long-term success. When you have the right tools in place and develop a strategy for conducting the analysis, you're well on your way to improving your rankings.