I'm probably going to get in trouble for this, but it's time to draw the curtain back so you can get a sneak preview of what it is like working here at Bluleadz (BZ).
If you're reading this article, you've either read a few of our blogs, following us on social media, are looking to hire us (fingers-crossed), are hoping to join our team, or you're the CEO of Bluleadz thinking, "Ok, what am I gonna do with Karey?" Either way, this article is for you.
Who Am I?
First, let me introduce myself: I'm Karey and I've been working here at BZ for almost 2 years now as a Designer/Developer. I was born and raised in Jamaica and came to the U.S. in my late teens.
I went to college in Florida initially for Architecture but long story short ended up with my degree in Digital Designs. I've never really been interested in marketing, but I guess in some way, I've always known marketing was going to be my career path.
In my adult life, I've worked for a few other companies where I was either responsible for teaching my team the marketing strategy, or the importance of positioning certain products in certain parts of the store to get the most sales.
I was also responsible for designing marketing materials, such as product packaging, displays and other items, as well as helping out with the layout strategy for trade shows to get the most attention for products. Then, by some twist of faith, here I am today at Bluleadz.
What to Expect After the Interview
A few days after the interview with Bluleadz, I got a welcome email from, Eric (the CEO of Bluleadz) with an attached video:
Well, let's just say, I shared it with everyone I knew. It was a super, super welcoming video. Their personality/atmosphere was exactly what Eric portrayed during the interview process.
Let's fast-forward 2 weeks later to Day 1, when I started working here so you can get a better idea of what i'm talking about.
Day 1
After officially meeting the team, my first impression was "Wow, this is exactly as-seen-on-TV." What you see is what you get. They seem to not only enjoy what they do, but are also very passionate about it.
It's basically a teaching/learning culture. Trust me, the team and their culture aren't like those from your typical workplace. If you don't believe me, come hang out with the team for a day or 2 (OK, you should probably confirm that with Eric first) and you will see what i'm talking about.
I quickly noticed that I was surrounded by talented, hard-working young professionals that could help me become the best version of myself. They have every aspect of Inbound Marketing covered, from copywriters and designers/developers to a videographer, sales team, Inbound Marketing Consultants, paid media specialists, strategists, and a project team; Oh, let's not forget the CEO.
All of these people, including the CEO, are willing to (at a moment's notice) help with ideas on how to improve any given project. As Steven (one of our lead developers, here) once put it, "It's OK if you don't know how to do something because it's our job to teach you what we do know."
One of the things I really appreciate about this team is their differences and how these differences all lead to one objective: to make sure that everything we do is awesome!
Now, notice that I said "teaching," because that's important here. When we bring on a new team member, we don't expect them to know everything about inbound marketing, but what we do expect is for them to be passionate about their deliverables to clients and take responsibility for what they do.
If you haven't figured it out yet, this is a part of our mission statement,
Everything We Do Must Be Awesome. Take Ownership, Be Self Motivated & Reliable. Do The Right Thing. Be Passionate & Have a Positive 'Can Do' Attitude. Treat Everyone With Respect, Honesty and Consideration."
What Does This Mean for Our Clients?
Well, in order to give our clients the best, we first need to ensure that the people that are responsible for producing those deliverables are capable and properly trained in order to execute those tasks.
In order to accomplish this, Eric (our CEO) is big on continuous learning; so, even on just Day 1, he'll throw some books at you and try to get you HubSpot Certified.
This is to ensure that each team member has a deeper understanding of what it is that we're trying to accomplish, and how inbound marketing really works. So, yes, the people that work here are all HubSpot-certified in one specialty or another.
Eric will also put new team members on a team that is responsible for contributing to their success. At Bluleadz, we believe that your success and failures = the company's success and failures, literally.
Because of how close the people are that work here, everyone in the company gets super happy and pumped when one of us receives a success story either from one of us (internally) or from a client.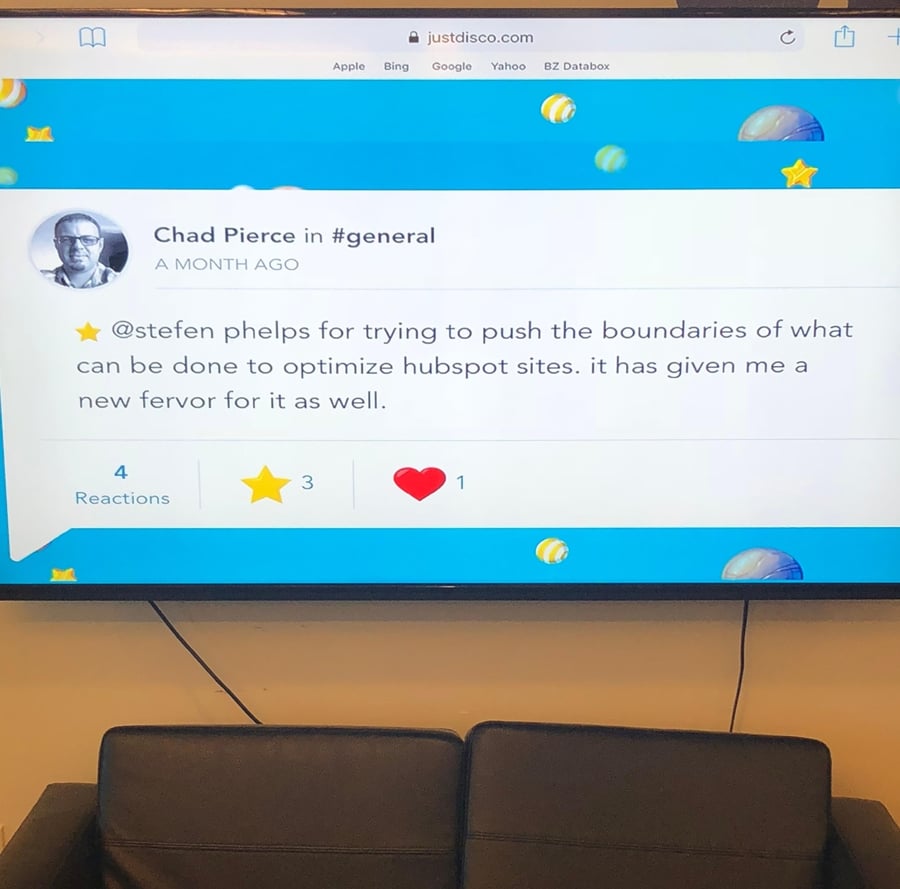 We all review each other's work to ensure that we create continuous, high-quality deliverables for our clients that will bring in more qualified MQLs (Marketing Qualified Leads) and SQLs (Sales Qualified Leads).
Organization Method for Our Clients
I won't dive too deeply into this, but for those of us who aren't familiar with agile marketing and/or scrum, Jira is a project management software that is used for planning and tracking projects from start though completion.
Utilizing the agile/scrum methodology, this software helps us keep things organized and transparent, so we can better manage the workload for our clients.
It also helps us focus on the things that are really going to drive traffic, leads and customers for our clients. So, as we start our weekly sprint (this is basically a set of projects that needs to be accomplished within a certain period of time), we prioritize our weekly goals/tasks per team and tackle the projects per priority (Top to Bottom).
BZ Culture: Who Rang the Bell?
One of the things you will notice as you walk into our office is that there's a bell nailed to our wall. Yes, you read that correct: a bell. This is basically the "Holy Grail" of Bluleadz. What does this mean? Well, unless you've closed a deal with a new client, you're not allow to touch it.
So, why do we have a bell? This helps us motivate our team, as well as maintain transparency across the agency that we're getting new clients and that the company is growing. This gives each person in the company another chance to take on new projects and learn about new industries.
Did I also mentioned Eric will pop out of nowhere and say "Who rang the bell? Did we close another deal?" if you accidentally touch or rang the bell? Yeah, if you did, you better have a solid explanation as to why.
Oh, I also forget to mention we have tons of goodies, snacks and beverages in the kitchen that we replenish every 3 or so weeks. We also have Pizza-Pay-Day that Eric buys for the whole office. Get ready to dive in on day one!
All that said, what we do is not easy. Anyone who says Inbound Marketing, or marketing in general, is easy is lying to you. This takes lots of patience, continuous learning/brainstorming, and maybe some trial-and-errors here and there.
However, that's also the beauty of what we do. Every day brings a new set of challenges, such as trying to figure out what really makes our clients' personas (their ideal clients) tick; there's no better feeling than when you overcome those challenges and see all your hard work pay off!
If you're thinking that everything here is perfect, then you're wrong. Keep in mind that we're all human, so there's no such thing as perfection. There are days when clients would send us an email saying how awesome of a job we're doing, while there are days when a client kick our butts and we have to regroup and rethink our strategy because it's not what they've envisioned.
While it hurts and everyone in the company feels it, it just makes us stronger as a team. It's not necessarily what you did that will determine your future, but rather what you've learned from it.
However, if there's one thing you should keep in mind when either working with or working for Bluleadz, is that we will give you our best. We practice what we preach. Watching our clients lead gen and conversion rates go up, and watching each other grow and apply what we've learned are what keeps us coming back every morning.