Inbound marketing has been around for a while now and is becoming more and more popular, while traditional marketing tactics have become a trend of the past.
According to the HubSpot 2014 State of Inbound Marketing Report, nearly 85% of marketers are practicing inbound marketing. That number has increased by about 25% since the 2013 report.
Traditional Marketing Tactics are Becoming Obsolete
Traditional marketing tactics are not nearly as effective as they have been in the past because our culture has developed ways around it. For instance, SiriusXM and iTunes Radio allow you to stream music without having to listen to commercial advertisements. You can opt out of TV commercials by having a Netflix or HBO subscription, or you can record your show and watch it later while fast-forwarding through the commercials. By now, almost everyone has Caller ID which allows us to ignore calls from unknown numbers. Not only that, but the "No-Call" list exceeded 223 million people at the end of Fiscal Year 2013.
As for newspapers, the "exclusive" stories they used to have are now diminished considerably due to social media. This, by default, rules out the "new" factor from print ads, as well. The list goes on and on.
Simply put, traditional marketing is impersonal, expensive and outdated.
Content (Marketing) Works for You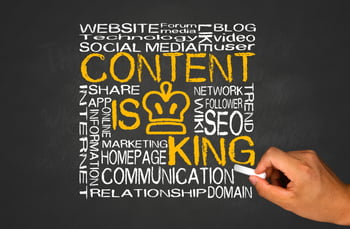 The internet has become part of everyday life, and with the abundance of smartphones and tablets, information is easily and readily accessible at our fingertips.
Inbound marketing focuses on attracting visitors to your company's website based on the quality of content you provide rather than trying to force the attention from a consumer. If you can create valuable content that is frequently published and distributed appropriately, you're going to attract highly qualified traffic and leads to your website.
There are tools and software designed for supporting your inbound marketing campaign, such as HubSpot. This marketing automation software allows companies to make the most of their time by providing a user-friendly platform that connects all of your online activity in one place.
It's Effective and Affordable!
If you're wondering whether inbound marketing actually works, take a look at this statistic: The 2014 State of Inbound Report states that more than twice as many marketers found leads through inbound marketing (45%) than through traditional marketing (22%).
There are many components involved in an inbound marketing campaign that make it essential to finding balance and consistency with all of your activity. Some of the major components include:
SEO Best Practices
Creating/Managing Quarterly Campaigns
Setting Monthly & Quarterly Goals
Implementing Diverse Offers (eBooks, whitepapers, case studies, etc.)
Social Media & Brand Monitoring
Promoting Content
Analyzing Data
Marketers who are still using traditional marketing have reported a 61% higher cost per lead compared to those using inbound marketing. Only 22% of leads are from traditional marketing. For those of you who are still using these traditional marketing tactics, I highly suggest that you start thinking about implementing inbound marketing where you can. After all, who wouldn't want twice as many leads for more than half the cost. Remember that some of the components involved with inbound marketing, like blogging and social media, don't cost anything; however, it's important to remember there is no shortcut to take.

HubSpot or Not?
A study was completed by using 14 B2B and B2C small businesses who use inbound marketing-- their results were measured by whether they use HubSpot or not. Half of the businesses were HubSpot users, while the other half were not. The study was completed over a 12 month time period with each business having the same level of services and same number of blog articles published during the 12 months.
The two main components that were measured were organic traffic and lead generation.
The study found the following results:
HubSpot users saw an average increase of 590% in their organic traffic in just one year while non-HubSpot used only saw an average increase of 170%.
The increase in lead generation did not have as significant of an increase, but it was still very notable.
HubSpot users received 125% more B2B and 294% more B2C (415% more total) leads than businesses who were not using HubSpot.
Do You Agree?
If the HubSpot stats above weren't enough to convince you that inbound marketing is here to stay, you're not going to want to wait another few years for the next study to come out before changing your mind. If you have any questions on how your company can get started, contact us and learn about our 90 Day Roadmap where we can work together to launch your first campaign!