This blog is a comparison of Wistia and YouTube analytics; which platform has analytics that are clearer and easier to interpret than the other? Which offers a greater scope of data? Which has analytics that make the most sense for your business and video marketing goals?
The differences between Wistia and YouTube analytics come down to the fundamentals of each platform. Wistia is a video hosting and marketing platform for commercial websites and organizations; YouTube is by and large a social media platform for sharing videos and engaging in conversations about those videos.
The most valuable statistics on Wistia are those that concern:
Timeline actions:

in-video lead capture forms, CTAs and links

Engagement:

how much of a video viewers watch and rewatch

Tracked audience:

audience members that have filled out a lead capture form ("turnstile") within a video
Conversely, the most valuable stats on YouTube include:
Traffic sources:

where video viewers come from

Views:

overall view count

Like Wistia data, engagement:

how much of a video viewers watch and rewatch
Here's a side-by-side comparison of engagements stats for Wistia and YouTube (respectively):

Not a huge difference in what you're getting, right? As you can see, the engagement analytics are sufficient for each platform, with Wistia's re-watch (orange) graph being particularly useful. This comes as no surprise as engagement is a universal key performance indicator for video—perhaps more so than overall view count in some instances, such as for videos hosted on landing pages.
Wistia Stats for Marketers and Businesses
As the purposes of Wistia and YouTube are different, users can expect to give certain statistics more attention than others for each platform. On Wistia, engagement and timeline actions are just as important as raw view count. As you determine what videos are hosted on what pages, you don't need to worry about traffic source—this is information you can analyze with great depth inside of your CRM (such as HubSpot).
Here's a Wistia stat overview for one of our supplementary blog videos: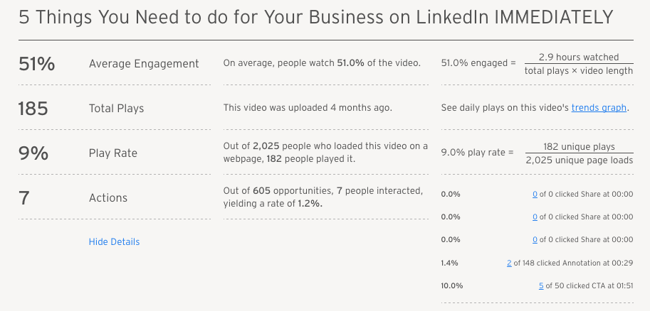 As you can see, Wistia takes home the award for easy interpretation. They even offer one-sentence explanations for each listed KPI. What's great about the Wistia user interface is that all data for a given video is located on one page; all heatmaps, action data, engagement stats and the live user view stream can be found in one location.
Comparatively, YouTube offers more in terms of broad audience data and demographics, but data for most KPIs are spread across several pages, tabs and buttons, which may make it difficult to see the "bigger picture" on your video's performance.
Wistia and HubSpot can be integrated, as well; with this integration, video watch, rewatch and timeline action data is automatically added to that user's contact timeline in HubSpot. For marketers and businesses, Wistia's many integrations, timeline actions and customizations make up for losing the reach and SEO potential that YouTube has, at least in terms of website videos and video marketing content.
One other key analytic feature that Wistia benefits from is its built-in heatmapping. Another component of the Wistia/HubSpot integration, Wistia's heatmapping tool provides very clear engagement data for each individual video, viewer and project. This is a particularly valuable feature for sales videos and videos placed on landing pages and thank you pages.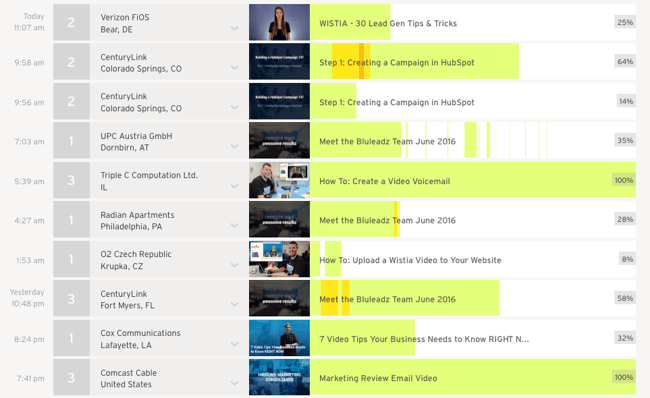 Wistia videos can be uploaded into Projects, which are essentially parent folders for your videos within Wistia; essentially, the Wistia version of YouTube's Playlist option. Using Wistia's Trends tool, you can analyze viewer trends for all videos and individual projects for any chosen date range. While this is similar to YouTube's Playlist analytics, it's presented in a much more actionable way on Wistia than on Youtube: it's immediately clear what's working and what's not, which leads to smarter and quicker changes to your video marketing strategy.
YouTube Analytics Explained
While YouTube videos can be embedded on websites, this is not what the platform is made for: it's intended to be a social media platform. Audiences use the platform to share videos, start conversations and explore new content, and that's something that businesses looking to market with YouTube must consider.
Additionally, as YouTube is a social platform, it's much easier for businesses to log demographic information and feedback (likes/dislikes) from users. For instance, in this screenshot, we can see how much of a given video users watched by age bracket: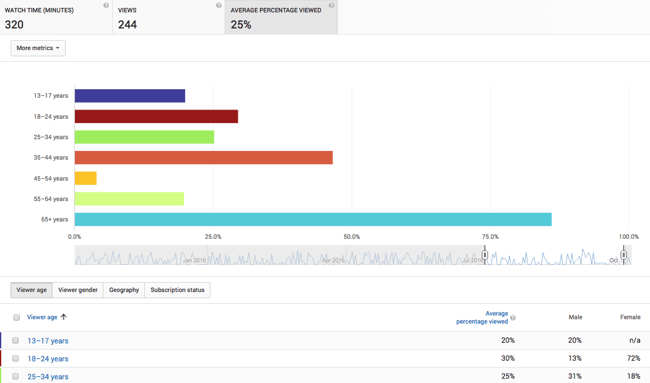 Due to YouTube's social nature, it captures a good deal more information about users and behaviors than Wistia.
That said, all of this additional information comes at a bit of a price: one of the drawbacks of YouTube's analytics tools is that the system is very cumbersome compared to Wistia's streamlined analytics tools. This makes interpreting data across videos, playlists, projects and demographics more complicated than it needs to be.
Wistia's analytics are to-the-point and direct immediate action to improve performance; YouTube's analytics are all-encompassing and can be refined more so than Wistia. As a social media platform, YouTube Analytics can be very powerful and inform you of just who your video content is reaching and how engaged that audience is with your content.
The Verdict: Which is Best for Business?
Wistia's video analytics are concise and help you form clear, actionable decisions regarding your video marketing strategy, but aren't as granular as YouTube's analytics. YouTube video analytics cover a larger scope of data, such as demographics, playlist data and subscriber information, but can be a bit unweildy and confusing for new users.
If you think about it, this makes complete sense. You don't need to know your audience's birth year to have them fill out a video form for a consultation. The reason YouTube Analytics include the scope they do is because users create their own accounts on the platform to share videos and engage in conversations. In video marketing, you're not trying to start a comment forum below your video; you're trying to convert. This is where Wistia shines.
YouTube is great as a social media platform and tool for increased SEO. Wistia is awesome for video marketing and lead generation.

Beyond analytics, there are several differences in features between the two platforms. YouTube is 100% free, while businesses must subscribe to one of Wistia's premium tiers to make the most out of the platform. However, Wistia is ad-free, while YouTube's Suggested Videos may lead your viewers to similar videos made by virtually anyone—including your direct competitors.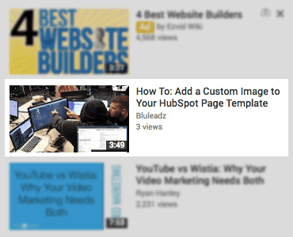 So, which platform is best for business? That all comes down to your video marketing strategy and how you plan to use video. What are your video marketing goals?
We recommend getting the best of both worlds: using Wistia for website videos, lead generation/conversion videos and videos that are part of your business's sales funnel, while consecutively uploading videos to YouTube for SEO purposes and much sought after mentions in the Suggested Videos tab.
Want to learn more about creating killer video content for your marketing and sales cycles? Check out our free How-To video guide here: