In a world flooded with businesses and corporations, it can be difficult for salespeople to find leads and vice versa. This is especially true for technology and software companies, where it can feel like there's a limited pool of prospects to pull from.
That's where lead generation comes in to save the day.
But lead generation can be a challenging topic for tech companies. Much of technology centers on disruption and the identification of a community of early adopters, so newcomers to the space must be ready to build deep prospect relationships from the start.
via GIPHY
New business models and operational strategies are letting small technology firms compete with their international rivals – but to do so effectively, each brand needs to stake out an approach to marketing that emphasizes its unique value.
In this fast-paced, highly competitive environment, it's not enough for a company's website to serve as an online catalog of products and services.
Now, a brand's website must do triple duty: Building customer relationships, producing qualified leads, and advancing the overall marketing vision 24 hours a day, seven days a week.
Of course, this is easier said than done – and it can be tough to know where to start on this huge process.
Why B2B Lead Generation Is So Hard for Technology Companies: 6 Unique Challenges
The process of earning trust from readers can be long and for good reason. If they're trying to find out ways to achieve a goal or seeking out solutions for a pain point, they want to get their information from a credible source.
Establishing this level of trust is a big undertaking, but once you become an authority in the reader's mind, they're far more likely to want to hear from you more. This is when they provide their contact information to you, usually for a unique content offer or to subscribe to your blog.
But that process of driving conversions and gaining those leads is especially tough for technology companies because the world of B2B is riddled with several unique challenges.
Some Content Is Unclear.
via GIPHY
Communication is key when it comes to marketing and sales. Today's market has a sharp focus on building relationships and being in touch with businesses.
Even in highly technical industries, where the information communicated can be complex, there should be clear and consistent engagement between you and the customer.
Unfortunately, though, it's not uncommon for a webpage or other such online content to feel too complicated for leads to understand. Industry jargon, fluff, and an unclear presentation can cause obstacles when attempting to convert leads to customers.
Sometimes, the learning curve is just too steep.
Customer Centricity Is Rare.
By isolating your potential customers through unclear content and a lack of proper communication, then it's pretty likely that your team isn't operating with a customer-centric mentality either.
Lead generation only works if you're focused on your audience and their needs, not just showing off what it is you can do for the world. They want to know what you can do for them. A common challenge comes from balancing the need to sell with the need to provide value.
The latter should always be priority, but that's rarely the case.
It's Easy to Target the Wrong Audience.
One of the most common lead generation challenges for any company is figuring out who you're trying to reach.
Too often, technology companies forget to re-familiarize themselves with their buyer personas and wind up targeting the wrong audiences.
via GIPHY
Marketing plans and campaigns can become too broad, drawing in leads that aren't qualified matches with your business. Unless you know what your ideal customer's pain points are, you're not going to be able to target them effectively.
Not All B2B Lead Sources Are Known.
There's a common question you will hear in the B2B world – where did these leads come from?
Unfortunately, no one's actually certain in some cases.
Yes, strategies like email marketing, organic searches, and social media pull prospects in, but there's a large percentage of unidentifiable behavior and activities that factor into B2B lead generation.
HubSpot's research found that the highest percentage of leads came from "other." In other words, the most successful channel for lead generation is hard to fully comprehend because "other" doesn't mean any one specific strategy.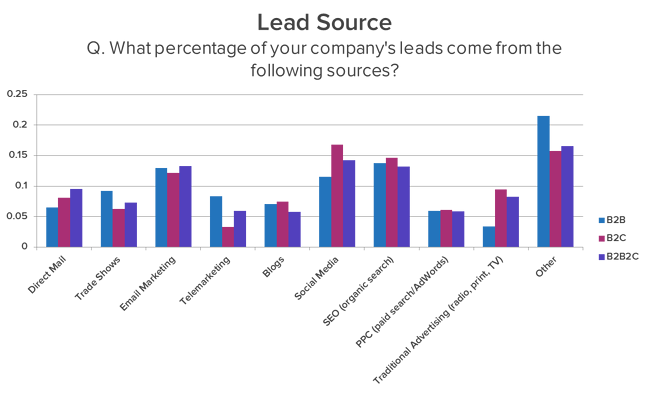 Source: HubSpot
That makes maintaining marketing efforts that much more important, with a high demand of constantly adapting and adopting new strategies. In the long run, that's a lot of resources, time, and cost put into simply finding leads before they even get truly started in your sales cycle.
Strategies Are Difficult to Choose.
via GIPHY
With such a wide array of strategies and techniques available that boast incredible conversion capabilities, it can be difficult to know which ones to implement in your plan.
And that decision carries a lot of weight since the average marketing team doesn't have a lot of resources to work with.
It's not often that having a surplus of opportunity becomes a problem, but, unfortunately, that's the case for tech and software companies. Narrowing that list down to a handful that are going to drive the right results is unique challenge that requires trial and error.
It's Common to Ignore Metrics.
Speaking of experimentation, a self-imposed challenge would be when B2Bs don't take the time to monitor and analyze the data received from the strategies they do practice.
You can't just put a campaign into effect and then walk away from it. Measuring and assessing metrics is an important step in identifying what's working and what isn't. If a lead generation strategy or tactic isn't performing, then it should be either adjusted or dropped and replaced.
10 Lead Generation Strategies That Work for Technology Companies
There are a lot of obstacles that a company has to overcome. Throw in some external and internal challenges, and you have a business that's trying to put out fires instead of converting customers.
via GIPHY
But never to fear. We've found several strategies that software and tech companies can leverage that will start generating leads more effectively.
1. Create Content Offers That Align With Your Prospects' Pain Points.
Marketing begins with your knowledge of your prospects. It's vital to understand what question or problem brings them to your site. Do they need to reduce hiring costs? Are they interested in new software?
Buyer persona research can assist in defining these pain points, providing insights on how and when these issues come up for your customers. Understanding each persona's unique experience will allow you to align your content offers with the right stage in their buyer journey.
Each individual problem should be associated with a giveaway – an ebook, video series, or other content they have to subscribe to your mailing list to receive.
2. Deliver Thought Leadership Content.
Once prospects get educated about their problem and possible solutions, they usually look at several potential vendors.
To differentiate from the competition, focus on developing high-level content like whitepapers or case studies that show the unique value your products offer. This is especially important for B2B tech companies who often have to walk customers through a lot of highly technical information.
via GIPHY
By focusing not only on what you do differently but why your way is best, you set the tone of the conversation.
It builds brand trust and enhances your reputation, both of which are often direct influences on a decision maker's business.
Companies like Openview Labs and GE's Txchnologist share educational content purely to provide value and expand their audience's knowledge base. And because of it, they're trusted online above several other tech companies.
3. Ensure Your Online Presence Is Mobile Optimized.
A Google study found 42 percent of B2B decision makers used mobile devices during the buying process. What's more surprising, the average American spends 10 hours a day interacting with their phone, including making purchases.
Simply put, mobile use is growing, reflecting the challenges buyers face as they make more complex decisions with less time.
As a result, your entire digital presence should be optimized for the mobile web. Otherwise, leads won't be able to access or act on your offers when they need to.
Mobile marketing has become incredibly competitive. If your strategies, website, and offers aren't accessible, then buyers will easily decide to go back to a SERP and find another company that is.
4. Make the Most of Video Marketing.
In the same study, Google determined 70 percent of B2B buyers watch video during the buyer's journey. Video content is powerful and flexible – and nearly half of B2B buyers consume 30 minutes or more of it.
At the top of the funnel, a polished one-minute video may be more effective than a blog in inspiring leads to convert, since they can consume videos quickly and easily.
PandaDoc does an excellent job of relaying content and valuable information in less than two minutes (which is the ideal time, by the way). Here's a video giving a brief, but detailed, overview of the services they offer.


Within only a short time, they've addressed who their targeted leads are, what pain points they alleviate, and how they alleviate them, all while being engaging and creative. An impressive campaign!
5. Start Connecting and Engaging on LinkedIn.
A scattershot approach to social media does more harm than good for technology enterprises.
Research has shown that LinkedIn leads the pack in B2B lead generation, yielding about 78 percent of B2B leads compared to just 48 percent for Twitter and 42 percent for Facebook.
Social traffic is valuable, but if you only have the resources to focus on one network, pick LinkedIn for lead generation.
Those stats are largely in part because of the average tech company's customer's behaviors. You won't find many businesses looking for new software scrolling through Instagram. They're looking to find thought leaders and their business information, like size, age, and other credibility factors.
Tableau recognized this behavior and made a move to use LinkedIn Sponsored Content. This pushed their conversion to six percent, raising the bar for qualified leads.
6. Drive Word of Mouth With Your Current Customers.
Word of mouth is one of the most trusted strategies by consumers. People trust people.
Reversing that chain of thought, when someone finds a product or service that provided real value, they become excited to share it with those close to them.
There's a pretty good chance that one of your current customers has a friend or colleague with a need similar to their own. Through reviews, testimonials, and social proof, you can boost your brand awareness with these fringe leads.
If your customers are having large success with your business, then it's time to take it one step further and introduce referrals. Asking them to "refer a friend" can start generating leads that are already warm after hearing good things from your current customers.
This can cause a chain reaction that evolves into an expanding web of connections and new business.
7. Schedule Events That Your Audience Wants to Attend.
Building connections with your leads is a primary step in converting them to customers. That can be difficult to accomplish through SEO tactics and LinkedIn content posts alone.
Get leads in front of you and teach them what it is you can do for them through events like conferences and webinars. You'll be able to educate them, upping your trust factor, while also establishing your business' position as a thought leader in your industry.
While in-person conferences are one-time touch opportunities, you can continuously provide value through recorded online events. Webinars are accessible from anywhere in the world and can be archived for returning leads.
Invite leads to register for a series, or promote expanded content online to your in-person leads. Leveraging events like this and then following up with potential customers after keeps them engaged with your business, bringing them closer to a sale.
8. Collaborate With Influencers In Your Space.
Leaning on the value of word of mouth again, partnering with a popular influencer who can advocate for your products can bring in an unexpected amount of leads to your business.
Technology "unboxers" and reviewers carry a lot of sway on YouTube, Twitter, and other social media channels. Even though you don't necessarily need to be putting a ton of resources into social media marketing, that doesn't mean you should abandon it.
Send products to key industry influencers before you release them to the public to generate hype before a launch. Their thoughts and opinions can create a high demand.
9. Consider Co-Marketing With Strong Partners.
Co-marketing is a pretty common strategy, but it still yields notable results.
Functioning both online and offline, partnering with a hardware or software company, respective to your own business, allows you to generate leads for one another.
Find another business that has a similar audience that doesn't directly compete with you. You may even be able to support one another's solutions, providing real testimonies. Splitting the cost also leaves room in your budget to bolster other lead generation strategies.
In the end, lead generation grows at only half the cost.
10. Add Product Comparisons to Your Content Strategy.
Product comparison is extremely popular amongst tech business decision makers. It only makes sense: if you're torn between two or three different choices, compare the pros and cons of each to help make the decision.
If you're getting a lot of traffic from SEO strategies, then implementing product comparison content should be an easy next step. Provide potential customers with an easy means of evaluating their options directly from one of the businesses in question.
It shows confidence in your own products and transparency in your standing within your industry.
Building pages on your website dedicated to product comparisons can also boost your rankings on SERPs and leverage keywords against your competitors, like "versus" or "alternatives."
Technology and software companies have to contend with long buying cycles, which can be difficult at every stage of the buyer's journey.
Generating leads is especially difficult with unique challenges and obstacles in the way. But using these strategies as part of your bigger inbound marketing strategy can help stretch the reach of your brand awareness to your ideal potential buyers.